Chipotle Mexican Grill (NYSE:CMG), one of the fastest growing restaurants in the US, has become one of our biggest holdings. Here's why.
Time heals every broken heart
Chipotle's stock, like its "Ring of Fire" sauce, was so hot — one of the hottest stocks around before the E. coli outbreak and subsequent scandal. Then, as a natural reaction, the stock plummeted 45%, giving us this divine gift of owning one of the most promising restaurants in the US.
The outbreak, which happened in November 2015, caused Chipotle's revenues to decrease 36% from the pre-scandal levels, with same store sales declining 23.6% in Q2 2016.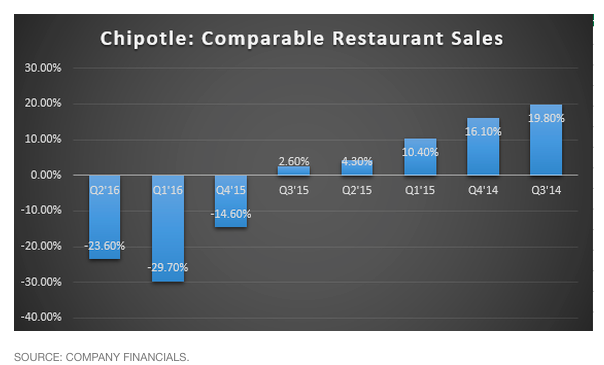 But now, after nearly 1.5 years, the public is starting to forget about the scandal. According to YouGov, a market-research firm, a study done in late September 2016 concluded that the negative views about Chipotle where only 4.5% higher than the positive views, compared to 31.2% difference in late 2015.
That means consumers are starting to forget about the scandal. It seems that the company's marketing efforts — which includes giving free drinks to students, free kids' meals every Sunday, a free burrito for every burrito bought, and launching the Chiptopia loyalty program — are working out.
These expensive efforts will restart customers' positive experience with the chain, paving the way for future revenue growth.
In addition, there are other known situations in which E. coli disease was caused by American companies, but then forgotten by investors and the public. Who remembers the E. coli outbreak in July 2002, which included one of the biggest meat recalls in US history? At that time, ConAgra Brands (NYSE:CAG), a packaged-foods company, was responsible for the outbreak which resulted in 45 people reporting illness, slightly lower than the 52 Chipotle figure.
What happened to ConAgra's stock price? The stock was hammered by more than 25% following the news, but then recovered 5 months later, before crashing again at the start of the great recession. Take a look: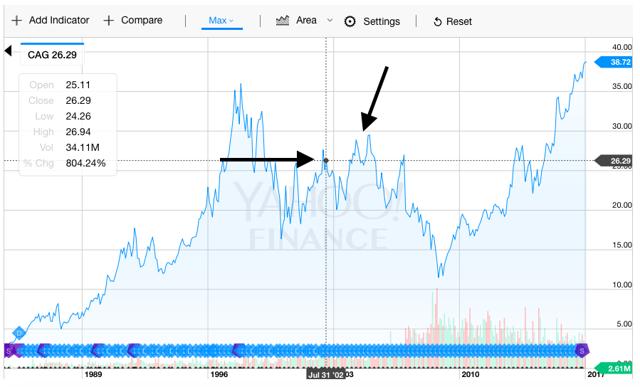 However, I don't expect Chipotle's stock to recover that quickly. The new, more connected world makes it harder for Chipotle to succeed at a quick turnaround. That's why Chipotle stock is only worth investing for the long term, where current margin issues will be solved and Chipotle's customers will overcome the incident.
Customers love Chipotle
In one of my articles about Coca-Cola (NYSE:KO), I talked about how consumers are shifting away from unhealthy and toward healhtier foods and drinks. Chipotle provides the best choice for this transformative period, combining great taste with healthy choices. With its authentic brand, Chipotle was able to grow from one restaurant to more than 2,000 by mostly depending on word-of-mouth advertising.
In addition, the company has the highest same-store sales in all the food and drink industry, even after the safety issue — even including McDonald's (NYSE:MCD) and Starbucks (NYSE:SBX).
To see the extent of Chipotle's restaurants productivity, here's a table comparing its revenue per store with the operated American stores (the most profitable) of McDonald's and Starbucks, according to Q3 2016 results.
| | |
| --- | --- |
| Corporation | Revenue/Store |
| Chipotle Mexican Grill | $515,000 |
| McDonald's | $357,000 |
| Starbucks | $363,000 |
(Source: Quarterly filings)
Even after its revenue declining more than 30%, Chipotle still got the highest revenue per store. This means that either consumers visit Chipotle more, or are willing to pay more in Chipotle's restaurants, both of which are great for the company.
Valuation
It's hard to value these kinds of growth-dependent stocks. But for sure, an investor will always find ways to know if the stock is over- or under-valued compared to its peers. And Chipotle is undervalued when compared to both McDonald's and Starbucks.
On a price/revenue basis (revenue growth is the most important metrics for these kinds of stocks), Chipotle is undervalued with respect to the two mentioned competitors.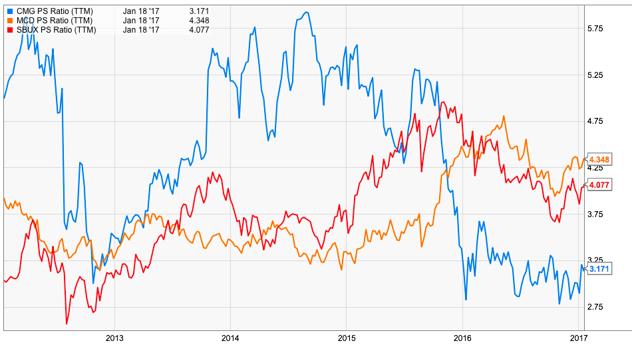 McDonald's and Starbucks, both of which operate in more than 180 countries, with more than 10x the number of stores than Chipotle, are trading at an average of 32% premium to Chipotle on a P/R basis.
Since the market is still expecting short-term headwinds, the ratio is still depressed. But once these worries are lifted, the ratio should surpass that of MCD and SBX, like it did in the pre-outbreak times.
Last but not least, Chipotle will be one of the biggest beneficiaries of Trump's proposed tax plan. Since 2013, Chipotle paid an effective tax rate of 38.22% annually. If Trump's tax plan is implemented, and there is a high probability it will be (he won't dream of getting re-elected if that plan doesn't pass), Chipotle will be paying nearly 20% less in taxes, increasing its depressed margins.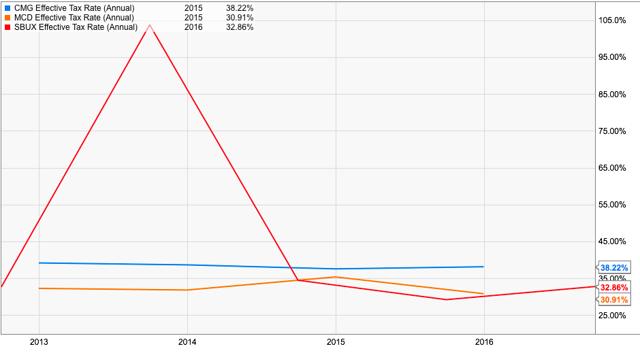 Concluding, I believe in Chipotle's ability to regain its customers' confidence. That's simply because people love Chipotle and are willing to spend (relatively) a lot of money there.
The main issue is Chipotle's depressed margins. But I believe that once customers forget about the safety issue, Chipotle will be able to control its operating expenses, which increased (as a result of expensive marketing efforts) from 80% of sales in Q3 2015 to 99% of sales in Q3 2016.
Thus, I recommend buying Chipotle stock at these levels with a minimum price target of $500 (25% increase from current level).
As Warren Buffet said: Be greedy when others are fearful and fearful when others are greedy.
Happy investing to all.
Disclosure: I am/we are long CMG. I wrote this article myself, and it expresses my own opinions. I am not receiving compensation for it (other than from Seeking Alpha). I have no business relationship with any company whose stock is mentioned in this article.