At market close on January 19th, IBM Corp. (NYSE:IBM) reported 4Q16 earnings. For the sixth quarter in a row, IBM managed to beat top and bottom line expectations.
Revenues of $21.8 billion in the quarter exceeded consensus expectations' $21.64 billion, and represented a largely expected YOY decrease of about -1%. Adjusted (i.e. operating) EPS of $5.01 beat expectations by a wide margin of 13 cents - up +4%, which is an improvement from a non-GAAP YOY contraction of -1% last quarter. GAAP EPS came in at $4.73, and includes acquisition and retirement-related adjustments.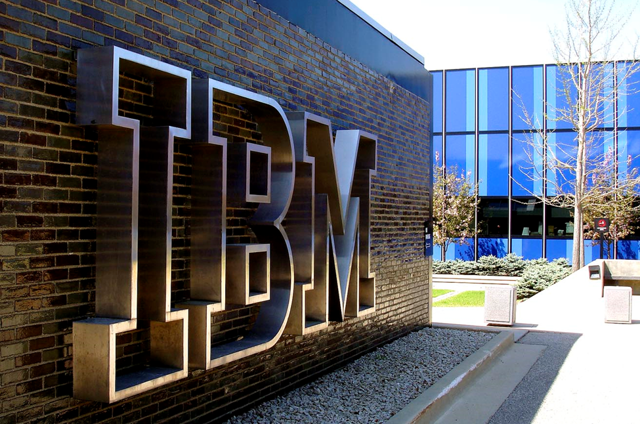 Credit: blog.gradup.co
The always-important, faster-growth strategic imperatives side of the business (i.e. data analytics, cloud and engagement) posted revenues of $9.5 billion in 4Q16, for a modest 12% YOY growth. As a reminder, this same segment grew 15% adjusted for currency last quarter. Strategic imperatives helped to keep total company revenues afloat. I believe the Street might have been expecting, and investors hoping for, slightly better results within this group.
Cloud, posting revenues of $4.2 billion in 4Q16, trailed last quarter's growth rate by nine percentage points (33% vs. 42% adjusted for currency). Cloud-as-a-Service, another area that draws investors' attention, delivered trailing twelve-month growth of 63% YOY, compared to 65% adjusted for currency last quarter.
See tables below for a snapshot of 4Q16 (first image) and 3Q16 (second image) results.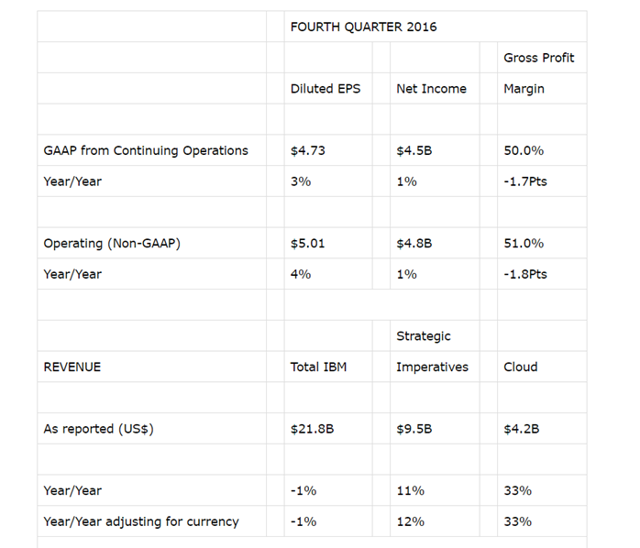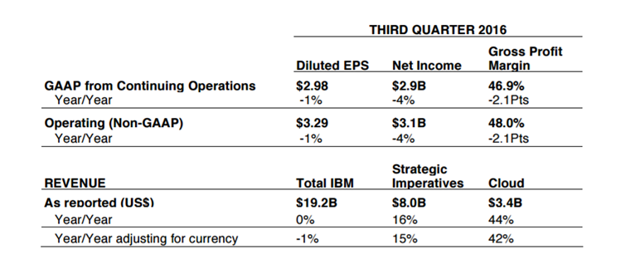 Source: Company's press release
On the margin front, total company non-GAAP gross margin for 4Q16 was 51.0% which, not unlike last quarter, compared unfavorably vs. prior year's 52.7%. The downside seems to have been driven across most of IBM's segments, except for the smaller Systems division.
Operating expenses in 4Q16, however, helped IBM drive the EPS beat - along with a non-GAAP tax rate of only 11.5%. SG&A of $4.77 billion decreased -4% YOY, beating the rate of decline of total revenues. R&D, however, came in slightly higher at $1.43 billion. Pretax income margin of 24.8% slightly underperformed last year's results by 20 bps. All numbers are on a non-GAAP basis.
On the cash flow side, FCF (free cash flow) came in a bit soft for the quarter, at $4.72 billion. This is a $1.35 billion decrease compared to last year. The dip seems to be almost fully attributable to higher net working capital. Dividend payments represented 28% of FCF in the quarter, vs. 21% last year. In the end, a net debt balance of $33.6 billion now represents 21% of the company's market cap.
IBM introduced, this quarter, its guidance for full-year 2017. The company expects at least $13.80 in operating EPS ($11.95 in GAAP EPS) for the period. This number compares favorably to the Street's expectations of $13.74 (non-GAAP).
Investor takeaway
IBM, the stock, had a stellar 2016 that offset a sluggish and volatile 2015. Investors seemed to finally jump on the big data and cloud bandwagon alongside Big Blue. But although pockets of strength in strategic imperatives have kept the more optimistic investors excited and hopeful, "core content" (about 60% of quarterly revs) have held the company back and prevented it from breaking free from its low-single digit growth pace.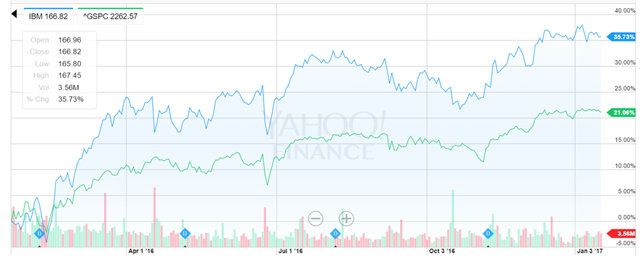 Source: Yahoo Finance
The decreased top-line growth rate of IBM's strategic imperative businesses announced today may help to explain, in part, the stock's subdued reaction in after-hours trading, down -2% by 5 p.m.
I agree with SA contributor Brian Gilmartin, CFA when he points out, in his earnings preview, that "IBM really needs revenue [and more significant EPS] growth" for the stock to start reaching new highs. The revenue mix shift alone, away from legacy and into newer initiatives (strategic imperatives have moved from 22% of total revs in 2013 to about 40% now), might help the company on that front.
Fundamentally, I believe a stock that trades at a very low 12.1x P/E; carries a 3.3% dividend yield (growing at 17% CAGR this decade); spends only 62% of FCF in dividends and share repurchases; and could surprise, even if slightly, to the upside on earnings growth this year will continue to attract at least the most conservative, income-seeking investors at current levels - especially if share prices pull back farther, following today's earnings announcement.
Note from the author: I would like to invite you to follow me as I build a risk-diversified portfolio designed and back-tested to generate market-like returns with lower risk. I call it the Storm-Resistant Growth portfolio. The very early results have already exceeded my expectations. Take advantage of the 14-day free trial, and get immediate access to all the premium material that I have published recently.
Disclosure: I am/we are long IBM.
I wrote this article myself, and it expresses my own opinions. I am not receiving compensation for it (other than from Seeking Alpha). I have no business relationship with any company whose stock is mentioned in this article.