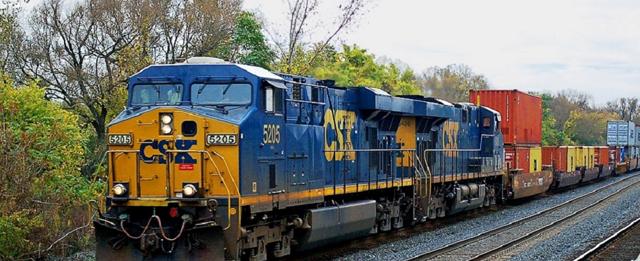 Source: Google Images
CSX (NYSE:CSX) finished the day up an astounding 23 percent. The word astounding is no understatement. Since January of 2007 or the past 2,530 trading days, CSX on an adjusted stock price basis has only had a double-digit, next-day performance four times. Those dates were September 11th of 2008 at 11 percent, October 13th of 2008 at 15 percent, March 23rd of 2009 at 12 percent and today, January 19th of 2017.
It is common knowledge that Hunter Harrison, currently of Canadian Pacific (NYSE:CP), has made a decision to "pursue opportunities involving other class 1 railroads." Per the Globe and Mail, the Wall Street Journal "…reported that Mr. Harrison is joining forces with an activist investor in a bid to change the management at CSX Corp., a railway based in Jacksonville, Fla." More recent news published on Seeking Alpha has confirmed that CSX will discuss strategies with Mr. Harrison and Mantle Ridge.
Mr. Harrison has been the leader of Canadian Pacific since June of 2012. During his tenure, Canadian Pacific's operating ratio has improved by 2,500 basis points (bps) from 83 percent to just fewer than 59 percent. Concurrently, the company's profit margin improved 1,200 bps from 13 to 25 percent. It is no wonder investors are salivating with the possibilities; CSX's operating ratio and profit margin stood at 69 percent and 15.5 percent as of 2016 year-end performance.
The results that Canadian Pacific witnessed during Mr. Harrison's leadership have been highly successful. But Mr. Harrison was at the helm of a coast-to-coast rail network within Canada. With CSX, the network is largely tied to the East Coast with a direct competitor in Norfolk Southern (NYSE:NSC), but is also largely dependent upon connecting with other Class Is including Union Pacific (NYSE:UNP), BNSF (NYSE:BRK.B) and Kansas City Southern (NYSE:KSU).
The regional setting of the East Coast has its infrastructure challenges as it sits in the more densely populated areas of the U.S. This has often been the argument justifying major cargo diversion over the long term due to the new locks of the Panama Canal. But this fact of population accessibility has also led to significant surface transportation congestion issues and challenges such as grade crossing, tunnel height restrictions, among others. For this reason, most of the best performing Class Is by operating ratio and profit margin have had the longer east-to-west networks; the exception being Kansas City Southern.
Based on today's major stock price run-up, I've got an issue. Fundamentally and technically, the stock price has become quite rich. The stock is basically trading at 2019's level today, assuming that CSX can achieve a profit margin near 18 percent over the next few years; and a P/E ratio of 19 times earnings. Investors should note that CSX is now trading 25 times 2016's full-year earnings and 20 times 2018 earnings estimates.
Fundamentally, CSX is easily more expensive than all other Class Is, as well as even Genesee & Wyoming (NYSE:GWR). Traditionally, both Kansas City Southern and Genesee & Wyoming have traded at premiums to Class Is. The political climate is changing, so it is understandable that valuations are in flux, but it is hard to justify CSX's move today, aside from speculative jitters. The company has a ways to go and there is no guarantee that it can get there, even with Mr. Harrison.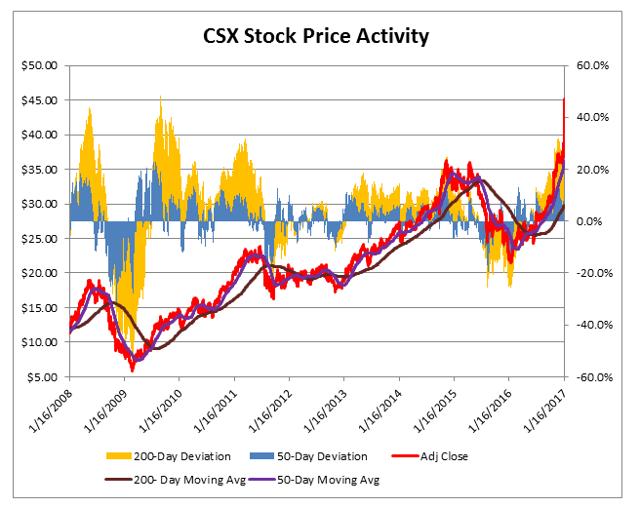 Source: Yahoo! Finance
From a technical perspective, CSX's stock price is now trading 53 percent higher than the 200-day moving average and 26 percent higher than the 50-day moving average. The 200-day moving average is at the highest level ever from January 2008 to current. The previous stock price record was at 48 percent higher than the 200-day moving average, which was set in September 2009 after the Great Recession.
The bottom line is that today's 23 percent single day stock price performance is a record, even when going back to January 2007, or over the past 2,530 trading days. The other point investors need to think about is that CSX is trading under the assumption that Mr. Harrison will be leading the company to a profit margin approaching 25 percent over the near term.
If CSX were to achieve a 25 percent profit margin by 2020, the stock price could realistically be valued at $70 per share. This type of price appreciation would reflect an average annual return of 12 percent over the next few years from today's closing price at $45.50 per share. CSX's current profit margin stands at 15.5 percent as of 2016 year-end. So the question investors need to be asking themselves today, is do I want a piece of CSX at $45.50 per share needing a 950 bps improvement over four years?
My short answer is no. I am highly supportive of a long position in any of the Class Is. In early 2017, my top picks have been stated; Canadian Pacific, Kansas City Southern and Union Pacific. I stand by those picks. But I do believe that both CSX and Norfolk Southern would be great to own at the right price. At the beginning of this week, they were not close to the right price from my standpoint. Today, they are much further away.
In ending, I would like to congratulate all who were long CSX! It was truly a record great day for shareholders. As a committed long-term investor, I don't believe in selling an entire position for any holding as long as a prudent management plan is in place. Don't get me wrong, the environment could shift, credit risks could increase, and many circumstances could dictate reassessing the viability of holding any company.
For long-term CSX investors, the most prudent strategy is to trim the position at a minimum. For many different shareholders, this will vary depending on objectives, preferences, needs, etc. For short-term oriented investors, liquidating a fully realized gain should be considered.
I am not an experienced options trader, nor do I have any strong opinions on whether or not CSX is a short. I would look for macro-related catalysts as profit taking combined with fear could push CSX down further than other rails from today's run-up.
For those on the sidelines, I think that we have gone from the score table, to the locker room to outside the arena, back to the gym, back home, and even back a couple of years of practicing. I would tend to be more conservative at this point. For instance, if CSX could get to a 20 percent profit margin by 2019 or so, a reasonable valuation could be at 20 times earnings, leading to a stock price of around $54 per share.
This would reflect a 19 percent discount, but for a stock price in 2019, or an average annual return of six percent. A stock price pullback to the $40 per share level would be a much better opportunity. With a profit margin at sub-20 percent, it is harder to justify CSX with a stock price above $50 per share by the 2019 timeframe. Investors should continue to view this near-term optimism as an extension of the current economic growth cycle.
Disclosure: I am/we are long KSU.
I wrote this article myself, and it expresses my own opinions. I am not receiving compensation for it (other than from Seeking Alpha). I have no business relationship with any company whose stock is mentioned in this article.