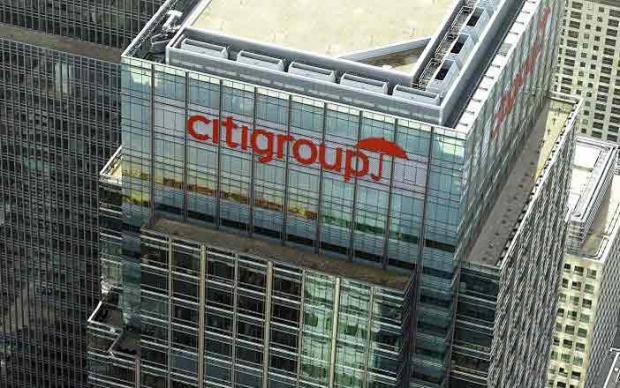 Citigroup (NYSE:C) reported Q4 earnings Wednesday morning. The bank reported revenue of $17.0 billion and EPS of $1.14. The bank beat on EPS but missed on revenue by $290 million. I had the following takeaways on the quarter.
The Top Line Was Disappointing
Citigroup was projected to grow revenue 2% Y/Y. This did not seem farfetched after the blowout quarter reported by JPMorgan Chase (NYSE:JPM) and Wells Fargo (NYSE:WFC). Y/Y revenue growth for JPMorgan and Wells was 2% and 3%, respectively.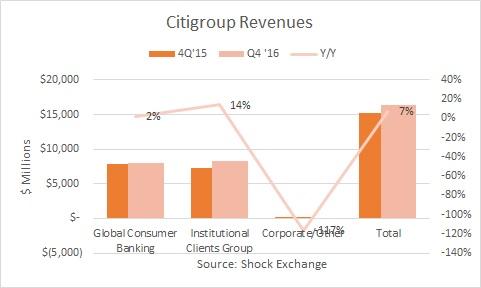 WFC's sequential growth was negative due to falling non-interest income, which was expected after its phantom accounts scandal. Citi's revenue was up 7% Y/Y, but sequential growth was down 3%. I found this disappointing given the expected increase in net interest income.
Revenue from Global Consumer Banking (49% of total revenue) was up 2%. Within the segment, Citi-branded cards increased 15%, driven by strength in its Costco portfolio and organic growth. The segment was partially offset by lower mortgage servicing revenue and negative impacts from incentive programs. If mortgage originations dry up, then this trend could continue.
Institutional Clients Group revenue rose by double digits on one, 3% growth from banking and, two, 24% growth from capital markets activity. Within capital markets, bond trading revenue rose by 36%, which was consistent with gains experienced by competitors during the quarter. Whether capital markets can repeat its performance remains to be seen.
Net Interest Margin Was Dismal
My major concern is that Citigroup's net interest margin (NIM) actually declined. NIM was 2.79% versus 2.92 Y/Y and 2.86% in Q3. The bull case was that rising rates would be a boom to the stock, and I found the NIM metric confusing. According to management, the 7 basis point decline was driven mostly by "lower trading NIM, higher funding costs, and the higher mix of promotional rate balances in cards. And looking to next year, we expect the net interest margin to remain roughly flat to the full year of 286 basis points as improvement in the core franchise offsets the continued decline in the Legacy Holdings."
Modest Outlook For 2017
Of all the banks, Citigroup's outlook for 2017 was the most conservative. But it didn't build Fed rate hikes into its outlook:
But our base case does not assume any additional rate hikes in 2017. At a high level, we expect to deliver modest revenue growth and an improved efficiency ratio for total Citigroup, even as we continue to invest in the franchise and wind down the non-core assets that will now be reported in Corp/Other.
Management expects the 2.86 basis point NIM to remain flat in 2017; it also expects to incur additional funding costs associated with recent TLAC ("total lost making capacity") debt issuance. The mere end of zero interest rates could cause the U.S. economy to slow, which could hurt loan growth and/or credit quality. The consumer is hurting. The unemployment rate is under 5%. However over 95 million Americans are no longer in the workforce; that list could grow, which would not bode well for Citigroup's consumer loan growth or credit quality. Nationwide delinquencies in auto loans and credit cards ticked up in the second half of 2016 and have continued to grow. These could be minor headwinds in 2017 and potentially, major headwinds in the years to come.
Energy has traditionally made up about 10% of Citigroup's $600 billion loan portfolio; that is one of the highest exposures to energy of the big banks. Now that oil prices are over 80% above their January 2016 lows, it has helped the credit quality of banks with outsized exposure to energy. Not only could the OPEC cuts be a head fake, demand from China - the world's largest oil importer - appears to be slowing; its imports fell 6.5% last year and they could fall by double digits in 2017. Secondly, the North American rig count has risen and shale oil plays are drilling again. The increased supply from shale plays could put a lid on the impact of OPEC supply cuts, and potentially send oil prices lower. According to SA author Robert Boslego:
A recent survey from the Federal Reserve Bank of Dallas found 58 percent of the respondents believe the agreement will not be enforced. Less than 50 percent expected the oil market will be balanced by the third quarter of 2017. Data were collected Dec. 14-22, and 147 energy firms responded to the survey. Of the respondents, 67 were E&P firms, and 80 were oilfield services firms.

Meanwhile, the rig count in the seven primary shale oil and gas basins in America bottomed seven months ago in May at 262. In November, the Energy Information Administration ("EIA") says they were up to 401, their highest since last January.
If oil remains range bound or falls further, it could hinder energy companies' ability to service their debt. Citigroup's bottom line is highly sensitive to provisions for credit losses. I suspect its energy portfolio could create earnings volatility going forward.
Takeaway
Citigroup's Q4 results were a disappointment. Net interest margin should rise in 2017, but the bank's credit quality could deteriorate as well. Given company-specific issues and a bull market that might be long in the tooth, investors should avoid Citi.
Disclosure: I/we have no positions in any stocks mentioned, and no plans to initiate any positions within the next 72 hours.
I wrote this article myself, and it expresses my own opinions. I am not receiving compensation for it. I have no business relationship with any company whose stock is mentioned in this article.