A few days ago, we posted a research note concluding that IBM Corp. (NYSE:IBM) was still undervalued. We mentioned that although the company is going through a tough time, its vision is inspiring and the direction that management has taken is correct. The market is underestimating the growing importance of its strategic imperatives and the growth catalysts that these businesses represent. Today's earnings' release supports this thesis. Although revenues keep declining, the decline is just 1.3% (0.7% currency-neutral). We expect the company's revenues to grow again in 2017.
IBM revenues may be in decline, but the future doesn't look bleak
Undoubtedly, IBM's core businesses are suffering and attributed revenues are declining. Total revenues declined from $92 billion in 2014 to $79.9 billion in 2016. Although these numbers look bad, most of the decline is due to currency fluctuations and divestitures. Adjusting for these factors, the annual decline is only 1.3%, and just 0.7% without currency effects.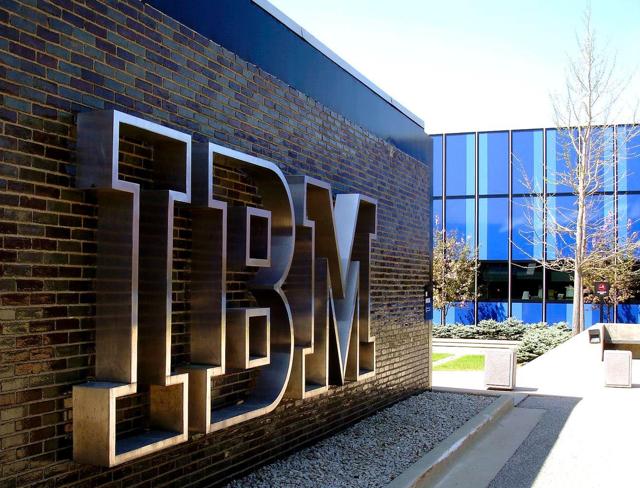 To revamp growth, the company has invested over $30 billion in five key growth areas: Analytics, Cloud, Mobile, Security and Social. These areas offer incredible potential that is beginning to be captured. From today's earnings' release, we can see that year over year, Analytics grew 9% to $19.5 billion, Cloud 35% to $13.7 billion, Mobile 35% to $4.1 billion and Security 14% to $2 billion (Social, though, fell by 10% to $1 billion). Revenues generated by these areas have grown to $32.8 billion and now represent 41% of the company's total revenues. Such growth is impressive considering that, in 2010, strategic imperatives represented only 13% of total revenues. Growth is slowing down because the segments are becoming larger, but these growth rates are still more appropriate for a tech start-up rather than for a giant like IBM.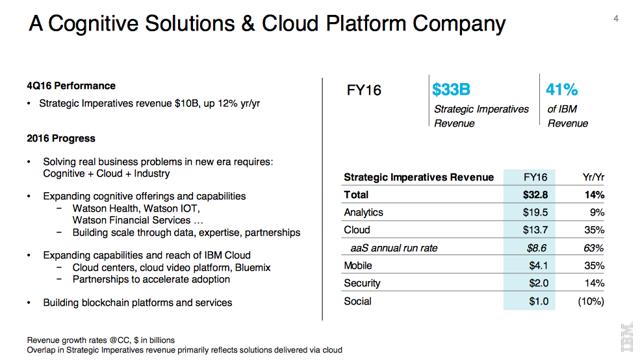 Why IBM stock price is falling
RBC Capital's Amit Daryanani, who has a Sector Perform rating on the stock, highlights the issue for some investors: Intellectual property income boosted the bottom line, which may not be what some wanted to see. "We would note that IP income was much stronger once again at $500M+ (if this was more normalized at $350M, EPS would be $4.83 vs. street at $4.88). Margins continued to remain challenging exiting the quarter - with corporate level gross-margins down 170bps y/y to 51% and Op margins down 150bps y/y to 22.5%. Overall, we think softness in underlying segment margins was offset by strength in IP income that was ~$150-200M ahead of our and likely investor expectations."
Further, Bernstein analyst Toni Sacconaghi noted that IBM's full-year earnings beat was achieved, not only through the aforementioned IP gains, but also in part to one-time gains in taxes. "Remove that from IBM's yearly total, and the company would have missed by about $1.00 from its full year EPS guidance for 2016 of $13.50. It would be the third consecutive year in which IBM required one-time gains to meet guidance. This suggests ongoing changes in the technology landscape continue to be more challenging than IBM appears to be estimating, or that IBM is not pivoting as quickly as it expected."
Future expectations
IBM expects GAAP EPS for 2017 of $11.95 and non-GAAP EPS of $13.8. At the current market price of $162, these would represent a P/E multiple of 13.5 (GAAP) and 11.7 (non-GAAP). These multiples are very conservative and offer value (more on this below).
In terms of revenues, the following chart shows a very simple scenario. Assuming the strategic imperatives keep growing at a declining rate, they will represent 55% of IBM revenues by 2020. The assumptions are for growth of the strategic imperatives by 11% in 2017, 10% in 2018, 9% in 2019 and 8% in 2020. At the same time, we assume revenues from other segments will keep declining at a constant 5% rate. Overall, this means that already from 2017, IBM revenues will start growing again to $81.2 billion compared to $79.9 billion in 2016. This is in line with our previous estimates.
| | | | | | |
| --- | --- | --- | --- | --- | --- |
| | 2016 | 2017 | 2018 | 2019 | 2020 |
| Strategic imperatives | 33.0 | 36.6 | 40.3 | 43.9 | 47.4 |
| Other | 46.9 | 44.6 | 42.3 | 40.2 | 38.2 |
| Total revenue | 79.9 | 81.2 | 82.6 | 84.1 | 85.6 |
| Strategic imp. % | 41% | 45% | 49% | 52% | 55% |
(Source: Author's calculations)
However, analysts are more pessimistic than us. Analysts expect 2017 revenues of $78.9 billion (Zacks), which would mean a $1 billion decline compared to 2016. Yet, the high estimate is $81.4 billion, in line with our forecast.
Company Valuation
As always, we value a company based on three different measures: abnormal earnings growth, Graham valuation and residual earnings. We apply a WACC of 7.46% (Source: GuruFocus.com) and a long-term growth of 2% (in line with our estimates), alongside a required return of 7.5%. Based on these assumptions, we obtain the following valuations:
Abnormal earnings growth - $231/share
Residual earnings (capitalized after 2 years) - $216
Residual earnings (capitalized after 5 years) - $194
Graham valuation - $125
Average - $191
Therefore, our valuation of IBM is $191. Comparing it with the current price of $162, we find the company offers a potential upside of 18%. We still consider IBM a buy.
Conclusion
IBM is 105 years old. It has been through numerous ups and downs and has survived numerous bear markets. The market is underestimating the growing importance of the company's strategic imperatives and the growth catalysts that these businesses represent. These initiatives are starting to pay off and will reward shareholders in the coming years. Today's earnings' release show strong growth of these segments, and this will continue in the coming years. While the strategic imperatives are growing, the company will likely return cash to shareholders through dividends and buybacks. We forecast that revenues will increase in 2017, and we assign a target price of $191. At current prices, IBM is not a bargain but still offers value.
As always, thank you for reading. If you wish to follow our future articles, just click the "Follow" button next to our name at the top. If you would like us to cover a company, please let us know in the comments. For information about Integer Investments, visit our website. Thank you for reading!
Disclosure: I am/we are long IBM.
I wrote this article myself, and it expresses my own opinions. I am not receiving compensation for it (other than from Seeking Alpha). I have no business relationship with any company whose stock is mentioned in this article.