Seadrill (NYSE:SDRL) shareholders got a glimpse into the future earlier this week when beleaguered jack-up driller Paragon Offshore (OTCPK:PGNPQ) announced a plan of reorganization with its secured lenders. The Noble (NYSE:NE) spin-off suffered from a fleet comprised primarily of old jack-ups and poor management.
As part of the restructuring, Paragon will covert $2.4 billion in debt for cash and stock. Per the Company's press release, "Existing shareholders are not expected to receive a recovery under the New Plan." If the plan is approved, a debt free Paragon will continue to market its jackups- in other words, zero rigs (but lots of debt) will be removed from the current market oversupply.
To be clear, I am not implying SDRL is the same Company as Paragon. SDRL has a superior fleet, superior management, superior customer relations and a deep-pocketed "interested party", Chairman John Fredriksen. However, SDRL is heavily indebted, with over $10 billion in debt as of the September 30 Form 6-K report with additional amounts are due shipyards.
What is the same, is SDRL owes more than it can reasonably pay in the short and medium term. Do not minimize this most important fact. SDRL has previously announced plans to announce a restructuring agreement by April 1. The combination of higher oil prices and anticipated success in restructuring has caused SDRL bonds to rally since the beginning of December.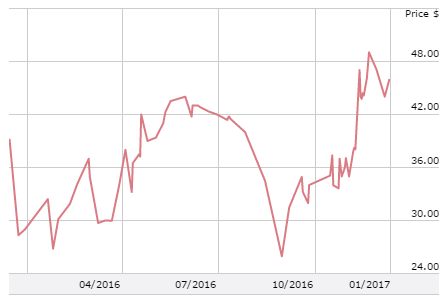 Source: FINRA via Morningstar
Many investors are equating a restructuring as good news for SDRL stock. While an initial bump is possible, my belief is SDRL investors will have an unhappy surprise, much as those foolish enough to believe Paragon stock would deliver value were greeted with a 73% drop on Thursday.
Paragon's One Month Chart (Below)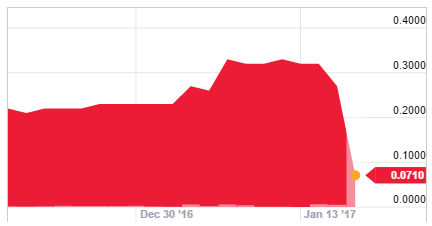 Source: Yahoo Finance
SDRL bondholders are in the driver's seat and there is no reason to give more than a few scraps to equity holders. Further, SDRL, with controlling stakes in Seadrill Limited Partners (NYSE:SDLP) and North Atlantic Drilling (NYSE:NADL), is a lot more complicated than Paragon. Complication means it will be challenging enough to get the bondholders to agree; there is no one at the table for the equity holders. Some say John Fredriksen will protect has stock investment. I say he will make out just fine, but through his bonds and willingness to infuse new capital into SDRL.
While I do hold a trading position in SDRL, I have no illusions about the stock being a good long-term investment. I think for SDRL shareholders, the writing is on the wall (or in this case, the Paragon chart).
Disclosure: I am/we are long SDRL.
I wrote this article myself, and it expresses my own opinions. I am not receiving compensation for it (other than from Seeking Alpha). I have no business relationship with any company whose stock is mentioned in this article.
Editor's Note: This article covers one or more stocks trading at less than $1 per share and/or with less than a $100 million market cap. Please be aware of the risks associated with these stocks.