One of my big themes for what is likely to happen this year is that the rate of inflation increases to over 2% and stays there, leading the Fed to chase it by aggressively raising rates. This, in turn, is likely to cause a slowdown in the growth of consumer spending. (See "2017: a late-cycle year of inflation?")
That dynamic may already have started. On Wednesday morning, inflation for December was reported at +0.3%, bringing YoY inflation for 2016 to +2.1%. Core inflation also ticked up to +2.2%:
Since the bottom in gas prices last February, inflation is up +2.2%, or running at a 2.6% rate: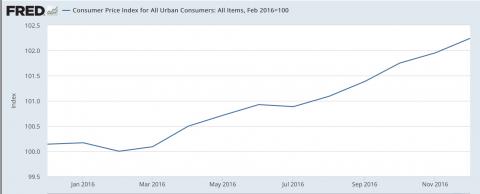 With headline inflation already exceeding the Fed's target, it is not likely that it will hold fire on at least one more prompt rate increase. About the only thing I can see that will hold the Fed back is a surprise poor January employment report.
Real wage growth and real consumer spending taken together are very powerful metrics: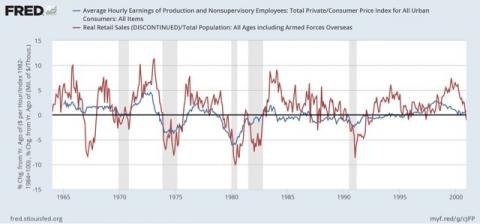 With the December inflation report, YoY real growth for nonsupervisory wages is only +0.4%: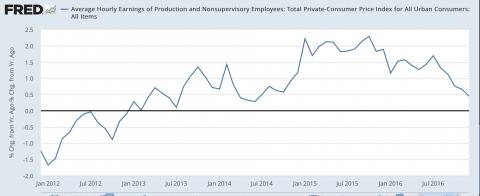 Since the bottom in gas prices last February, real wages have turned essentially flat: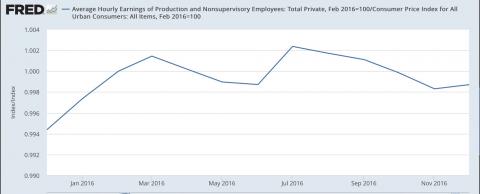 And aggregate real wages (real hourly wages x hours worked in the economy) have flattened as well: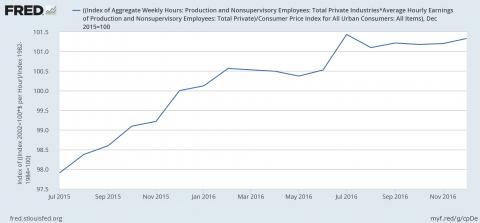 After February, YoY comparisons will be with rising gas prices in the equivalent months of 2016, so the issue is likely to be whether inflation levels out in the 2-2.5% range or whether it accelerates towards 3%, causing even more aggressive action by the Fed and a consequent deeper slowing of the economy thereafter.