We're following up a prediction we made back in September 2016 today:
Looking toward the current quarter, there is early evidence that points to an increase in the acceleration of private debt in the U.S. economy in the early months of 2016-Q3, suggesting a more positive outcome for GDP than was recorded in 2016-Q2 lies ahead.
The following chart shows what happened after all the data for 2016-Q3 came in, which took until December 2016 to get: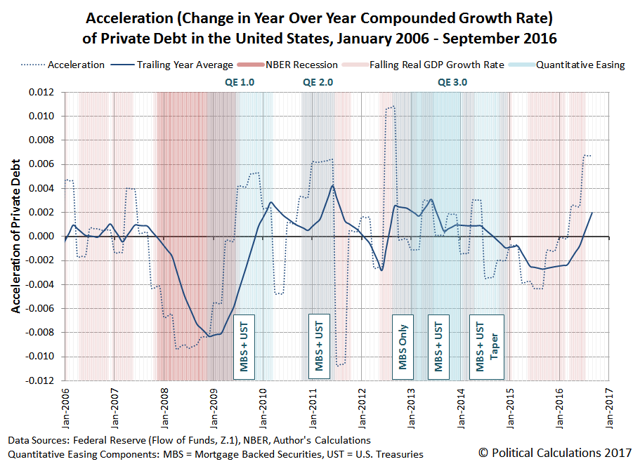 Two things really stand out:
The acceleration of private debt in the U.S. economy sharply escalated in 2016-Q3.
The trailing year average of the annualized percent change of quarterly real GDP stopped falling after having done so continuously for 14 months and began rising in August 2016.
We think that the main boost to the private sector economy came in the energy sector, following the bottoming of oil prices in early February 2016, which then went on to rebound to levels where domestic oil producers could justify taking on debt to expand their operations.
That improvement brought an extended period of economic contraction to an end for the U.S. energy sector. According to Reuters, that change in fortune is likely to continue in 2017.
U.S. petroleum producers are looking forward to better times in 2017 as the industry has passed the low-point in the cycle and embarked on the road to renewed expansion.

Domestic oil and gas production hit a trough in the first half of 2016 and showed signs of rising in the second half as drilling picked up in response to higher prices....

The downward trend in oil and gas output has been arrested by a significant upturn in the number of rigs drilling onshore, especially in West Texas.
In the private sector, the decision to take on debt can be considered to be a bet on the future, which is why this particular measure would appear to be valuable for anticipating changes in GDP.