Thursday morning's housing report was good news for two reasons.
First of all, single-family permits (red) made another post-recession high: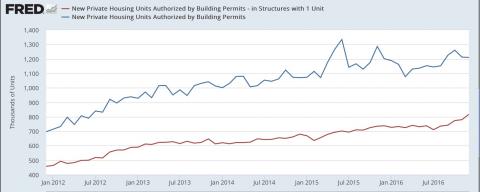 Single-family permits tend to peak at the same time as permits overall, but they are less noisy, and they were not affected by the NYC distortion of 18 months ago that caused the big spike.
Secondly, permits overall were above 1200 for the 4th month in a row. When we take the quarterly average (blue in the graph below), we see that except for the May-June 2015 NYC-caused spike, the 4th quarter of 2016 was the best since the Great Recession: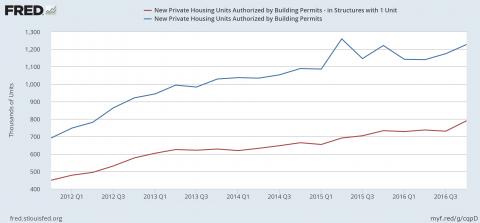 This is a reflection of the low interest rates post Brexit. At some point in the next few months, the spike since the US presidential election will cancel that out.
But since housing leads the economy as a whole by 12-18 months, this is good news for 2017.
When we get the rest of December's housing data next week, I will update more extensively.