Investment Thesis
Avista (NYSE:AVA) is poised to grow like a weed.
Sorry for the pun, but I am serious when I say that Avista is poised to grow like a weed, and it can thank low-cost energy and Washington's legalization of marijuana (I502 Initiative) for the opportunity. Marijuana grow operations are heavily dependent on halogen lights that produce a lot of heat, as well as the cooling systems needed to keep the temperature from getting too hot. While Avista looks fully valued as of late, I would like to suggest that it is primed for revenue growth and increased profitability because of the following two events:
Clean energy generation composition means less investment is required to replace "dirty" forms of electricity.
Washington State legalization of marijuana.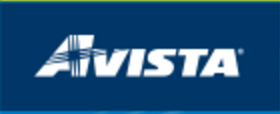 Avista Corporate Overview
Avista (formerly known as Washington Water Power) is the primary utility for Eastern Washington, Northern Idaho, and areas of Southern and Eastern Oregon. In addition to these operations, it also acquired Alaska Electric Light & Power Company (AEL&P) on July 1, 2014.
Avista operations are responsible for approximately 95% of earnings, while AEL&P contributes the rest. For the purposes of this report, I am going to focus solely on Avista's operations.
Strategic Advantage
One of Avista's greatest benefits is that it has access to a strong portfolio of renewable and clean energy generation sources, of which, the most significant one is hydro-power. The following illustration is from Avista's BMO Capital Markets Presentation, and it shows where Avista's diverse mix of power generation capabilities come from.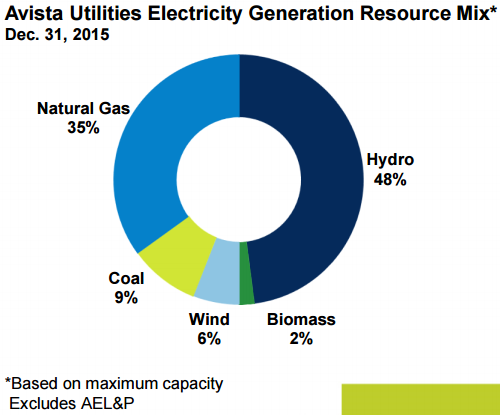 Avista's portfolio composition is significant for two reasons in particular:
As a resident of the area, I know Avista is able to provide some of the cheapest rates in the United States.
As states push for cleaner energy, Avista is already ahead of the pack by exceeding Washington State's 15% Renewable Portfolio Standard for the next 20 years.
I want to expand on the second reason, because it is important to understand why this is such an advantage for Avista. In recent years, we have seen a significant push by states to reduce energy output from sources like coal that are considered "dirty" or environmentally unfriendly. Natural gas has been extremely beneficial to many utilities because it is the only readily available source that can actually displace the output of coal-fired power plants at this point in time. Although the Eastern side of Washington tends to be less focused on environmental policy, they are still subject to the laws created in Olympia. With Seattle's focus being on environmental impact, we can expect that it is only a matter of time before their agenda becomes Avista's agenda. It's not just Seattle that has emphasized a desire for cleaner alternatives, because all across the United States we have seen a drop in electricity production from coal-fired power plants. The following statistics are from an article in The Economist regarding the changes in energy generation trends in the United States:
In 2005, Coal was responsible for 51% of US power generation, 19% nuclear, 18% natural gas, and hydro-power was 7%. (Renewables like solar and wind were so negligible that they were not measured).
By 2014, Coal was responsible for only 39% of US power generation, while natural gas increased to 26%.
Most recently, May of 2016 noted that coal was down to 34% of US power generation, while natural gas was up to 29%.
The following illustrations from The Economist give perspective to the rise of natural gas and the fall of coal.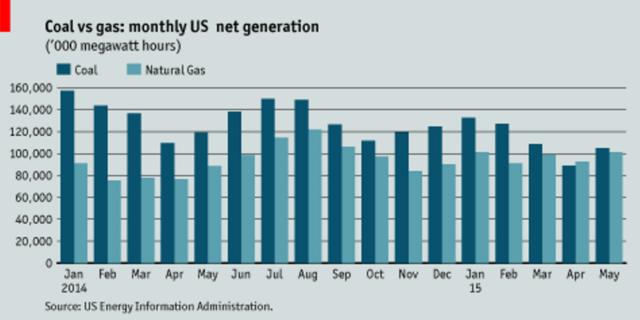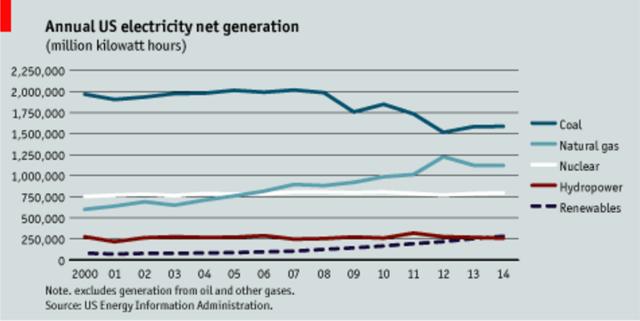 America's energy revitalization has proven a powerful change agent for businesses and utilities all across the United States, and these graphs prove that even as renewable sources such as solar and wind become more efficient, that natural gas is going to remain critical when it comes to filling the void.
Referring back to Avista's energy composition chart, we can see that Avista is nearly 75% less reliant on coal-fired power plants when compared to the national average, and that it is also above the national average when it comes to natural gas power generation. To give perspective on this, I want to look at Duke Energy (NYSE:DK).
Duke Energy (2015 Annual Report)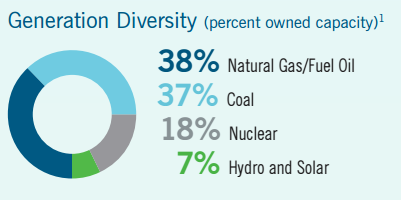 From Duke's Annual Report, we can see how different the energy composition is for each utility company. Looking to Duke's future, it will need to make serious investments in its coal-fired power plants to make them EPA compliant, or close those plants and come up with new means for electricity generation. The following table from the 2015 Annual Report shows this trend beginning to take place.

Avista's advantage is that it has a significant amount of hydro-power capacity and can continue generating clean and cheap electricity with minimal upgrades. With existing infrastructure meeting renewable energy and EPA guidelines, Avista should benefit from reduced costs when compared to the significant upgrades and changes other utilities will be forced to make.
How Avista Benefits From The Legalization of Marijuana
Grow facilities rely on extreme amounts of electricity, and the following article illustration from E&E News gives perspective on just how much these grow facilities can impact the electrical grid.
For the most recent update of growers, there are 155 total growers in the State of Washington, of which, 84 state they intend to grow indoors. Indoor growers depend on high-intensity discharge lights that consume 1,000 watts (or more) each. Because these lights generate a significant amount of heat, it is also necessary to have cooling systems and fans that help remove the heat from these facilities. The previous illustration shows just how significantly energy consumption can be reduced if LED lighting is adopted, but challenges with LED lighting still exist, including:
Only being useful for part of the grow cycle. Expensive upfront costs have not been tested/proven to be truly effective.
The following quote comes from the E&E News article:

At this point in time, most utilities cannot offer any incentives to marijuana growers for purchasing the more expensive LED lighting systems, because this would potentially conflict with any Federal subsidies or incentives currently being provided. In Washington State, there are two utilities that are investor owned, and therefore able to offer rebates without conflicting with the Federal Government subsidies, and they are Puget Sound Energy and Avista. Avista has already taken advantage of the fact that it is an investor-owned utility, and recently was said to have provided a rebate of $163,000, or $291/per light for upgrading to an LED system (E&E News). I expect that rebates like these and low electricity rates will end up drawing more marijuana growers to the region. The cost difference between HID and LED systems is significant, because the average LED module costs $1350, while the same HID module costs $450.
To bring me back to my original point, the case I've laid out shows how the legalization of marijuana has significant impact on the State of Washington, and most importantly, on the energy infrastructure it currently has in place. The last several years have focused on how Washington will legalize marijuana, but ultimately ignored the fact that the utilities sector was unprepared to meet the changing economic needs created by the industry. With the grow season being so short, Avista's region will be seeing practically all indoor grow operations because this is the only way for these companies to remain profitable. With an abundance of cheap electricity, Eastern Washington is primed to capitalize on being a desirable location for existing and future marijuana grow operations.
Referring back to the previous illustration provided by the Lighting Science Group, we can see that even if the marijuana industry were to switch entirely to LEDs that we would still expect the amount of energy used to be greater than the current energy being used by HID bulbs.
The Impact of Low-Energy Solutions
By now, I am sure that some readers are thinking that the real risk to Avista is energy efficiency (because less energy required means lower revenues for Avista). But Avista can violate the rules of normal business demand because it is a regulated monopoly.
As a regulated monopoly, Avista has the ability to request rate increases when existing rates do not cover the cost of doing business. For example, if energy consumption were to drop significantly because of increased LED and other cost-saving measures, Avista could easily request a rate increase on the basis that it could face default if it doesn't increase revenues to meet obligations.
Under these circumstances, the state commission would have to acknowledge that maintaining the same infrastructure with less revenues is not feasible, and that it would be necessary to increase prices for Avista to remain solvent. In addition to this, the state commission must also acknowledge that investors must be able to earn a reasonable return on their investment, which means that the state commission takes into consideration Avista's shareholders as well as its consumer base when making a decision whether or not rates need to be reconsidered. For these reasons, Avista should have no problem continuing to make annual dividend increases. Because of this advantage, Avista will see very little threat from improvements to improved energy efficiency.
Avista EPS Performance
Avista's earnings Q1 and Q4 makes up the majority of its earnings (increased use of electricity and natural gas during the cold winter months). The current EPS for the first three quarters of the year are as follows:
Q1: $.89 EPS
Q2: $.43 EPS
Q3: $.19 EPS
Avista's total for the first three quarters is sitting at $1.51/share. Avista's guidance from the December BMO Capital report shows the following 2016 Guidance Estimates of $1.96-$2.16, but are expected to come in around $2.12. This winter has been particularly heavy, with snow levels the highest we have seen since 2008, but also one of the coldest winters we have had in a while, which helps explain why previous Q4 EPS has typically missed analyst estimates. Based on previous Q4 earnings, I would say that I am expecting Avista Q4 EPS to come in close to the top end of guidance.
Conclusion
Avista is set to benefit from the following trends:
Regulatory - As the US continues to become more environmentally conscientious, utilities have had to make significant changes to the energy output in order to satisfy both Local and Federal mandates. Avista is already ahead of the game when it comes to this, and therefore expensive changes in environmental policy should have very little impact on the company's bottom-line.
Economic - Marijuana grow operations have flourished in Eastern Washington due to cheap electricity rates and low cost of living. Grow operations are still very dependent on HID lighting, because they have a lower initial cost and are considered more effective than LED lighting when it comes to growing marijuana.
There are other factors that Avista is set to benefit from, including its purchase of the Alaska utility AEL&P and a growing Eastern Washington and Northern Idaho population, but I believe that the two reasons mentioned above have been largely overlooked when considering Avista's future. I'm not saying Avista is a screaming buy at this point in time, but with 14 years of continuous dividend increases and a payout ratio of close to 65% that Avista should be on the conservative income investor's radar.
A review of other utilities will show that few utilities have achieved this combination of dividend increases and low payout ratio. The foundation of Avista's appeal as an investment is providing stable and consistent growth that a truly conservative income investor is looking for. Avista isn't a stock for a dividend investor to get rich off of, but it is a stock that will generate predictable and consistent dividend income for decades to come.
Final Note: If you enjoy my articles please take the time to follow me. While I enjoy performing analysis, following me is the best method for showing me that SA subscribers are finding my work useful.
If you have any suggestions to improve my articles or if you would like me to perform analysis on a stock please feel free to message me and I will do my best to make it happen.
Disclosure: I/we have no positions in any stocks mentioned, and no plans to initiate any positions within the next 72 hours.
I wrote this article myself, and it expresses my own opinions. I am not receiving compensation for it (other than from Seeking Alpha). I have no business relationship with any company whose stock is mentioned in this article.
Additional disclosure: This article reflects my own personal views and is not meant to be taken as investment advice. It is recommended that you do your own research. This article was written on my own and does not reflect the views or opinion of my employer.