The fourth was an important quarter for KeyCorp (NYSE:KEY) since it was the first full quarter integrating First Niagara (NASDAQ:FNFG) and forecasting the new entity is now slightly easier. Where I come out opposite my previous numbers is slightly lower EPS, but higher share buybacks, all of which confirm KEY is an attractive value within the US Regional bank universe.
Interested readers can read my previous look at KEY-FNFG here, which includes a discussion of targeted synergies and P&L dynamics. Today let's look at KEY from a comparative valuation perspective because I think this stock is a relative as well as good absolute opportunity.
As well as offering a >2% yield, KEY's synergies from its FNRC acquisition should drive EPS that leaves the stock a shade under 11x earnings for 2018. My EPS is 1.61 for 2018 while consensus (Bloomberg) is currently 1.51, putting FIG Ideas 8.4% above the market.
Here is the PE of KEY within a sample of what I would see as comparable US Regional banks: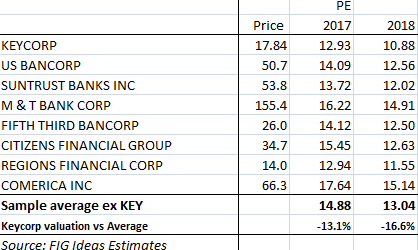 Much as I love the bank, I feel M&T Bank (NYSE:MTB) might be pushing it slightly up where it is, and although Comerica (NYSE:CMA) is doing good things with its GEARUp program, it's certainly fully valued. The rest tend to cluster around 12-13x 2018. Key is below 11x. Is this discount right and what can erode it?
The answers are "yes and no" and "delivery".
For the discount the "yes" part of the first answer is that KEY had to keep achieving its strategy for realizing synergies out of FNFG. The targets concern both revenue and cost. While I am usually cautious about the targets banks announce for revenue synergies, I am less cautious when the acquired franchise has been short of cross-selling, and the acquiring bank can bring its know-how and data technology to bear on the project of leveraging the customer base of the target. We have that in KEY-FNRC. The costs should be straightforward. But I understand why the market discounts the risks that things are delayed or perhaps undershoot.
This chart shows you how the integration of FNFG (partially include in 3Q then fully in 4Q'16) has lowered the proportion of non-interest income in relation to net interest income, which is where KEY has an opportunity to crank performance up.
(click to enlarge)
The "no" part of the first answer is simply that I am 8% above the market with my earnings forecasts and I think consensus will change following the 4Q numbers, allowing about half the discount to be made up by the shares before the market settles down to wait for the second answer to my questions above to come through: delivery.
Needless to say we run 32% tax on 2017-2018 numbers below, which means KEY might look really cheap if Trump delivers on his campaign promises about tax rates.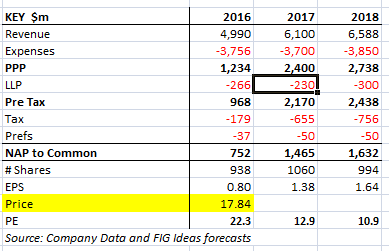 Conclusion
What about the downside scenario that KEY doesn't come in on time with its targets or misses them all together. I think the market isn't pricing complete success with FNRG into the shares, so downside in such a scenario would be limited. This is a case where investors should trust management and enjoy the additional upside execution will bring over the medium term.
Disclosure: I/we have no positions in any stocks mentioned, and no plans to initiate any positions within the next 72 hours.
I wrote this article myself, and it expresses my own opinions. I am not receiving compensation for it (other than from Seeking Alpha). I have no business relationship with any company whose stock is mentioned in this article.