It's been a while since my previous article on Potash Corp. (NYSE: POT), "Potash Corporation Is A Buy After Earnings", was published. Since then, Potash Corp. shares were very active as opposed to the dull trading in the range for the most of 2016.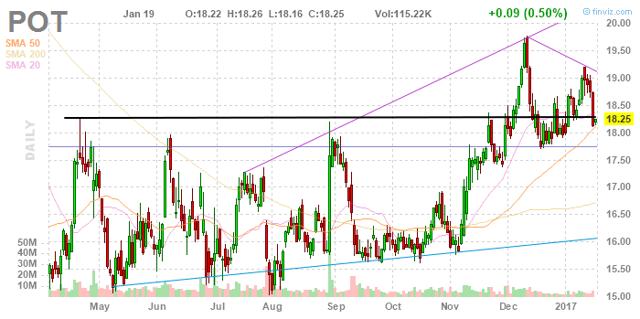 First, Potash Corp. was able to break out of the range only to return below the previous resistance level at the middle of December.
However, the shares had enough momentum to continue the rebound and broke above the resistance level once again only to fade in the recent trading days.
This action signals that the balance of power between buyers and sellers which was constant for the most of 2016 is broken and we can expect more volatility going forward. This development is especially interesting ahead of the company's fourth-quarter earnings report, which will be released on January 26.
Here are my thoughts ahead of the earnings report. First, I reiterate the call from my previous article - the bottom is in, both for the fertilizer market and for Potash Corp. shares. We need to witness some kind of a catastrophe to see Potash Corp. trading near $14 once again.
Second, actual sales results from the earnings report will be a significant short-term catalyst for the shares, which so far failed to firmly establish above the previous range levels.
Potash Corp. is optimistic about the next year's market growth for potash, but the estimate range is rather wide. In my view, there is a big difference for the potash market between demand for 61 million tons and 64 million tons in 2017.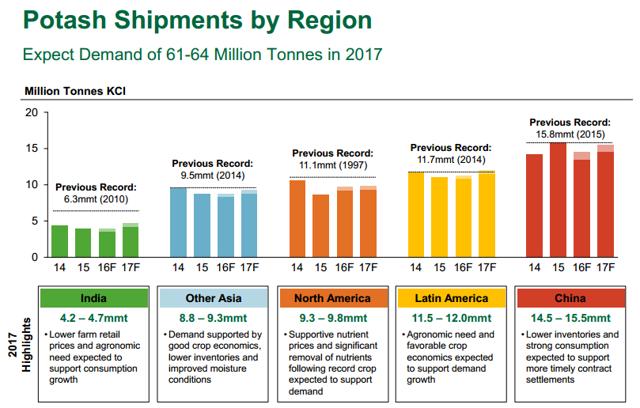 Notice that the company expects positive momentum in India, which is not guaranteed at all.
India is going through a major currency reform which targeted the wealthy (and potentially corrupt in government's eyes) individuals. This reform has clearly gone wrong and puts pressure on the whole economy.
Increased investment (fertilizer is investment in your crops) at such times is not likely. Time will tell whether the momentum in India will develop, but I'm skeptical for 2017.
I would also like to note that foreign exchange trading recently favored Potash Corp. over its competition, Uralkali. Here's a chart of the Canadian dollar:

And here's the ruble: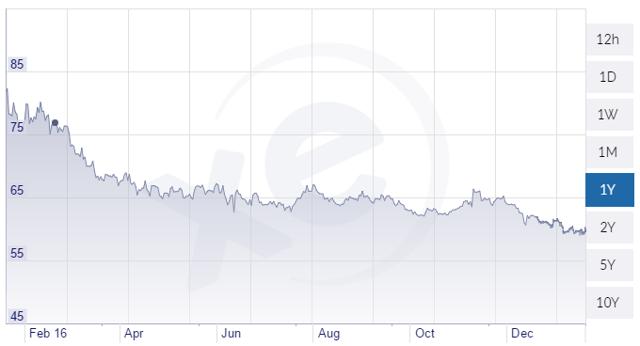 Source: xe.com
The Canadian dollar topped in the last days of April 2016 while the ruble continued to strengthen. Ruble and Russia (NYSE: RSX) are hot topics now thanks to high interest rates in Russia and perceived potential of sanctions removal.
I think there's more hype than facts in the story but ruble is popular and its strength puts pressure on Russian exporting companies, including Uralkali.
In my view, trading in the days before the report will be a bit nervous, as Potash Corp. shares are too close to the high end of previous range, where protective stop orders of the momentum long players are typically put.
Longer-term perspectives look solid but require confirmation in the report. Besides sales, achieved pricing and guidance for 2017 will be key factors. I remain optimistic on Potash Corp. heading into the Q4 results presentation.
Disclosure: I am/we are long POT.
I wrote this article myself, and it expresses my own opinions. I am not receiving compensation for it (other than from Seeking Alpha). I have no business relationship with any company whose stock is mentioned in this article.