My initial report on Organigram (OTCQB:OGRMF) on September 21, 2016 can be found here (Seeking Alpha: Organigram: A Win-Win in the Canadian Cannabis Group). In that recommendation, 'management' topped a list of characteristics I liked about the Company. The developments during the past few weeks justifies my emphasis on the value of outstanding management.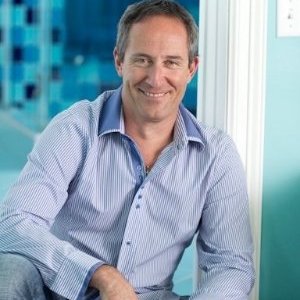 It is a cliché but you learn more about people as they deal with crisis than success. I believe CEO Denis Arsenault (pictured above) has proven this point in the way he has dealt with the issues relating to OGRMF's initial Type III and subsequent Type II recall that overlapped with the Christmas/New Year's holiday season. A Type III recall is described by Health Canada as "… a situation in which the use of, or exposure to, a product is not likely to cause any adverse health consequences" and a Type II is defined as "… a situation in which the use of, or exposure to, a product may cause temporary adverse health consequences or where the probability of serious adverse health consequences is remote…." Either may result in a voluntary recall of product that was the case here. (For more information, see Health Canada Recalls.)
Arsenault says their entire focus since the problem first came to light has been on customers and employees. He is absolutely effusive in his praise and appreciation of the efforts of his employees during this vital period.
The recall arose following detection of trace amounts of:
* Myclobutanil, a fungicide used in the production of produce and vegetables under the name Nova40W in Canada and Eagle 20 in the U.S. The product is described as "slightly hazardous" by the World Health Organization (WHO) and of "relatively low acute toxicity" by the U.S. Environmental Protection Agency (EPA).
* Bifenazate (Floramite) is a pesticide used to control mites in growing grapes for wine, apples, nuts and more. Health Canada describes it as "unlikely to affect your health when used according to label directions."
Neither of these is approved by Health Canada under the Access to Cannabis for Medical Purposes Regulations (ACMPR). This is not "… a controversial pesticide banned in Canada…." as reported elsewhere. These fungicides/pesticides are used in other agricultural food growing but neither is approved for use with cannabis under ACMPR.
The amounts detected were in the range of .07 ppm. To clarify, this is equivalent to 1 part in each 14,285,714. Although there are some additional test results to come, it appears the offending materials entered OGRMF's operations through fertilizer. After being found, they were detected back to March 2016 but not after mid-December 2016.
Rather than conduct monthly tests, OGRMF simply agreed the materials must have been present between the dates so they could commence corrective measures immediately. Arsenault adds there was no employee error involved. As an organic producer, the company would not normally test for materials found in fungicides and pesticides that are not employed in their production processes.
The recall of a consumable product dating back to February 2016 is not straightforward. Actual product returns will be relatively small based on dried cannabis and oils sold in the more recent months. But there are many ways to skin a cat and OGRMF is working closely with customers to maintain a positive relationship.
Although there have been other product recalls in the past, this is the first time Health Canada disclosed the type of recall involved. Clearly, this is part of Health Canada's move toward greater transparency and it has the benefit of providing perspective on the level of seriousness of the problem. Not all recalls are the same. As defined by Health Canada, recalls can be of three types of which only a Type I can have serious health consequences. The OGRMF recall was initially a Type III and later a Type II, which are both less serious.
My conclusion that the situation is manageable is given further credibility by the announcement that Michel Robichaud will join OGRMF effective January 30, 2017 as Director of Edibles & Extraction, a key role in the "… company's leadership vision within the Canadian cannabis landscape." Mr. Robichaud is formally trained as a chemist and held senior positions with J.D. Irving Limited, an historical and still dominant conglomerate and high profile employer headquartered in Saint John, New Brunswick, the same province in which OGRMF is based.
Robichaud is making an important career change, leaving J.D. Irving to join OGRMF, with full knowledge of the recall issues. I doubt Robichaud would have made such a change if he believed the product recall would have permanent, damaging consequences to Organigram's potential.
Also I will add, Health Canada's immediate reporting of the recalls does not indicate a situation "… raising questions about Ottawa's oversight of an industry expected to explode with the upcoming legalization of cannabis" as it was described in the press. I believe it is an instance of proving the system works and has been stress-tested in advance of the additional demands from the coming legalization of cannabis. Canadian cannabis consumers can feel even more secure using products today knowing it was produced under a system that can detect and act on an unapproved substance in amounts as little as 1 part in 14,285,714.
All of this disruptive activity will have some financial impact on Organigram. Initially, the financial effect will be on the cost side. With a fiscal year-end of August, the next quarterly report will be for the three months ended November and that report should be released this month. These results are not likely to reflect much impact of the extraordinary costs that will probably fall more completely in the three months ended February.
From a revenue point of view, the system means it will take a month if an existing customer wants to change suppliers as a result of the recall. Uncommitted customers can choose a different supplier at any time. In my opinion, the underlying cause of the recall is not serious enough to cause large changes on the revenue side.
So with the possible exception of one fiscal quarter or an overlap between two quarters, I think OGRMF will be able to continue to meet its goals of profitability and positive operating cash flow after management has completed its co-operative and collaborative response to Health Canada.
The issue of maintaining organic certification through this period is also being dealt with by management. Operations have been subjected to a complete review and new procedures and testing regimes have been and are being instituted. A key corporate objective is to minimize the possibility of a recurrence in the future. Organigram's Director of Operations has been and is working actively with the certification board and the company is hopeful their status as an organically certified grower will be maintained. I conclude it will not be interrupted.
This was a serious, disruptive event to a young and growing company like OGRMF. But the company has handled it in a direct and forceful way through the actions of management with the support of employees. Organigram has responded in a co-operative and collaborative manner with all parties involved: customers, Health Canada, the organic certifiers and employees and I believe when all of the issues arising from the recall have been dealt with, the Company will emerge stronger and better than it was before.
(click to enlarge)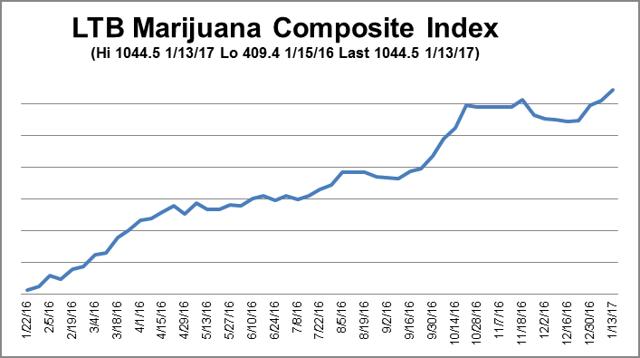 This chart shows the performance of the Let's Toke Business Marijuana Composite Index over the past year. The return for the 12 months ended January 13, 2017 has been a strong 155.1%. After a bit of a correction from the middle of November to the middle of December 2016, the average Canadian marijuana stock has been rallying strongly.
(click to enlarge)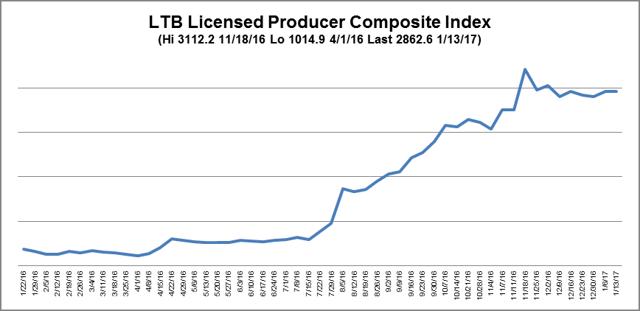 The LTB Licensed Producer Composite Index is made up of the ten public Licensed Producers: Aphria Inc. (OTCQB:APHQF), Aurora Cannabis (OTCQB:ACBFF), Canopy Growth (OTCPK:TWMJF), Emblem Corp. (OTCPK: EMMBF), Emerald Health (OTC:TBQBF), Mettrum Health (OTC:MQTRF), Organigram Holdings, PharmaCan Capital (OTC:PRMCF), Supreme Pharmaceuticals (OTCPK:SPRWF) and THC Biomed Int'l (OTCQB:THCBF). After reaching a record high in November 2016, the Index has traded in a tight range for the past six weeks but has lagged the Composite Index during this time.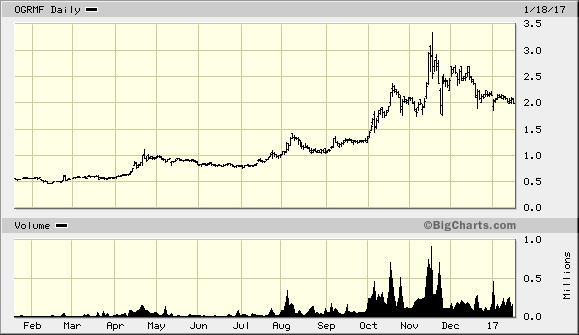 OGRMF reached a high of $3.35 per share at about the same time as the LP group peaked in mid-November 2016 before selling off gradually to close at $2.00 per share in mid-January 2017. The recall news has undoubtedly contributed to the decline in the shares somewhat and OGRMF has not participated in the general recovery in marijuana stocks since mid-December. I think this is an outstanding level at which to accumulate shares. As the uncertainties resulting from the recall are resolved generally in the Company's favor based on the information I have gathered from a variety of sources, I think the stock will move higher.
When I first reported on the Company four months ago, the shares were trading at $1.25 per share and have done well since then. The reasons I liked it then have not changed:
* Strong management with personal skin in the game. Denis Arsenault has not sold a share and remains the largest shareholder.
* The company is focused on net profit and positive operating cash flow that is being generated. If the recall causes a disruption, I believe it will be brief.
* Organigram is a certified organic producer and I conclude they will maintain that status.
The market cap has risen since last fall but I believe the company offers excellent relative value for a 1-3 year hold period. It is emerging as a leader in the Licensed Producer space. Legalization based on the recommendations in the Final Report of the Task Force on Cannabis Legalization and Regulation offers exceptional potential for OGRMF shareholders. (See 7 Winners Identified by the Canadian Cannabis Task Force Report.)
My research and due diligence through this recall period has affirmed my confidence in OGRMF and it remains my favorite in the Licensed Producer group. What this exercise has proven to my satisfaction for the first time is that shareholders can sit back in the comfort and knowledge that management will guide the ship competently through both calm and stormy seas.
Disclosure: I/we have no positions in any stocks mentioned, and no plans to initiate any positions within the next 72 hours.
I wrote this article myself, and it expresses my own opinions. I am not receiving compensation for it (other than from Seeking Alpha). I have no business relationship with any company whose stock is mentioned in this article.
Editor's Note: This article discusses one or more securities that do not trade on a major U.S. exchange. Please be aware of the risks associated with these stocks.