In this series of two articles, I will be opening up the business environment and finances behind my largest holding, Nokian Tyres (OTC:NKRKF). Nokian Tyres is a Finnish tire manufacturer perhaps best known for its Hakkapeliitta brand with a focus in premium segment winter tires. Tire manufacturing is an extremely capital-intensive business and Nokian Tyres is no exception. Best businesses are usually the ones with light-asset operations, which require little or no additional capital to fund organic growth.
However, it is still due to diversification to have capital-intensive businesses in your portfolio as well. It is a common saying that one should always invest either in a market leader or in a price leader. Nokian Tyres is not on a global scale a market leader, and never will be, but it has for decades been a supreme price leader in terms of profitability and margins. Therefore, I feel that Nokian Tyres would be a robust addition to anyone's portfolio over any other tire manufacturer. In this article series, I will be explaining why. Let's start this with a short historical narrative followed by an explanation of the current business and manufacturing position.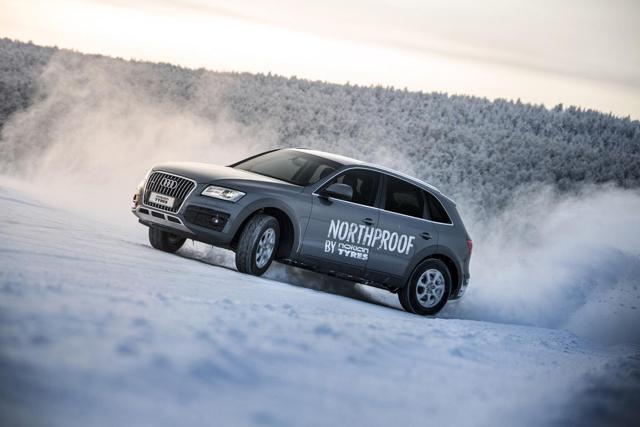 (Source: Nokian Tyres, Media)
HISTORY
Since the business started in 1898, Nokian Tyres has called the North its home. The first winter tire "Kelirengas" (Weathertire) designed for trucks was made not until in 1934. The introduction of treads at the surface of a tire was considered very innovative at that time as it eliminated the need to use snow chains. 1960s marked the next important milestone for the company as the emergence of the studded tire. This Finnish invention of the metallic skid stopper in a winter tire was a significant innovation at that time.
This decade was as well the time of mergers when the original parent company merged with several others creating the new Oy Nokia AB. This co-operation ended finally in 1995, when the tire company returned to its roots as an independent public company and was listed in the Helsinki stock exchange as Nokian Tyres Plc. The original Nokia (NYSE:NOK) started pursuing success in the telecommunications and mobile businesses.
Now after 80 years of the first manufactured tire, Nokian Tyres is a global manufacturer with sales of 1.4 B€. The extremely short history described above has made Nokian Tyres what it is today and as is stated in the company website:
Today, Nokian Tyres employs over 4,000 tyre industry professionals, each with their joys, sorrows, dreams, values and thoughts. They are joined together by a strong belief in their own abilities and trust in discovering things together, knowing, and rolling up their sleeves and doing. We call it the Hakkapeliitta spirit. It is the mental state of the company: tangible yet hard to define. Natural, genuine, real. Frighteningly simple. And impossible to imitate.
BUSINESS SEGMENTS
VIANOR
Vianor is wholly owned by Nokian Tyres. Vianor is a chain that sells tires for passenger cars and heavy vehicles. As the seasonal nature of selling tires makes it challenging for a traditional tire retailer to be profitable throughout the year, Vianor is focusing as well in a range of services such as tire changes and installations, oil changes, car servicing, and tire hotels in order to positively contribute to the chain's growth and profitability. In addition to the previously mentioned services and on top of Nokian brands, they are as well selling other tire brands and other vehicle accessories and products such as rims, batteries, and shock absorbers.
Even though this segment is a mere drag on the company's exceptionally high margins, it is still considered to be a major profitability and growth booster for the passenger tire segment as this provides the parent company the possibility to expand to new locations instead of only working in close co-operation with other major dealer chains - which are selling competing brands as well.
As a salesperson can have a tremendous effect on the consumer decision regarding the chosen brand, it is very difficult for a tire company to persuade a salesperson in a 3rd party tire dealer chain to recommend only your products.
This is why the Vianor tire chain operates in locations that are of strategic importance to the parent company. This lays a solid foundation to enable a better traction for a stronger share of the market as explained previously. Despite the fact that Nokian Tyres are sold outside Vianor as well, Vianor still provides the best network for sales of its products worldwide.
The Vianor channel is based on four different concepts:
Vianor owned meaning it is fully owned by Nokian Tyres.
Vianor partner meaning a partner program with an externally owned tire dealer.
N-Tyre meaning a situation where it is not possible to go for Vianor partner type of a model.
Nokian Tyres Authorized Dealer (NAD) meaning that an externally owned tire dealer focuses only partially in Nokian Tyres products. This means lesser benefits for the dealer and is merely considered a first step towards a Vianor partner.
Currently, there exists around 3000 chains with the above concepts while the near-term goal is to increase this number to above 4000 with a focus in Vianor partner and NAD concepts. The Vianor brand is considered to be a spearhead of growth for Nokian Tyres' brands as they focus mainly on advertising its own products.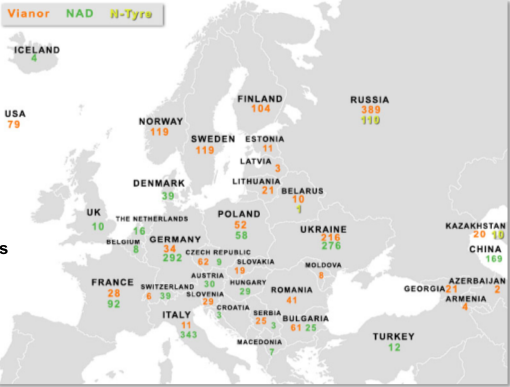 (Source: Nokian Tyres, Annual Report 2015)
Sales have been in recent years been flattish as they pretty much follow the sales of the actual passenger tires. A focus on services and products outside the core Nokian brand has provided some cushion for decreasing top line. The segment operates at a slightly negative operating margin but as already explained previously, this is not an issue as the Vianor chain merely acts as a display and sales channel for the passenger tires, which are the real generator of high margins.
However, it must be noted that a sales channel is not enough to increase sales but brand awareness is required as well. This is an area where the management has put a lot of effort recently. A quarter of total sales are generated via the Vianor segment.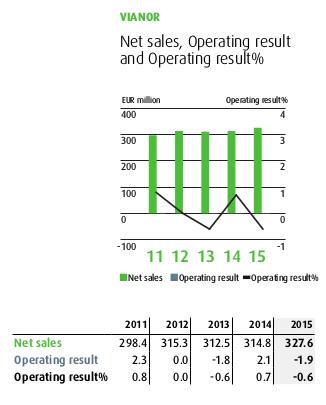 (Source: Nokian Tyres, Annual Report 2015)
PASSENGER CAR TIRES
This unit develops, manufactures and markets summer and winter tires for passenger cars. The core product portfolio consists of studded and non-studded winter and SUV tires as well as a smaller portion of summer tires. The SUV segment represents the fastest-growing and highest premium product segment. The most important brands are Nokian Hakkapeliitta, Nokian Hakka and Nokian Nordman. The product development of these tires is done mainly in Nokia, Finland, while manufacturing is mainly focused in Vsevolozhsk, Russia. The factory in Nokia provides as well a smaller production support for the passenger tire segment.
Nokian Tyres is the market and price leader in the Nordic and Russia. Other major competitors, such as Michelin and Continental, have tried to surpass Nokian from the leader position but they simply just not have been able to match the logistical mastery of Nokian Tyres. A special feature of Nokian Tyres' core markets is the strongly seasonal nature of the car tire trade. The majority of summer tires are sold to consumers close to Easter.
Sales of winter tires happen mainly between September and November, depending on when snow starts to fall, and approximately 30% of winter tires are sold within 10 days of the first snowfall. Therefore, being able to forecast sales and production months ahead of this requires professional skill, as tire manufacturers typically have at least one thousand different combinations of tire models and sizes. An extensive distribution network and efficient logistics and information systems are key to overcoming seasonal pressures.
Due to the seasonal nature of the business, manufacturers need to grant long payment terms to partners in their distribution networks. Nokian Tyres has such a strong market presence in its key market that it is almost impossible for competitors to crack it.
It is no secret that victories in car magazine tire tests create a boost in sales. The difference between a 1st and 2nd place in a test means a world as only a winner sells well. How has Nokian products then fared in various tests? Extremely well actually in its key markets. Especially in the Nordic and Russia where the company is a market leader, its products constantly rank in the top 3 while test wins are more than a norm for Nokian.
It is sometimes said that salespeople in distribution chains love customers who are not aware yet which brand to fit under their vehicle. It only takes to show latest results from a magazine test to convince that this the best tire for a customer - even irrespective of price. Only the best for me. Naturally.
How can Nokian Tyres then achieve more twice bigger margins as its peers? There are three reasons behind this. The first reason is that the company focuses purely on aftermarket sales. The pre-fitted tire market is a low-margin business due to the need for a massive R&D department and the strong negotiation power of major car manufacturers. Pre-fitted tires are nothing but a mere commodity as opposed to aftermarket where everything is only about the brand. The second reason for the high margins is that the company is mainly focusing on A segment premium products where the margins are much higher than in the B segment.
The third reason is brand awareness. The Nokian brand has at least in Finland always had a small mystical yet appealing veil around it. The Nokian brand is perceived by customers to have one of the market-leading products in terms of quality and safety, which makes customers more willing to pay for the extra euro.
The power of the brand was yet again proved last February in the aftermath of the Test Scandal caused by the Finnish press. Despite the almost witch-like hunt against the company by some media sources, the news did not have much effect on the sales. Finnish sales took a smallish few percent dent but that was it. More on the test scandal later on.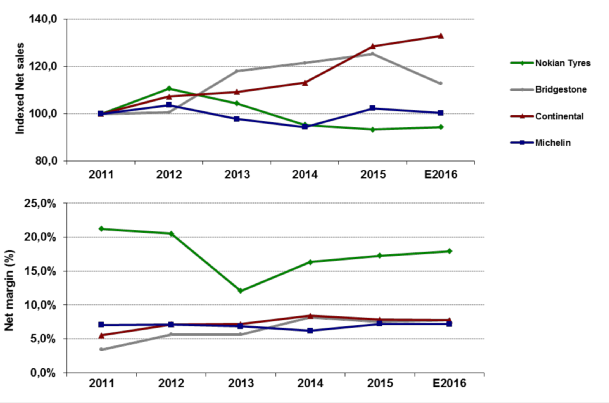 (Source: Nokian Tyres, CMD Material)
When the second factory was established in Russia over 10 years ago, the Russian car and tire market was booming like no other. This, however, all changed after the financial crisis, as now Russia has been nothing but a major drag on company's top line performance. Thanks to strong management, a decision to put more focus on Central Europe and North America has been compensating the weak Russian market to some extent. However, there are now signs that Russia is bottoming out providing more of an added benefit in the future.
Even though Nokian Tyres is a small producer on global scale, the company is still able to generate up to 20 million tires annually through shift arrangements. 80% of tires manufactured in Russia are exported making Nokian tires the biggest exporter of goods in Russia. What is more interesting is the fact that as the company is not operating at full capacity, they can with low additional-investments meet stronger demand. This provides leeway for further margin expansion in the future.
More than half of sales in this segment are generated via winter tires, which are considered to have higher margins when compared to summer tires. However, one of the main reasons for decreased profitability is the shift in consumer demand from A segment to B segment tires as the share of premium segment sales has fallen from 90% to less than 80% in 5 years. The SUV segment, on the other hand, has been a strong contributor for top line growth as its share from total passenger car tire sales has been steadily growing the recent years. Two thirds of total sales are generated by the passenger tire segment making it the most important segment for Nokian Tyres.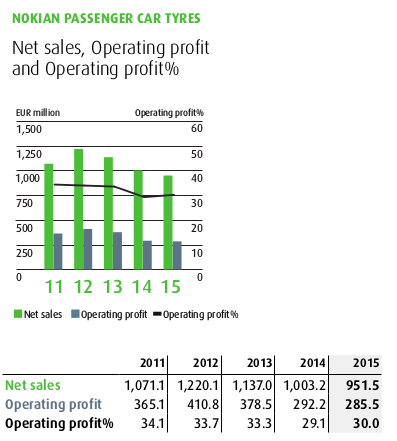 (Source: Nokian Tyres, Annual Report 2015)
HEAVY TIRES
This unit focuses on niche tires for the heavy industry. The most important markets are forest machinery, special tires for agriculture, truck tires, tires for ports and mines, and various types of heavy machinery tires for demanding conditions. The product development and manufacturing of core products takes place at the factory in Nokia, Finland. In recent years, the margins have been supported both by productivity improvements as well as increase in demand. Recently, the productivity has been supported by investments in expanding distribution and improving availability. New products in the forestry tires and agricultural categories have led to a growth in sales. Nokian tires is the global market leader in forestry machine tires.
As tire manufacturers have high fixed costs, profitability depends on making optimal use of the entire production capacity with as few outages as possible. Continuously improving productivity through investment and process development is essential to the success of a tire manufacturer. For logistical and commercial reasons, tire manufacturers often establish local factories in their most important sales areas.
Some of the flagship products in this segment include Forest King and Hakkapeliitta TRI, the latter one is the world's first winter tire for tractors. Even this segment seems to be highly innovative as for instance the Nokian Hakka Truck Drive received an innovation award voted by readers of Busplaner magazine.
Looking at the business performance, in recent years, the top line has been on a slight downward trend. In the Nordic countries, the market position of Nokian Heavy Tyres has remained strong although the company does not disclose actual market share figures. Nevertheless, you could assume this means that the market share has been remaining at constant adequate levels. New products in the forestry and agricultural categories have provided some support in sales growth. A tenth of total company sales is currently generated by heavy tires making its importance quite low for the company as opposed to the passenger tire segment.
The sales of heavy tires are mainly focused in the Nordic and Russia. Finland is the biggest market and Central Europe the second largest with 30% and 24% respective weightings of total sales in this segment. Industrial OE and Tire dealers are the most important channel representing almost 80% of total sales while forestri, agri and truck & bus are the main customer portals. All of its products are focused around niche markets where the company has a close connection with customers.
The near-term financial goal is to be able to generate more than 200 m€ with an operating margin of 20% where the strategy focuses around North American and Central European markets with tires tailored for skidder, tractor, flotation and track and bus segments. The main contributors to achieve this growth will be future productivity, newer products and a bigger sales force, naturally.
Demand for heavy-duty tires and truck tires is more cyclical than in the passenger car segment, following trends in machinery manufacturing and the willingness of companies to invest.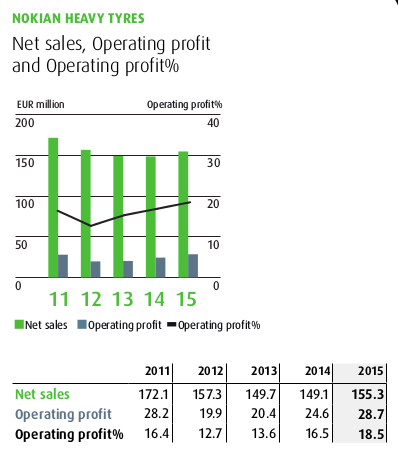 (Source: Nokian Tyres, Annual Report 2015)
FACTORIES
Due to low Russian ruble and world-class top-notch productivity, the factory located in Russia is most probably the world's most profitable and the most modern in Europe. In addition to the previous, the company is enjoying tax agreements with the Russian authorities based on investment volumes and the factory is located in Vsevolozhsk inside tariff barriers. All of these three facts are providing major competitive advantages for the company.
As a majority of the tires in Russia are exported, and as the margin between euro-denominated export income and production costs paid in rubles has increased along with the depreciation of the ruble, weakening of the Russian ruble has hurt top line growth but it has nevertheless provided major support for margins.
There has still been major discussion in Finnish media about the future of the factory in Nokia and at least the previous CEO stated clearly that as long as he is the acting CEO, the Nokian factory will be held operational. Considering the fact that the cost difference between the Nokian and Vsevolozhsk factories is more than 400%, the importance of the Finnish factory must be mainly related to PR reasons. As sales in Finland generate still around 16% of total sales, they would significantly suffer in the event of a notification that all production would be moved to Russia. Lots of Finnish customers are simply buying the brand because it is Finnish.
The second reason is related to political risks. As Russia is not considered to be as stable as Western countries in general, there is always a risk of issues with Russian authorities. Or even a worst-case scenario of factory socializing by the government just like the markets were worried after the 2014 Crimea crisis. This is why the management does not want to put all of its eggs in a single basket, as a disruption in the Russian end would be a major blow for the operations. During the last CMD, management even indicated of further plans for the opening of a third factory where one of the reasons was geographical production diversification, which would decrease the political risk premium of the company.
On top of a much higher cost structure in the Nokia plant, there has been as well major issues when it comes to work ethics and morale in recent years. According to some Finnish media sources, situations where for e.g. factory workers have not been interested in coming to work on Monday or Friday have been quite common. One of the reasons for low morale has been the steady decrease in tire demand during recent years, which have led to constant small layoffs in Nokia.
However, all of this could be history now as in January 2016, an agreement was finally reached regarding flexible working time for personnel for the next few years. The agreement will enable production to become more flexible and the company's competitiveness to improve. This is mainly attributable to the fact that as tire manufacturing is seasonal, lots of overtime has been needed at times when the tire season is approaching. This has resulted in excessive employee costs.
Despite two own factories and a third one on the horizon, the company still has contract manufacturers with factories that are able to meet their strict quality requirements. In 2015, contract manufacturing accounted for around 3% of the company's total sales.
CONCLUSION
Considering the strong market position in the Nordic and Russian markets and the fact that the company has been able to produce such an impressive growth purely from organic sources, Nokian Tyres is an excellent addition to anyone's portfolio. Characteristics in terms of quality and long and successful business history only support this thesis. The passenger car tire segment is the most important segment going forward both for top and bottom lines and this statement is supported by the ever-expanding and stronger product line. E.g., the launch of Nokian Hakkapeliitta 9 should provide, starting from this year, a good boost for the company.
Even though this article already provided quite an extensive picture of Nokian Tyres' business, in the next article, I will be going a bit deeper by focusing on test centers, current business environment, future trends, the dreaded test scandal and finally the outlook.
Thanks for reading and stay tuned for the next even more interesting article by clicking the Follow button!
Disclosure: I am/we are long NKRKF.
I wrote this article myself, and it expresses my own opinions. I am not receiving compensation for it (other than from Seeking Alpha). I have no business relationship with any company whose stock is mentioned in this article.
Editor's Note: This article discusses one or more securities that do not trade on a major U.S. exchange. Please be aware of the risks associated with these stocks.