Stocks discussed on the in-depth session of Jim Cramer's Mad Money TV Program, Thursday, January 19.

Cramer is okay with the market selling off this week, as investors are freaking out because they think Trump is unpredictable. "It is like they are saying get ready for four years of non-stop turbulence. I am more confident than that," the Mad Money host said. He thinks Trump is predictable, as his pick for Treasury secretary, Steven Mnuchin, appeared in front of the Senate Finance committee on Thursday.
Mnuchin reiterated Trump's agenda of lower taxes, repatriation of funds and deregulation. This made Cramer believe the economy will grow under Trump, since Mnuchin will be the person to see through these changes.
The earnings from big banks show the strength in the economy. Airlines numbers, jobless claims and housing starts also back up this theory. "The fact that both the big picture economic data and the companies themselves are telling us that business in this country has turned a corner gives me confidence that a Trump sell-off isn't really warranted here, so if we get one, we can take advantage of it to do some buying," added Cramer.
Earnings and takeover news are moving stocks, which means any pullback is an opportunity. The sectors that Cramer is worried about are retail and healthcare. He hopes that Trump mentions how he wants to reduce drug prices. Healthcare companies will take a big hit if Obamacare is repealed.
"As long as the economic message from soon-to-be-president Trump remains consistent with what we heard on the hill, I think this set-up is a good one, even if there is pain before the gain," Cramer opined.
CEO interview - DexCom (NASDAQ:DXCM)
DexCom is the maker of glucose monitoring systems that assist people with diabetes with reading blood sugar levels without having to prick their finger with a needle. When CMS gave DexCom's device a favorable designation, the stock rallied 25%. Cramer interviewed CEO Kevin Sayer to know more about the CGM (continuous glucose monitoring) system.
Sayer admitted he was shocked to hear the news that the device had qualified for medical reimbursements. "I was at JPMorgan telling people 2018 at that conference, and so it's good to be wrong," he added. He was also not expecting an approval for Type I and Type II diabetes.
Sensors currently cost $75, which makes medical reimbursements a big deal, in Sayer's opinion. He demonstrated the sensor which connects to a smartphone app for wireless real-time glucose monitoring. It also has an Apple Watch app, which makes monitoring easier.
DexCom is the only approved device in this space, but the company is still innovating with sixth-generation sensors that would make great advances over systems available today.
Tesla (NASDAQ:TSLA) and Netflix (NASDAQ:NFLX)
The short sellers are losing a lot of money on Netflix and Tesla every day. Despite no profitability, these stocks are rising. Cramer blames the Amazon (NASDAQ:AMZN) effect for the rise in stocks of Tesla and Netflix. "They just don't understand the Amazon factor, meaning you may not see what is causing all the love for either company, that love is tangible and palpable," said Cramer.
Netflix grew its subscriber base to 93.8 million, Remember that it began operations only 10 years ago. 47% of its subscribers are overseas, which started in 2011. It has amazing content, which make people sign up for Netflix. The company is downgraded, as it cannot be valued on traditional fundamentals of discounted cash flow. Netflix has been delivering for a long time, as it is going after growth and not profitability.
Tesla is a similar case. It's a cult stock. Analysts believe the company can make only limited number of cars, which means its profitability is limited. However, this stock cannot be measured by the limits of a spreadsheet, and hence, shorting Tesla would be foolish, in Cramer's opinion. Elon Musk makes all the cars in the US and employs 25,000 people, which makes Tesla a Trump stock.
"Both Netflix and Tesla, like Amazon, require you to think outside the box of traditional fundamental analysis in order to accurately value their stocks," Cramer noted.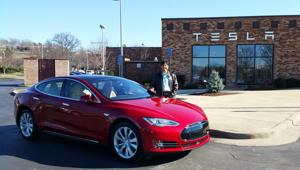 CEO interview - PPG Industries (NYSE:PPG)
Cramer thinks PPG Industries has been misdiagnosed as not being a Trump stock. It's a chemical company that makes proprietary glass, paints and coatings, and investors believe this is not a Trump stock, as PPG purchased Mexican paint maker Comex for $2.3 billion two years ago. Cramer disagrees with this view, as the simple fact is PPG makes its goods in the country it sells them. Cramer interviewed CEO Mike McGarry to find out more.
"Our Comex business is a local business. We make paint local, we sell it local. We are also the largest painters of cars in Mexico and industrial products, and those stay in Mexico. And the ones that come in the U.S., if Trump wants to change production around, we paint them in the U.S., too. So, we are agnostic on where the cars are made," said McGarry.
He believes the company will benefit from lower taxes and deregulation and a rise in infrastructure spending. Commenting on M&A deals, McGarry said PPG has always been patient and disciplined with buying and selling companies.
Viewer calls taken by Cramer
IDEXX Labs (NASDAQ:IDXX): It's a buy. The humanization of pets theme is on and will go on for years.
Express Scripts (NASDAQ:ESRX): Cramer doesn't want to touch the group currently, as it is in an uncertain environment.
Hanes Brands (NYSE:HBI): Cramer is not recommending retail stocks apart from PNH Corp. (NYSE:PVH).
First Solar (NASDAQ:FSLR): Solar stocks will not be in favor with Trump as president, as he is pro-fossil fuel.
Twitter (NYSE:TWTR): Twitter is in a tough situation. The company needs a serious full-time CEO to make money.
::::::::::::::::::::::::::::::::::::::::::::::::::::::::::::::::::::
Jim Cramer's Action Alerts PLUS: Check out Cramer's multi-million dollar charitable trust portfolio and uncover the stocks he thinks could be HUGE winners. Start your FREE 14-day trial now!
Get Cramer's Picks by email - it's free and takes only a few seconds to sign up.