Being invested in M&T Bank (NYSE:MBT) at least to some extent feels like as much a question of faith and thought process as about narrower questions concerning the PE ratio and yesterday's 4Q results.
In many ways the company is like other regionals. Take your pick, but I bracket it with the likes of KEY (KeyCorp), STI (SunTrust), RF (Regions Financial), PNC (PNC Financial Services Group) and (obviously!) U.S. Bancorp (NYSE:USB). There are differences (market cap, regional focus, target segment), yes, but I think the values and drivers of these businesses are overall quite similar. It's just that with those other names, we pay a lower multiple. Here are some comps: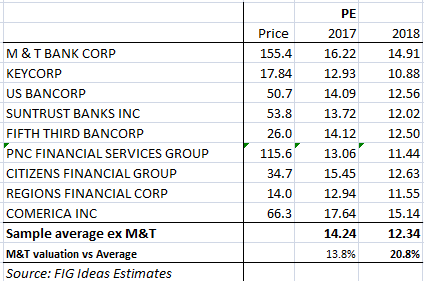 So MTB is 14% then 20% more expensive than these other names. And to enrich the discussion further, here's the stock in comparison to it the KRE regional bank ETF since halfway through 2006. MTB has outperformed by nearly 20% through this period, but as you can see on the chart, MTB (which is shown in the white line) achieved this through the first period of recovery out of the 2008 Financial Crisis.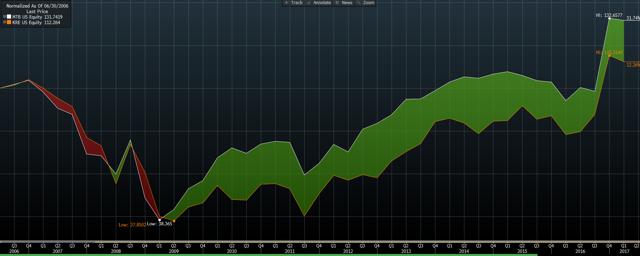 That was a good buying opportunity because MTB had been dragged down in line with the KRE during the crisis, but managed to remain profitable (albeit at a lower level) in 2008-9, and then normalized quickly. Its deep knowledge of its customer base proved its relationship based model as lower risk than peers and, duly, it came back stronger. Equally, let's recognize that over, say, the last five years, MBT has lagged the KRE.

This reflects a few things, not least the time delays around the acquisition of Hudson City, which is now integrating well, the full valuation and, I think, also the fact that there are good things going on in the peer group generally that have taken a little of the specialness off MTB in the minds of investors. Banks have had a period of slower growth and CEOs have learned more about squeezing value out of franchises, risk control and - a matter of being forced to - the pleasures of lower capital leverage. If President Trump drives the US into a bank credit bubble, a scenario to which I would assign a 40% probability, then it is quite likely that M&T will shine again through superior resilience when it all cracks. It's just others will shine along with it.
One use of a richer multiple of course is to buy other banks, and this possibility should be part of investors' calculus. Could MTB get something powerfully accretive? This is impossible to answer, but it does at least have the PE premium vs. the selection above (most of which are far too large for MTB by the way) to pay a control premium and not suffer aggressive dilution in the first year or two. This is balanced through by many smaller regional banks trading on similar or even higher multiples. Rest assured, the last thing MTB will do is over pay for another bank; it's just the corollary of its capital discipline is less aggressive M&A in hubristic markets.
Solid 4Q '16
The integrated entity is moving well with good growth of, YoY, 8.4% in net interest income and 3.9% in non-interest income in 4Q'16. Cost/income has improved now that early integration expenses are out of the way though I would be cautious about further gains absent a strong uplift in margins.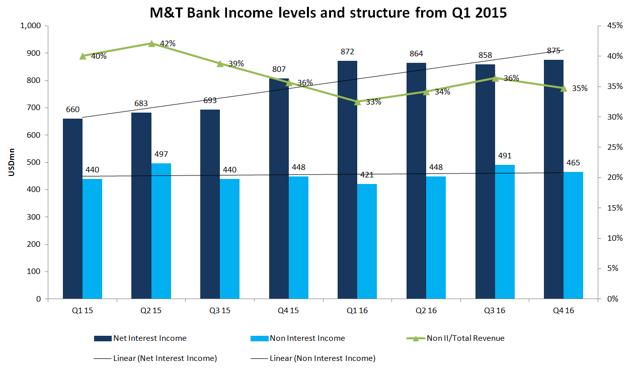 Pre-provision and pre-tax profit is grinding up and should continue to do so.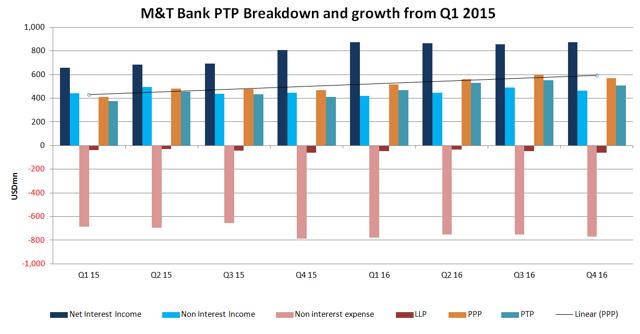 In essence, MTB should move up to a revenue growth rate of 7-8% and I would expect this to carry the pre-tax line assuming a stable relationship with operating costs and cost of risk (this in line with loan growth).
This leaves us with the following outlook: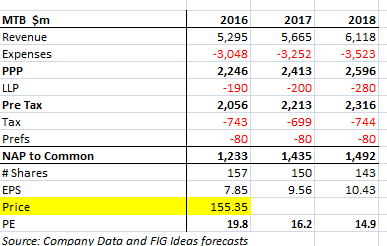 Conclusion
I think MTB will give you a 2% yield and ~5% EPS growth through buybacks along leaving undemanding parameters for a double digit annual return to continue. It might, just might, deploy its multiple in an intelligent acquisition in the medium term. But with the marked PE premium, I can't say it will beat its peers over that medium term. This stock is in no way an outright sell. To my mind though KEY is an interesting alternative with a lower valuation and a route to outperforming if it can deliver its First Niagara Financial Group (NASDAQ:FNFG) integration and I would be minded to switch. There, I said it.
Disclosure: I/we have no positions in any stocks mentioned, and no plans to initiate any positions within the next 72 hours.
I wrote this article myself, and it expresses my own opinions. I am not receiving compensation for it (other than from Seeking Alpha). I have no business relationship with any company whose stock is mentioned in this article.