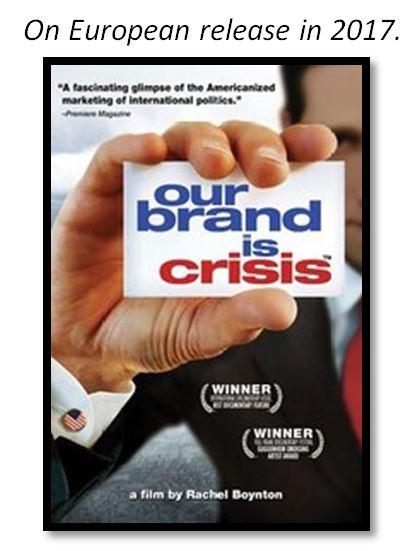 The rise of inflation and the improvement in economic growth were noted in the last report as dangerous contradictions to the ECB's current "politically motivated" easy monetary policy stance. This contradiction gained prominence, as the recent release of the last ECB Governing Council meeting minutes showed that some members had "growing confidence in the overall economic performance of the euro area economy". As the ECB's first Governing Council meeting of 2017 approached, questions began to be raised about its wisdom in deciding to expanded monetary policy incrementally for political reasons at the December meeting and whether this would now be taken back. Simultaneously the political reasons of Brexit, 2017 Eurozone elections and President Trump's Anti-Eurozone Tweets all flared up just in time for the Governing Council meeting and for Davos; and presumably much to the relief of Mario Draghi.
Amidst the tension of the conflicting economic and political forces, going into the meeting, Bank of France Governor Francois Villeroy de Galhau attempted to square the circle with the discounting comment that: "some of the more recent comments about a 'come back of inflation,' which would allegedly put the governing council under strain, seem greatly exaggerated". Clearly the ECB had no intention of ending the expanded stimulus.
Governing Council member Ewald Nowotny then lent pre-meeting support to Villeroy. Nowotny's line of reasoning falls back on the old core versus headline inflation debate. While acknowledging that rising oil prices are dragging up headline inflation, he insisted that core remains passive and will not be dragged higher for some time.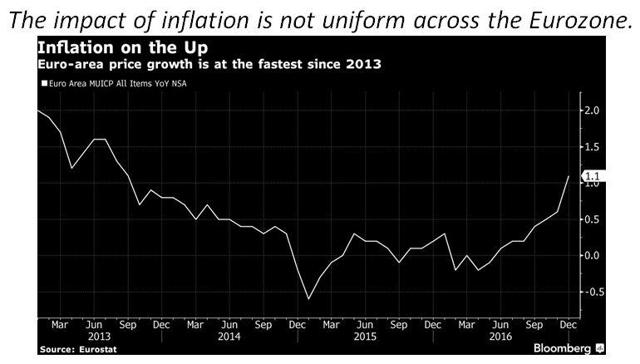 (Source: Bloomberg)
Rising Eurozone inflation is a more insidious problem because it will impact each nation in different ways, since the economic recovery has not been uniform across the regions. Countries with tight labor markets like Germany will see wage push inflation, especially as populism is barring the valve of immigrant labor from mitigating the situation. This wage push inflation could then knock-on to weakened corporate profits and lower economic activity. Stagflation will thus appear from the supply side in nations with this affliction. In nations with high unemployment, inflation will erode spending power and thus lead to weakened economic activity. These nations will get stagflation from the demand side.
How the ECB reacts to this stagflation period will be critical. Currently, the ECB is trying to blame the inflation on a temporary spike in oil prices. Should this inflation persist however, there will be pressure from the different nations to address it in different ways.
The Northern Europeans are pushing for structural economic reforms and tighter monetary policy. The Southern Europeans are pushing back against structural reforms, because this creates the political climate for populism to prosper. The Southern Europeans also want the ECB to continue to bail out their banking system, through buying the sovereign debt that they issue for state bailouts of the banks. The ECB is not only contradicted by the economic data, but conflicted in its response to it. This appearance of internal conflict will become stronger in the public domain as Governing Council members talk their specific conflicting national monetary policy agendas.
The growing stagflationary conditions vitiate against the ECB's policy of enabling a state bailout of the banking system in some nations, by monetizing the debt of the nations involved in the bailout. The implications of this observation of the growing hurdle to the ECB's ability to support the resolution of the current banking crisis with its balance sheet are profound.
Evidently, Eurozone policy makers have recently considered this growing obstacle and come up with an elaborate tactical solution to overcome it. The European Commission recently referred back to its mid-2013 classification of the situation as a "crisis". This classification has still not been changed. Since this is the case, the state bailout of the Italian bank Monte Dei Paschi (OTC:BMDPD) (OTCPK:BMDPY) (OTCPK:BMDSD) does not constitute a breach of the rules on state aid. Italy therefore has the green light at the EU level to bail out its banks. By default logic therefore, Italy will be given leave to breach Stability Pact rules on its deficit to facilitate said bailout. By default logic also Mario Draghi will be able to refer to the "crisis" as justification for his continued loose monetary policy stance and his inevitable purchases of deficit breaching bonds.
To refute this potential chain of events, Italian Finance Minister Padoan emphatically denied that the Monte Dei Paschi state bailout will require European Stability Mechanism (ESM) support. It should be noted that this is just one bank and not the whole Italian banking system that he is referring to however. In well-choreographed style Elke Koenig, the head of the Single Resolution Board (SRB), then gave the state bailout the official green light from her institution. According to her "not all bank failures are a threat to financial stability" and Italy is doing a "good job" by working within the rules and guidelines governing state bailouts.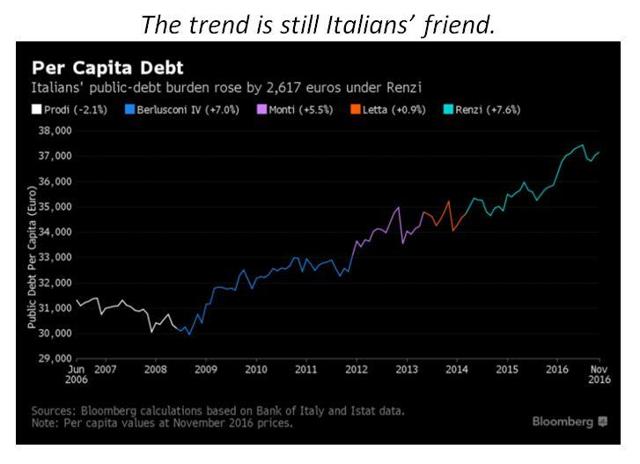 (Source: Bloomberg)
Unfortunately, the Potemkin facade being erected around the issue of Italian bad bank debt and its knock-on effect into the country's fiscal deficit is unable to cover the underlying problem. Italy's debt/GDP ratio has risen consistently since the Credit Crunch; ironically ballooning most under the alleged reformist Matteo Renzi. A situation is now being reached that approaches the Greek crisis, whereby the Greeks basically threatened to destroy the Eurozone by defaulting unless their debts were written off. Anecdotally, Greece is still working through its debts at great social cost and the Eurozone remains intact. Italy maybe too big to ignore as a threat to the Eurozone, however bailing it out would lead to a rise in populism in the rest of the Eurozone that would challenge its survival. Italians would therefore be well advised not to antagonize the EU, although President Trump will no doubt be encouraging them to.
The sense of crisis resonated with the latest Brexit developments. Prime Minister May signaled the clean break with the EU that she hopes to mitigate with cheap sterling and a swift economic and political realignment with America. The Brexit is therefore set to be Hard and acrimonious. Whether this draws European voters closer together with the European Project remains to be seen at the polls in 2017. Populism however remains infectious and is now what the EU classifies as a "crisis" for its purposes of keeping the Eurozone together. Jamie Dimon certainly sees a crisis developing and the elevated probability of a Eurozone breakup, if his recent comments to this effect at Davos accurately represent his views; rather than his intent to shake Eurozone policy makers into action. Ray Dalio is literally scared by populism.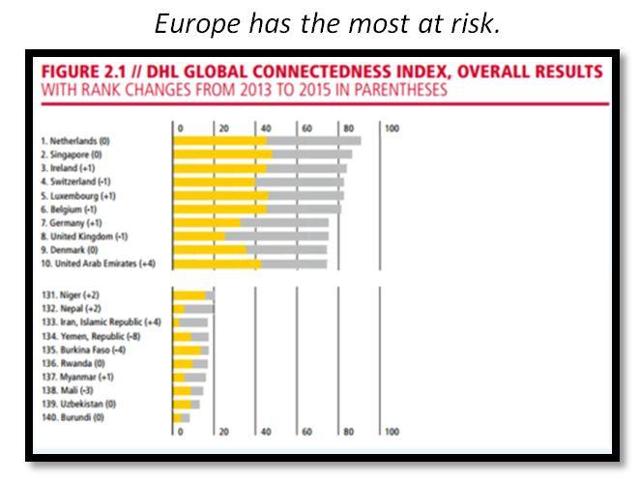 (Source: Seeking Alpha)
The French and the German Europhiles, who feel the pressure from populism, have certainly reacted in classical "crisis" mode. Emmanuel Macron has emerged from this amorphous group as the only French presidential candidate with true Eurozone colors. Commenting on the implications of the Trump victory, in the November 23rd report, it was suggested that European NATO members would have to start contributing to their own defense financially and materially. In fact it was suggested that the Eurozone has been a free-rider, in terms of benefiting from American national security policy, to become an economic superpower without the economic burden of being one. The election of President Trump and his alleged rapprochement with Russia further challenge this free-rider status.

(Source: Seeking Alpha)
The December 19th "Festive Guidance" report suggested that the Eurozone collective security threat story was in play, by those concerned to keep the European Project alive. Evidently Emmanuel Macron and some of his recent German hosts think so; as his hurried visit to Germany was framed by his call for greater Eurozone defense cooperation in view of the new Trump reality. As he said: "The U.S. is completely changing its strategy and it's not due just to the election of Mr. Trump" and also "Today we are in a situation where Europe has to defend its own interests regarding security and the Middle East. We have to re-build a European strategy."

(Source: The Indian Express)
Macron then identified himself positively, as the only true European leadership candidate of any nation who stands for deeper European integration, by calling for deeper fiscal union and a united Eurozone budget. The alternative currently being promoted by the German Alternative for Deutschland party is a bicameral single currency Eurozone, with a hard German core zone and weak currency periphery centered on France.
French Prime Minister Cazeneuve then confirmed that collective European security is the lowest common denominator for the Eurozone, by calling for the creation of a European army with the words that: "European defense with European means, European investments, European power projection capacity is necessary to provide the European Union … with independence."

Angela Merkel and Wolfgang Schaeuble must have groaned when Macron spoke of his plans for fiscal integration, since this is not something that goes over well with German voters. French politics is a risky business for German politicians. Embracing Macron wholeheartedly could backfire, even though rejecting Marine Le Pen is a no-brainer. Le Pen wants to exit the Eurozone but the position of Francois Fillon is not as clear. If he is persuaded by the logic of a harder Euro backed by structural reforms, it is easy to see Germany getting behind him. Macron opined that the Eurozone will fail within ten years without fiscal union, so Germany could easily wait this suggestion out; especially if Fillon is a hard currency European. Fillon's known position is to be in favor of more national sovereignty and also of European reform that can lead to deeper integration. Germany therefore needs to remain engaged with both Macron and Fillon, without showing a preference for either until the result becomes clear.
Merkel however did embrace Macron's vision, of collective defense, signaling that she intends to roll through fiscal integration under the collective security funding heading. She sought to plant this seed in the minds of German electorate with a speech in which she said: "let's not fool ourselves ... from the point of view of some of our traditional partners -- I'm thinking about the trans-Atlantic relationship among others -- there is no infinite guarantee I'm convinced that Europe and the EU will have to learn to take on more responsibility in the world."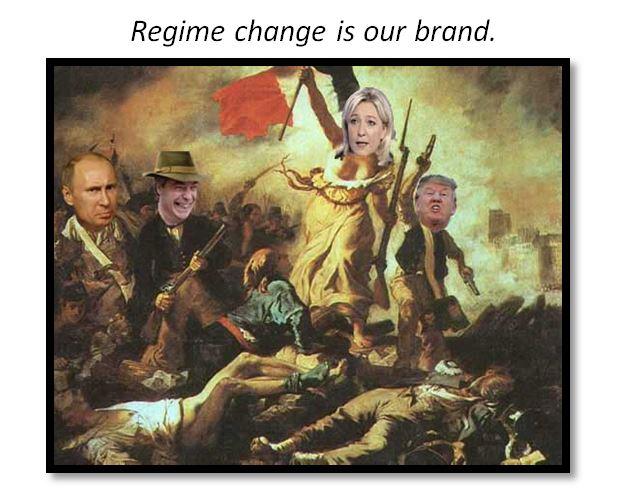 What worries the Europhile elite is the fact that Macron is thought to be in third place behind Francois Fillon and Marine Le Pen. If Macron fails, the Eurozone Project in its current form is over. The crisis measures to support Macron have already kicked in; not least the withdrawal of funding for Le Pen by the French banks. The Socialists are now considering whether to throw their lot behind Macron. Even former President Hollande is wondering if an endorsement of Macron would be a kiss of death or not, given his unfortunate ability to drive votes in Le Pen's direction. France and Europe are in crisis, make no mistake about it.
In the dirty world of fake news and public opinion forming, the services of Elabe were employed to create a poll in which Macron's popularity came out well ahead of both Fillon and Le Pen. It should be noted that Alain Juppe also polled better than Fillon, but that Fillon actually won the nomination for party presidential candidate. The power of these campaigns to influence sentiment have evidently been strongly eroded by populism, to such an extent that they now are a source of embarrassment to the pollster industry in general.

(Source: Seeking Alpha)
Henry Kissinger has been getting all the headlines recently, along with the related thesis that America and Russia will build bridges in order to confront China. This great thesis ignores the elephant in the room, of the emerging superpower in the room, known as the European Union aka the United States of Europe. Any deal between America and Russia would clearly have to involve a deal about the EU and the limits of its enlargement. Regime change in Europe that would be more amenable to an American and Russian grand bargain would be a helpful precondition. The confirmed Russian support for President Trump and the sudden appearance of a financially broke Marine Le Pen at the Trump Tower in New York, are concurrent pieces of information which lead to intelligence that does not dispute the thesis of attempted regime change in Europe.
The strongest piece of evidence for the regime change thesis came from President Trump himself. His first key signal came from his refusal to send a large delegation to Davos, thus de-legitimizing the venue and its globalist message. This was followed up by his own "Not Davos" communication; in which he identified Germany as the invisible global superpower that is not paying its dues for this privilege. He then went on to promote Brexit as a model for the rest of the Eurozone and to lambaste Angela Merkel for her immigration policies. This attack was further underlined with a view of his desire for a global reset favoring Russia over Europe, in a reconfiguration of NATO strategy, with the arbiter of a new nuclear arms treaty to guarantee the new arrangement. Wolfgang Schaeuble immediately returned fire for Germany and warned that America risked losing its ally.
The pusillanimous response by the WEF, to hold a Washington summit to address President Trump's issues, was a strategic defeat for globalism which showed a passive acceptance of the new global order under construction by President Trump and his growing coalition of the willing. The current "crisis" response of the Eurozone establishment is also a valuable piece of evidence that does not conflict with the regime change thesis either.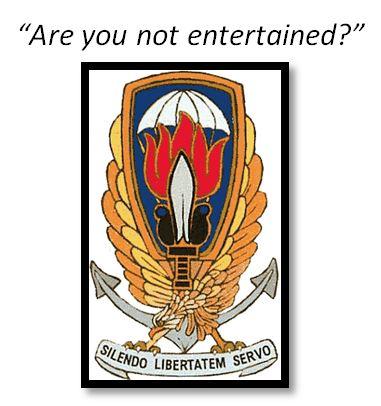 Crisis measures have also been executed, in the relations between Italy and the EU. Lately the EU-Liberal Party announced that it was breaking off further discussions about an alliance with Beppe Grillo's Five Star Party. As the reader will see later, the forces of European Liberalism have become instrumental in enabling a conservative regime change within the EU itself. The break comes because Grillo's party are adhering to a manifesto that commits them to holding a referendum on the single currency. Italy itself has become the epicenter of a Gladio style cyber-security attempt to destabilize the economic and political system, involving an Italian with high Masonic connections and a surname to match, in which the email accounts of Mario Draghi and Prime Minister Renzi have been compromised. The servers to where the hacked information has been secreted are in Utah and Minnesota. Given Italy's volatile postwar history and the current heightened state of alert over the Russian hacks of the DNC, this matter has attracted wider scrutiny by the intelligence community. To see these hacks attributed to America and/or Russia should come as no surprise if and when it does.
(Source: Seeking Alpha)
Initially as noted in the November 7th report the Europhiles had embraced populism in order to engage and then suffocate it. The new strategy is now to kill it by cutting off its sources of and access to economic support. Having continued to fund Eurosceptic parties, in order to embrace and undermine them, the EU has now decided to cut off all of their funding. Simultaneously, attitudes towards Britain and Brexit have hardened.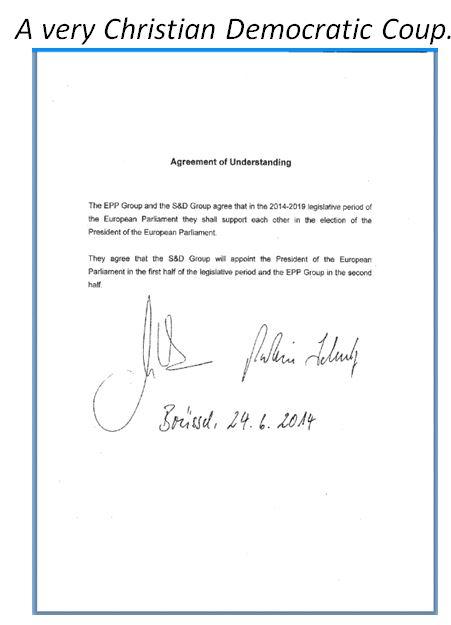 (Source: New Europe)
Evidence of the application of the word "crisis" to assume control at the heart of the EU, opened the window on a regime change of the EU's own enabling to counter the Russo-American threat. Real evidence of Europe's worst kept secret preparations, for the sharing of power at the head of the EU in coordination with the 2017 national election year calendar, recently came to light. Back in 2014 the big three European Parliament parties between European Conservatives (EPP), Social Democrats (S&D), and Liberals (ALDE) all got together and hatched a plan for the seamless transition of power and control in 2017. The existence of this letter of agreement was recently revealed. In forensic support of this story, the S&D signatory Martin Schulz has dutifully stepped down, ostensibly to potentially run as German Chancellor but more likely to be Germany's next foreign minister, in order to enable the planned EU transition of power.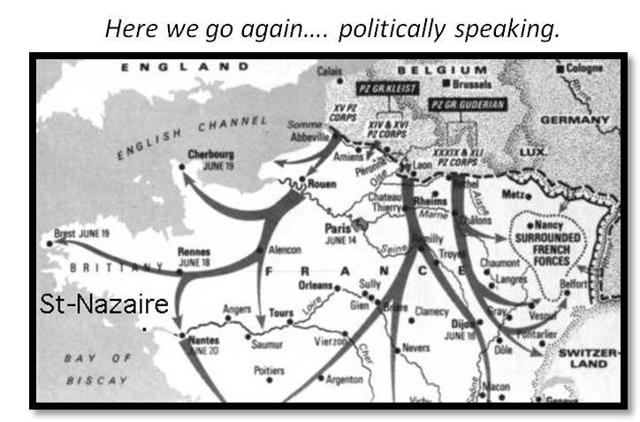 Under the 2014 agreement, Schulz would be succeeded by his S&D colleague Gianni Pattella and then leadership would go to ALDE's Guy Verhofstadt. All seemed to be going to plan until both the S&D and ALDE went back on their word. The outcome of this breakdown in understanding has produced the Christian Democrat Antonio Tajani as the new replacement for Schulz. Tajani is a close friend and ally of Jean-Claude Juncker and both are of the same party . A Conservative coup has therefore been enabled by the S&D and ALDE under the guidance of Juncker. The Liberals had been making overtures towards the populists of late, in line with what was observed in the November 7th report. The Christian Democrats however reached a new agreement with the Liberals to enable a bloodless coup which now puts the bloc's three top jobs in the hands of the European party dominated by German Chancellor Angela Merkel.
Merkel's bloodless coup could therefore be a result of her fear of the populist insurrection through the Liberals, or it could be a reaction to President Trump's own regime change plans. Given that it has been noted that the strategy of subsuming the populists through Liberal embrace is now over, it is more likely that Germany has gone for some kind of "crisis" Plan B by fiat with the support of both the S&D and ALDE. Since the agreement on power sharing was signed back in 2014, the unforeseen events of Brexit and the election of Donald Trump have changed the global landscape. This has presented a crisis that required the cozy 2014 agreement to be torn up and replaced with new "crisis" governance measures. As Tajani is an Italian, his election also signals a wider axis-move by the Germans to embrace and control the problems festering away in Italy since Renzi's failure to bring about structural reform.
Mr. Market is taking a less nuanced view of things currently. Hard Brexit is euro positive and both sterling and dollar negative in his current thinking. This view assumes that the Eurozone holds together thanks to a Macron victory. Gold also comes out ahead in his current thinking, because he is negative on the dollar. His confusion will come if and when Macron loses and the dollar and gold rise together, based on the widening rift between the Anglo-Saxons and the Europeans; and the loss of the Eurozone's free rider superpower status.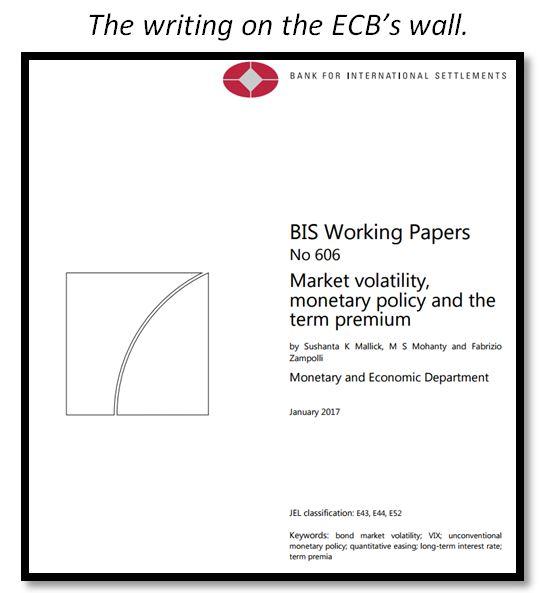 (Source: BIS)
The Bank for International Settlements (BIS) recently issued a working paper that contained some sobering words for Mario Draghi to ponder going into the latest Governing Council meeting. The study found that whilst QE soothes and liquefies capital markets during a crisis, that it does not stimulate economic growth post-crisis. It should be noted however, as Draghi no doubt will do, that unconventional policy is there for capital markets that are in crisis. He could then therefore appropriate the word "crisis" currently being used by the EU, to justify its position on deficit infractions, to justify his own persistence with the QE process during his press conference. This would be disingenuous given that Eurozone capital markets are not currently in crisis. If however a crisis in the capital markets were to ensue, then his justification would be all the more apparent. His anticipation of said crisis, as an insurance policy, could even be framed by him has macro-prudence. The lines between macro-prudence and politically motivated can become very blurred in times of "crisis"!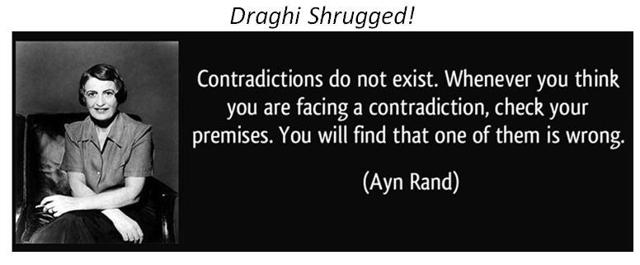 (Source: Seeking Alpha)
As it happened, the ECB left policy unchanged as signaled well in advance by Nowotny and Villeroy de Galhau pre-meeting. In an extraordinary act of humility, for which he is not famous, a contrite Draghi then begged the Germans to have "patience" until inflation allows him to deliver the higher interest rates that they desire. In a reciprocal of humility, Wolfgang Schaeuble took one for the German political team and opined that, whilst the ECB's decision would not go down well with the voters: "I[Schaeuble] trust the ECB will always do the right thing."
The lines between macro-prudence and politically motivated have become very blurred indeed, when Mario Draghi and Wolfgang Schaeuble engage in "crisis" acts of mutually reinforcing humility! But is it all just a sign of a wider German plan?
Disclosure: I/we have no positions in any stocks mentioned, and no plans to initiate any positions within the next 72 hours.
I wrote this article myself, and it expresses my own opinions. I am not receiving compensation for it (other than from Seeking Alpha). I have no business relationship with any company whose stock is mentioned in this article.