Splunk Inc. (NASDAQ:SPLK) develops and markets software which enables its customers to gain real-time operational intelligence by harnessing the value of their data. The company's products empower users to collect, sort, index, search, monitor and analyze their data and use it to improve their operations. There are an incredible amount of insightful customer stories on the company's website, here.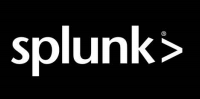 Specifically, SPLK's software is capable of addressing diverse data sets ("big data") and is specially designed to work with machine-generated data. Machine data is data generated by software applications and devices across an organization and typically contains a definitive, time-stamped record of various activities, such as transactions, customer and user activities and security threats. The company's products help users in various roles, including information technology, security and business professionals, to analyze their machine data and achieve real-time visibility into and intelligence about their organizations' operations.
As more companies look to leverage the data collected across their organizations, SPLK is ideally positioned to provide the software they need not only to efficiently collect and organize their data, but also to produce valuable insights that can be used by managers to increase operational efficiency/profitability.
During the recent Analyst Day on 1/12/2017, SPLK management slightly lowered its guidance for the next few years and I believe, positioned the company to "under promise and over deliver" over the next 2-3 years. Additionally, I believe management is taking the correct, longer-term view, of investing in infrastructure to support cloud products and realigning sales management's incentive structures to focus on new customer development. As the big data market grows I believe SPLK is positioning itself as an organization capable of delivering value to shareholders. The specific reasons I am bullish on SPLK are as follows:
1. Conservative guidance of management has resulted in a good buying opportunity
2. Customer satisfaction and focus on new customer growth
3. Valuation
Conservative Guidance
During the analyst day, management reset expectations for the next few years by lowering guidance in the near term (FY17-FY18) as the company restructures sales team to focus on new customer acquisition. I believe with the impending growth of the big data market on the horizon, the new revenue targets set by management are well within reason and will allow the stock to outperform when SPLK beats guidance.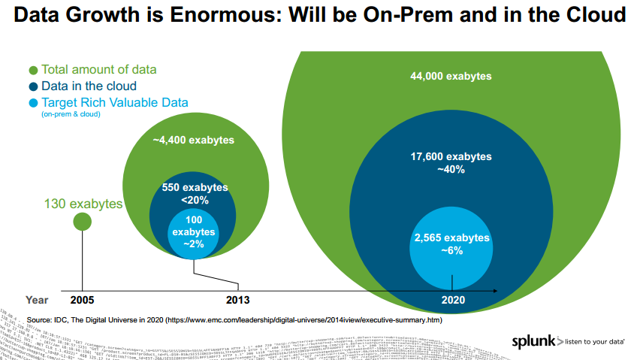 Source: Analyst Day Presentation
Customer Satisfaction and Focus on New Customer Growth
One of the most interesting aspects of SPLK's story is that its customer satisfaction rates are stellar. In fact, according to its presentation, it has achieved Maintenance Renewal Rate of over 90% since mid-2014.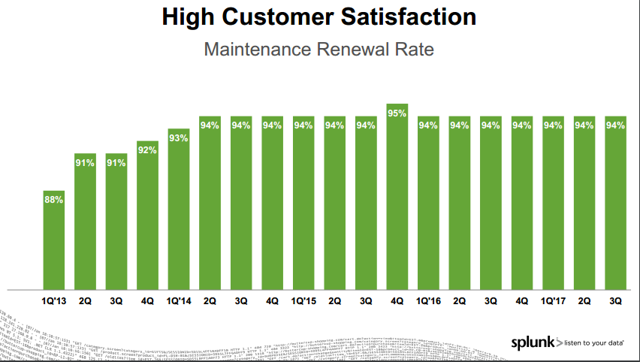 Source: Analyst Day Presentation
As a result, it has continued to see a significant amount of its license bookings come from existing customers.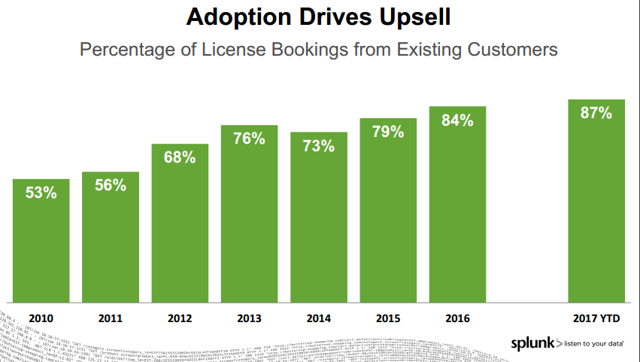 Source: Analyst Day Presentation
This begs the question... why has it not had more significant New Customer growth? At the Analyst Day, management addressed this issue by announcing it would be restructuring and altering its sales team incentive structure through 2018 to focus more intently on new customer growth. For the first time in a few months, I am excited about the approach management is taking to sales and expect, combined with the growth of the total addressable market ("TAM"), that SPLK will outperform its revenue guidance. Management has projected revenue to be $1.175B in FY18, which I believe is conservative and positions the stock for a bounce on upcoming earnings announcements and positive guidance.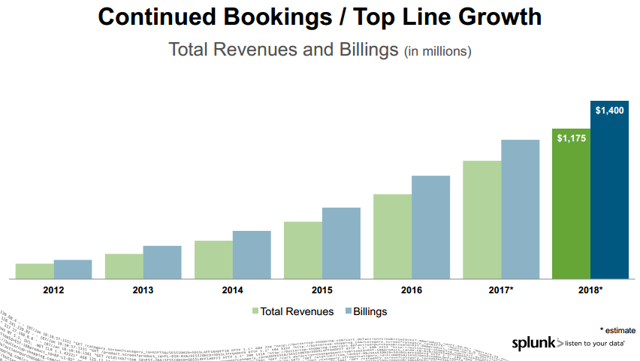 Source: Analyst Day Presentation
Valuation
My price target of $65/share is based on a 6.5x multiple of EV/FY2018E revenue of $1.5B. Assuming a slightly above average peer multiple of 6.5x EV/FY18 revenue - peers include Adobe (NASDAQ:ADBE), Salesforce (NYSE:CRM), ServiceNow (NYSE:NOW), Workday (NYSE:WDAY), etc. - I expect shares to appreciate to $65/share once management beats guidance over the coming quarters.

Source: Internal

Source: FactSet and Piper Jaffray Estimates
In addition to the upside potential, I believe there is a floor under the stock price as it would be an attractive acquisition for a number of enterprise software providers and is relatively cheap compared to the Price/FY+2 revenue multiples associated with recent acquisition targets (far right column in the table below.)

Source: Piper Jaffray
Downside Risks
Although I believe SPLK is well-positioned to take advantage of the growing big data market, there are a number of downside risks that could impact share price in the near term.
Should management be unable to increase new customer growth due to internal or external factors and/or if existing customer revenue growth declined, the company's stock would be impacted.
Additionally, should there be a lull in M&A activity or a transaction be consummated well below SPLK's current valuation, then the stock would be negatively impacted.
Summary
With its strong existing customer base, renewed focus on new customer acquisition and leading position in the growing big data analytics space, I believe SPLK should be able to beat guidance in the near term and consistently boost guidance over the next 2-3 years. Once existing management has proven itself with one or two quarters of outperformance, I believe the company will be rewarded with a EV/FY18 revenue multiple in line/slightly above its peers.
Finally, I believe the M&A activity and/or rumors in the space will provide additional support to the share price should any near-term operational headwinds arise.
Disclosure: I am/we are long SPLK.
I wrote this article myself, and it expresses my own opinions. I am not receiving compensation for it (other than from Seeking Alpha). I have no business relationship with any company whose stock is mentioned in this article.