Last night, I spoke with a friend of mine, who was in attendance at yesterday's Peabody Energy (BTUUQ) equity committee hearing in St. Louis. By the way, this friend I am referring to isn't Fred Palmer (I have only spoken with Mr. Palmer by phone, once for my prior article). This friend attended as an interested observer hoping that justice would prevail. In other words, he wasn't as financially or emotionally invested in the outcome. In the interest of full disclosure, this friend does have a modest equity position in shares of Peabody, but I want to emphasis that relative to his investable assets, this bet is very modest.
We spoke for about thirty minutes as he was waiting to board his plane back home, as he flew to St. Louis early that morning solely to attend the hearing. Here are some of his high level take away observations from his firsthand account. The room was full of lawyers. He was one of a handful of Peabody shareholders in attendance, along with a few institutional investors.
For readers that haven't seen the one hundred page Perella Weinberg (NYSEMKT:PW) slide deck, here is the link. Per my friend, most of the trial was Peabody's high powered and well paid legal team cross examining and trying to discredit Perella Weinberg's expert witness.
For context, Perella Weinberg's independent slide deck was created by a team of six people. I was informed that despite PW's valuation expert's great valuation credentials and his significant experience testifying in court valuation cases, Peabody's legal team argued that he wasn't an expert in the coal industry and therefore his expert testimony wasn't relevant for establishing an enterprise valuation.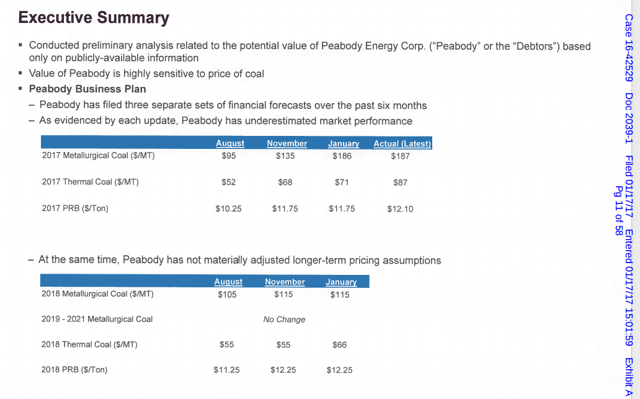 Source: Perella Weinberg slide deck page 13
They also found one or two graphs of PW's graphs were slightly mislabeled and then hyperbolically claimed that the entire slide deck, which again contains more than one hundred slides, was grounds for questioning the validity of the entire slide deck. Moreover, they emphasized that the great Goldman Sachs' (NYSE:GS) $277 mt met coal forecast has recently been revised lower, to the $160s. As an aside, anyone that has been in the investing world long enough, knows that Goldman Sachs talk its book for the benefit of its lucrative trading relationships with major hedge funds. I have covered this terrain in prior Peabody articles. Also, acclaimed author Michael Lewis's book, The Big Short, backs up my bold Goldman Sachs assertions in spades.
From my friend's perspective, the PW witness slide deck was very thorough and well done, his only criticism was that during the hearing he didn't focus enough time on reaching a definitive conclusion. His expert testimony was more along the lines of there could be a range of enterprise valuations outcomes and these were reflected in our slide deck. Perhaps, that is fair and as an independent and objective expert, he can't emphasis the bullish case, per se. Perhaps, he could have made a more convincing and definitive final conclusions to better establish the enterprise value.
In terms of other highlights, he perceived the lawyer making Mangrove's closing arguments as very capable and well prepared. He thought she was excellent and made some great arguments. Oh and one other point, during the case, Peabody's legal team asked PW's expert if he consulted and shared his findings with Peabody's management. He said he attempted on numerous occasions to do exactly that, and he was ignored by Peabody management. Then Judge Schermer said any equity holder can legally gain access to management by filing discovery motions. This may be technically true, but in a practical sense, discovery is cost prohibitive and therefore a good reason why an equity committee may have been needed.
In the end, by 5:05 pm EST, market participants learned of Judge Schermer's decision to reject forming an equity committee.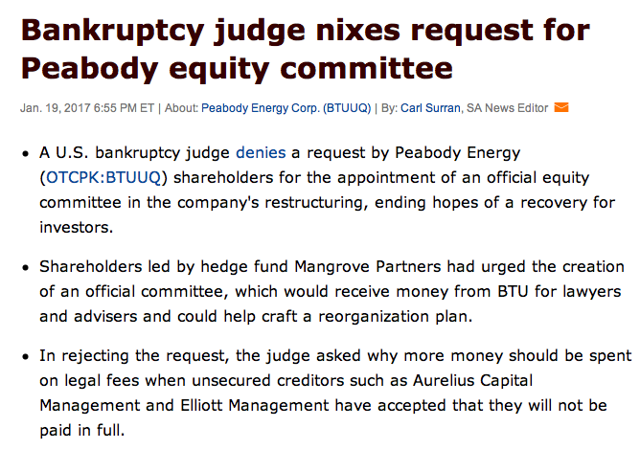 Takeaway
From my subjective opinion, Judge Schermer may have been following the letter of the law, but I think he exercised poor judgment. One more aside, my friend also informed me, throughout the day, that Peabody's legal team kept emphasizing that the equity was "billions out of the money". For contextual perspective on why Judge Schermer got it wrong, on January 18, 2017, the U.S. government's watchdog called Peabody's bankruptcy plan fees, and I quote "exorbitant" at $240 million. I find it ironic that Judge Schermer's rationale for denying the formation of an equity committee was based on the view point that Peabody's creditors shouldn't have to pay the cost of this committee because they aren't receiving 100% recovery. I would argue that Peabody's management team is petrified that an equity team would have the authority to exercise its discovery rights and they may be able to build a strong fact based case that Peabody's management team could have sold Australian assets, per my reporting, but didn't for their own benefit. However, I realize there is a high burden of proof to conclusively prove self dealing. Either way, yesterday's ruling all but ensures neither Erin Brockovich nor Jan Schichtmann will not get rich building a discovery case against Peabody's management.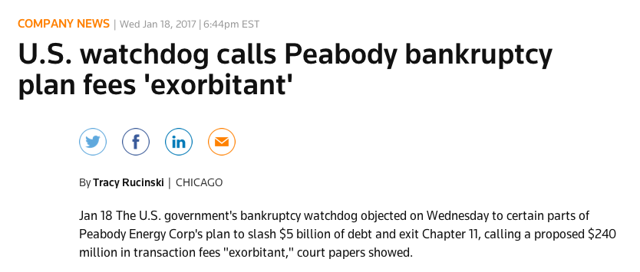 Source: Reuters
Finally, in my view, Peabody's November 2, 2016, $200 million sale of its Metropolitan mine, including rail assets, to South32 is highly suspect. If you read Peabody's FY2015 10-K, you will learn that the Metropolitan metallurgical coal mine has a reserve life of 28 million tons, produced 2.1 million mt per year, and Peabody made long wall investments there in 2014. At the time the deal was announced, again on November 2, 2016, Peabody had already signed $200 mt hard coking coal contracts for Q4 2016 and the Q1 2017 quality hard coking benchmark was tracking much higher. As one sell side analyst put it, Peabody got a trough of the cycle price, for Metropolitan, when met prices were near their all time highs. Great works, Glenn Kellow and team, you really added stakeholder value.
It is another sad day in America, where the wealthy and well connected hedge funds, armed with the best legal talent money can buy, can fully exploit bankruptcy to vaporize shareholders and some debt holders, so they can enrich themselves.
Disclosure: I/we have no positions in any stocks mentioned, and no plans to initiate any positions within the next 72 hours.
I wrote this article myself, and it expresses my own opinions. I am not receiving compensation for it (other than from Seeking Alpha). I have no business relationship with any company whose stock is mentioned in this article.
Editor's Note: This article covers one or more stocks trading at less than $1 per share and/or with less than a $100 million market cap. Please be aware of the risks associated with these stocks.