Mineral Processing business
The classical precious metals investor is mainly interested in gold / silver producers or explorers. Another popular way to gain exposure to precious metals is to invest in royalty / streaming companies.
However, there is another interesting proposal - a mineral processing business. To describe this business, let me show the following slide: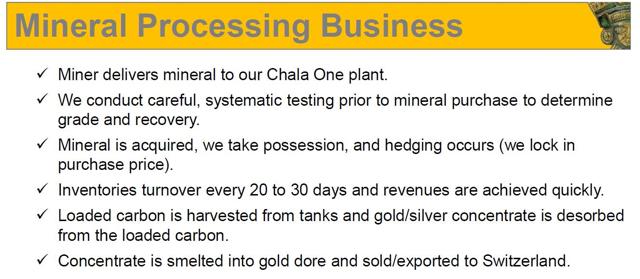 Source: Inca One presentation, slide 5
As the slide shows, in general, a mineral processing company acquires the ore from other miners, processes it at a company's mill and sells the concentrate or dore to the smelters / refiners. Looks simple but…the devil is in the details. There are a few risks that a processing company has to monitor very closely as, for example, the supply and quality of ore or processing costs. Finally, a processing company has to be an expert in metallurgy.
On the other hand, a processing company does not bother about exploration, mining risk, technology and equipment issues etc. What is more, the largest risk factor faced by a classical miner, the price of gold or silver, has a limited impact on a processing company's performance. If gold prices are too low a classical miner suffers - it has to cut costs of production, stop exploration or even close some of its mines. A processing company, on the other hand, pays less for the ore acquired from the other miners and its margin is relatively untouched. At worst, when gold prices are totally depressed and no miner is able to mine and deliver the ore, a processing company may stop processing relatively easily…and wait for better times.
However, the problem is that there are not too many processing companies. The very essence of this business is to process the ore delivered by small miners. These miners have limited or no options to process their ore legally (big producers have their own processing facilities) therefore a processing company is a must for them. However, small miners are available mainly in developing regions as Africa or South America so these parts of the world are the best places where processing companies may offer their services.
In this article I would like to discuss three processing companies operating in Peru: Dynacor Gold (OTCPK:DNGDF), Inca One (OTCPK:INCAF) and Duran Venture (OTC:DUVNF).
Peru
When you type "gold mining in Peru" in your search engine the largest amount of entries is about illegal mining or environmental issues. However, first of all Peru is the world's third largest producer of copper, silver, zinc and tin and the seventh largest producer of gold. Simply put, it is a mineral-rich region attracting many top miners as Barrick (NYSE:ABX) with its Lagunas Norte mine or Newmont (NYSE:NEM), operating the Yanacocha mine (shared with the Peruvian company Minas Buenaventura).
Now, the so-called artisanal and small scale-mining accounts for a large part of the country's gold production. What is "artisanal and small scale-mining (ASM)"? According to the Peru Support Group report (Page 7):
"The sole defining feature of artisanal mining is its size. According to a Peruvian law of 2002, artisanal operations are those, which benefit from up to 1,000 hectares of land and which excavate less than 25 metric tons of material a day (Law 27651, 2002). As such, the term does not give any indication about how extraction and processing is carried out or the extent to which such activity complies with local legislation. This is also true for the category of 'small-scale' operations, which can hold up to 2,000 hectares of land and excavate 350 tons of material per day (Law 27651, 2002)"
Further, Peruvian government estimates the small-scale mining sector at 20% of all Peruvian gold production (Inca One presentation, slide 3). Taking into account that in 2015 Peru delivered 150 tons of gold, it means that around 30 tons (around 1 million ounces) were produced by ASM miners.
However, only part of these 30 tons is produced by legal miners (unfortunately, I cannot deliver precise figures). And processing companies may cooperate only with legal (registered) miners. Nevertheless, it seems that there is still a lot of work for processing companies in Peru.
Dynacor
Dynacor is a flagship processing company operating in Peru. The company owns two mills (processing plants) located in southern Peru. The first mill, Huanca, has capacity of 250 tons of ore per day. The second mill (and the newest one), Veta Dorada, is a 300-ton-per-day facility. The first mill is closed now so the overall Dynacor's capacity is 300 tons per day.
As I mentioned above, the margins delivered by processing companies are relatively untouched during bad times. Look at the chart below: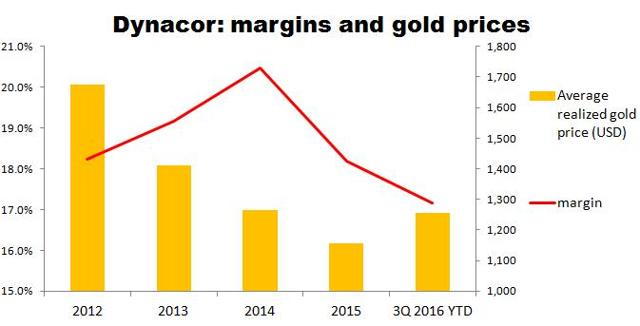 Source: Simple Digressions
Between 2012 and 2015 gold prices went down from $1,674 to $1,157 per ounce. However, Dynacor's percentage gross margin went up from 18.2% in 2012 to 20.5% in 2014 and then went down to 18.2% in 2015. So in 2015 it was standing at the same level as in 2012. On the other hand, gross margin delivered by the classical miner, Barrick, went down from 61% in 2012 to 44% in 2015 (a decrease of 28%). Summarizing - in bad times the processing companies are relatively stable businesses, compared to the classical miners.
Further, a successful processing company should keep its costs as low as possible. I know it is truism - each business should keep its costs low. However, due to the fact that processing companies are low-margin entities, this rule is particularly important. Let me show Dynacor's production costs, starting from 2012: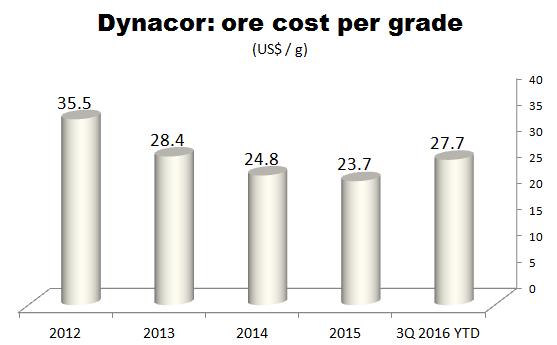 Source: Simple Digressions
Note: to eliminate the impact of various mineral grades of the ore processed by the company, the ore cost is recalculated per grade of ore
How to read this chart? For instance, this year Dynacor was paying $27.7 per 1 ton of ore grading 1 gram of gold per ton while in 2012 the company was paying much more, namely $35.5 for the same ore. So, between 2012 and 2016 the company was able to decrease the cost of ore by 22%. I my opinion, it is a very positive tendency because the cost of ore accounts for around 80% of total cash costs.
As a result, Dynacor is a profitable company. Even during a bear market in gold the company was able to generate profits. What is more, in the nearest future Dynacor should improve its financial results. The old mill was replaced by a new one and the overall capacity went up from 250 to 300 tons per day. Interestingly, the management plans to increase the ore processing capacity to 360 tons per day. This additional capacity should increase the amount of ore processed by Dynacor and boost the company's results in the medium - term.
Inca One
Similarly to Dynacor, Inca One operates in southern Peru. The company owns a 100-tons-per-day processing facility called Chala One but it may easily increase the capacity to 150 tons per day.
In 2016 Inca One restructured its debt and now it is, generally, a debt - free company. However, most recently Inca One was reporting losses. Although in 3Q 2016 the company was profitable it is still ramping up its production. For example, in 3Q 2016 Inca One was processing 35.9 tons of ore per day so it was using only 36% of its nominal capacity.
Now, using the same metric as in the case of Dynacor, I have to admit that the company is well positioned to take advantage of the ASM market in Peru. In 3Q 2016 Inca One was paying $28.0 per 1 ton of ore grading 1 gram of gold per ton. It was a little bit less than in the case of the industry leader, Dynacor ($29.3).
I believe that if the company is able to achieve its full capacity it should be a very decent processing entity. According to my own calculations, at current prices of gold (C$1,600 per ounce) Inca should be delivering an annual EBITDA of C$4.3 million. If I am correct, now Inca One's shares are priced quite attractively (more on this issue below).
Duran Venture
Duran Venture is a tiny processing company located in north - central Peru, near Trujillo. The company adopted a little bit different strategy than its peers (Dynacor and Inca One). According to the company (Duran's presentation, slide 6):
"The vast majority of the mineral is shipped to southern Peru (Nasca and Chala) incurring very high transport cost and uncompetitive commercial terms. (Therefore) Duran's Aguila Norte processing plant will cover a lack of processing capacity in northern Peru for this material and generate cash flow"
Is it a successful strategy? It is hard to say now because Duran have just started its operations. The company owns a 100-ton-per-day facility, called Aguila Norte, and, for the time being, secured mineral feed to cover 30 - 50% of its full capacity. Quite interestingly, at this point Duran is also different from its peers. Instead of buying the ore from small miners, the profits from selling the concentrate will be shared on a fifty - fifty basis with small miners, after deduction of expenses. In this way Duran wants to secure a long - term relationship with its suppliers. Well, only the future will tell whether it is an effective strategy but…it looks interesting.
Relative Valuation
Apart from running processing businesses, all companies under discussion also control mineral properties to explore. However, in this article I am not touching this issue - I am interested only in operating activity (mineral processing). Therefore to value Dynacor and Inca One I am using two metrics based on current operations. In the case of Duran (the company has just started its operations) I am comparing this company to its peers using a little bit unorthodox valuation method.
Mill capacity
The capacity of the mill is one of the most important features of any processing company. Below I have plotted a graph showing a multiple of enterprise value / mill capacity, calculated for all companies: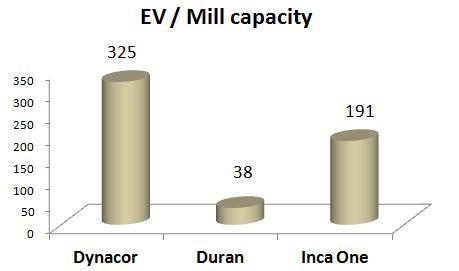 Source: Simple Digressions
In my opinion, this valuation measure allows to compare operating and non-operating companies. The chart shows that Duran's shares are trading at a large discount to Dynacor and Inca One. Simply put, Mr. Market does not place a high value on Duran's mill. I understand it - to increase its value Duran has to prove that its management is able to run the mill efficiently. I think that the first results should be disclosed in 1Q and 2Q 2017. If things go smoothly Duran may quickly get closer to the same league as its peers. Now it is a highly speculative stock.
EV / EBITDA and EV / Sales
To compare two operating companies (Dynacor and Inca One) I am using enterprise value / EBITDA and enterprise value / sales multiples. The charts below illustrate the results:

Source: Simple Digressions
Note: the multiples related to Inca One show the company's potential. Now Inca One is ramping up its production and the multiples are inflated. Therefore in my calculations I am assuming that the company utilizes its mill in full (100 tons instead of 35.9 tons per day now).
As the charts show, Dynacor shares are valued at a small discount to Inca One. However, taking into account that:
Inca One figures will materialize only when the company operates in full
Dynacor's capacity should go up from 200 tons to 300 tons per day in the not so distant future
it is Dynacor that presents a better investment opportunity.
Summary
In my opinion, mineral processing companies offer an interesting alternative to precious metals investors. These companies have a different risk profile than classical miners and are less vulnerable to the fluctuations in gold and silver prices. In this article I have outlined three businesses operating in Peru, one of the top gold - producing countries. Of these three companies it is Dynacor that, in my opinion, presents the best investment opportunity. What is more, although Dynacor is less risky than classical miners, now the company's shares are trading at valuation measures similar to big gold miners (for example, EV / EBITDA of between 7.0 - 8.0). This low valuation additionally supports my thesis on Dynacor's attractiveness.
Note: I strongly encourage my readers to visit my blog. It is a continuation of my Seeking Alpha activity where you will find the articles posted on a daily basis.
Disclosure: I am/we are long GDXJ.
I wrote this article myself, and it expresses my own opinions. I am not receiving compensation for it (other than from Seeking Alpha). I have no business relationship with any company whose stock is mentioned in this article.
Editor's Note: This article covers one or more stocks trading at less than $1 per share and/or with less than a $100 million market cap. Please be aware of the risks associated with these stocks.