In yesterday's NAHB housing market index article, I discussed the high probability that building permits would come in rather weak.
Article: NAHB Housing Market Index Breakdown
I concluded that a possible 2-8% growth rate would be too weak to push homebuilding stocks higher (iShares U.S. Home Construction ETF ITB).
"The NAHB housing market index showed that the housing market is strong. The acceleration is currently taking a break which indicated that building permits are going to be between 2-8% higher than one year ago. These numbers are not weak, but I doubt that it will be enough to push homebuilders higher."
Today's numbers showed that new housing starts came in stronger than expected (1226 vs. 1184 exp.) whereas building permits fell short of expectations (1210 vs. 1225 exp.).
At this point, it is important to mention that I prefer building permits over housing starts because building permits tend to be more leading. On top of that, it is important to know that housing starts count every single apartment. Building permits only count big size projects like new single family homes.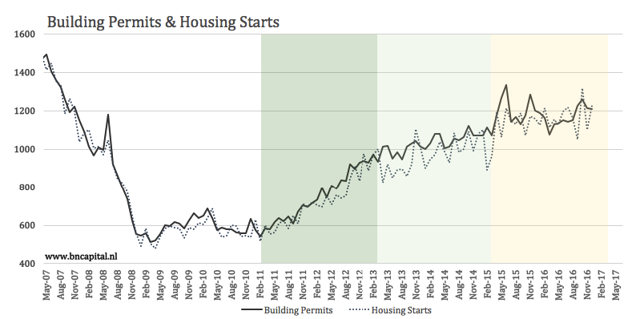 Building permits and housing starts both haven't gone anywhere since Q1 of 2015. Note the difference of volatility between housing starts and building permits. This is due to the fact that building permits only count big size projects as I just stated.
Building permits are currently 0.8% higher than one year ago. Housing starts are doing a bit better at 5.7% growth.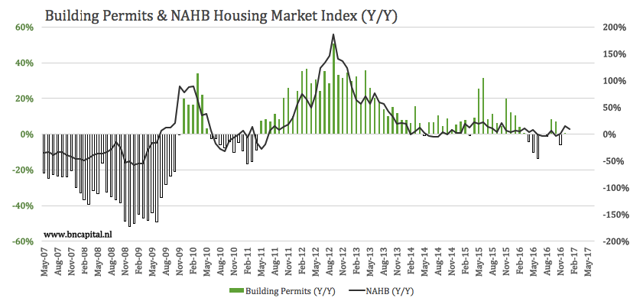 Both the NAHB index and building permits are currently showing that there is no growth whatsoever. Note that there has been no momentum in 2016 and no high growth in 2014 and 2015. The best year has been 2012.
The graph below is my favorite tool to decide whether to buy construction stocks or not. The correlation is very high due to the fact that building permits are leading. 2012 has been the best year so far. 2013 until 2016 has been rather bad.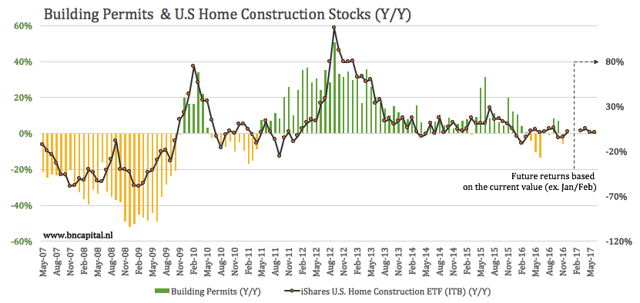 Note that I used the current construction ETF stock price to look how high future returns would be if the price didn't change at all. I do this to see how much is priced in currently. We see that nothing has been priced in. Traders don't expect any growth at this point.
The ratio between construction stocks and the 'market' shows that traders are not betting on a fast recovery. Construction stocks have underperformed significantly since Q3 of 2016.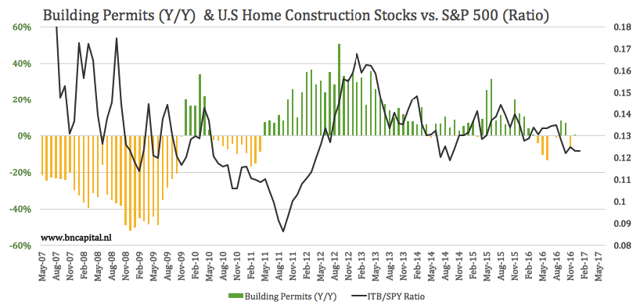 Conclusion
Construction stocks are not very interesting right now. Building permits are not able to break out and still in a sideways 'trend' since 2015. Housing permits show the same pattern. I am closely watching the homebuilders market because I still believe that we will see some strength due to a much stronger overall economy. I won't add to my small homebuilding positions, but I am glad that the market is not pricing in much growth. This leaves us more room if leading indicators go up indeed.
Many thanks for reading my article. Please leave a comment below if you have questions or remarks.
Disclosure: I/we have no positions in any stocks mentioned, and no plans to initiate any positions within the next 72 hours.
I wrote this article myself, and it expresses my own opinions. I am not receiving compensation for it (other than from Seeking Alpha). I have no business relationship with any company whose stock is mentioned in this article.
Additional disclosure: I have a small position in PHM and CAA