A well researched article in today's WSJ tells us what we mostly already knew: Sell-side analysts' motivation in "rating" stocks (Buy/Hold/Sell) is strongly biased by their need to maintain strong ties with the companies they cover.
Why?
Because the institutional investors who pay their bills aren't paying for stock recommendations, they're paying for corporate access:
Analysts' relationships with company executives, including the ability to line up private meetings for investor clients, have become an increasingly vital revenue source. And that is increasing the pressure for analysts to be bullish on the publicly traded companies they follow.
This infographic tells the story in a picture: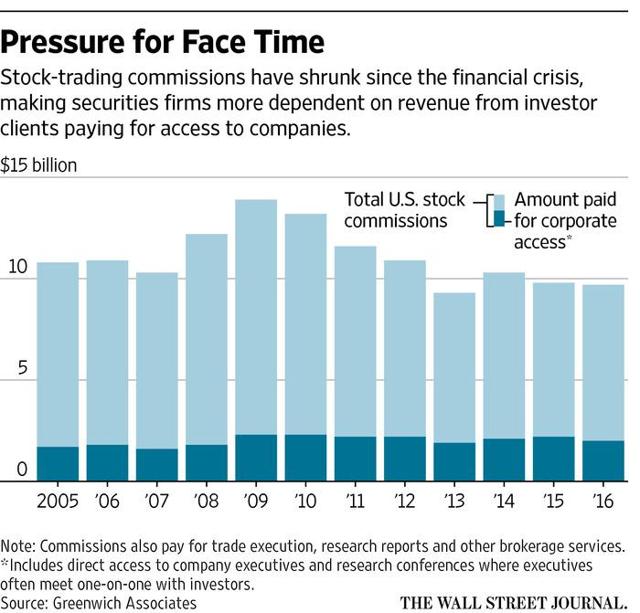 Some analysts are apparently frustrated by the idea their main value is secretarial:
David Strasser, a former retail analyst at Janney Montgomery Scott LLC, says some investors told him they had little interest in his research and were only paying for meetings he could set up with companies.

"I wanted to be valued for my analytical abilities, but arranging meetings became such a critical part of the job," says Mr. Strasser, adding that he was sometimes asked to sit outside the room so investors could ask questions without him.
The companies themselves are complicit too. Take the case of Coach (NYSE:COH):
Analysts who want top executives at Coach Inc. to attend private events with their investor clients have to show they are "brand ambassadors," as the luxury handbag retailer dubs it. You can't be a brand ambassador if you have a sell rating on Coach's stock.

Coach investor-relations chief Andrea Resnick says it takes that approach because of "the sheer volume of requests" from analysts to have its management meet mutual funds, hedge funds and other clients. Coach can't say yes to everyone, she adds, so it has to decide who gets access-and who doesn't.
The dreaded Sell rating? Yes, it has consequences:
"It's a decision I have to make on my sell-rated stocks: whether I will forgo the opportunity for corporate access, which clients will explicitly pay for," says Laura Champine, a retail analyst at Roe Equity Research. Some previous bosses at other firms told her to "just drop coverage" instead of putting out sell ratings, she says, while declining to comment on where that happened.
Bloomberg's Matt Levine sums it up:
If you believe that the job of a sell-side analyst is to tell people which stocks to buy and which ones to sell, you need to stop believing that right now, because it is not true.
All of which (prepare for shameless plug) explains why the "for investors by investors" approach we take here at Seeking Alpha is both disruptive to the research industry, and empowering of investors.
Disclosure: I/we have no positions in any stocks mentioned, and no plans to initiate any positions within the next 72 hours.
I wrote this article myself, and it expresses my own opinions. I am not receiving compensation for it. I have no business relationship with any company whose stock is mentioned in this article.