I thought it was a good idea to 'Avoid The S&P 500 in January'. Throughout December and early January I called the dollar (NYSEARCA:UUP) pull back to 100, gold (NYSEARCA:GLD) bottoming, and I called TLT back to $123.
You can probably see why I thought equities may pull back. Considering the way markets correlated after Trump's election, the S&P 500 (NYSEARCA:SPY) should have really dropped to 2200.
But no, the market hardly budged.
Here's a visual of the divergence with UUP: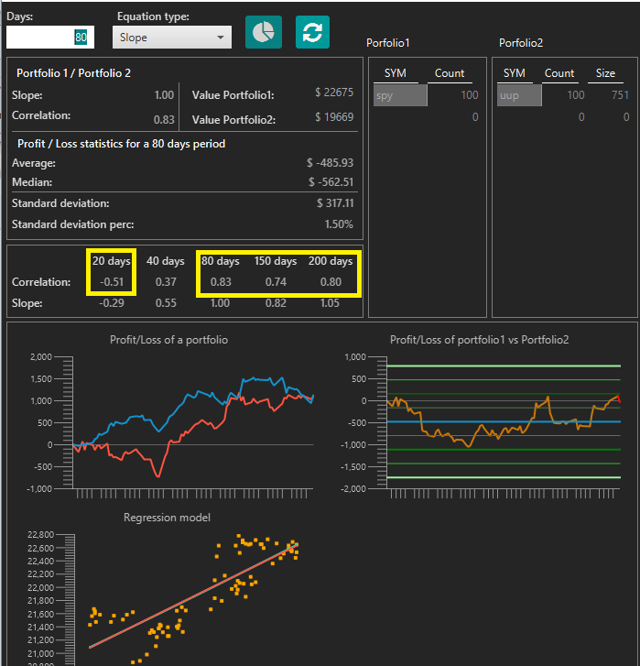 software developed by Arbitrage Trader
Over 200 days the correlation is 0.8, but you can see how the relationship has broken down over the last 20 days to -0.51.
We could perhaps attribute this divergence to Trump's comments about the dollar, but these came on January 17th after a 3% decline so I'm not convinced.
Trump specifically said,
'Our companies can't compete with them [the Chinese] now because our currency is too strong, and it's killing us."
The dollar being too strong and being talked down wasn't exactly a surprise. As I said in my last S&P 500 article,
...we may hear how a strong dollar and higher rates are hurting stocks.
The only surprise was the timing. I thought the dollar strength would be a talking point after earnings season and after a 100 point drop. So is this some kind of helpful warning? Is Trump preparing us for a weak earnings season? If so, equities haven't really noticed, yet.
So No Pullback?
All this brings us to a problem traders often face: does the divergence mean the S&P 500 is just too strong and won't correct, or does it mean it is lagging and will soon catch up?
Perhaps the correlation is broken altogether; Trump's comments seem to have reignited the old inverse relation between equities and the dollar. Today (Thursday 19th Jan) equities are broadly down and the dollar has been strong. This isn't something we're used to seeing since the election.
So dollar up, equities down seems quite possible now. I'm not treating the recent sideways consolidation as a sign of relative strength, but rather a temporary breakdown in correlation. Equities may appear strong, but we should remember what happened after the last major rally: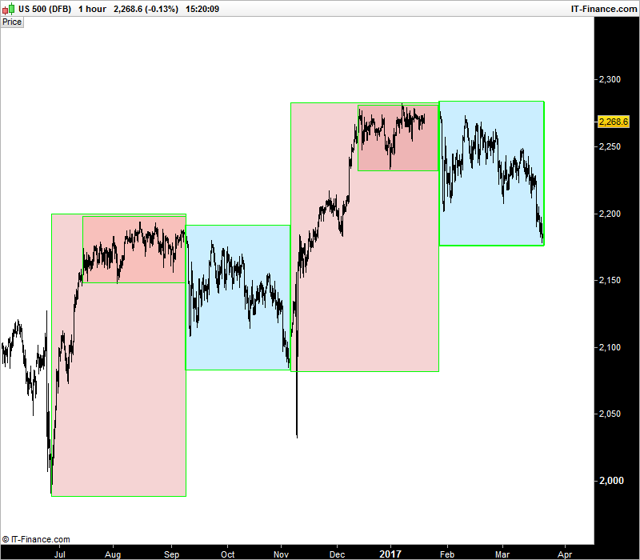 The Brexit comparison is something I have been using to navigate the market for some time now. Each rally in pink is nearly equal size and structure, plus the current sideways action seems to directly compare to the period of August and September.
Of course the move in the second blue box hasn't happened, yet. And even if it does drop there won't be a perfect repetition. I've only copied it over from the previous period as it shows the kind of move that can be expected. A proportionate move targets 2174 in March, which is exactly the area I highlighted in my early January article, albeit a month later than I expected.
In terms of other technical analysis it's worth noting the S&P 500 is trying to hold its 20 day moving average (again like late August), but the bounces from this point are getting weaker. The area under the January low is thin and a break should bring a fast move to the previous highs in the 2190s. The S&P 500 has a habit of failing to hold previous highs and the support here is perhaps too obvious. This is why I am targeting slightly lower to the 2170s.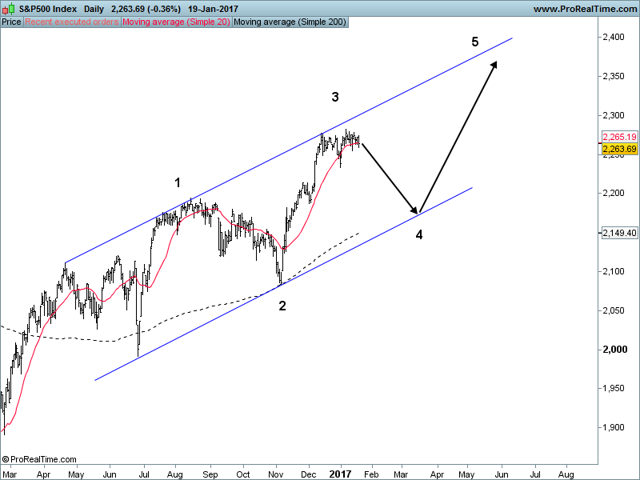 If for some reason price spikes higher I consider the 2304 area as important due to the channel highs and some Fibonacci extensions. I will add to my short there.
Possible drivers for a move lower can only really be guessed at. As I've already said, earnings and a strong dollar may be a factor. I also think yields will spike to a new high and there may be some Fed chatter about an earlier than expected raise.
The sharp drop back on Friday September 9th (which the current price action comparison is leading up to) came after Mario Draghi hinted the ECB wouldn't expand its stimulus. Also several Fed members were talking about the need to raise rates. This isn't too dissimilar from the situation we have now and the structure of the price chart tells us positioning and sentiment is comparable.
Perhaps we may even get a 50 point drop in one day again? With price action sending us to sleep, apparent relative strength, and complacency by the bulls, it's about time we got a surprise.
Conclusions
Even though many of the post election moves unwound to some degree in early January, the S&P 500 stayed steady. This may be seen as relative strength, but I actually think it may be the start of a divergence between equities, rates and the dollar. They may move inversely for a time.
I still think the S&P 500 is set up for a pullback to below 2190 and the continued similarities with the post Brexit price action support this theory. I just wish I could change the title of my last article: 'Avoid The S&P 500 in January...and February too'.
Disclosure: I am/we are long SPY. I wrote this article myself, and it expresses my own opinions. I am not receiving compensation for it (other than from Seeking Alpha). I have no business relationship with any company whose stock is mentioned in this article.
Additional disclosure: I am long BAC, GILD, SBUX, NKE, XLV, XLP, FXY