The Russian market (NYSEARCA:RSX) and the Russian ruble received positive press at the beginning of this year. The rationale for this is that Russian Central Bank keeps the key rate at 10%, perspectives for removal of sanctions seem to improve and Russian market remains undervalued compared to its more developed counterparts. However, I would like to argue that the current bull run in RSX probably ended. Here are my thoughts.
Ruble reached its local top
Let's look at a one-year USD/RUB chart: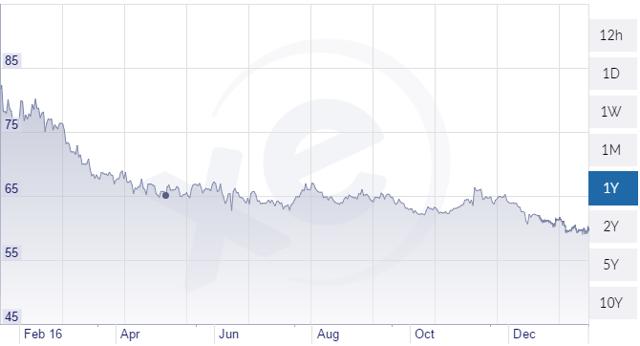 Source: xe.com
Dollar cost 86 Russian rubles at one point in January 2016, after this the ruble strengthened without any meaningful rebound and reached the bottom at 59 rubles per dollar. This is a more than 30% gain, which is a big deal for the country which depends on export of natural resources and used to import many consumer goods in the past.
The devaluation of the Russian ruble opened a window of opportunity for the Russian business for the so-called import substitution. The quality of consumer goods made in Russia was a big problem since USSR times. When the ruble was excessively strong due to the well-known phenomenon called Dutch disease, Russia just imported goods and services it wanted.
This process killed machinery production in the country and delivered a serious blow to many other businesses. The devaluation of the ruble gave local businesses, both big and small, a chance to improve their market position without big competition from imported products.
The drop in oil prices and the resulting problems in the economy put real wages of Russian workers under significant pressure, so price of a product became the main purchase determinant. The 30%+ improvement in the ruble's exchange rate brings foreign competition back into business.
Let's turn to numbers from the Central Bank of Russia to support my conclusions. Below are export and import numbers for the first three quarters of 2016 (numbers are in $ million):
| | | | |
| --- | --- | --- | --- |
| | 1Q 2016 | 2Q 2016 | 3Q 2016 |
| Export | 70,705 | 80,459 | 84,894 |
| Import | 53,373 | 64,330 | 73,694 |
Import showed continuous improvement and grew by 38% in the third quarter compared to the first quarter. You would also note that the gap between export and import continued to tighten. This process surely continued in the fourth quarter as ruble became even stronger.
As import increases, so does demand for the foreign currency, which should inevitably put pressure on ruble and finally unwind the one-way trade.
The government also understands the risks of stronger ruble. At the day of writing this article, first Deputy Prime Minister Igor Shuvalov signaled that the Central Bank may purchase currency for reserves. This is most likely just a verbal intervention but the desire to keep ruble at bay is clear. Weaker ruble will inevitably put pressure on dollar-denominated RSX.
Oil failed to surprise after OPEC/non-OPEC deal
Oil remains the key driver for the Russian market. Many expected that aOPEC/non-OPEC deal will push oil above $60, at least in a fast, speculative impulse. This turned out to be a false assumption, and Brent (NYSEARCA:BNO) met resistance near $57.50 per barrel while WTI (NYSEARCA:USO) found a wall at $55 per barrel.
In my view, there's a significant demand for hedging at these levels. There are two consequences of this process. First, hedging is a natural resistance from a technical perspective. Second, hedging at these levels means that more production will emerge in future as producers have locked their prices.
There is a big debate on whether U.S. shale will be able to response quickly to the improved oil price environment and take OPEC share on the market, making the production cut a bad deal. To answer this question with any degree of certainty, we'll have to wait for numbers as it is just too early to draw any conclusions. However, the desire to hedge around $55 is clear and this level could remain top for oil for many months.
In my view, the rapid advance of the Russian market implied more progress on the oil price front. As I'm writing this, Brent is $54 and WTI is $52. This is not a catastrophe for the Russian market, but not an upside catalyst either.
Russia eats through reserves
The common theme is to mention Russia's foreign reserves, which are stable at a comfortable level: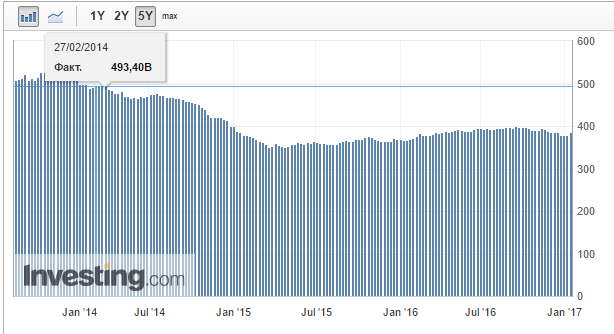 Source: investing.com
However, the reserve funds used to cover the budget deficit gain less attention. Let's look at the reserve fund first.
| | |
| --- | --- |
| Date | Reserve Fund, $ billion |
| 01.01.2014 | 87.46 |
| 01.01.2015 | 87.91 |
| 01.01.2016 | 49.95 |
| 01.01.2017 | 16.03 |
Source: Ministry of Finance of Russia
Put simply, this is the last year when this reserve fund exists. The remaining money in the reserve fund will be used to cover the budget deficit in 2017. Then Russia will have to turn to the Fund of National Wealth.
| | |
| --- | --- |
| Date | National Wealth Fund, $ billion |
| 01.01.2014 | 88.63 |
| 01.01.2015 | 78.00 |
| 01.01.2016 | 71.72 |
| 01.01.2017 | 71.87 |
Source: Ministry of Finance of Russia
The National Wealth Fund was originally created to finance growth projects like infrastructure projects or innovative startups, but is now used to patch the holes in the system.
The budget for 2017 - 2019 was crafted with $40 as an assumption so this should ease the pressure on the National Wealth Fund. However, the 2017 - 2019 is a budget of stagnation at best and there's nothing to celebrate even if it ultimately does not eat into the National Wealth Fund.
Past crises (especially 1998) taught the Russian government two important things. First, you should always have reserves. Second, you should use as little debt as possible.
This fiscal discipline is great, especially given the fact that Russian government enjoys the benefit many governments do not have - Russian citizens can tolerate higher pressure on their consumption standards if they believe they are caused by external shocks or ill will. However, such approach does not bring growth.
The recent rally in RSX implies investors are expecting growth from the country, but how will this growth emerge with oil stuck in the $50-$55 range and a tight budget?
We've been here before
Now let's look at the monthly chart of RSX.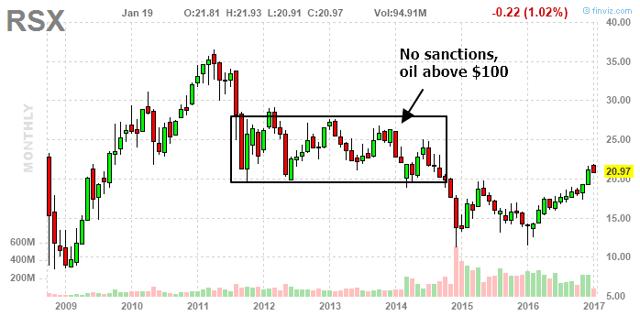 RSX already reached the level which was witnessed in 2011 - 2014. This was the level of RSX before sanctions and, most importantly, before oil fell below $100. The problem was the general lack of ideas and anemic growth.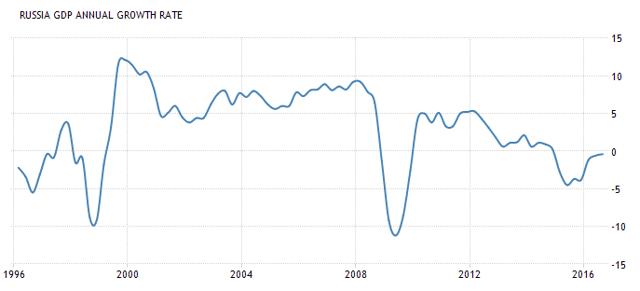 Source: tradingeconomics.com
Look at the difference between the 1998 crisis and the 2008 crisis. After the dark bottom of 1998, Russia was able to rebound quickly. Rising oil helped, but I'd argue that the overall potential of the system played a big role in the fact that Russia showed healthy GDP growth up to 2008. The rebound from the 2008 crisis was more like a dead-cat bounce which quickly faded. Even $100+ oil was not enough to spur growth which began to slow down before falling in 2014 - 2016.
In my view, the potential of the system in its current configuration is limited to slow 1% - 2% growth unless there is some huge help from oil. Keep in mind that the country had trouble with growth even when oil was 2 times higher than now, so you should not expect miracles even if oil rebounds further.
Bottom line
Lack of ideas elsewhere and a high 10% rate caused speculative buying in RSX and the Russian ruble. This growth implies real growth from oil and Russian economy. If oil gets stuck at current levels or declines, the trade will unwind and RSX will return to its pre-rally levels at $17.50 - $19.00. Only a real breakout of oil to $60+ will spur additional interest in RSX. In the meantime, I expect a correction.
I would also like to use the opportunity to highlight a magnificent (and more positive on RSX, so you can check a bullish thesis) work by fellow contributor Dennis Viliardos "Rating Russia: Don't Miss Out, ETFs Have Gained 40-150% In 2016 Alone". This is a rather long read, but it is certainly worth your time if you are interested in Russia and Russian market.
Other Russia-related ETFs: Direction Daily Russia Bull 3x ETF (NYSEARCA:RUSL), Direction Daily Russia Bear 3x ETF (NYSEARCA:RUSS), iShares MSCI Russia Capped (NYSEARCA:ERUS).
Disclosure: I/we have no positions in any stocks mentioned, and no plans to initiate any positions within the next 72 hours.
I wrote this article myself, and it expresses my own opinions. I am not receiving compensation for it (other than from Seeking Alpha). I have no business relationship with any company whose stock is mentioned in this article.