Futures can't actually tell us the future, but they do show investors' expectations. Oil (NYSEARCA:USO) has been trading sideways for the last couple of weeks, fluctuating around the low $50s range. What many investors may have missed is the huge fluctuation that is currently happening in the futures market, specifically the shape of the curve.
In a typical contango, oil creeps higher as the length of contract extends due to interest, storage costs, etc. However, short-term shocks could distort the nice even curve that we often see in textbooks. Just last month, investors were faced with a curve that had a hump in the near future, then declining steadily for years before rising again.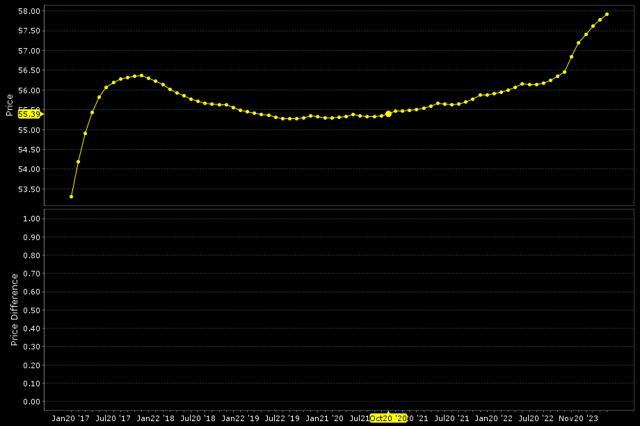 Source: Interactive Brokers
Below is a side by side comparison of the curve then and the curve now.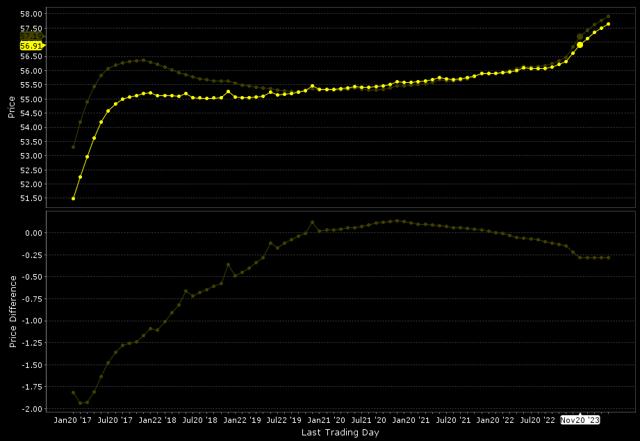 Source: Interactive Brokers
The cause is clear to me. Investors had expected that the OPEC bump would be temporary, which would lead to a short-term increase in price before a prolonged bear market takes hold, either as members start to cheat or if domestic production fills up the gap.
While financial media often attribute any weakness in the spot oil price to doubts over the production cut, clearly the market has begun to adjust to the new reality as demonstrated by the disappearance of the hump. Correctly might I add, as I talked about in this article (read Oil's New Normal).
Opportunity Lies In The Curve
Maybe making a directional best is too risky for you. While I am bullish on oil, I am no stranger to its challenges, most importantly rising domestic production, something which I spotted way before it became "news" ( read Oil Has Lost Steam). I digress, but I believe that the current futures curve represents a unique opportunity for investors to speculate in a calendar spread by shorting near-term futures after the initial jump (e.g. August 2017 contract) and buying long-term futures such as the January 2019 contract. Note that both are currently trading at essentially the same price ($55.00/bbl for the August contract and $55.04/bbl for the January contract).
How does this set-up fit my narrative? From a sentiment standpoint, the trade reflects my belief that investors are slowly accepting the impact of OPEC's production cut, as the initial dip that was present in the futures curve a month ago has flattened out. I believe that a normal contango could be restored on that alone. On a fundamental level, I believe that this calendar spread allows investors to capture both the upside and the downside of oil's supply dynamic.
In a bearish scenario, domestic production increases rapidly and OPEC members start to cheat. Should future data support such a scenario, there is no doubt that the spot rate (i.e. the nearest contract) will take a hit. However, because longer-dated contracts are less impacted by short-term news, the negative impact should be smaller. In fact, we can already see this in action in the two futures curves presented earlier. Note how the August 2017 contract decreased by $1.27 while the January 2019 contract only dropped by $0.45.
So why should longer dated futures rise faster in a bullish scenario? In a typical contango, prices should consistently slope upward whereas the current curve is flat for the next two and half years beyond the initial rise, reflecting bears' doubts surrounding the production cut. But in a bullish scenario, the production cut would be executed as expected and domestic production would not rise astronomically, so there would be no reason for bears to push down futures prices in anticipation of excess supply. As such, I believe that a typical contango will be restored as bullish supply fundamental factors materialize. In my view, this should allow the longer dated contract to trade at a higher price than the near-term contract, allowing you to capture the spread between the two.
Click the "Follow" button beside my name on the top of the page to be updated with my latest insights. To learn more about the Core Value Portfolio, whose goal is to compound capital at 20% over the long term, I encourage you to read the introduction to my investment process. Premium subscribers get full access to the Core Value Portfolio.
Disclosure: I/we have no positions in any stocks mentioned, and no plans to initiate any positions within the next 72 hours.
I wrote this article myself, and it expresses my own opinions. I am not receiving compensation for it (other than from Seeking Alpha). I have no business relationship with any company whose stock is mentioned in this article.