The luxury apparel market had a mixed year in 2016 with companies such as PVH (NYSE:PVH) and Burberry (OTCPK:BURBY) performing well (the latter benefited from the unexpected Brexit vote which boosted tourism in the UK, its historical market), whereas Ralph Lauren (NYSE:RL) and Hugo Boss (OTCPK:BOSSY) performed poorly due to declining sales and large restructuring plans. While we have recently addressed the investment opportunity for Ralph Lauren, we would like to explain why Hugo Boss's underperformance will not last too long.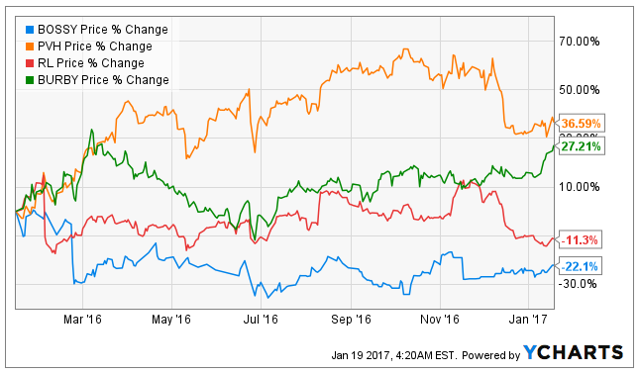 Let's first have a look at the company's history. Hugo Ferdinand Boss was the heir of two lingerie and linen manufacturers. He opened his first factory in 1924 in Metzingen, Germany. First products were basic shirts and uniforms, used by the National Socialist Party. Hugo Boss's activity rose during the Third Reich, but after the Second World War, Hugo F. Boss was convicted with compliance to the regime and the company placed under monitoring of the Allies. In order to extend its activity and to meet consumer needs, the son-in-law of the founder launched Hugo Boss's first men's suits in 1950, which rapidly became the core competence of the company. It served as a base for the first standardized collection launched in 1960. In order to optimize its product segmentation, the premium brand, BOSS, was launched in 1970. Since that period, Hugo Boss managed to reinforce its premium image with the sponsorships of nice sports (Formula 1, sailing).
The company decided to go public in 1985 on the Frankfurt stock exchange. In 1993, the management tried to reach the higher-end segments of the luxury offering and introduced Baldessarini as the absolute luxury brand of the Hugo Boss Group, however, the brand did not reach its targets and was sold in 2006. During the 1990s the company increased its efforts in womenswear and created two "young lifestyle" brands: Boss Orange and Boss Green. In 2007, PE firm Permira bought 85% stake in the company at a time when group revenues hit €500 million. Permira managed to list the company back to the stock market in 2011 and sold shares gradually until 2013, more than doubling its initial investment with group sales reaching more than €2 billion.
While Hugo Boss briefly continued its growth momentum until 2014, headwinds emerged in October 2015 when the company announced its first profit warning due to weaker demand from US and China. CEO Claus-Dietrich Lahrs resigned in February 2016 after reporting a second cut in its profit outlook. A year from now, what would make us think that the company could be undervalued and a potential investment case?
First, the company has managed to decrease its net debt level to half its EBITDA amount compared to twice the EBITDA size in 2008. In addition to lowering its debt, Hugo Boss has managed to increase its free cash flow generation despite decreasing operating margins and growing capital expenditures. Indeed, as free cash flow is calculated based on EBIT minus capital expenditures, any negative fluctuation on EBIT or increase in capex should have been harmful for the company's free cash flow. That hasn't been the case, thanks to its tight management of working capital. For example, the number of days of inventory on hand are the lowest in the industry at 125. If you look at the P&L, in spite of deteriorating gross margins, Hugo Boss has one of the strongest ratios at 66% among its peers, thanks to a strict control of COGS. Same rule applies for the return on equity (ROE) and the return on capital employed (ROCE); both ratios are deteriorating, but they remain the highest by far compared to competitors. Consequently, we believe that any slightly positive improvement for Hugo Boss will help support its leading position.
Secondly, the company has transformed itself from a wholesale business to a retail one during private equity turnaround to reach current retail levels at 65% versus wholesale (35%) so as to become a customer-focused brand. While brand enhancement for a premium company is much stronger with a large retail footprint, fixed costs are tougher to manage during a down cycle. Consequently, current headwinds (traffic decline, off-price outperforming full-price) are more difficult to manage than in the past. Nevertheless, we believe that Hugo Boss's geographic exposure is rather in its advantage. In fact, it remains a European brand as 62% of revenues are generated on the continent while Americas represent 21% and Asia/Pacific 15%. We believe the underpenetration in Asia/Pacific is a great opportunity for the company, being already perceived as a desirable and prestigious premium European menswear brand.
Sales grew by +15% CAGR in the last five years to reach €232 million, which is still a tiny amount compared to the brand potential. Hugo Boss will be able to expand market share gains based on its attractive brand positioning and pricing. In mainland China, we believe local consumption will continue to grow due to tight customs controls and fears of terrorism in European capitals. According to BCG, the upper-middle class should represent 30% of urban households in 2020 (17% in 2015). This trend will boost the company's strong momentum in high-end collections. However, the US exposure is rather a threat for the brand as it hasn't succeeded in distributing the off-price brands such as Boss Orange. In consequence, the company targets to decrease the off-price category and focus on the full-price retailers, which we believe will take time for HB to adjust. Moreover, the rapid expansion of brick-and-mortar stores resulted in over-exposure which will lead to store closures in the near future (net store closure is never a good news in the luxury industry). Last but not least, Hugo Boss's strong exposure in Europe is currently beneficial to the company, thanks to the UK and Germany amid a difficult market environment.

Source: Hugo Boss website
Thirdly, the new strategy announced in November 2016 is addressing the right issues that the company is facing. Indeed, as we have seen with Ralph Lauren, Hugo Boss is now focusing on its two core brands which are Boss (upper premium) and Hugo (premium) hence putting Green and Orange on the side. The company wants to go back to its roots which are the business suits while offering the best price/value relationship within the premium segment. Also, the company has taken the right decision to keep its womenswear division as its one of the largest womenswear business after Armani and BCBG Max Azria.
In addition, the global price harmonization to avoid wide price gaps between regions (China was the most impacted) has already paid off as mainland China comp store sales recently increased by 20% at constant exchange rate. Finally, management will focus on its digital marketing campaigns (currently below peers) as well as the development of the omnichannel which is considered as the perfect combination between brick-and-mortar and e-commerce for luxury companies. Again, as for most competitors, CRM tools will be redesigned to increase the focus on customers.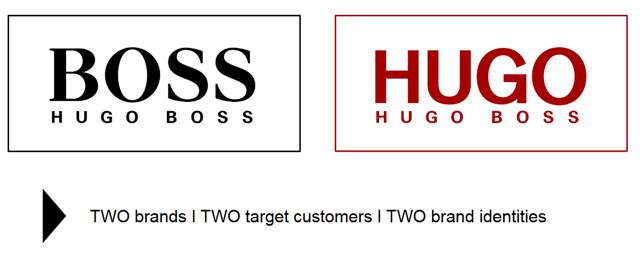 Source: Hugo Boss website
In conclusion, we believe the company forecast to return to profitable growth by 2019 is conservative as the measures taken by the management are already showing positive results. In the meantime, Hugo Boss is still paying a high dividend yield of 4.5%. The group has confirmed its dividend policy of paying out between 60% and 80% of net income, hence supporting shareholder return. If we look at valuations when Permira bought Hugo Boss in 2008 (EV/EBITDA 13x), we definitely think the company is trading at a discount with a sufficient cushion of safety. Indeed, current EV/EBITDA at 8x is 40% cheaper, an attractive value to any PE firm or buyer that would like to replicate Permira's successful story. In our opinion, the company hasn't lost any of its "cachet" since 2008.
If you have enjoyed this article, feel free to hit the "Follow" button for more articles with a long-term investment horizon.
Disclosure: I am/we are long BOSSY, RL, PVH.
I wrote this article myself, and it expresses my own opinions. I am not receiving compensation for it (other than from Seeking Alpha). I have no business relationship with any company whose stock is mentioned in this article.
Editor's Note: This article discusses one or more securities that do not trade on a major U.S. exchange. Please be aware of the risks associated with these stocks.