ClupCorp Holdings (NYSE:MYCC) announced on January 12, 2017 it's reviewing strategic alternatives to enhance shareholder value. The company has assembled a Strategic Review Committee and Jefferies LLC with Wells Fargo (NYSE: WFC) will be financial advisors to the committee. The push has come from a long time shareholder FrontFour Capital Group for a sale of the company or REIT conversion. The declining share price over the pass two years has made them push back on management for alternatives to enhance value (Please see here). The company's IPO price was $14.50 three years ago and now it sells for $16.60 (with the run up of the strategic review announcement). This opportunity could create a significant risk reward scenario if the business is truly worth more than what it currently sells for, and management does go through with alternative corporate actions to drive value.
Overview
Clupcorp is a leading owner/operator of private golf clubs and business clubs. The company has a portfolio of 208 golf, business, and sports clubs throughout the U.S., District of Columbia, and two foreign countries with 186,000 memberships.
Top Courses within the Portfolio
Firestone Country Club (Hosted the PGA Championship 3x)
The portfolio is attractive with some of the best golf courses in the United States. Management has tried to keep the seasonality risk at a minimum. They have a high concentration of courses in the southern states due to the fact it's an outdoor sport.
Three Main Risks
1. The end market for golf has been in a consistent decline over the past 5 years. There are multiple reasons for this. Golf is a recreational sport that is expensive, time consuming, and not family friendly. When you consider the median price per round is $40 according to golfsmith, and is much higher at nicer courses, it's quite costly to play consistently every week, let alone bringing your whole family. An average round of golf will also take 4-5 hours which younger demographics don't find attractive.
2. Golf courses are a capital-intensive business. Cash needs to keep being plowed back into the business in order for it to operate at optimal conditions. A course golf is easily recognizable if the course is being well maintained, and members expect that. Conditions can quickly deteriorate if not properly cared for. On a TTM basis 2016 capital expenditures were $103 million. Revenue was $1.1 billion, so that means almost every year 10% of revenue needs to be dedicated to capex. Quickly identifiable capex expenditures:
Course Greens
Course Fairways
Course Bunkers
Parking Lots
Clubhouses
Restaurants in Clubhouse
3. ClubCorp is highly leveraged. Debt to EBITDA ratio is high at 5x multiple. This is a warning alarm that investors need to pay attention to. Capex and interest expense eats up a good portion of EBITDA (76% to be exact).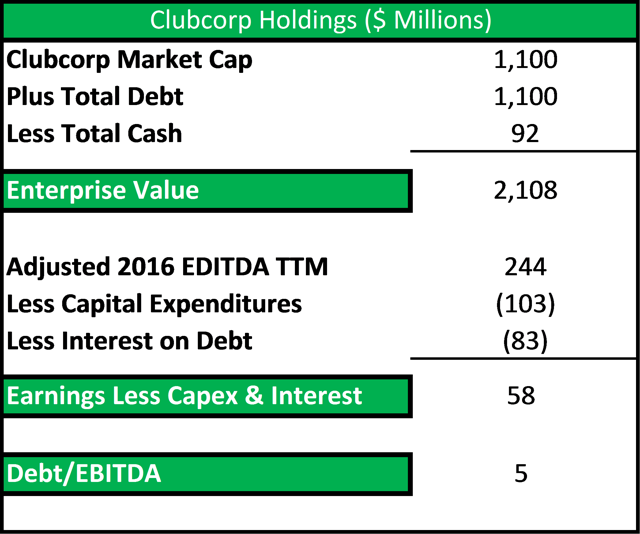 Valuation
It's hard putting a solid number on a valuation for a business like this. Even with all the risks/negatives stated above there are some valuable assets.
ClubCorp owns approximately 30,000 acres that have been appraised at $1.5 billion. Net of debt that's $7.69 of value per share. Even with a 15% discount, it's still $4.17 of value.

The business model is simple, charging a fee to play golf on a piece of land, and having a membership ecosystem to go along with it. This could be highly attractive to a potential buyer, with the valuable real estate it offers. Especially, the Chinese, which have been on a buying spree for hospitality type businesses here in the U.S. over the past two years. It's a way the Chinese can diversify their portfolio and stash cash in a relatively safe currency. These assets could be used to also support hotels and other real estate businesses.
Comparable Analysis

Competitors in similar businesses all trade much higher on an EV/EBITDA ratio with identical leverage ratios.
Sale Price Valuation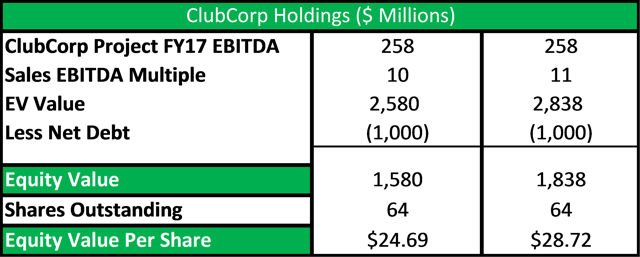 If an outright sale of the company does happen I don't think it's unrealistic that investors would see $24-$29 a share. If the price does come in on the low end that's 43% upside with very limited downside risk around 12%.
I also want to note that CEO Eric Affeldt owns 749,378 shares or 1.2% of the company. With a sale of the business at $24 a share Mr. Affeldt would stand to make $17.98 million.
Takeaway
I do prefer a sale of the business since a REIT conversion has high execution risk, and some of the dynamics of the business aren't appealing anymore. With the attractive real estate assets and strong EBITDA earnings the business is attractive to a variety of strategic buyers. With major U.S. investments coming from China over the past few years should heighten interested parties. Capex is high and could be an area that a strategic buyer could reduce to squeeze out more cash flow. There is shareholder alignment with the CEO owning 1.2% of the company. This special situation is asymmetrical in nature that offers outsized market returns.
To read more research on stock spin-offs, fund holdings, micro-cap companies, and special situations please consider following me (by clicking the "Follow" button at the top of this article next to my name) to receive notification when I publish research next.
Disclosure: I am/we are long MYCC.
I wrote this article myself, and it expresses my own opinions. I am not receiving compensation for it (other than from Seeking Alpha). I have no business relationship with any company whose stock is mentioned in this article.
Additional disclosure: This article is intended to provide information to interested parties. As I have no knowledge of individual investor circumstances, goals and/or portfolio concentration or diversification, readers are expected to complete their own due diligence before purchasing any stocks mentioned or recommended.