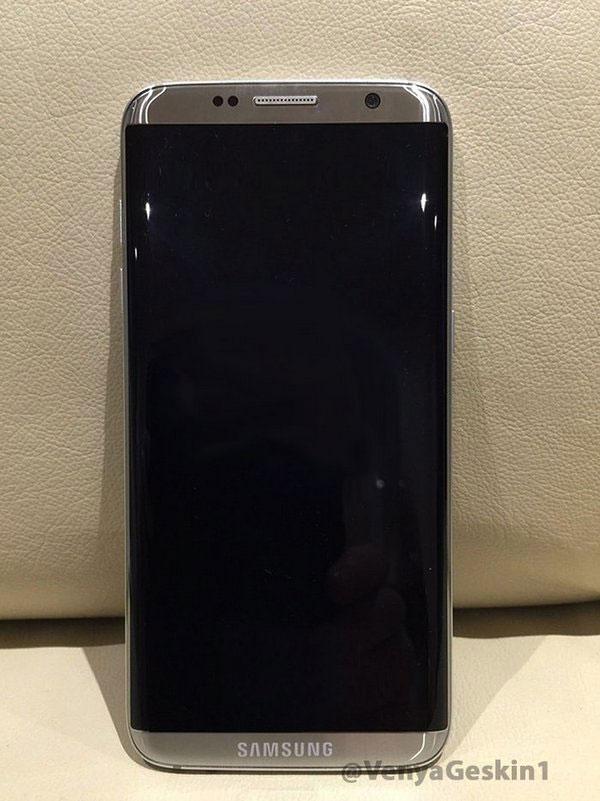 The Samsung (OTC:SSNLF) S8, with much-reduced bezels. The S8 is likely to be priced higher than before. Apple's iPhone 8 will also go the same route, both in much-reduced bezels and, most likely, in higher pricing. Source for Image: MacDigger.Ru.
At this point, Apple (NASDAQ:AAPL) already seems to be influenced by the iPhone 8 upcoming launch, around September. There are some indications that the iPhone 7 might be slowing down more than expected, but it hasn't been a tremendous factor in punishing the stock.
However, I believe a new factor, beyond the iPhone 7 and 8 dynamics, is about to emerge this year which will be an unexpected positive for Apple (and Samsung).
First A Bit Of Background
Over time, flagship smartphones from Apple and Samsung have seen rather stable pricing. For instance, upon launch in June 2010, the base iPhone 4 had an unlocked price of $649. Fast forward to the iPhone 7 six years later, and the unlocked price for the base version still remains at $649.
Sure, the larger iPhone Plus versions, since the iPhone 6 Plus, were $100 more expensive, and saw a slight bump with the iPhone 7 Plus, to a $120 difference. These represented a very modest attempt to increase prices in the face of what has been a BoM (Bill of Materials) creeping higher over time (I, II).
At least three factors made for this price stability:
A strong smartphone market, allowing for constant units sold increases. The market was also helped by a massive transition from feature phones to smartphones.
Ever-plunging component prices, which kept BoM increases in check (though on an upward trajectory).
Significant pressure from ever-cheaper competition, especially as Chinese competitors started entering the market, and as some Android makers (HTC, LG) started lagging in their competitiveness.
Of these, however, signs are that the strong smartphone market is slowing down significantly. The following chart exemplifies this slowdown easily enough: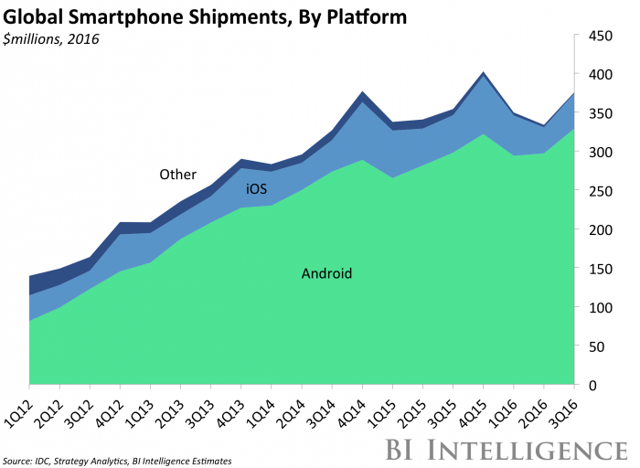 Source: BusinessInsider.com, others
This brings us to today and to signs that we're about to enter a new phase.
The New Phase - Brands Will Price Higher
In light of extremely significant pressure from Chinese suppliers, what follows is something of a surprise.
You see, you can get a perfectly functional, well-designed, fast and featured smartphone for as little as $150 from a Chinese brand like Xiaomi, Elephone, LeTV, OnePlus and countless others. The differences to an Apple or Samsung flagship will be in the detail, but these phones (all on Android) will run everything in Google Play with aplomb.
Yet, for someone wanting the very best the market can offer, the choice is still between Apple, Samsung and, perhaps, the new Google (NASDAQ:GOOG) (NASDAQ:GOOGL) Pixel line.
Oftentimes, with branded products, the price differential is well in excess of any rational specification or quality differences. The same is apparently set to happen in the smartphone market. That is, the price differential should, from 2017 onwards, expand not just because the Chinese are pricing ever lower, but also and most importantly, because Apple and Samsung are set to increase the prices in their own flagship range.
As I said earlier, a bit of a clue came in a $20 increase in the iPhone 7 Plus versus the iPhone 6s. However, I think there are signs that this trend will significantly pick up the pace during 2017. How will this happen? For now, at least in two different ways:
Samsung is set to launch the Galaxy S8 series. Contrary to the Galaxy S7, where you had a flat S7 and a curved S7 Edge, both versions of the Galaxy S8 will be curved. At launch, the Galaxy S7 carried a $695 unlocked price and the S7 Edge carried a $795 unlocked price. These prices were somewhat overstated, though, as right from the start there was the chance of getting Galaxy VR for free, or $50-$100 discounts. The Galaxy S8, though, is rumored to start at ~$795-$845, thus as much as $100 over the base S7. While this is a rumor, a large price increase is nearly certain, stemming from both phones evolving towards edge variants.
As for Apple, it's still early to have any rumors on price. There's no certainty that Apple will increase the base entry price for the lowest model. But there, the price increases are certain to take place at least through another route. That will be the introduction of a third model in the range. That is, we'll have the iPhone 8, the 8 Plus and yet another model which will retail at a significant premium. This third model will be the most revolutionary of the 3, and will likely be all-glass and carry a bezel-less OLED display … as well as a price near $999.
I believe the trend toward higher premium prices will mostly be connected to countering the market slowdown. It will substitute the growth through quantity by growth through price. Even a minor 10% average price increase can do wonders on stagnated shipping quantities if one considers that Apple's expected revenue growth rate is +5.6% for FY2017 and +7.1% for FY2018.
However, there is also another potential factor driving the need to increase prices. DRAM has been shooting up for nearly a year now: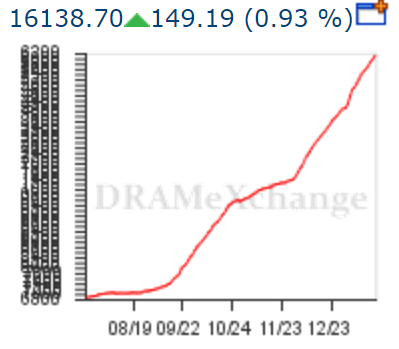 Source: DramExchange.com
This index, representing the DRAM spot market, sat at ~5,800 in March 2016. It has been up nearly every day since and now sits 177% higher.
Of course, it reflects spot pricing, and contract pricing has evolved slower, but still went up meaningfully. This is more of a factor forcing Samsung, though, as its phones presently carry twice the RAM on the iPhones (4GB vs 2GB) and the difference might even increase in the next generation.
Conclusion
While price increases are not something that's factored in Apple market expectations, there are signs that these are going to occur in 2017, both for Apple and Samsung.
As a counter-weight, Chinese suppliers are getting ever-better and their prices are low and going lower. So this will be a play on keeping volume while raising prices by using brand power. The objective will be to counter a stagnating overall smartphone market.
Given Apple and Samsung's brand power, the strategy has a good likelihood both of happening, and of working, as long as the new models are appealing enough. Both Samsung and Apple new models will show radically increased display areas with reduced bezels. They will be visually striking and, when it comes to Apple, quite different from what Apple has been selling for the last three years. This also increases the likelihood of this (mostly unexpected) strategy to work.
Disclosure: I/we have no positions in any stocks mentioned, and no plans to initiate any positions within the next 72 hours.
I wrote this article myself, and it expresses my own opinions. I am not receiving compensation for it (other than from Seeking Alpha). I have no business relationship with any company whose stock is mentioned in this article.