Dycom Industries Inc (NYSE:DY) is a specialty contractor building and maintaining land-based high speed internet infrastructure. The company's stock has rocketed from $30 per share in 2014 to today's price of $77.97.
In this article I'll answer why I believe the price today rests on inflated earnings expectations due to over exuberant investors bidding up the share price to unjustifiably high prices according to the company's actual ability to generate free cash flows available to create investor returns.
I believe the company is overvalued, as its track record in terms of converting revenue to free cash flow available to owners is demonstrably poor (more information below).
How Much Are Investors Paying For Dycom's Cash Flow?
Investors have a simple goal. Buy low, don't be too pestered about day-to-day fluctuations in market prices, and sell high down the road sometime. We want to buy free cash flows at low market prices, because free cash flows are what management draws upon to make buybacks and pay dividends. The cheaper we can buy each dollar a company earns the better value we are getting.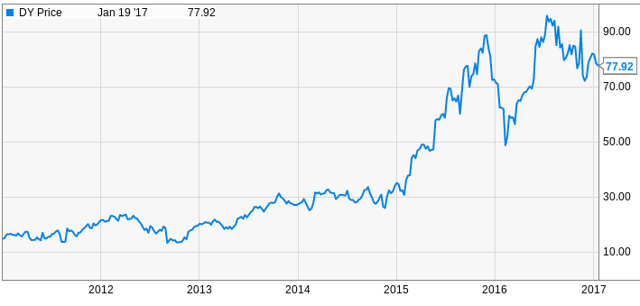 (Source: Faloh Investment, YCharts)
In the case of DY, today's price per share offers each dollar of annual cash flow generated by the company for a very high price. I'll give you some reference figures to demonstrate the fact. But first, I will show you that this company does do a poor job converting sales to cash earnings.
Revenue to Cash Generating Track Record At DY
The company's longstanding gross profit on sales is at a rate of 20%. Those gross profits then go to paying salaries, maintenance of facilities and equipment, interest payment on debts, and the necessary, expensive, and repeated investment into construction equipment. The tight gross margins, coupled with the capital intensity of the construction business, makes it hard for DY to create free cash flow.
The following table shows the volume of revenue this company has earned and the cash flow results. Note that less than 2% of revenue has been successfully converted into free cash flows during the trailing six years' time:

(Source: Faloh Investment, YCharts)
The data above makes the case: Less than 2% of revenues have been converted to free cash flow during the last six years of operations. But also damning for this investment's prospect is the fact the net tangible book value (column title Net Assets) have accumulated to a mere $49M as well. That means the company's generated a ton of profits, but rather financed itself into growth.
Financing a company's growth can work out just fine, but as investors we want to see this kind of behavior from a company who won't be locked into a continuous cycle of financing due to the inherent capital intensity of its business operation. DY is in a capital intensive business and is likely to remain in the financing cycle demonstrated by its track record.
Summary
The capital intensity and cyclical sales in the specialty contracting business makes for wide gyrations in share price. A similar phenomenon is experienced by investors in Canada's North American Energy (NYSE:NOA), a smaller contractor focused on mining and landworks.
Investors can protect their capital when investing into specialty contractors by avoiding exposure to the long side on these companies when their up-cycle has become mature. DY's shown some shakiness now, two years into its business and stock rally, and it's time to pull capital before its destroyed by smart money leaving the investment ahead of retail investors like you and I.
Disclaimer: This article represents the opinion of the author as of the date of this article. This article is based upon information reasonably available to the author and obtained from public sources that the author believes are reliable. The author does not guarantee the accuracy or completeness of this article. This presentation is the author's interpretation of the information contained in the article. The author may close his investment position at any point in time without providing notice. The author encourages all readers to do their own due diligence. This is not a recommendation to buy or sell a security.
Please click the + icon next to my user name and follow me, Faloh Investment, as I work to keep you informed on further developments as the market continues to present major value opportunities.
Disclosure: I/we have no positions in any stocks mentioned, and no plans to initiate any positions within the next 72 hours.
I wrote this article myself, and it expresses my own opinions. I am not receiving compensation for it (other than from Seeking Alpha). I have no business relationship with any company whose stock is mentioned in this article.