Gold isn't for everyone. But like Cheetos to the video gamer, gold has a way of pulling the investor in. It's only after you realize you've stained everything yellow that you regret the quantity that you snatched.
Indeed, many an investor has overweighted gold in his portfolio, making short-term swings in the metal quite exhilarating, for good or for bad. The past few months in gold have looked like a literal rollercoaster. While gold looked like it was going to finish on a bad note at the end of 2016, it began a rally that has been sustained till now.
As I write this, gold is pulling back slightly. Is the rally over? Should we be selling and diverting some of our gold capital back into growth and value stocks?
Hold your horses. Let's break down the macro situation, which is overall the only real situation that matters for long-term gold investors. Arguably, the recent swings in gold were related to a changing of the guards and the speculation around it.
But let's pull up the facts. What will a Republican presidency mean for the macro environment? The question itself is wrong, by the way, as too many analysts seem to forget that the executive branch is but one of the US's three governmental systems.
The historical data shows correlations based on both presidential party and congressional control. Only by looking at these in conjunctions can we get a probability for which way the macro environment is headed. Our new system will be one of a Republican presidency and a Republican congress.
The last time we saw such a setup was from 2003 to 2007, under Bush Jr. This arrangement is associated with significant gains in the stock market and a strengthening dollar: An ironic strong economy matched with a deflationary environment.
Using the 2003-2007 period is just one sample of a larger phenomenon, but it is still worth investigating. In 2003, gold underwent a strong bull market, growing strongly into 2008. CPI showed an inverse parabola from 2003 to 2007, ending where it began. The buying power of the USD, however, shrank; $100 in 2003 had the same buying power as $112.69 in 2007.
Arguably, the only relation we see here is gold growing while the USD fell. This is inflation's effect on gold. After running data on gold: The Powershares USD Bull ETF (NYSEARCA:UUP) versus the SPDR Gold Trust (NYSEARCA:GLD), I found strong correlation between the two, from 50% to 80% variable in gold being explained by the dollar, dependent on the time period.
Many gold bulls will dismiss the damage inflation does on gold. Yet we see them currently excited about the possibility of deflation. Lack of consistently aside, they are right to be bullish during expectations of deflation.
And while the political environment shows a statistical likelihood of deflation, I advise caution on banking on this expectation. For a rapid period of deflation, we need the Fed to raise interest rates. To predict a rate increase, we best look in two places.
The first is actual bets on the action. Here, we turn to the Fedwatch tool, where options for interest rate increases are tracked. Here, we do see most of the bets being placed on "raise," but only far into the future: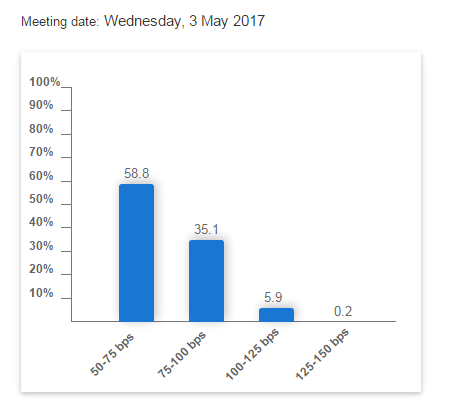 In May, most are still betting on no rate change. But by autumn, traders are suddenly uncertain: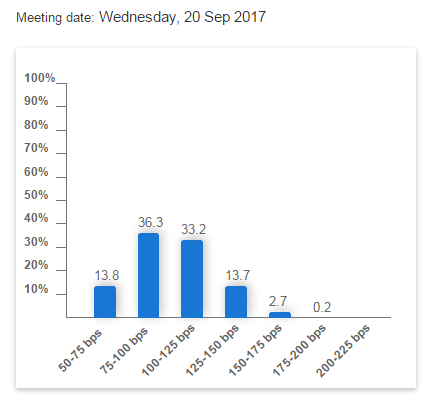 Few believe the rates will remain unchanged into September. There's a significant split here, with the average bet being 1.5 rate increases. This should be seen as bullish for those holding gold.
The second indicator that works well for predicting a rate raise is the copper/gold ratio. Ironic, as we are using gold in a ratio to predict an aspect later used to predict gold. But sometimes, recursive predictions just work out.
Copper/gold acts as a leading indicator of interest rates, according to my data. The fundamental explanation is that this ratio is sensitive to industry overheating - copper rising - and hedging against stagnation - gold rising. The charts show contradictory signals. In the short-term, we have surged but stabilized: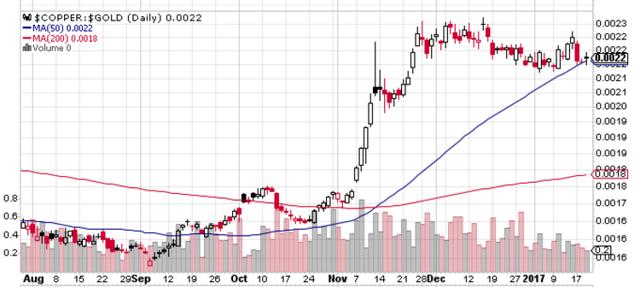 But zooming out, we see an intermediate-term crash and a long-term upward drift: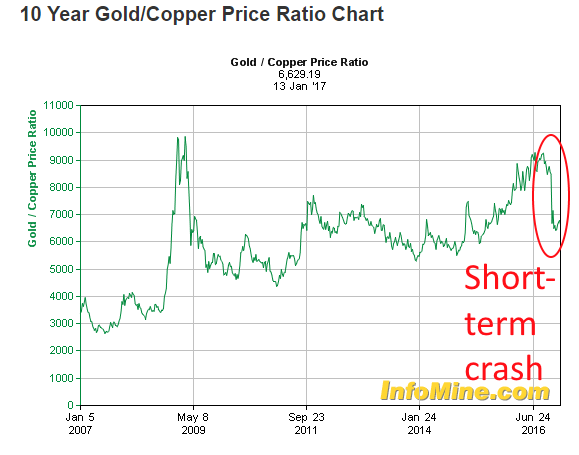 Thus, your time horizon on this prediction is important. I'm more keen on trusting short-term trends because they respond better to recent news. Yet many gold investors are in it for the long-term.
In either case, gold looks to be a good bullish holding for the near future, although I see no rush to buy in at the moment. My eyes are on the gold miners, specifically their forward guidance in earnings reports. As reading these reports are the closest the average retail investor can get to the industry, they are the best signals for entry points into a long-term gold investment.
Despite the negativity the metal gets from the government, who taxes it at nearly 30%, and blue-chip loyalists, who enjoy pointing out that gold produces no value, gold is pretty awesome. However, gold isn't something we should dive into; timing is important, as is planning ahead. As Seneca said, "Luck is where opportunity meets preparation."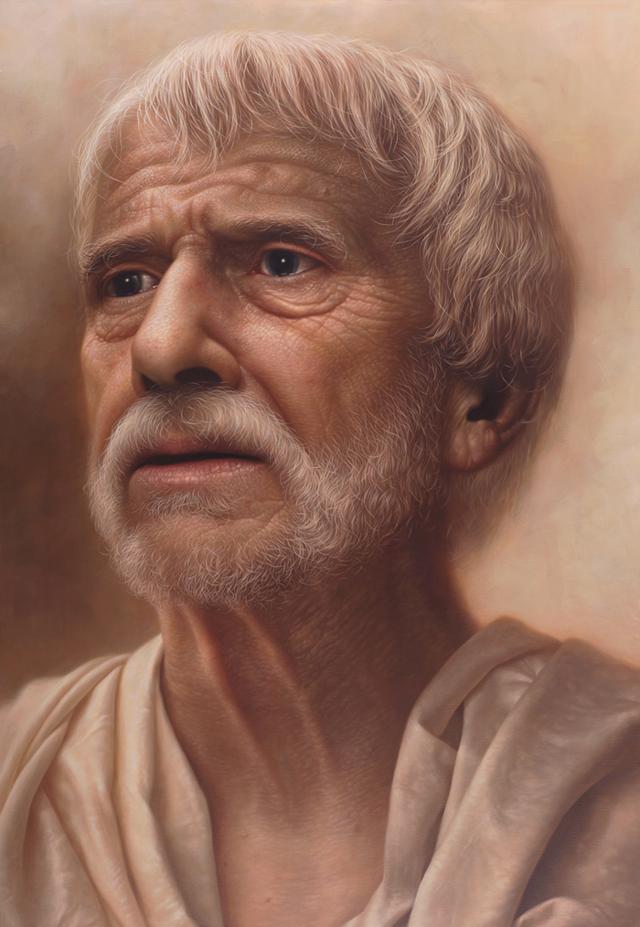 (Source: JW-Jeoung)
Notes:
Note: Get my articles as soon as they are published by clicking the big orange "follow" button at the top of this page. Make sure you choose "real-time alerts." Trade alerts sent through "Copy My Trades."
Note: All unlabeled figures were created by me from data pulled from Yahoo and ADVN through R. Charts with blue backgrounds are from Etrade Pro. Fundamental charts from a paid subscription at simplywall.st.
Learn More about Earnings
Exposing Earnings - my earnings prediction newsletter - is now live, here on Seeking Alpha. In this newsletter, we employ both fundamental and pattern analyses to predict price movements of specific companies after specific earnings. I offer specific strategies for playing those earnings reports. To-date, we are 94% accurate on earnings report predictions.
Disclosure: I/we have no positions in any stocks mentioned, and no plans to initiate any positions within the next 72 hours.
I wrote this article myself, and it expresses my own opinions. I am not receiving compensation for it (other than from Seeking Alpha). I have no business relationship with any company whose stock is mentioned in this article.