UrtheCast Corp. (OTCPK: OTCPK:LFDEF)(TSX: UR, "Urthecast") is a cash-generative earth observation ("EO") satellite company with a unique Next-Generation ("Next-Gen") Constellation that will be funded by its customers. The company's current constellation of four sensors is expected to achieve $25-30M CAD EBITDA in 2017 based on consensus estimates, versus a total enterprise value of approximately $125M CAD.
This puts the company's valuation at just above 4x EV/EBITDA, representing less than half the multiple ascribed to satellite peers such as DigitalGlobe (NYSE:DGI), ORBCOMM (NASDAQ:ORBC), ViaSat (NASDAQ:VSAT), and others that trade at an average forward multiple in excess of 10x EV/EBITDA. On its legacy sensors alone, we think UrtheCast shares offer upside of 100-150% to fair value.
Next-Gen Constellation
In addition, UrtheCast is currently in advanced negotiations to build its Next-Gen Constellation, to be funded by its customers. The Next-Gen Constellation is expected to consist of a 16-satellite OptiSAR Constellation and an 8-satellite UrtheDaily Constellation, with customers purchasing pairs of satellites in order to gain access to the Next-Gen Constellation's full imaging capabilities for specific geographies.
Once launched, UrtheCast's Next-Gen Constellation will be one of the two highest-quality, most indispensable EO satellite constellations in orbit: (1) DGI's constellation will provide the best resolution and (2) UrtheCast's Next-Gen Constellation will offer the best revisit rates as well as the capacity to image at night, through clouds, and through forest cover via its unique OptiSAR capabilities. In combination, customers using both DGI and UrtheCast can achieve full, comprehensive imaging coverage.
Over the past year, UrtheCast has announced a series of MOUs (Memorandums of Understanding) with various customers as a framework for negotiations to purchase satellite pairs in the Next-Gen Constellation. On January 17, UrtheCast announced the first binding contract to sell two satellites (one satellite pair) in the Next-Gen Constellation. This is a game-changing moment in the company's history, significantly de-risking the business and serving as a marker to accelerate additional agreements.
As the first agreement is contingent upon UrtheCast signing additional customers to fill one orbital plane (four pairs, or eight satellites total), the share price appreciated - but not close to what the value of the business would be should UrtheCast achieve funding for a full orbital plane. For context, DGI's enterprise value is close to $3 billion USD. In contrast, UrtheCast's total enterprise value, including the value of its legacy sensors, is less than $100M USD.
We anticipate additional agreements could arrive any day, and that over the coming months and quarters, UrtheCast may be able to announce further similar-sized customer wins to fully fund one or more orbital planes in the Next-Gen Constellation and further de-risk the business.
Importantly, in 2016, UrtheCast disclosed consultations with potential US-based partners to serve the US Government (the world's largest purchaser of EO imagery), culminating in the announcement of an RFP in August 2016. Our understanding is that UrtheCast is in deep discussions with some of the largest, most important providers of aerospace technology to the US Government, potentially including companies such as Boeing (NYSE:BA), Lockheed Martin (NYSE:LMT), Raytheon (NYSE:RTN), and DigitalGlobe. Should UrtheCast announce a partnership with one of these companies or a similar firm, that could prove a meaningful further catalyst for UrtheCast's shares. Again, we anticipate such a joint partnership could be announced at any time.
Strong Business Momentum and Undervaluation
At the end of the day, it all comes down to valuation. We think that UrtheCast's current four active sensors can generate $25-30M CAD EBITDA in 2017, demonstrating strong business momentum (see Exhibit A) that is not yet reflected in the firm's share price.
Exhibit A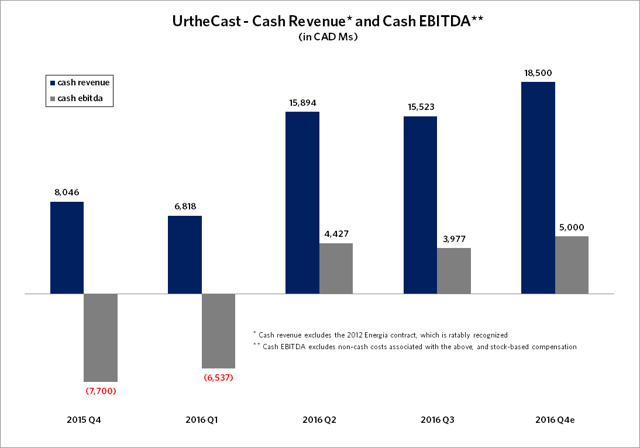 Sources: Company Filings, Seneca Park Research Forecasts
In fact, considering only the value of its existing sensors, we believe UrtheCast's fair value may be twice or more its current share price. The company's Next-Gen Constellation, in our view, could be worth a further $1B+ USD should it be green-lighted, against a current enterprise value less than one-tenth that figure, as it achieves similar EBITDA margins to DGI's $3B constellation (40-50% EBITDA margins) but at a modestly lower revenue level due to UrtheCast's pre-funded business model.
For clarity, we believe 90%+ of the content provided to pre-funding customers for free in return for their assistance paying to build the Next-Gen Constellation can also then be sold to one or more additional customers for high-margin incremental revenue, which accrues exclusively to UrtheCast's benefit.
UrtheCast also may earn a 20-25% gross margin on the build-out of the Next-Gen Constellation, consistent with what the company has historically earned on construction and engineering contracts (profits that may be recycled into self-funding additional satellite pairs to keep an even larger share of future profits in-house). In other words, UrtheCast gets a double bite at the apple - first with profits from the build-out and second with profits from the ongoing operation and sale of EO imagery to non-pre-funding customers.
This has immense value to UrtheCast's shareholders. As additional customers sign binding agreements and as UrtheCast announces partners in its selling efforts, including to the US Government, we think there are imminent catalysts for the shares and potential blue-sky upside to the company's market value.
UrtheCast's primary listing is in Toronto on the TSX with the ticker UR. This listing is highly liquid with 9M shares traded in the last three days. In the US, the company has a secondary over-the-counter listing with the ticker LFDEF that is less liquid than its Canadian equivalent.
Disclaimer: The author of this posting and related persons or entities ("Author") currently holds a long position in this security, which can be considered a long-term holding. Author may buy additional shares, or sell some or all of Author's shares, at any time. Author has no obligation to inform anyone of any changes to Author's view of UR CN/LFDEF. Please consult your financial, legal, and/or tax advisors before making any investment decisions. While Author has tried to present facts it believes are accurate, Author makes no representation as to the accuracy or completeness of any information contained in this note. The reader agrees not to invest based on this note, and to perform his or her own due diligence and research before taking a position in UR CN / LFDEF. READER AGREES TO HOLD HARMLESS AND HEREBY WAIVES ANY CAUSES OF ACTION AGAINST AUTHOR RELATED TO THE NOTE ABOVE. As with all investments, caveat emptor.
Disclosure: I am/we are long UR CN.
I wrote this article myself, and it expresses my own opinions. I am not receiving compensation for it (other than from Seeking Alpha). I have no business relationship with any company whose stock is mentioned in this article.
Editor's Note: This article covers one or more stocks trading at less than $1 per share and/or with less than a $100 million market cap. Please be aware of the risks associated with these stocks.