There is clearly a lot of uncertainty surrounding a Trump presidency. From the rhetoric surrounding deregulation, to the proposed infrastructure improvement projects, no one is really certain about which, if any, Trump will follow through with. This uncertainty hasn't been clearly evident in the markets, with the S&P 500 (NYSEARCA:SPY) rallying since the election. However, analyzing the options underlying the "fear index", VIX (NYSEARCA:VXX), it is apparent that investors and traders are preparing for the worst.
One-month call options on the VIX, set to expire on February 15, has seen large demand in the past week. This implies that many see a market selloff following the inauguration of Trump. Much of the volume has been around the 21 and 22 strike, which have seen purchases of 250k and 100k respectively. The cost of each of those contracts was around $0.49.
Activity in the options stands in stark contrast with the underlying's performance. The VIX index is only up ~4.8% at 13.08, while the SPY has remained stagnant. It would require a fairly significant sell-off for these options to become profitable. In looking at correlation between global economic uncertainty and the VIX this trade may not be that far off. As the chart below illustrates, there has been a large divergence between economic uncertainty and volatility.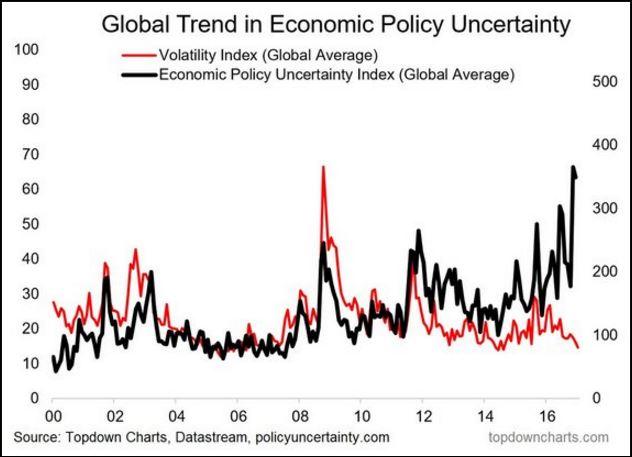 Another interesting factor to point out as to why the one-month strike has been so popular, is the steepening of the VIX futures curve. One-month options have been quite cheap relative to the three-,six-, and nine-month expiries. It has become favorable to hedge and speculate with the short end of the curve.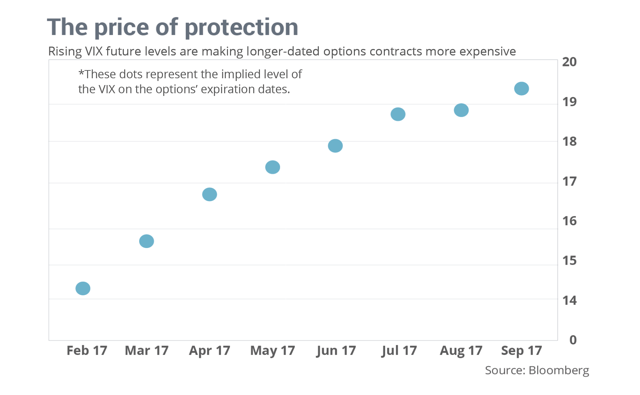 Speaking more technically, the inherent bias towards VIX calls is evident in the 20-day call/put volume ratio, which stands at 4.19, according the Schaeffer Research.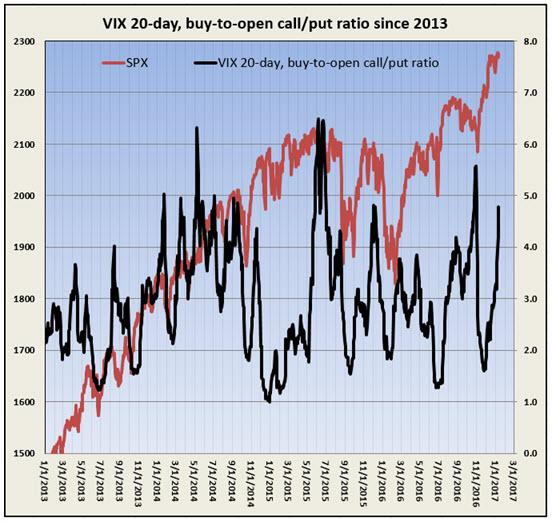 There is clearly two distinct stories when looking at the VIX versus its options. A lot of money has been put into these high-strike calls that require a large sell-off to become profitable. With the VIX hovering at very low levels, purchasing the VXX (if you're not able to trade the VIX or options on the VIX) would provide either a cheap portfolio hedge against any uncertainty, or a way to inexpensively speculate on a spike in volatility. Whatever the purpose may be, however, keep in mind that this should only be used as a short-term trade, as volatility ETFs are known to lose money over the longer-term.
Disclosure: I/we have no positions in any stocks mentioned, and no plans to initiate any positions within the next 72 hours.
I wrote this article myself, and it expresses my own opinions. I am not receiving compensation for it (other than from Seeking Alpha). I have no business relationship with any company whose stock is mentioned in this article.