Taro Pharmaceuticals (NYSE:TARO) is one of those under the radar type of pharmaceutical companies. Besides being under the radar, Taro also keeps its pending pipeline close to its chest which is one of the most important assets of any pharmaceutical company. Nonetheless, Taro had turned in a strong performance for itself after its current Chairman, Dilip Shanghvi, seized control in September 2010. Is this track record sufficient for investors to justify the secrecy that surrounds Taro? We will explore more in detail later.
Let's begin with some background information. Taro is largely known for its dominating influence in the generic skincare market and it is also developing its own branded skincare products. In fact, the Federal Trade Commission (NASDAQ:FTC) tried to block Sun Pharmaceuticals' purchase of Taro in October 2008 on the grounds that it would be anti-competitive for the generic anti-epileptic drug. Taro was in financial trouble then when it lacked $15 million of funds to pay back its debt holders and two Israeli banks refused to finance them further in 2007. This was understandable as the SEC had ordered an external probe into Taro.
The Levitt and Moros families refused to pump in more money but Dilip Shanghvi of Sun was willing to pump in $40 million. The injection of cash helped Taro return to high profitability. When that happened, the Levitt and Moro families refused to honour the prior agreement which forced Dilip to fight a 3 year legal battle. This increased the cost of ownership to $273 million. Today, Taro is worth $4.3 billion through skillful execution by focusing in sales and research. For his efforts, Shanghvi had the distinction of being India's richest man in 2015 with a net worth of $21.8 billion.
Taro - Keeping Its Card Hidden Amid Strong Pricing Pressure
This story is worth telling for two reasons. First, the pharmaceutical industry is facing significant external pressures over its pricing. Valeant (NYSE:VRX) is under probe for increasing the price of Nitropress, a vital heart disease drug, by 310% after a corporate acquisition. This follows the 720% hike in the price of Isuprel which is another heart drug.
Then there is the famous case where Mylan (NASDAQ:MYL) increased the price of EpiPen by 141% for those with serious allergies. Even Taro had been subpoenaed by the Department of Justice which caused its share price to drop by 4% when it was disclosed in September 2016. The ongoing Justice Department investigation followed by the uncertainty over the incoming Trump Presidency would be a major challenge for the industry.
Nobody understands what Donald Trump's 'insurance for all' replacement for Obamacare would entail. However, the driving force is to reduce the cost of insurance and extend the coverage more people. Trump was quoted by MarketWatch as saying:
"I'm going to bring down drug prices, I don't like what's happening with drug prices."
This would be a key achievement for the politician who was elected on the tide of populism. If he can get it done. The devil is in the details but I don't think that pharmaceutical companies are going to able to maintain their current pricing in his administration.
Second, Taro plays it card close to its heart and refused to provide any important information about its drug pipeline. This is unlike other major pharmaceutical companies who are more than happy to share such details. From the latest earnings call, all that we know is that there are 36 pending drugs approvals as far as the pipelines are concerned.
So what would Taro be doing in the wake of such pricing pressures? The answer is that they will be pushing out more products and trying to sell more of them. Despite the attempts of various analysts, Taro refused to shed more light into their pipeline and even the DOJ probe. Taro has its strength in the dermatology specialty space but there is no clue if it will venture to other space such as health supplements. In other words, Taro is not providing any conclusive details to reassure analysts and shareholders. It is counting on its previous track record to speak for itself.
Taro's Tight Ship - Higher Revenue With Lower Cost
For the past 3 years, Taro had done a good job of improving its revenue and profitability.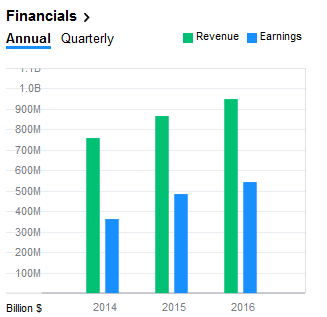 Source: Yahoo Finance
Its revenue had increased by a compounded rate of 7.78% from $0.76 billion in 2014 to $0.95 billion in 2016 on an annualized basis. Its gross profit had increased by 10.3% over the same period from $0.58 billion to $0.78 billion. Overall, it had done a good job in containing its cost of goods sold even as its revenue grew.
In fact, the cost dropped 4.2% when its revenue grew by 25% over the period. It seems that Shanghvi runs a tight ship at Taro. All the while, he increased the R&D spending from $55 million to $93 million in the past 3 years. Net income drew by 50% from $360 million to $541 million over the same period.
Strong Margins & Earnings Growth Over Past 6 Years
When Shanghvi took over Taro in September 2010, he set two goals of increasing sales and also R&D spending. The lack of both were the Archilles Heels of Taro under the previous management of Levitt. He had executed well on both area. CEO Kal Sundaram made the following comments on R&D :
"We take a very long-term view of our R&D activities, including plant clinical activities. All of them are on track. In fact, we spent practically as much as the first half of this year as we did in the entire year of 2010 prior to Sun buying Taro."
A good point for Taro is that the FDA approval period had dropped from 36 months to 18 months per drug on average. Actually, this is good for the entire industry and it fits into Taro's continued commitment to R&D expenditure.

Source: Morningstar
6 years is a relatively long term view of the pharmaceutical industry and the results had been astounding for Taro. The twin focus on higher sales and R&D expenditure had seen its earnings per share soar from just $1.53 to $12.67. Taro grew its earnings by a strong 42% on an annualized basis over the last 6 years.
If you want a comparison of how extraordinary this is, you should look at Taro's nearest generic rival, Teva Pharmaceutical.

Source: Morningstar
Teva (NYSE:TEVA) is only able to sustain a 55.8% gross margin compared to Taro's 81.0%. In addition, Taro's operating margin is at 64.8% compared to Teva's 15.9%. For the past 6 years, Teva's earnings per share had dropped from $3.67 to $1.73 while Taro had increased steadily from $1.53 to $12.67. The irony is that Teva has a market capitalization of $32.5 billion compared to Taro's $4.3 billion.
Conclusion
So we will return back to the original question. Shanghvi is keeping his cards close to his chest and we know nothing of his drugs pipeline. He had stayed true to his acquisition goals and grew earnings by 728% over 6 years of effective control. The market doesn't like his secretiveness especially in light of recent pricing pressures.
Taro is valued at around 8.28 times earnings and ranged bound between $100 to $110 over the past 3 months. In contrast, Teva which has its own set of problems is trading at 19 times earnings.
According to Quartz, Shanghvi is the man who started with US$147 (R$10,000) in borrowed capital to start his pharmaceutical business at 27 years old. He grew his empire by buying over failing companies since 1996. He would buy when nobody dared to touch it. Taro and Ranbaxy (OTC:RBXLY) are the two recent examples. 32 years later, his US$147 grew exponentially to US$21.8 billion.
I will leave it up to you to decide if this track record would justify the purchase of Taro but it has piqued my interest.
Disclosure: I/we have no positions in any stocks mentioned, and no plans to initiate any positions within the next 72 hours.
I wrote this article myself, and it expresses my own opinions. I am not receiving compensation for it (other than from Seeking Alpha). I have no business relationship with any company whose stock is mentioned in this article.