On the surface of today's European Central Bank (ECB) meeting policy statement and press conference, Mario Draghi chose a rather dovish stance on monetary policy. However, the ECB is also expected to reduce their bond purchase program starting in April from 80B euros to 60B euros per month. Which ECB will we get in the next few months, the ECB that tapers or continues QE?
In this article is an analysis of the ECB statement and more importantly, the press conference Q&A session that followed.
Here's why this ECB meeting is important:
Draghi downplayed inflation concerns (impacts bonds and banks).
However, Draghi also cited positive economic growth.
ECB members did not discuss the expected tapering of bond purchases scheduled to begin in April.
Inflation and Concerns of Repercussions From QE
The ECB inflation target is 2% for the eurozone. However, despite inflation increasing markedly from 0.6% in November to December 2016, it currently stands at 1.1% for the eurozone. Inflation is well below the ECB's target and is likely a green light for continued QE. From the ECB Q & A press conference on Jan. 19, 2017:
The recovery is resilient. At the same time, we see that inflation mostly driven by energy prices and we see that the underlying inflation pressures remain subdued.
The downplay in inflation will likely be seen by the market as a continuation of the QE, which is euro negative, and will hurt those investing in CurrencyShares Euro Trust ETF (NYSEARCA:FXE). It might also lead to higher bond prices, suppressing yields. And lower yields will negatively impact financials in Europe and the U.S.
Draghi added that it might be some time before inflation rises in the eurozone, which added to his dovish tone. From the ECB monetary policy meeting introductory statement Jan. 19, 2017:
A very substantial degree of monetary accommodation is needed for euro area inflation pressures to build up and support headline inflation in the medium term.
Lack of Liquidity and Criticism From Germany
There have been mounting concerns that there are not enough bonds in the market to purchase, as bond liquidity has been drying up in Europe. Also, inflation is picking up in countries like Germany. German inflation currently sits at a three-year high at 1.7%, and was up month on month in December by .7%. With easy monetary policy continuing, the concern is that German prices will likely rise further.
German officials are calling for a reduction in the bond purchase program. The ECB currently buys both government and corporate bonds in an effort to provide debt to stimulate the eurozone economy. During the ECB press conference, a reporter from the Financial Times asked about this concern:
Question: "If core inflation remains weak, how will you continue the purchases if there are constraints?"
Question: When asked by CNBC as to how to address the German critics, Draghi said this:
The takeaway is that QE will continue and monetary policy will not be altered because of one country's inflation concerns, like Germany. The ECB's decision will likely fuel the rise in bond prices and put pressure on yields throughout Europe.
If you're investing in the European financials or U.S. banks with European exposure, lower yields will likely hurt bank stocks. Typically, banks make more money from higher yields since they can charge higher rates on their loans. In other words, their net interest income will be hurt by lower yields. The chart below shows the crushing impact of the ECB's QE on the German 10-year Bund yield over the last few years. The German bund is similar to our 10-year Treasury bond.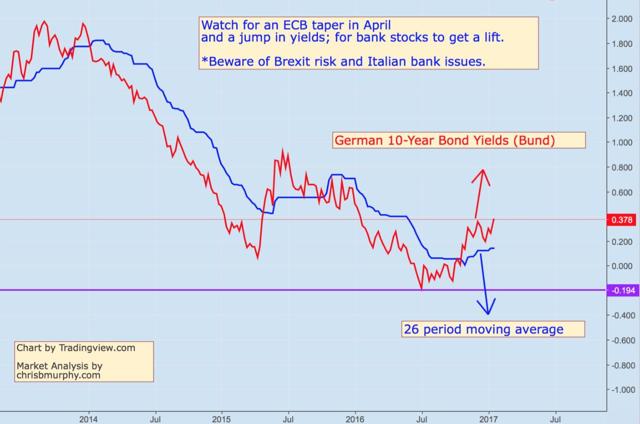 So before investing in European financials, please check the 10-year bund and eurozone bond yields as well as any change in ECB policy that might delay the taper in bond purchases slated for April.
If the taper occurs, we might see a jump in yields and, as a result, a jump in European bank stocks and U.S. bank stocks with exposure to Europe. But other concerns exist in Europe, such as the triggering of article 50 for Brexit due in March and the health of the Italian bank balance sheets.
Disclosure: I/we have no positions in any stocks mentioned, and no plans to initiate any positions within the next 72 hours.
I wrote this article myself, and it expresses my own opinions. I am not receiving compensation for it (other than from Seeking Alpha). I have no business relationship with any company whose stock is mentioned in this article.