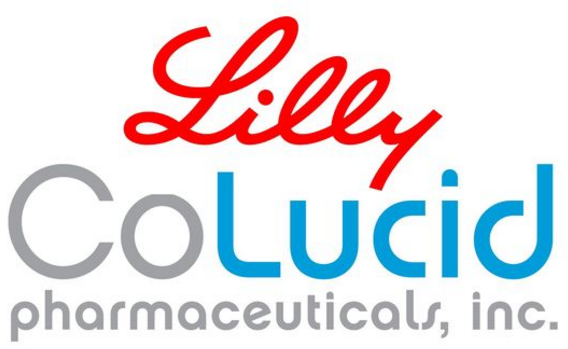 Argument
Eli Lilly's (NYSE:LLY) acquisition of CoLucid Pharmaceuticals (NASDAQ:CLCD) should be accretive to shareholders assuming CoLucid's late-stage drug, lasmiditan, can pass its late-stage trials, obtain FDA approval, and take up at least 0.5% market share among those with a severe case of migraines.
Overview
Eli Lilly picked up a late-stage asset upon its proposed acquisition of CoLucid Pharmaceuticals for $960 million ($46.50 per share) in an all-cash deal. This provides CLCD shareholders with a 33% premium relative to its pre-announcement price of $34.90. The transaction, with fairly minor regulatory hurdles as a smaller acquisition, is expected to close before April 2017.
The market currently implies about a 97.8% chance of closing at CLCD's $46.25 price [1 - ($46.50-$46.25)/($46.50-$34.90)]. (For those with merger arb interest, if we assume the deal takes 2-1/2 months to close, the current spread provides an IRR of just 2.6%.)
CoLucid, about one percent of Lilly's size based on enterprise value, fits into Lilly's vision by working to expand its pain management pipeline. Lilly currently has emerging pain pipeline assets including galcanezumab, which offers prospective treatment for migraine and cluster headache. CoLucid's main promise lies in its oral migraine medication, lasmiditan, which could be near the point of the launch. Lilly also has former ties to the drug, having developed the drug internally before licensing out the project to CoLucid in 2005. Data is expected from late-stage trials later this year. If its safety profile checks out and it is determined that the drug does not pose the same risks as triptans, FDA approval will be likely to come sometime in 2018.
Lilly's GAAP EPS is expected to take a hit by $0.81 per share this reporting period (assuming the deal closes) due to an uptake of in-process R&D expenses. It will, however, not affect the company's adjusted (non-GAAP) results, which investors tend to rely on more heavily. Accordingly, the charge has no material effect on its share price. Even though it will have some (minor) level of financial impact, it's a one-off expense that does not reflect the true long-run earnings potential of the business.
Assessing the financial impact on Lilly is of course difficult to know precisely, although based on calculations done below, this deal has favorable risk/reward prospects.
The migraine market is currently mostly dominated by generics. Triptan-based medications have gained a foothold, but come with the side effects of vasoconstriction (a common means of treatment), which may manifest more prominently in adverse cardiovascular outcomes. About 35 percent of migraine sufferers are not suited for triptan agents for this reason. Lasmiditan, on the other hand, is a "ditan," which does not cause the same vasoconstrictive effects. It instead works directly through the central nervous system ("CNS") by activating 5-HT1F receptors in the trigeminal pathway, rather than the 5-HT1B/1D receptors targeting by triptans.
The financial depth of the migraine market is nonetheless difficult to assess given the level of non-prescription use and off-label use of prescription medication. Migraine prescription drug sales in the top seven countries are expected to grow by about 4 to 5 percent per year between 2013 and 2020, expanding the market by close to 40% from $3.2 billion to $4.4 billion, according to market research company Decision Resources. According to the Migraine Research Foundation, purely from the standpoint of productivity losses and healthcare costs, migraines cost the US economy about $36 billion annually and effect 12 percent of the total US population.
CoLucid, in conjunction with a third-party marketing firm, determined that lasmiditan can achieve peak revenue of approximately $1 billion per year. The drug's main competition will continue to be triptan-based compounds, the first of which (sumatriptan) was approved by the FDA in 1992.
Lasmiditan represents a new, innovative treatment mechanism that hasn't been seen in the migraine market since that time. Without the vasoconstrictive effects that plague traditional triptan-based treatment therapies, it was found that the vast majority of doctors (98%) would prescribe lasmiditan even in the event of equal efficacy with that of sumatriptan. The drug can also develop a market among patients who primarily rely on triptans, but wish to test or adopt lasmiditan as a secondary option due to issues related to inefficacy or side effects. About 40 percent of all patients on triptan medications do not respond or are unsatisfied with the results of the treatment.
Many migraine sufferers also take no medication. Lasmiditan could offer the potential to broaden the treatable market by providing a prevention/treatment agent to those who may have not been suitable for other medicines. On the same token, there are likely to be some patients who are likely to experience CNS-related side effects and fit a profile better suited toward traditional triptan compounds, even with their vasoconstrictive effects.
I calculated the expected impact of the CoLucid acquisition on Lilly's share price based on a variety of patient uptake/revenue situations.
Whatever lasmiditan's peak market penetration, it will largely be contingent on the degree to which insurers are willing to integrate the drug into health plans. According to Barclays, Lasmiditan projects to cost $1,748 per patient per year, versus a range closer to $150-$400 for pre-existing generic treatments. Nonetheless, if lasmiditan can address an expected range of 400,000-500,000 patients per year at its peak - or about 3 to 4 percent of those with a severe form of migraines - this will come to $700 million to $875 million in annual revenue.
In a best-case scenario, let's say lasmiditan hits the market by mid-2018, achieves immediate market penetration by garnering sales of $1 billion by 2019 (perhaps at least slightly more likely to occur now that the product will benefit from Lilly's branding and marketing efforts), and obtains this revenue each year throughout the duration of its patent. Should this occur, this would expect to boost Lilly's share price by 5.2% over today's levels, including the effects of the deal's financing.
If peak revenue is $750 million, and follows the same pattern, shares would expect to benefit by 3.8%. At $500 million, 2.4%; and at $250 million, 0.9%. If the product never serves any medical use, it could be dilutive to share prices by 0.5%-1.5% depending on how much of the transaction is financed from debt or the company's existing cash balance.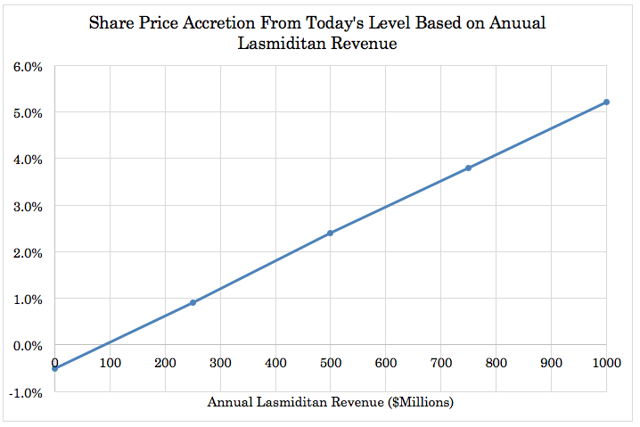 (Source: author)
I estimate breakeven to come at the point where the drug passes its late-stage data trials, is approved by mid-2018, and is able to obtain consistent annual revenue of $100 million over the life of its patent. Accordingly, assuming lasmiditan can pass its final tests, obtain FDA approval within the coming eighteen months, and garner at least 60,000 patients per year, this deal should be a win for Lilly.
Disclosure: I/we have no positions in any stocks mentioned, and no plans to initiate any positions within the next 72 hours.
I wrote this article myself, and it expresses my own opinions. I am not receiving compensation for it (other than from Seeking Alpha). I have no business relationship with any company whose stock is mentioned in this article.