Aqua Metals (NASDAQ:AQMS) is an award-winning sustainable battery recycling company focused on disrupting the $20B+ global lead-acid battery ("LAB") market. Launched just a few years ago, the company utilizes a patent-pending process (AquaRefiningTM) to recycle used lead-acid batteries ("LABs") at a lower cost and with less emissions than the most common method, smelting. Using the proceeds of its 2015 IPO, AQMS built its first facility in Reno, Nevada, referred to by the company as the Tahoe Reno Industrial Facility ("TRIC Facility"). During 2016, the company successfully commissioned the TRIC facility and recycled its first pilot run of lead in late 3Q2016. In the near term, the company plans to ramp up production at its TRIC facility, explore licensing agreements with entities in the US and globally and secure financing for additional facilities.

Given its defensible (IP), proven technology, the total addressable market for lead-acid battery recycling and its partnership with Interstate Batteries, I believe owning shares of AQMS is a unique opportunity to be a part of a secular growth story in the early innings.
Overview of AquaRefining Process
AQMS uses its patent-pending AquaRefining technology to extract lead from LABs through a closed-loop, water-based process that occurs at room temperature. Compared to smelting - historically, the most common method for LAB recycling - the AquaRefining process is easier to permit (virtually no air emissions), more cost-effective, generates significantly less hazardous waste and does not require nearly as much direct human contact with the lead itself. In addition to the operational and cost advantages of the process, the recycled lead recovered is as pure, if not purer than, mined lead. Below are videos that outline the process (at the TRIC facility) and its advantages:
Video of Environmental Comparison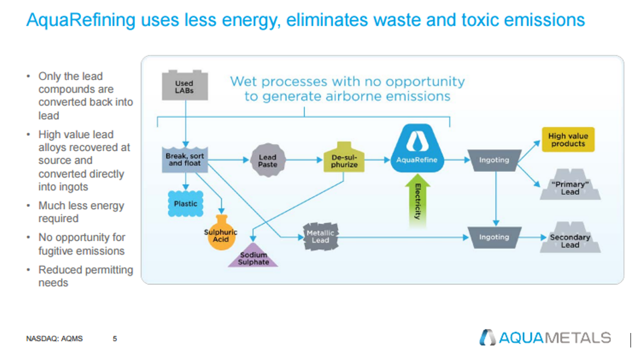 Source: Company Investor Presentation
AQMS' technology has been recognized over the last year by numerous organizations for its potential, and most recently by the Institution of Chemical Engineers as the 2016 Sustainable Technology of the Year.
Overview of LAB Market
LABs are ubiquitous. The most common uses fall into three categories - Engine Ignition, Transportation Power and Standby Power. Engine Ignition is straight forward - think car batteries. Power - think golf carts, luggage carts at airports etc. Standby Power refers to the LABs used by telecommunications providers, data centers and other mission critical services to power systems in the event of power outages.
Per the Association of Battery Recyclers, 95% of lead-acid batteries are currently recycled, making it the most recycled product in the world. This fact is driven by environmental regulations (both state and federal in the United States) that deter and/or require battery companies/distributors to recycle used batteries.
As outlined below in the AQMS company presentation slide, the current global lead market is 38,000 tons/day or ~240x the TRIC facility's capacity at full 2018 capacity. The revenue potential for AQMS is staggering, as is the potential for overall market growth as data center (massive end-user of LABs) construction continues for the foreseeable future.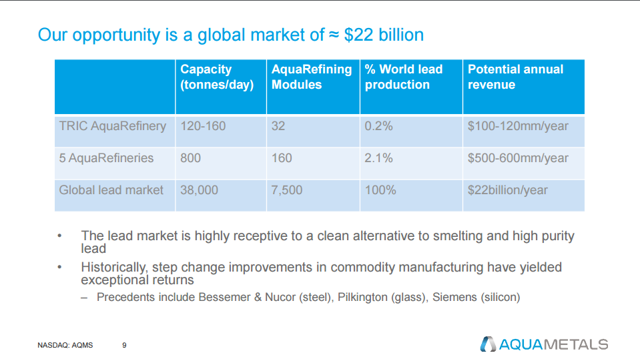 Source: Company Investor Presentation
Background of Lead-Acid Battery Recycling
The LAB recycling market is currently dominated by smelting facilities, which utilize a high temperature thermal process to melt and isolate the lead, emitting hazardous liquid, gases and particulates in the process. Given the cost-prohibitive power requirements of generating the heat necessary to smelt, the toxic emissions and the waste management requirements - the battery recycling industry is ripe for technological disruption.
In the United States, lead smelters have increasingly faced regulatory pressure that has forced them out of business or driven them to continuously raise prices for their services. Just google "United States Smelting" and you will see headline after headline of companies having facilities shut down by the government or idling them voluntarily. One of the largest operators in the space, Exide Technologies (OTCPK:XIDEQ), a battery manufacturer who operates smelting plants, has been a target of regulators, with a recent case in California that alleges 10,000 households were contaminated by emissions from nearby Exide plant.
Outside of the United States, there are less regulations. However, many countries are beginning to tighten regulations (see here for article regarding China tightening regulations) related to battery recycling.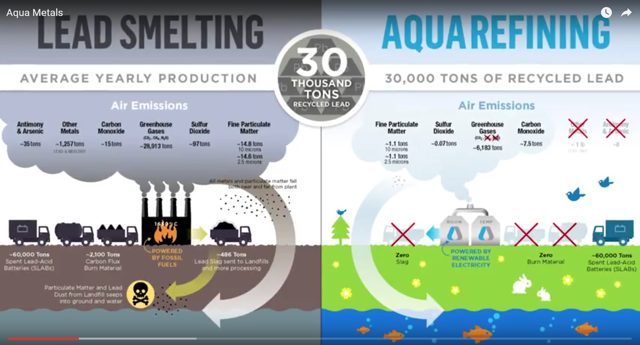 Source: Company Video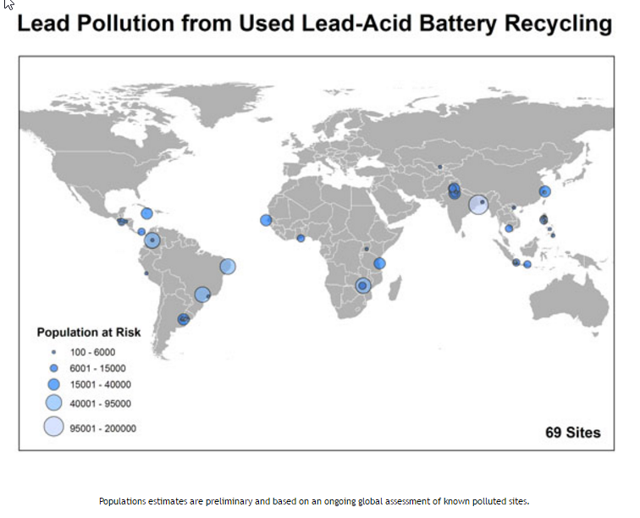 Source: WorstPolluted.Org
As a result of the increased regulatory pressure being put on the battery recycling industry and the increasing demand for battery recycling services, battery manufacturers and commercial end-users that recycle millions of batteries per year have actively sought out technologies and/or companies such as AQMS to lower their cost and environmental footprint.
AQMS, with its more environmentally friendly and cost-effective solution, is ideally positioned to benefit from the trends impacting the industry.
AQMS Business Model/Customers
Similar to other recycling businesses, AQMS accepts waste from customers, recycles it and either returns the recycled product to the customer ("tolling") or sells the recycled product to the market ("merchanting".) The two largest sources of revenue under its basic business model are tipping fees and the sale of recycled lead. Given that battery manufacturers and commercial end-users are two of the largest battery recycling customers, AQMS is focused on developing relationships with those types of companies.
Currently, the company has two notable major customers - Interstate Batteries and Battery Systems.
Interstate Batteries
In 2016, Interstate Batteries and AQMS announced a strategic partnership under which Interstate Batteries made a $10 million investment into Aqua Metals and committed to provide used LABs to be recycled at the TRIC facility. According to its website, Interstate Batteries is the "No. 1 battery recycler of lead-acid batteries in the U.S." and, currently recycles approximately 25 million batteries per year. Below is a quote from the Interstate CEO regarding the transaction:
"This first ever AquaRefinery has the potential to change our industry, and our planet," said Scott Miller, president and CEO of Interstate Batteries. "While we've been in the battery business for more than six decades, Interstate continues to seek out innovation and invest in technology for today, and tomorrow. Because Aqua Metals' breakthrough technology is so promising, Interstate Batteries is supplying more than a million automotive and other lead-acid batteries to the AquaRefinery over the next year. We feel we're making a smart investment in our future, and in the future of our industry."
In my opinion, the investment from Interstate Batteries not only validates the technology and ensures stable supply of feedstock, but also indicates that if AQMS successfully executes on a commercial sale Interstate would be a logical buyer.

Source: Aqua Metals
Battery Systems Inc.
Battery Systems Inc. has a 200,000-square foot battery distribution and collection facility adjacent to the AQMS TRIC facility. Below is a quote from the CEO of Battery Systems:
"Upon the opening of the Aqua Refinery, our batteries will be recycled close to home," said Brad Streelman, president and CEO of Battery Systems. "As the Aqua Refinery is adjacent to our location at the Tahoe-Reno Industrial Center, we will be able to distribute, recover and recycle our high-quality lead-acid batteries without transportation waste or supply chain complexity. The AquaRefining technology will make it possible for lead recycling facilities to be close to, or even co-located with, battery manufacturers and distributors - filling a significant gap in the industry."
The location of the Battery Systems' facility should provide a consistent level of supply and if successful, AQMS could potentially custom build additional facilities adjacent to and/or near other Battery Systems' network of locations. Below is a screen shot of Battery Systems' western US locations from its website.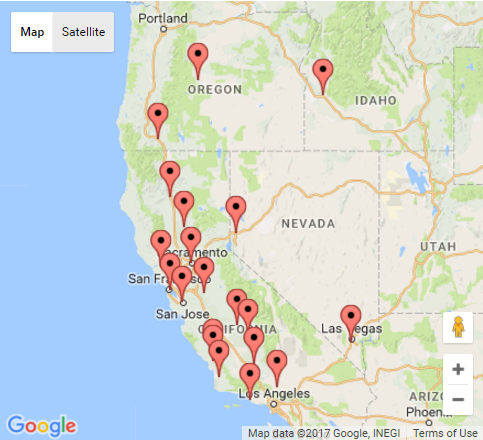 Source: Battery Systems
Fundamental Valuation
As a pre-revenue, technology-focused company the valuation of AQMS during much of 2016 relied on investors' belief in management and the technology. On the 3Q2016 earnings conference call, management made a few important announcements which further proved the commercial viability of its technology and provided insight into future growth opportunities.
First, AQMS announced that it had successfully commissioned the TRIC Facility as well as completed a pilot run generating extremely high-quality lead. Second, it announced that it had found a way to expand the processing capacity of the TRIC facility to 120T/day during 2017 (up from initial plan for 80T/day), and noted they will be able to expand the TRIC facility further to handle 160T/day during 2018, pending financing. Finally, it announced it would begin commercially operating in 4Q2016 and would begin exploring the opportunity presented by licensing the technology domestically and internationally.
Given its industry partnerships and the cost advantages of AquaRefining versus the alternatives, I believe AQMS will process an average of 90T/day during FY2017 and reach its goal of 160T/day during 2018. Although there is some concern in the market regarding the need for AQMS to issue additional equity to fund the TRIC expansion (to get to 160T/day), I believe the company will be successful in securing non-dilutive financing either in the form of customer deposits or a credit facility. Finally, management announced it is actively pursuing a licensing strategy, specifically mentioning the possibility of executing a master licensing deal in China. I believe AQMS will secure licensing agreements during 2017 and will realize licensing revenue during 2018.
My target price for the company is ~$19.50/share based on a 20x multiple of FY2018E EBITDA of $0.97/share. Underlying my price target is the assumption that AQMS secures non-dilutive financing for the TRIC facility expansion and will run at 72% utilization (130T/day run rate) during FY2018. I assume that the revenue will total $61.5M during FY2018 comprised of tolling fees (50% of incoming tonnage at a rate of $600 per ton); merchanting revenue total (48% of tonnage (excluding plastics and other material) at a lead resale rate of $2,000/ton; and licensing fees totaling of $2.5M for the year.
Based on operating margins (25%) and the SG&A expenses ($2M/yr) expected by management, this would yield FY2018E EBITDA of $17.4M, or $0.97/share. Due to its strong IP position, industry partners and growth potential, I do not believe the current 12.8x FY2018 EBITDA multiple reflects the growth potential of the company and believe a 20x FY2018E EBITDA multiple is reasonable.
There is additional upside for share should AQMS secure additional/larger licensing agreements or secure non-dilutive financing to build incremental facilities. Additionally, there is a relatively large short interest in the company (13.64%) which could lead to accelerated appreciation in the event AQMS makes positive announcements over the next few months, including during the 4Q2016 earnings conference call expected in February.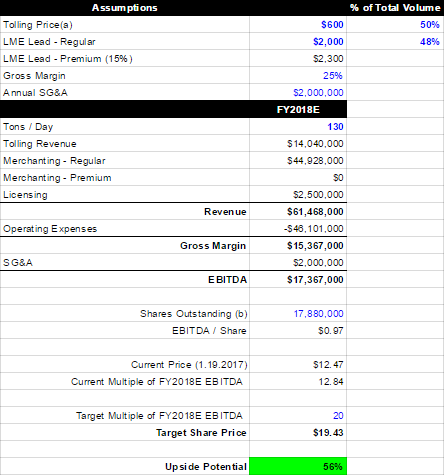 Source: Internal
Technical Analysis
After a large move following the 3Q2016 conference call, AQMS has been trading sideways since late 2016. I expect this trend to continue until the 4Q2016 earnings conference call in February, at which point I expect successful updates to push the stock higher.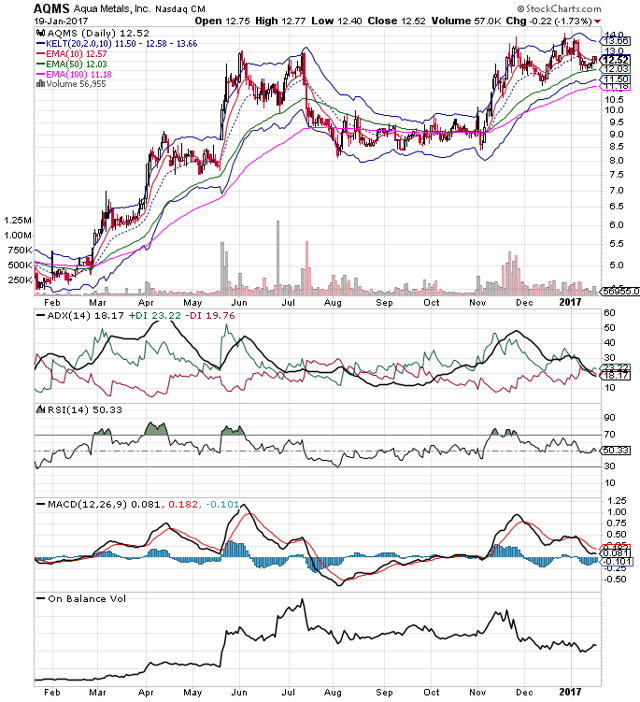 Source: StockCharts.com
Risks
Like any early-stage company, there exist significant risks that I will be following intently:
Operational
The stock price has recently rallied to over $12/share in late 2016 and if the company faces delays at its Nevada facility and/or is unable to achieve its volume goals set by management on the most 3Q2016 conference call, the stock could be impacted.
Commodity Risk
The company is dependent on the price of lead, which is currently trading at ~$2,100/ton. If the price of lead should decrease significantly, the earnings potential for AQMS would be negatively impacted.
Revenue Mix
According to last quarterly conference call, management expects after ramping up its Nevada facility that ~70% of its recycled volume will be sold on the open market, while the remainder will be recycled under tolling agreements. Although I have conservatively modeled 50/48 split, should the revenue mix be more heavily weighted towards tolling agreements, that could negatively impact the stock price.
Capital Availability
Although I believe the partnership with Interstate Batteries will aid the company in securing debt financing for future facilities, any inability to secure non-dilutive financing for future facilities would negatively impact the share price.
Customer Risk
Should AQMS be unable to secure additional customers and/or licensing agreements, revenue growth potential could be impacted.
Summary
Overall, I believe that AQMS has the technology to disrupt an industry that has been stagnant for decades. It is about time that a company provide a cleaner, cheaper alternative to smelting, and given its strong, proven IP and the fact that it has Interstate Batteries as a partner, AQMS is ideally positioned to just that.
Even though the technology has been validated by Interstate Batteries' investment and a successful pilot run, the fact that the company has just begun commercial operations presents an opportunity for investors to participate in its success.
If you have any questions related to AQMS, follow me and send me a private message.
Disclosure: I am/we are long AQMS.
I wrote this article myself, and it expresses my own opinions. I am not receiving compensation for it (other than from Seeking Alpha). I have no business relationship with any company whose stock is mentioned in this article.