Gilead (NASDAQ:GILD) is undervalued in a wide range of scenarios and I hope this article convinces you of this conclusion as well. I've recently written about Gilead's various businesses from a qualitative perspective, so this time we're going to focus on the more quantitative valuation of the business. Even assuming a miss in revenues next quarter and a massive decline in both revenues and margins over the next five years, Gilead is still undervalued by approximately 40% in the baseline case.
Baseline Scenario
The DCF analysis performed in this article is courtesy of the Excel template Bloomberg offers, with some tweaks: I adjusted all the revenues and margins to the lowest estimates among analysts. I was hoping to find evidence that Gilead was undervalued even in the event of significant revenue decline, margin compression, and low long-term growth. Here are the key assumptions for the projections of revenue, EBITDA margin, and FCF:

Source: Bloomberg & Analyst Projections
As you can see, these estimates are materially below consensus. Some projections are even below the lowest estimate since I began with taking the lowest estimates for revenue than the margins. Some analysts projected revenue closer to the mean, but relatively lower margins. This particular analysis took the worst of both worlds. The table below shows the results: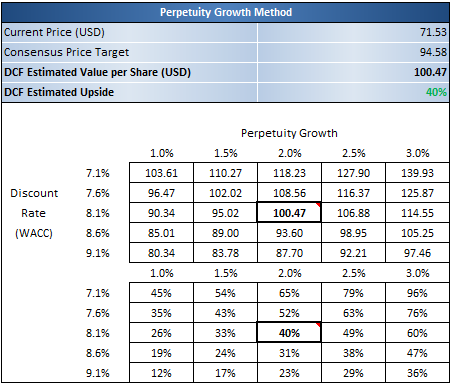 Source: Bloomberg
As can be seen in the table above, sensitivity analysis shows significant upside in any case for the perpetuity growth method. The assumptions are fair, with the perpetual growth rate set fairly low and the WACC taken from Bloomberg calculations with increments of 0.5% for the sensitivity analysis.
I decided to test a 0% perpetual growth rate as well. The stock is still undervalued in that scenario by approximately 16%. Yes, you heard that right: If the revenue misses in the next quarter by over $500m, then declines to $21b by 2019 plus the margins compress significantly and Gilead never grows its free cash flow generation for all of eternity beyond 2021 (i.e., earns its cost of capital and no more), it is still undervalued by around 16%.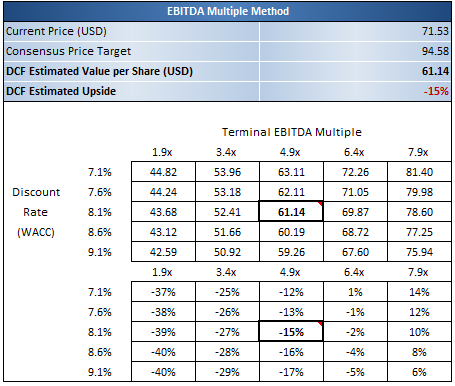 Source: Bloomberg
The EBITDA exit multiple method naturally yields a worse result for a company with depressed multiples. To be fair, if the company performed this poorly in the future, these multiples may be justified. I feel this portrays a fair picture of what one can expect on the downside given an investment now - around a 15% loss. And when I compare that to the upside of 40%, I find this a more than acceptable risk. Let's shine more light on this downside scenario.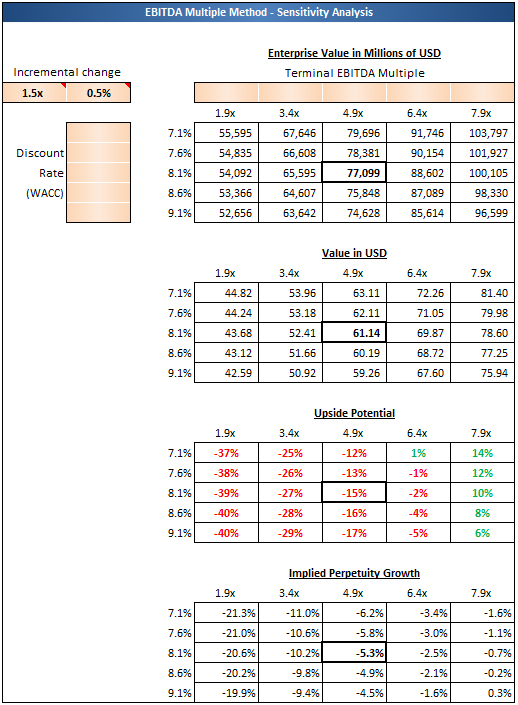 Source: Bloomberg
Here, we can see the results in more detail for the EBITDA exit method and the results are a tad more revealing: The baseline case has an implied perpetuity growth of negative 5.3%! And what's even more bizarre is that Gilead only sees a downside of approximately 40% if the business sees a decline in FCF of 20% into perpetuity beyond year 2021. That is beyond undervalued - it is unusual for a business to hold such value in the case of year six and beyond cash flow only being valued at discounted 2 times EBITDA. And while Gilead deserves a lower EBITDA multiple than its peers, a look at the graph below illustrates by just how much Gilead trades below its peers:

Source: Bloomberg. Peers trades at ~10.5x while Gilead trades at ~5.0x
The following peer group was used:
As can be seen in the graph above, Gilead trades at a blended forward EV/EBITDA multiple at around half of its peers. Of course, Gilead has lower growth prospects than its peers so this multiple is deserved in many aspects, which has been discussed fairly often here on Seeking Alpha. But the business is trading at significant discounts relative not only against its competitors, but also against its own history as can be seen below:

Source: Bloomberg. BF = Blended forward of FY1 & FY2. LF = Latest Filing
I won't go too far into detail on this, since it is fairly self-explanatory and relative valuation has been discussed far more often for Gilead than absolute valuation. The important part to note is that on both methods, Gilead trades at a discount. The EBITDA exit method gives some insight into the downside of Gilead and reveals that the company is only worth less than what it is worth now if the company runs itself into the ground by seeing not only a significant decline in free cash flow generation through 2021, but also into perpetuity. I am willing to take this risk. Even if FCF generation significantly declines through 2021 and remains flat beyond 2021, the business is undervalued today by around 16%.
Conclusion
If you've read my previous articles, you are aware that I am not overly worried about the decline in HCV and the threats in HIV. This simple valuation is a worst case scenario and plays a large part in why I am currently invested in Gilead at these levels. For those curious, here is the valuation of the company at consensus estimates rather than the conservative estimates used above: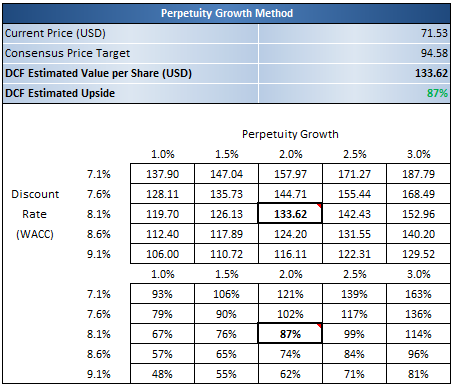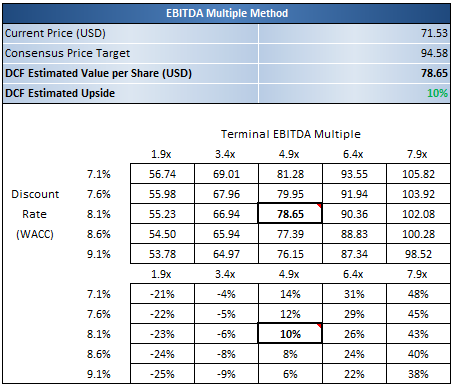 Source: Bloomberg
Given that simply meeting expectations offers an upside as high as 80% theoretically, I find Gilead a lucrative investment with an asymmetric risk/reward proposition. The valuation of Gilead is attractive on both an absolute and relative basis. It is for this reason on top of any belief in management, value creating M&A, or slower-than-anticipated decline in sales that one should consider investing in Gilead (note that valuation alone is not enough).
Downside risk should be limited to around 15-20% if the quality of the business does not improve and there are some material misses in upcoming quarterly earnings reports. These risks are acceptable to me and I am willing to wait for a catalyst for the fair value to be realized. With both CSO Bischofberger stating that he spends around 30% of his time looking at outside prospects along with the recent hires for the head of the oncology department and the EVP of strategy, it seems likely that significant M&A will occur in 2017. Given the push from investors for Gilead to pursue M&A, I would not be surprised to see this be the catalyst that drives Gilead north in the near term for those interested. Otherwise, stick around and collect the dividends with me (and hopefully better timed share repurchases)!
Author's note: If you would like to be notified when I publish an article, please click the follow button beside my name at the top of the article or on my profile page. Let me know your thoughts in the comments and thanks for reading.
Disclosure: I am/we are long GILD.
I wrote this article myself, and it expresses my own opinions. I am not receiving compensation for it (other than from Seeking Alpha). I have no business relationship with any company whose stock is mentioned in this article.