VR to shift ICT ecosystem's paradigm, growing to USD70bn by 2020
At an earlier stage of development, VR hardware will take the center stage of the VR space and after VR hardware penetration reaches a certain level (one to two hardware devices per home), the focus will gradually shift to software such as content and platforms.
Soaring VR demand to trigger advancement of VR, smartphone and PC specs
An increase in VR demand is likely to provide a new growth engine for the IT and hardware industry after smartphones and tablets. VR devices' displays should be predominantly OLED for its superior response time, weight, battery longevity, and flexibility. Demand for 3D sensing cameras, MEMS sensors, and flexible OLED is also expected to grow for a distinguished and improved user experience.
VR content is about four to five times heavier than non- VR content, which suggests an increase in embedded storage capacity in smartphones and personal computers. Additionally, VR should have a positive impact on dual camera demand because of the need for 360-degree videos and AR capability; it will also work to boost the use of UHD for enhanced display and mobile DRAM capacity.
VR lacks killer content, 5G to supercharge VR momentum
Korea's SK Telecom (NYSE:SKM) and KT (NYSE:KT) are focusing on VR-based future media and expanding the user experience as a way to maximize the value of their core telecom businesses. VR content is a fledgling market and we have yet to see the birth of killer content. For VR content to grow in popularity, the spread of VR devices is a prerequisite condition. After that, VR content could be monetized as companies can begin to charge for their VR content and in-app software. In our view, VR's robust growth will coincide with the arrival of 5G. We present Samsung Electronics (OTC:SSNLF), SK Telecom and KT as our stocks of interest in this field.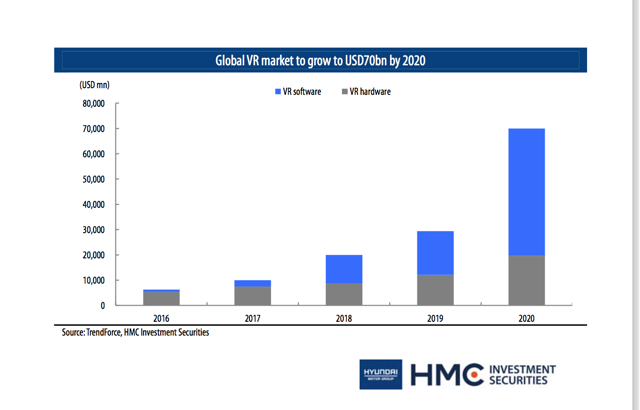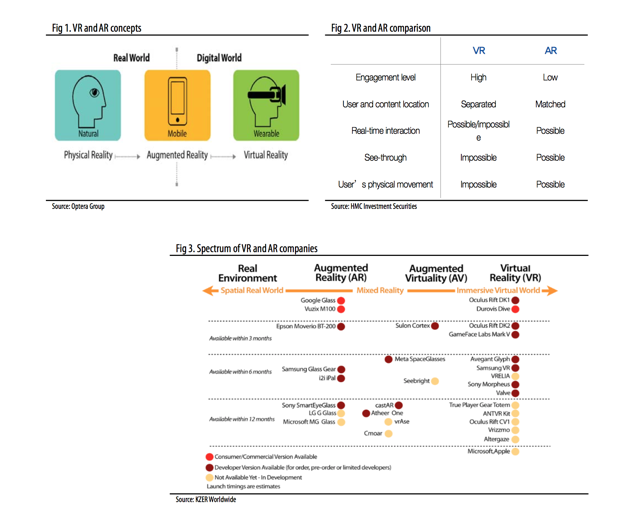 VR market to grow to USD70bn by 2020
VR is likely to become the next-generation platform that will alter the paradigm of the ICT ecosystem. VR allows users to have many experiences that were impossible or limited in the traditional ICT environment. In other words, VR will redefine the way users interact with ICT environments and consume content. It will change consumer lifestyles, and companies in each sector will secure new growth engines. As such, the paradigm shift brought about by VR should have a marked impact on society not unlike the time when smartphones first arrived.
Companies that fail to keep up with changes will find it hard to survive, and may suffer the same fate as Nokia. In the end, the aim is to increase the probability of survival amid sweeping changes. Companies will be driven to scale up their investments and make strenuous efforts to secure early leadership in the VR market, which in turn should accelerate the growth of the VR world.
Growth of the VR market is not a temporary but rather a long-term trend. Major market research companies also paint rosy pictures regarding the growth of the VR market. TrendForce estimates that the VR market will expand from about USD6.7bn in 2016 to about USD70bn in 2020, a remarkable pace that will increase the market size by more than tenfold over the next five years. Investor interest in VR is also very strong in terms of M&As. VR- related companies raked in a total of USD1.3bn in investment in 1H16 alone, and the number of M&As has already reached 337 cases on a cumulative basis.
This suggests that leading global companies agree that VR has robust growth potential and recognize it as an important future business. The story is no different domestically. The Korea Virtual Reality Industry Association predicts that the domestic VR market will balloon from KRW1.37tn in 2016 to KRW5.73tn in 2020.

VR's growth to be similar to that of the smartphone
In what direction will the VR market head? There is a high probability that each value chain will compete/develop each other, whether independently or in relation to each other. The value chain of the VR market can be described within the framework of content-platform-network-device (CPND). VR content (C) provides users with engaging experiences, platform (P) offers a space for production/distribution/sharing, network (N) connects service providers and platforms with users for data streamlining, and device (D) helps to realize all of these. These four areas form an organic relationship and are driving the growth of the fledgling VR market.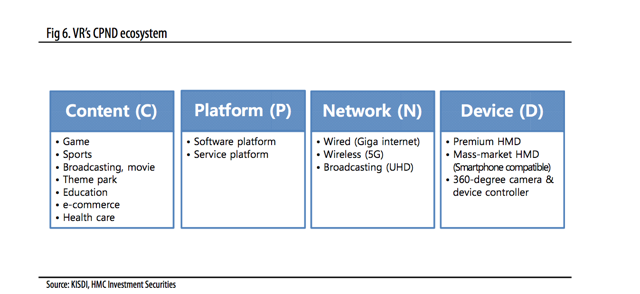 The development of the VR market, which is still in its nascent phase, is expected to proceed in a similar manner to the development of smartphones. In order to spur growth of the VR market in the ICT realm, VR hardware first has to be widespread.
However, the penetration rate of VR devices is still very low. We expect killer content to play a crucial role in the spreading of VR devices. It is likely that VR hardware and various applications/content that utilize the hardware will become widespread almost simultaneously. At present, many ICT companies are focusing on developing VR hardware, creating a desirable platform, and producing killer content.
Unlike smartphones that have grown explosively as almost the entire population of the world moved to replace their handsets with smartphones, VR is likely to appeal to specific consumer groups. This means that the growth phase of VR hardware at an earlier stage will be relatively shorter than that of smartphones. Of course, in the early stage of growth, the speed and scope of VR hardware penetration can be affected by VR content or software and how effectively they meet consumer desires.
If VR hardware achieves a certain level of performance, the differences between each device will narrow and prices should fall, resulting in a decline in device replacement demand. In the end, the market's focus will shift to the software realm, which includes platforms and content. This is evidenced by the investment market's predominant interest in software companies rather than hardware companies since Facebook's (NASDAQ:FB) acquisition of Oculus and the fact that entertainment firms that produce games and videos attract heavier investments.
In Korea, the VR sector is mostly composed of hardware companies, and there are few initiatives in the software space as the proportion of hardware is still forecast to be over 95% even in 2020. For Korean companies to remain competitive on the global stage in the long term, they need to scale up their investments in software such as content and platforms.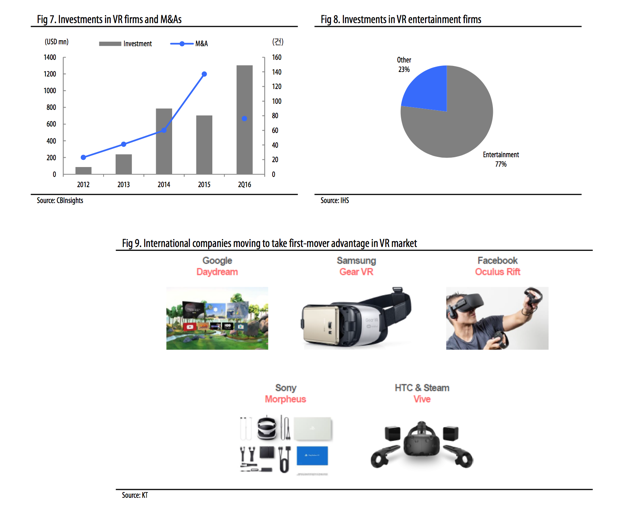 Hardware sector to benefit from the rise of the VR ecosystem
Rise of VR to boost demand for VR devices and related components
Burgeoning VR demand is expected to become a new catalyst for the IT and H/W industry, which is on the hunt for new growth engines after smartphones and tablet PCs. Currently, the price of VR devices (HMD) varies from USD100 to USD799, just like smartphones. For the VR business to become a mass market business of more than USD100mn, we believe even the price of high-end products will fall below USD300 per device. VR is expected to be sold to households (about one to two units per household) rather than individuals.
In the end, the VR market is likely to follow a similar growth path as the tablet PC market, selling about 200mn units per year. However, blended ASP has a strong upside as VR devices should come with plastic OLED, dual cameras, and other peripheral accessories. As for related parts, VR is expected to play a positive role in increasing demand for displays, memory semiconductors, MEMS sensors, and system semiconductors. Above all else, it should not only bolster demand for VR devices but accelerate the advancement of the memory capacity and display resolutions of smartphones, PCs, and game consoles.
Of course, the rising product specifications of HMD and VR devices can cause price resistance with end-users, but if demand explodes, the time that it takes to reach the "magic price" will be much shorter than our expectations.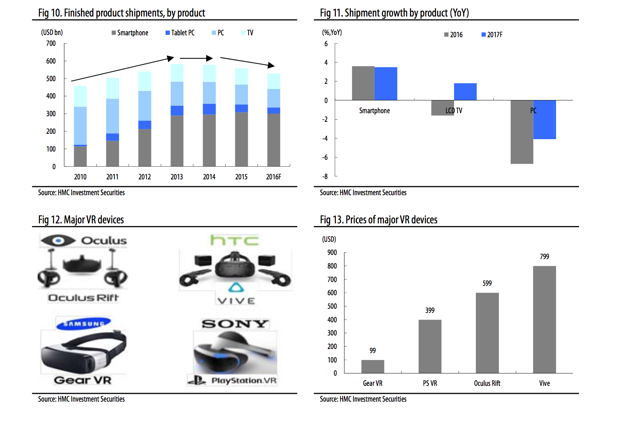 Growth of HMD to have a positive impact on OLED, cameras, and controllers
In the VR space, with the exception of Apple, many global tech companies are currently releasing related products and solutions. In addition to entrenched players like Oculus, Sony (NYSE:SNE) and HTC, Google has revealed its Daydream and Microsoft (NASDAQ:MSFT) its HoloLens (mixed reality). Qualcomm's (NASDAQ:QCOM) Snapdragon 820 has also been released, stressing on chipset performance and VR product development speed. Intel has also introduced an MR (merged reality) technology called Project Alloy, which can be applied to both AR and VR.
It is an all-in-one product that combines HMD with computing and all sense technologies related to the camera. It is similar to Microsoft's HoloLens in that it allows real objects to be located in the VR world through the RealSense camera. Qualcomm also emphasized the use of the Snapdragon 820 chip to improve visual and sound performance as well as to support quick computing.
Thanks to the launch of VR products by global chipsets and solutions companies, the HMD market for VR/AR is expected to grow rapidly. Above all, due to the nature of the VR ecosystem where response time is very important, OLED is fast replacing LCD as the display for HMD VR devices.
OLED can also reduce HMD's weight and battery consumption, and can realize flexible displays. For these reasons, we expect OLED to monopolize the HMD market. VR devices for PCs and gaming consoles are likely to boost demand for accessories such as controllers. However, as the price of peripheral accessories is too high, we believe it is necessary to slash accessory prices and integrate product functions.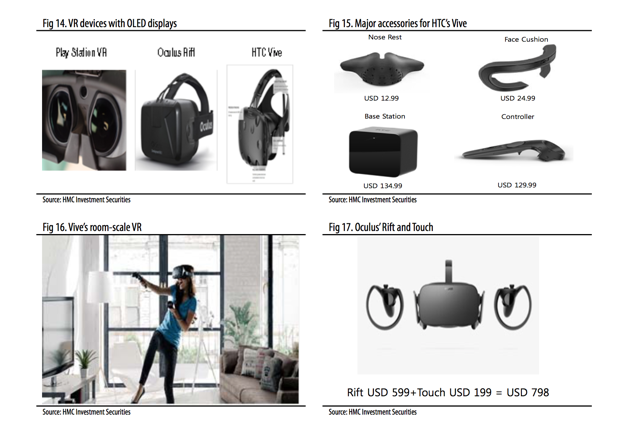 High-end VR HMDs are equipped with a 3D sensing camera. Recently, as VR/AR game content becomes heavier, the specification of 3D sensing camera is also advancing. It blocks infrared rays, comes with see-through filter, and is applicable with drones. As such, demand for standalone 360-degree cameras for the production of 360-degree content production is expected to grow too. Additionally, various MEMS sensors are mounted on HMD and accessories. In some ways, a MEMS sensor is vital to ensure an improved, differentiated VR/AR user experience.
HTC's Vive, for example, has 32 MEMS sensors. Its controller also has various motion sensors responsible for acceleration and gyro. SK Telecom has also partnered with Inuitive, a three-dimensional sensor development company in Israel, to enhance the user experience of its AR/VR platform T-Real. In all, the importance of high- performance MEMS sensors is ever growing.
Currently, most HMDs are equipped with rigid OLEDs, but a flexible OLED is necessary to reduce the weight of HMDs and to differentiate its design. The HMD is expected to be a major source of demand for flexible OLED along with smartphones and smart watches.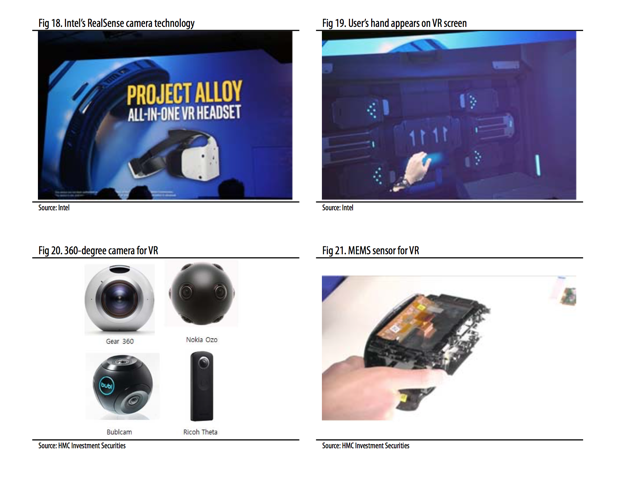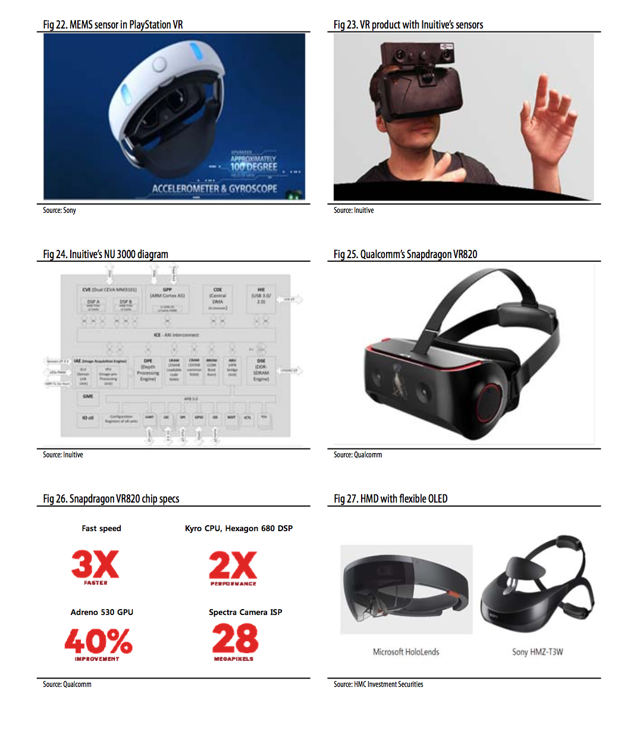 Expanding VR ecosystem to lead to smartphone and PC spec upgrades
The development of the VR ecosystem will accelerate the advancement of the specifications of smartphones and PCs, which make up the main body of VR. VR content is about four to five times heavier than 2D content. Therefore demand for embedded storage for smartphones and PCs should rise to ensure the smooth transmission/reception of VR content under the current 4G environment. Although Apple has not yet released its VR platform, the fact that it extended the storage capacity of iPhone 7 to 256GB is a sign that the company has mapped out a long-term strategy, which factors in changes in the ecosystem.
Samsung Electronics is expected to improve the performance of Gear VR in the Galaxy S8 and expand the S8's embedded storage capacity. Currently its gadgets shoot VR content using a separate 360-degree camera, but in the future, its smartphones will be able to shoot content, which looks as if it was shot with a 360-degree camera and measure the distance of the subject. Eventually, this will enable AR functions and as such, the use of dual cameras with high specs will be further expanded.
If VR results in enlarged screens, the smartphone display needs to be expanded from the existing QHD to UHD. The advancement in display resolution, camera performance, and embedded storage capacity should have a positive impact on mobile DRAM capacity growth. Accordingly, the expected increase in smartphone and PC specifications amid the growth of the VR/AR ecosystem should work to boost demand for Samsung Electronics, Samsung Display, and SK Hynix. We present Samsung Electronics and SK Hynix as the major beneficiaries of the expansion of the VR/AR ecosystem.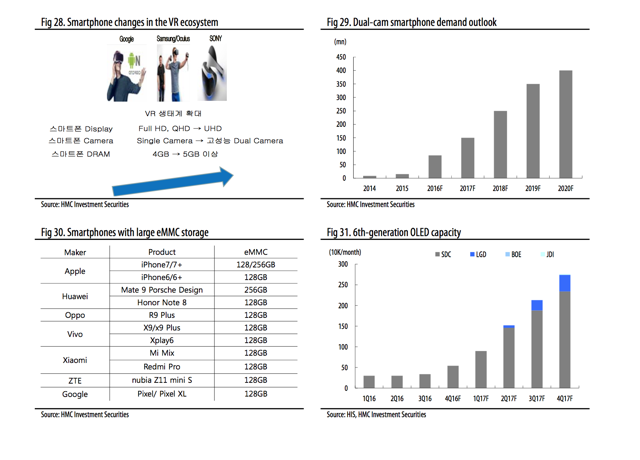 Racing to build platforms to take VR leadership
ICT companies trying to take early leadership
If hardware companies such as Samsung and Sony are one of the two pillars that support the growth of the VR market, the other pillar is made up of Internet platform companies such as Facebook and Google. Smartphones accelerated the transition from a PC-based environment to a mobile-based environment. Similarly, the current mobile environment is likely to face significant changes with the advent of the 5G era. And we believe VR/AR to be the driver of change.
A variety of ICT companies are focusing on building their own VR platforms and ecosystems, including Facebook which is working to create an ecosystem for communication in the long term; Google which wants to become a platform player in all areas based on ICT; Alibaba and Amazon which plan to launch VR shopping malls to level up the e-commerce scene. Korea-based telcos such as SK Telecom and KT are also convinced that VR/AR will be killer content in the next 5G era, and are moving to facilitate user experiences by providing a variety of services.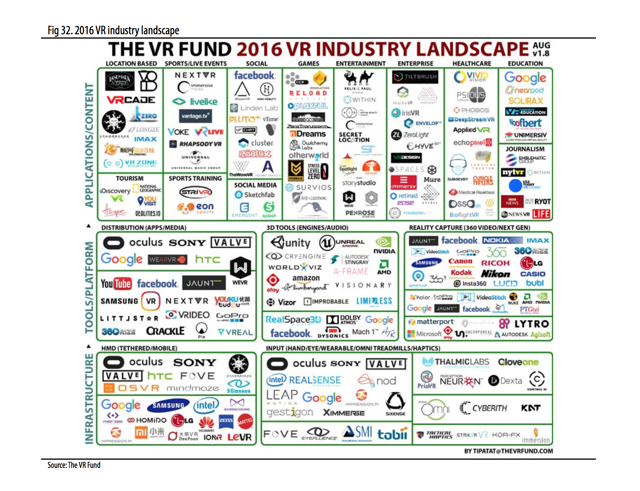 SK Telecom's VR strategy
The reason that SK Telecom, a telco player, is looking into VR/AR is because it can be a very useful tool to maximize the value of its core business. In the end, VR and AR are technologies that can innovate user experiences, and are likely to become key services in the realistic media segment which is expected to become hugely popular under 5G.
KT has been working on the development of the VR/AR technology since 2010. In 2016, the telco launched a brand called T-Real as an integrated content service platform for providing VR and AR services. With T-Real, the company plans to reveal a VR/AR software development kit and content browser to support developers, and vitalize related ecosystems. T-Real acts as an augmented reality markup language (ARML) authoring tool and AR browser.
SKT has also unveiled technologies and solutions including T-Real for HMD that supports Google cardboard, T-Real for VR which supports VR under ARML for users to experience virtual exhibitions, T-Real for Gear VR which is optimized for Gear VR, and T 360 VR for the activation of high-definition 360-degree VR live services.
The reason that SKT is employing this platform strategy for the VR/AR market is in line with the company's overall platform strategy. SKT's three platform strategies focus on maximizing the value of services that it provides via its "life value," media, and IoT platforms. In VR/AR, the focus is also on providing more long-term and continuous services through ecosystems.

Application of VR technology
VR's infiltration of diverse sectors
VR's major application areas are initially games and entertainment content but going forward, they will expand to a wider variety of industry types. VR will not only bolster the growth of game, movie, performance and video content but infiltrate other fields such as education, retail (e-commerce), medical care, construction, and healthcare.
There are already various types of VR content available such as virtual model homes, indirect experience for home appliances, images at educational exhibitions, theme park experiences, racing simulations, etc. The reason that such diverse business sectors use VR content is that the VR/AR technology can be very effective in maximizing the value of their core businesses.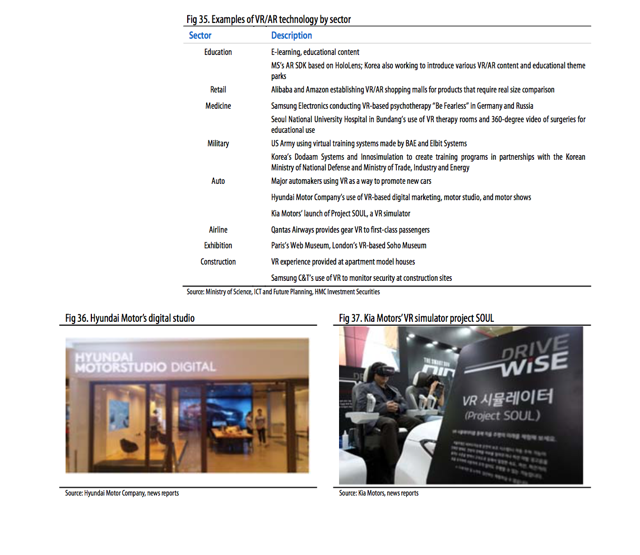 Games to lead the initial growth of the VR market
Games are expected to lead the growth of the VR market initially. According to a survey by VRN, 59% of the respondents said that games are the most desirable vehicle to enjoy VR, followed by educational and movie content. Also, 42% of respondents said they use VR devices because of games and 18% said that they use VR devices because of movies and photos. The survey shows that the primary reason behind the use of VR is playing games due to the ease of use.
Many game developers see VR/AR as a market that has potential to create the next growth engine. The recent massive success of "Pokemon Go" is a case that proves the power of AR-based games. Of course, it should not be overlooked that Pokemon Go's success was also primarily thanks to the popularity of Nintendo's Pokemon characters. It means that the power of content rather than technology itself is much more important to draw the public's attention.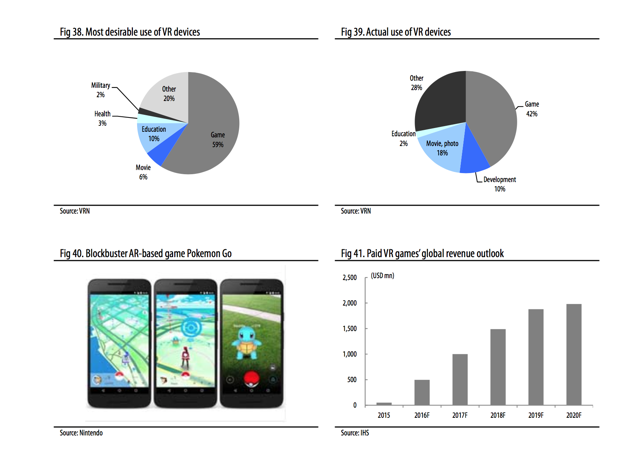 Korea's game companies are also moving to take an early control of the VR game market. Individually each company is developing VR-based games and we expect these efforts to gradually bear fruit. It seems that Korean companies are pondering the potential risks of entering an unchartered field and have the belief that it would be not too late even if they enter the market after the infrastructure (e.g., hardware) is built.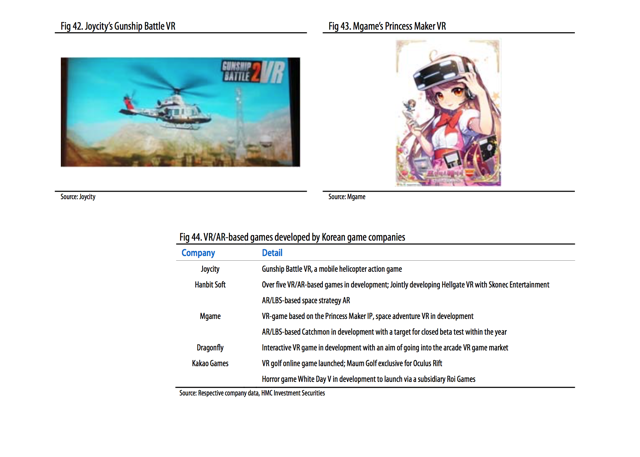 VR hardware has to grow first for a mega-hit VR game to be born
At present it is very difficult to predict which games made by which companies will become killer content that will lead the development of initial VR content. There are many VR games are available now but there have not been any blockbusters. The AR-based Pokemon Go was a big hit, but its success was driven by the power of content rather than AR technology.
The biggest reason that there has not been a massive hit game among VR games is the poor penetration of VR hardware. However, with the recent release of PlayStation VR and the launch of Google's Daydream View, the issue of inadequate supply will gradually be resolved, although it will take some time.
This is the reason why major game publishers, while working hard on R&D in VR, have yet to start launching VR game titles in earnest. VR games (4K, 120 frames) require about 20 times as much computing performance as non-VR games, so it is important to build the requisite infrastructure, such as made-for-VR devices and a superior computing environment.
Major game developers have enough experience and technology that have helped them to launch massive hit games. They also have graphic resources and character IP that will help them to convert existing games into VR games. Once the infrastructure is built, these companies will have the ability to produce mega-hit VR game titles.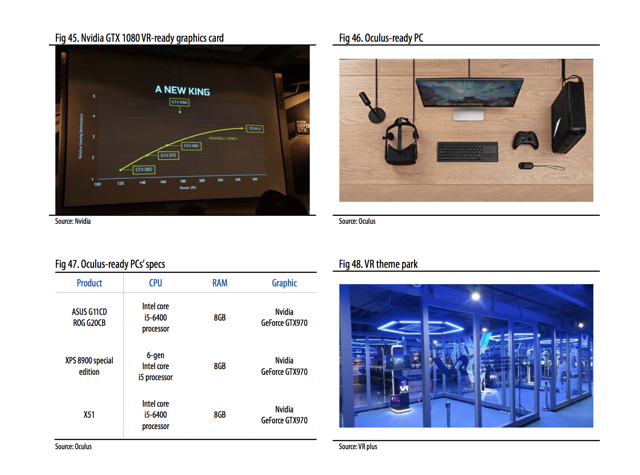 Some say that it would be difficult to popularize VR devices because they are expensive and HMD is heavy, uncomfortable to wear, and causes dizziness. They say in the end VR devices will be enjoyed by only a limited number of users.
Although these factors are undeniable disadvantages, we believe the VR-related market can expand further if: 1) the price of VR devices come down with the passage of time; 2) inconveniences felt when worn are solved thanks to technological advances; 3) computing capacity expands upon the advancement of networks; and 4) the amount of content that is more enjoyable when it is in VR format increases. Against this backdrop, we believe expectations outweigh concerns.
To sum up, it is clear that this new AR/VR technology will offer new opportunities for game companies. The emergence of broadband Internet led to the rise of online PC games in the past, and the arrival of smartphones helped made mobile games mainstream. As such, there is burgeoning interest in the new AR/VR technology as the next growth engine that will drive the game market's changes. The emergence of AR/VR technology is expected to diversify game genres; and devices and spaces that are necessary to play games will also expand. We especially note the possibility of the rise of theme parks and game arcades in relation to VR.
VR video content still in testing phase
One of the easiest ways to create VR content is to shoot 360-degree video. VR video content typically takes up larger capacity than non-VR content, because it is shot with five to six cameras. VR content is made either by creating a virtual space based on 3D graphic technology or by filming an actual space with multiple cameras. Sometimes both methods are used simultaneously.
Currently, the industry that most frequently uses VR video content is entertainment. VR content is widely used in various fields such as movies, dramas, animations, music videos, and idol groups' showcases. Most of them are not provided in full but in the form of short video clips that last about five minutes. If VR devices become widespread upon technological advances and VR demand increases accordingly in the future, VR-exclusive content will also be created in earnest.
Media companies' moves to make VR content remain experimental. Understandably, it is difficult to put a lot of time and money to produce VR content when VR hardware is not a commonplace item. However, it should be noted that VR technology is optimized for media/entertainment areas in that it can create virtual experiences and allow users to share those experiences. In addition, with the expected arrival of VR killer content in the near future, the quantity of VR content should increase considerably.
How to monetize VR: hardware sales, software in-app purchases
Hardware companies can monetize VR by selling the main VR devices and accessories. The monetization of VR content, in contrast, is likely to be similar to the existing Internet business model. The key to the Internet business is to provide the necessary content to secure user traffic and advertisers. VR should not be too different. In the VR space, advertisements should also be made in VR. In various sectors, advertisers are expected to create VR content that enables users to indirectly experience their products so that they can promote the products' functionality and usability. As for VR games, we expect in-app purchases to be the mainstream rather than monthly payments that are typically employed by RPG game providers.
Of course, the business model that is based on paid-for VR content is also expected to expand. The consumption pattern that applies to entertainment such as music and movies is likely to be applied to VR content as well. For example, various types of VR content are expected to be provided through VR platforms, and users will be able to enjoy content by subscribing to monthly plans or making separate purchases. Tim Merel, CEO of Digi-Capital, predicted that more than 80% of VR/AR revenue would come from hardware sales, e-commerce sales, ad spending, and mobile data. This is similar to the current business model adopted by the mobile market.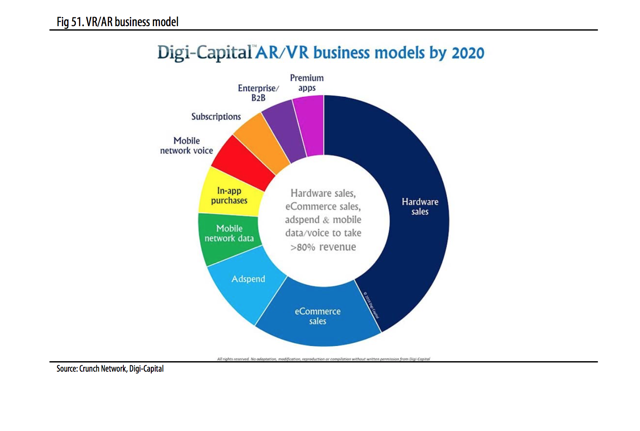 VR's weakness
Some argue that several conditions have to be resolved first for the VR industry to grow in earnest. Digi-Capital highlighted mobility, vision, immersion, usability, flexibility, wearability, and affordability as the seven key drivers of VR. For VR to reach its true potential, all seven factors have to be resolved first. Indeed, VR users often complain of nausea, dizziness, and eye fatigue. In addition to improving vision, measures should be taken to resolve dizziness. The relatively expensive price of VR devices is also a factor that can hamper growth of the device. The lack of VR content is also an issue.
In the end, it appears that VR devices and content are insufficient for the public to properly enjoy VR technology. The penetration rate of VR-exclusive devices is also very low. For now, VR seems to be in its very early stage where content and devices are not yet widespread.
Unless these issues are resolved, it is possible that VR will end up being a temporary fad. For example, 3D TVs, despite hardware companies' investments and R&D, have not received strong responses from consumers due to the lack of content. However, unlike 3D TV, VR is an area in which a variety of industries are showing great interest.
These industries are in fact developing their own VR-related products. Given that the world's leading IT companies are seeing VR as a major opportunity going forward, VR technology can be a very useful tool to lead the 5G era. VR at its current phase remains a very promising area and in the near future will likely permeate the lives of consumers upon the arrival of 5G.
Regulatory support
Regulatory support by the government
The Korean government is confident that VR will become a growth engine for next generation ICT, and announced plans to nurture related industries in its belief that regulatory support is needed to become an early mover into the future market and platform. The government organizations involved in this matter include the Ministry of Strategy and Finance, the Ministry of Science, ICT and Future Planning, the Ministry of Culture, Sports and Tourism, and the Ministry of Trade, Industry and Energy.
The Korean government believes that the nation's VR strengths currently lies in devices, solutions, and networks but sees weakness in terms of platform and content. Although Korea's hallyu content led by K-pop is attracting worldwide attention, it seems that VR convergence services, which combine broadcasting, movies, animation, and theme parks, are still not enough. In fact, there have not been notable players that could lead a global trend in terms of platform and content at home or abroad. VR is a fledgling market and as such, regulatory support will play an important role going forward.
The government selected VR as one of its nine national strategic projects and plans to foster the VR industry to narrow the technology gap with developed countries. It also stated that it would invest a total of KRW405bn by 2020 for the development of the AR/VR ecosystem (KRW279bn from the government, KRW126bn from the private sector). It also plans to create private funds worth KRW40bn, expand tax benefits for R&D in related industries, and create VR clusters to provide shared facilities and space for tenants.
The government's vision for the VR market is to take an early leadership in the new global VR market and platform. To this end, it plans to cultivate about 50 companies specializing in VR by 2020. Of note, the Ministry of Science, ICT and Future Planning and the Korea VR Industry Association project that the Korean VR market will grow to a KRW5.7tn market by 2020 including hardware and content.
However, there is a possibility that these plans could change because of the recent political turmoil related to impeached president Park Geun-hye. Most importantly, the budget that had been assigned to VR content development was recently cut from KRW19.2bn to KRW11bn. We cannot rule out the uncertainties that may arise going forward.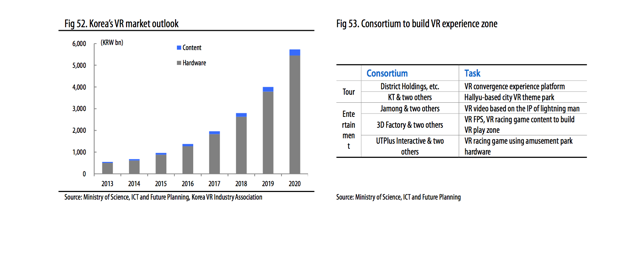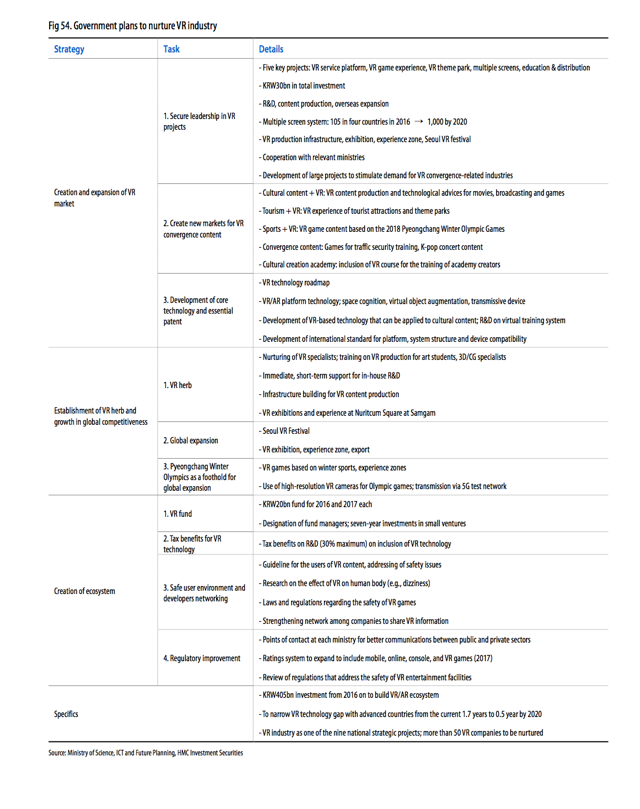 Largest beneficiary of expanding VR ecosystem
1) Investment highlights
- We maintain BUY and our six-month-forward target price of KRW1,830,000 (the average of 12x P/E and 1.4x 2017F BPS) on Samsung Electronics. We expect Samsung to become the largest beneficiary of the expanding VR/AR ecosystem given the prospects of: 1) an increase in memory semiconductors, GPU, and AP for smartphones and PCs; 2) an upgrade of smartphone displays from LCD to OLED, and QHD to UHD; and 3) an increased use of OLED in new VR HMDs, which is likely to boost the tech giant's semiconductor earnings and the earnings of Samsung Display.
Transparent OLED displays will be increasingly used in HMDs for lighter and more sophisticated designs, and with the adoption of more than two 3D sensing cameras, AR and MR functions will become more advanced. As such, smartphones' AP and ability to consume less power have become more important and it will further strengthen Samsung's system semiconductor business in the long term given the company's strong leadership in 10nm FinFET.
2) Major issues and earnings outlook
- We now adjust up our 4Q16 consolidated revenue and operating profit forecasts by 1.1% and 5.1% to KRW51.5tn and KRW7.9tn, respectively, in light of memory price hikes and the weakening KRW. We also raise our 2017 revenue and operating profit estimates by 1.1% and 8.5% to KRW201.1tn and KRW33.9tn to reflect our upward revisions for memory semiconductor and display earnings.
Samsung's operating profit is expected to decline 4.9% YoY to KRW6.35tn in 1Q17 on the delayed debut of the Galaxy S8 but from end-January, we expect share buybacks/cancellations coupled with a quarterly dividend to help alleviate worries over earnings. With the scheduled launch of the Galaxy S8 in 2Q17 and introduction of a stronger shareholder return program, shares will likely re- rate visibly from 2Q17, in our view.
3) Share price outlook and valuation
- The likelihood of a spin-off and a transition to a holding company structure is slim in the short term. However, we recommend a buy-and-hold strategy in light of the stronger shareholder return policy and robust mid/long-term earnings prospects of semiconductor and display amid the expansion of the VR/AR ecosystem.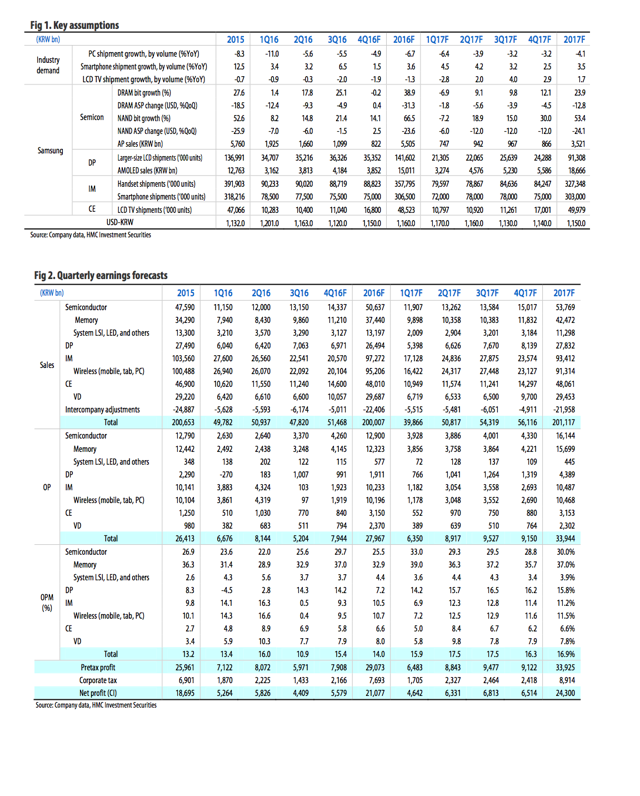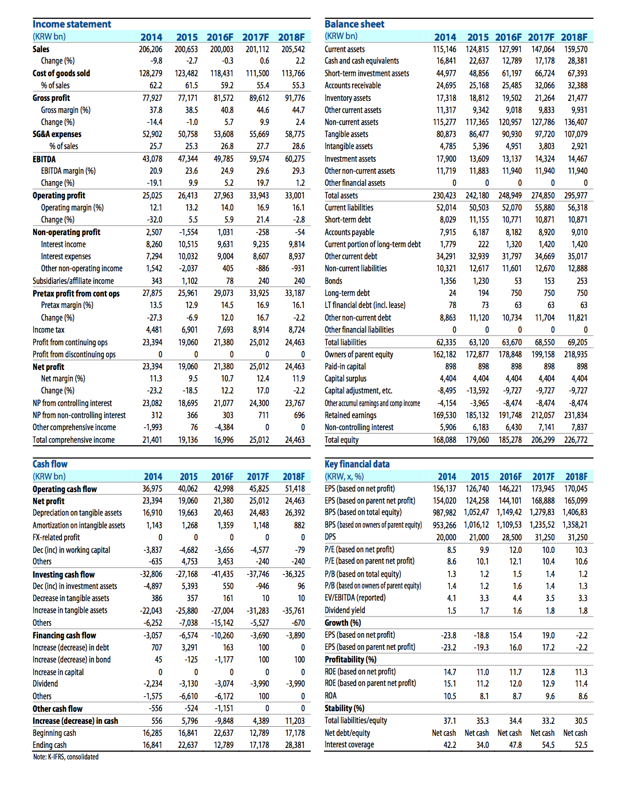 VR to be the key growth engine in the 5G era
1) Investment highlights
- For telcos, VR is a very effective supplement that can help maximize the value of their core businesses. The industry expects VR, as the technology that can drive innovation in user experience, to become the key part of realistic media, which is likely to receive the brightest spotlight in the upcoming 5G era.

- In the telecom space, SKT's earnings remain solid on the back of the maturing LTE business and mild competition. Losses from the e-commerce platform 11st continue due to cutthroat competition but we do not believe the loss will increase further from the current level. Other swing factors to 11st's performance include potential investments from China and the shift of the competitive environment in the e-commerce industry. We view SK Planet's moves, led by 11st, in a positive light in that it helps the company to take the leadership in the e-commerce scene and secure its next growth engine.

- Concentrated efforts to strengthen platforms is also positive. The open platform strategy led by Tmap and Tphone is very meaningful, in our view. In addition, the TV business of SK Broadband, which is driving the growth of the media platform is growing steadily.
2) Major issues and earnings outlook
- We expect the LTE business to remain strong in 2017. ARPU growth should be limited due to plan discounts but stabilizing marketing costs should work favorably for the company. SKT has more room for growth in the LTE space given its lower percentage of LTE subscribers vs. peers.
- SKT has been working on the development of AR/VR technology since 2010. It already launched a comprehensive content service platform called T-Real in 2016 in an effort to provide VR/AR services. This is in line with the company's overall platform strategy.
3) Share price outlook and valuation
- We note SKT's earnings stability, the improving earnings at subsidiary SK Hynix (000660.KS, BUY), handsome dividend yield, and a possible increase in foreign ownership. We reiterate BUY and our target price of KRW280,000.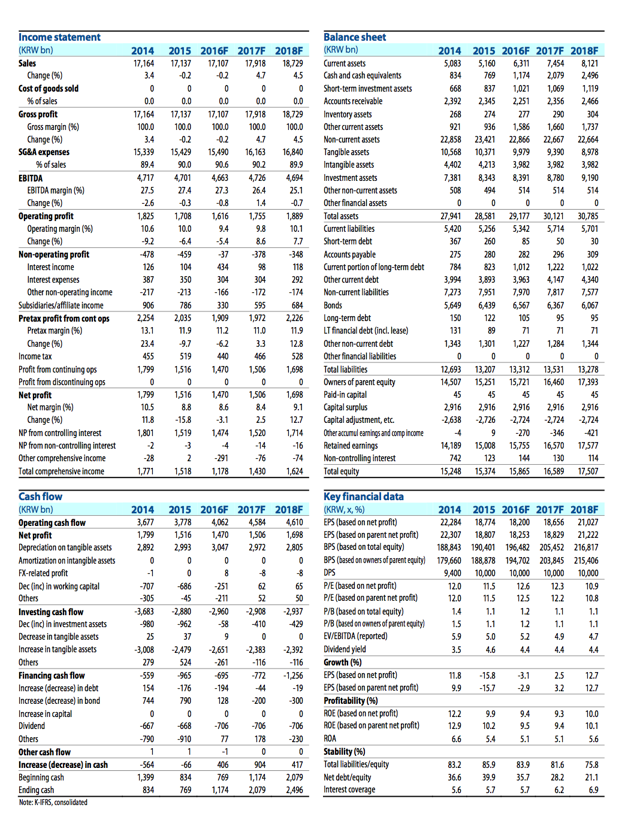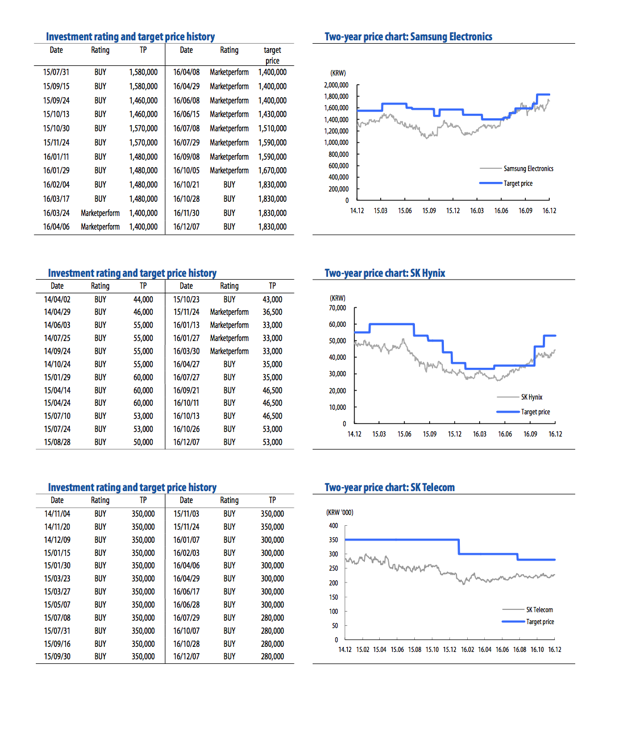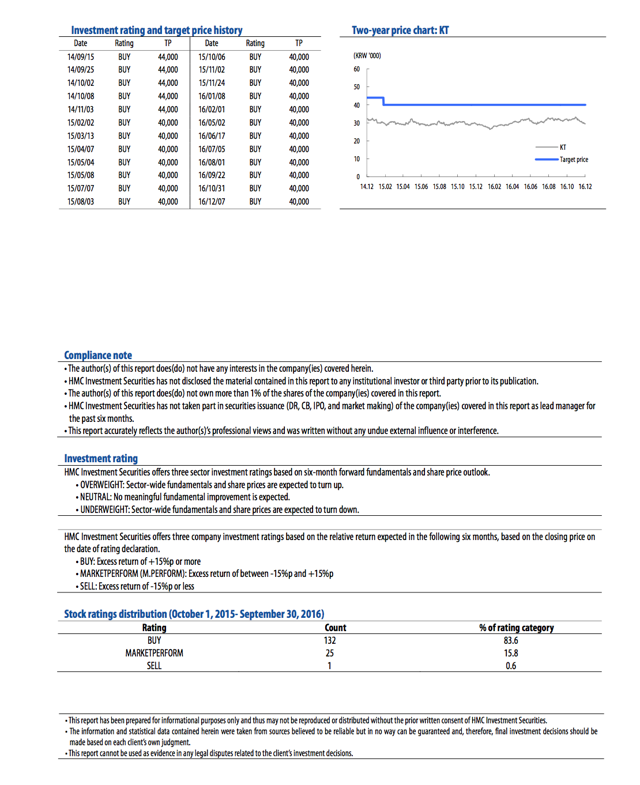 Disclosure: I/we have no positions in any stocks mentioned, and no plans to initiate any positions within the next 72 hours.
I wrote this article myself, and it expresses my own opinions. I am not receiving compensation for it (other than from Seeking Alpha). I have no business relationship with any company whose stock is mentioned in this article.
Editor's Note: This article discusses one or more securities that do not trade on a major U.S. exchange. Please be aware of the risks associated with these stocks.