There are rumors abound that Verizon (NYSE:VZ) is looking to make an acquisition which can make it match AT&T (NYSE:T) after the latter decided to buy Time Warner (NYSE:TWX). The top management has been playing with the idea and subtle hints have been given in the past. It will make sense for the company to go along this route as the communications and entertainment industry reshapes. Both these industries are looking increasingly coming together in the next few years. However, for any deal to happen, it should make economic as well as strategic sense for Verizon. Two names are being thrown around Charter Communications (NASDAQ:CHTR) and Comcast (NASDAQ:CMCSA).
Verizon CEO, Lowell McAdam, has been forthcoming about the company's willingness to make such a strategic purchase. Last year, he replied to a question from analysts by saying "it made industrial sense" to buy Charter Communications, which pushed Charter's stock price considerably. Different sources are reporting that the top management is actively looking to make a purchase which can bring them at par with AT&T, if the latter's own transaction gets a go ahead from the regulators. AT&T paid 35% premium on the deal, which makes it look like an expensive transaction on the face of it. However, if we take into account the overall strategic impact and if the company is able to realize the synergies, then this should prove to be a brilliant business combination. In light of this valuation, I have looked at the Comcast and Charter valuations.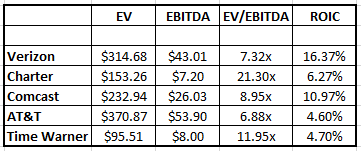 Source: SEC Filings, YCharts, Yahoo!Finance
EBITDA figures here are trailing twelve months. Keep in mind that Time Warner's EV/EBITDA above is not multiple at the time of the deal. It is the current multiple and although it comes near the multiple agreed upon by the companies; it should not be confused with the transaction multiple. All these multiples are based on current Enterprise values. For 35% premium, AT&T is getting a ROIC (Return On Invested Capital) of 4.7%, which is slightly better than its own ROIC of 4.6%. This makes sense for the company as this transaction has the potential to be accretive to AT&T's earnings right away. However, if the expected synergies are realized, then the impact on earnings might even be more profound.
When we look at Verizon's options, we see that Comcast looks a better pick based on both the metrics. First, the company has a more attractive EV/EBITDA multiple and its ROIC is also considerably higher than that of Charter Communications. Both these companies have a lower ROIC than Verizon. However, it should be kept in mind that Verizon has been one of the best in ROIC generation, especially if we take into account its WACC of around 4.5%. The company is already generating excess return by a large margin. So, the boost to earnings cannot be the only motive here. It looks like the desire for this business combination has more to do with the strategic direction of the business. Verizon certainly does not want to be left behind in the race to be the premium content distributor and developer.
On strategic a level as well, Comcast can give Verizon an advantage. As I explained in my AT&T article, the ability to have control on content development and distribution will result in better value chain for the company and also allow it to have a tighter control over costs. This is the same objective that Verizon should have while considering any purchase. According to a research by Bernstein Analysts, program costs are rising at an alarming rate and despite an increase in per subscriber fees, these margins will come down to 0% by 2023. So, while making any deal in the industry, buyers need to have an eye on this factor as well.
Program costs are going to be a major cost in this game and having in house program development tools are going to be key over the next few years. AT&T is getting its own tool in Time Warner and will have the ability/option to increase revenue by allowing other Pay TV service providers. This is one way to counter the rising costs as this can generate more revenue for the company on the same cost basis. This factor makes me even more convinced that Comcast will be a better option for Verizon as the company will get almost similar advantage from NBC Universal.
Applying the same sort of multiple/premium to Comcast and Charter will mean that it will be a massive transaction for Verizon. It is fair to assume that the structure of the deal will be cash plus stock. For the cash portion, Verizon will certainly need debt financing, which will take its debt considerably higher. An advantage for the company is that its EBITDA figures are extraordinarily strong. This gives it an edge when it comes to debt metrics and high EBITDA figures do not let its debt metrics deteriorate beyond a reasonable point. While buying Comcast will result in substantially increased debt, it will also give its EBITDA a solid life. Comcast's own EBITDA generation is quite strong. However, it is impossible to say what the leverage will be if the company decides to make an acquisition. 50% debt financing in case of Comcast will take the total leverage ratio between 3x to 3.75x, which is still not too high. However, if the deal takes place then the economic moat will take a boost and the cash flow generation should also be strengthened. As a result, overall effect on credit ratings will not be too bad.
Comcast and Verizon can be a very good match to counter AT&T's acquisition of Time Warner. It will bring Verizon to almost the same footing and will give it a better platform to compete in the entertainment business. This deal makes sense both on economic as well as strategic levels. The company will be getting a better ROIC and more control on programing. However, Verizon will need to move fast - ideally, within the next few months. If AT&T's transaction goes ahead then it will give AT&T a sort of first mover advantage and Verizon might face some problems. Verizon's ROIC is more than 3 times that of AT&T's, so there is no immediate pressure on the return generation front. However, if the AT&T and Time Warner business combination goes ahead then there is a likelihood that AT&T will become a more attractive service provider for its product offerings and control over content.
Verizon will be able to counter this threat through Comcast's content generation and wide reach. Comcast's content generation paired with Verzion's wireless reach will be a great combination for Verizon shareholders. This has the potential to further strengthen Verizon's ability to generate excess return in the future. In my opinion, Verizon management should already be working on a business combination with Comcast. Delaying this might put it at a disadvantage.
Disclosure: I/we have no positions in any stocks mentioned, and no plans to initiate any positions within the next 72 hours.
I wrote this article myself, and it expresses my own opinions. I am not receiving compensation for it (other than from Seeking Alpha). I have no business relationship with any company whose stock is mentioned in this article.