I. Business Overview
Over a year ago, I wrote my first SA article ranking the top 10 U.S. retail banks by assets. My purpose was to better understand the competitive landscape and what each player's relative strengths were. I then delved deeper into the most promising candidates to evaluate their attractiveness as long-term investments.
U.S. Bancorp (NYSE:USB) was a curious case. In terms of assets, it's about a quarter the size of the Big Four. Yet in an industry with a high regulatory burden, it had the lowest five-year average efficiency ratio of 53.17%. To make things stranger, its five-year revenue growth was relatively flat at 2.85%, yet it managed to earn an average ROE of 15.46% during that period, again blowing away its competition.
All this led me to suspect that this was too good to be true. But having taken a closer look at its balance sheet, I was clearly mistaken. U.S. Bancorp has and continues to maintain unique advantages, largely due to the modest size of its book and its relentless underwriting discipline.
From a competitive standpoint, USB's cost advantage creates a widening moat in the down-market, while its low risk balance sheet allows it to pursue opportunistic deals against its larger competitors.
In other words, U.S. Bancorp is a base hitter in the minor leagues with a skill set that translates well into the majors. It straddles the line between community banking and the more competitive segments on the national level.
II. What has the market priced in?
That being said, with the recent runup in financial stocks, my arguments above have likely already been priced into the market. The following slide is no longer news to anybody: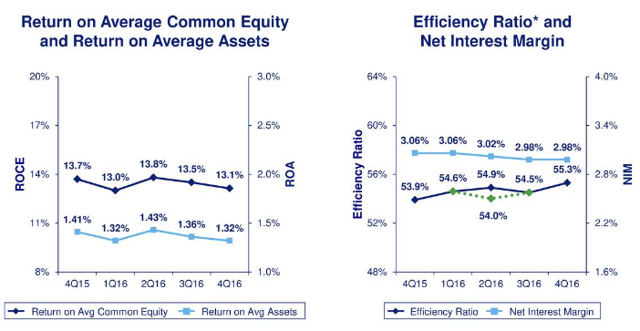 USB's mid-double-digit ROE, above-average net interest margin, and industry leading efficiency ratio have been the consistent narrative for the past five years.
In what seems like the paradox of success, this excellent performance leads to short-term optimism that tends to overshoot the fundamentals. When you add in rising rates, and the expectations of tax reform and less regulation, this divorce from reality becomes even more pronounced:

From a valuation standpoint, it's hard to see the marginal benefit of piling into USB in the near term for any of the reasons listed above.
III. Catalysts
But for those with a longer horizon, I believe there are three potential catalysts that are still under appreciated by the average investor:
1. Non-interest income growth potential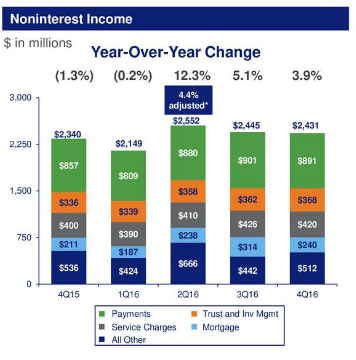 Source: USB Q4 2016 Presentation
Over half of USB's non-interest income was generated through its payments and trust segments. When compared to a Big Four bank like Wells Fargo (NYSE:WFC), USB remains underindexed in these areas. And with banks like Citigroup (NYSE:C) and Bank of America (NYSE:BAC) still in the process of de-risking their portfolios, my argument is that USB is uniquely positioned to benefit from more deals like the one it made with Fidelity in early 2016.
On the payments front, management has provided guidance on the potential for future bolt-on acquisitions during the Q4 earnings call. Here's incoming CEO Andy Cecere:
With regard to acquisitions, with the consent order in place right now we're precluded from traditional depository acquisitions. But we are doing things like you saw in the last year with Fidelity and IAG card portfolio acquisitions, we can do merchant acquiring and on trusted payments businesses. So that does not preclude us and that's actually an area of focus.
Corporate trusts are also an underrated growth area, not just for the fees generated but more importantly for its potential to continue to grow USB's deposit base by double digits.
USB often gets overlooked due to its size, but one can argue that this is a classic case of being the big fish in a small pond on the community banking side, an area that has been underserved by the larger banks since 2008 and often ignored by institutional investors.
2. Dynamic impact of policy reforms
An interesting question circulating in this year's Q4 earnings calls has been the idea that policy benefits like tax cuts and deregulation could be competed away by irrational behavior.
This is an insightful observation because it gets to the point of markets being dynamic and challenges our basic assumptions that earnings go up as interest rate rises or when regulations are rolled back.
But in the real world, how would a lender react when the price of money goes up? Well, they'd be more inclined to make loans. But here's the thing, every other lender on the block will be thinking the exact same thing, which could drive margins back down for the entire industry (but increasing the risk on everyone's books). The same dynamic applies for lower taxes.
In this situation, an advantage can be gleaned if one lender has the discipline to act like no benefits were received at all, and to remain militant about not underwriting anything but loans of the highest quality.
Again, USB has a unique track record of doing this. When even excellent risk managers like Wells Fargo has dabbled in subprime auto and energy loans from time to time (but never in excess), US Bancorp's books remained stubbornly spotless.
Much like how being thrifty is the gift that keeps on giving, discipline in banking has a compounding effect on earnings and an advantage that only widens over time.
IV. Valuation & Trading Strategy
While financials are likely to be the crowded trade of 2017, U.S. Bancorp looks to be a long term hold with some unrecognized catalysts beyond the Trump rally. Yet at current multiples of 2.7x tangible book, the stock is probably trading at a price 15-20% above fair value (or $40-43 per share).
If you already own a large amount of shares, I'd recommend trimming your exposure and diversifying to other beaten down sectors like pharmaceuticals or energy.
For those looking for an entry point, building a small initial position today couldn't hurt, while keeping the majority in dry powder to average down in the event of a real bargain (sub $40).
Disclosure: I/we have no positions in any stocks mentioned, but may initiate a long position in USB over the next 72 hours.
I wrote this article myself, and it expresses my own opinions. I am not receiving compensation for it (other than from Seeking Alpha). I have no business relationship with any company whose stock is mentioned in this article.