The EIA reported a -243 Bcf draw figure yesterday, which was lower than our forecast of -251 Bcf. Be sure to read our summary of the storage figures here. We anticipate a draw around -118 Bcf for the week ending Jan. 20.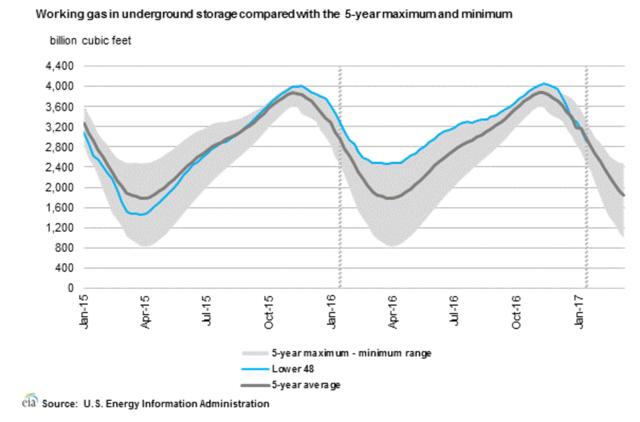 Demand weakened considerably over the past week. Total demand dropped from an average of 110 Bcf/d last week to only ~90 Bcf/d.
Natural gas supplies, on the other hand, averaged slightly higher to around 74.7 Bcf/d on the back of higher Canadian gas imports, which averaged close to ~4.9 Bcf/d. U.S. natural gas production is still hovering below 70 Bcf/d. In total, the physical flow implies a storage draw around -107 to -112 Bcf for the week ending Jan. 20. Once we get more physical data from next week, we could revise our forecast of -118 Bcf lower.
Looking at the different demand breakdown, LNG is still above 2 Bcf/d as Cheniere is reported to be shipping excess LNG capacity to Asia to capture the spread difference. Mexico gas exports remain strong sitting around 4.3 Bcf/d, but this week's demand dipped below 4 Bcf/d for two days before rebounding. Heating demand has fallen from over 66 Bcf/d last week to just over 38 Bcf/d, and it will worsen going into next week.
Overall, market participants should expect a bearish storage draw report next week. A draw around -118 Bcf would compare to the -211 Bcf draw we saw last year and the -155 Bcf draw for the five-year average. If you are interested in receiving material weather updates along with our daily commentary on natural gas fundamentals, you can sign up here.
Disclosure: I/we have no positions in any stocks mentioned, and no plans to initiate any positions within the next 72 hours.
I wrote this article myself, and it expresses my own opinions. I am not receiving compensation for it (other than from Seeking Alpha). I have no business relationship with any company whose stock is mentioned in this article.