President Trump has promised to end the long-standing, infuriating tradition of "sticking the US Government with the tab." He has already made lowering prices for military aircraft a pillar of his transition into office.
President Trump has already met with the both Boeing (BA) and Lockheed Martin (LMT), which have promised to lower the prices for Air Force One and the F-35 fighter jet program. These lower prices will no doubt trickle down to subcontractors.
While Boeing and Lockheed Martin have been the "poster children" of this policy initiative, everyone in the aerospace industry knows that one company stands out when it comes to egregious price increases foisted on the government:
TransDigm (NYSE:TDG)
TransDigm's business model is to aerospace as Valeant (VRX) was to the pharmaceutical industry. TransDigm acquires airplane parts companies (over 50 in total), fires employees, and egregiously raises prices. This business model has made it a dominant supplier of airplane parts to the aerospace industry while burdening its balance sheet with sky-high debt load: in fact, 6.5x EBITDA leverage.
TransDigm's single largest customer is the Department of Defense, followed by Boeing and Airbus (OTCPK:EADSF). On December 12, then president-elect Donald Trump told America:

TransDigm, Welcome to January 20th!
President Trump, have a look at this!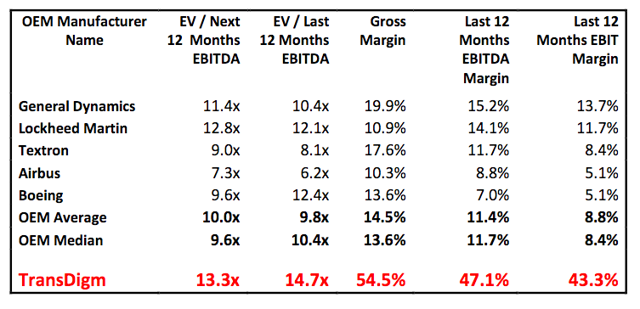 Note: Boeing and Lockheed gross margins are 13.6% and 10.91%, respectively. TransDigm boasts gross margins of 54.5%, selling airplane parts to the government.
But you can argue that Boeing and Lockheed are OEMs while TransDigm is a parts supplier. Fair point. So next we compare TransDigm to its peer group. This analysis shows how much of a gross outlier it has become with regard to the amount of money it is making off the U.S. government.
Margin Analysis: TransDigm to Comparable Peers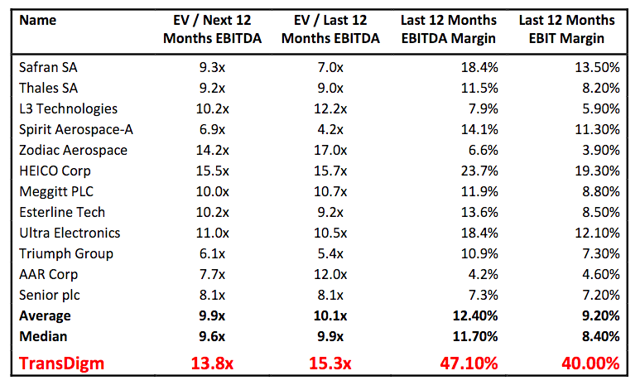 So, how does TransDigm rack up such outsized margins?
We have sifted through the Haystack Gold database, the leading defense parts and logistics management system, reviewing historical prices of over 50,000 aircraft parts. The price differentials from pre-acquisition and post-acquisition, when TransDigm acquired its prior manufacturers, are there for all to see.

We acknowledge The Capitol Forum for assembling just a small snapshot of the impacts of this game.
The TransDigm business rests on the dangerous acquire/leverage/price-raise maneuver that has become too eerily familiar on Wall Street. After watching Valeant's stock go from 250 to 15, Wall Street learned a lesson about operating leverage.
So, Where's TransDigm's Stock With a Bit of Scrutiny?
We start with Wall Street's consensus model for TransDigm. Using the analysts' numbers who base their models on raising prices, we get to a valuation of $166 a share if they are merely preempted from further price raises... this has nothing to do with rolling back any prior ones.
The ugly underbelly of TransDigm's business is that aggressive year-over-year price increases are the only thing shielding the company from revealing negative organic growth of close to -10%. Any combination of U.S. government pressure and/or OEMs pressing on their own supply chains will expose the company's business to actual gross revenue contraction and a devastating cut in EPS, followed by multiple contraction.
This Model Changes Nothing Except Zero Price Increases!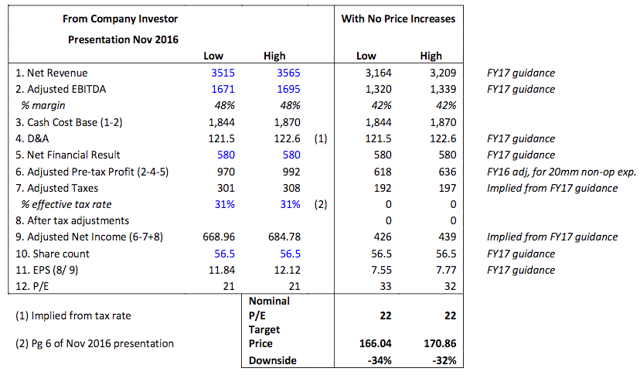 Consider this: If TransDigm were to operate with the same EBIDTA margins as HEICO (HEI), its next closest competitor on EBITDA margin, which is still double that of the rest of its peer group, its EPS falls 85% and the stock is $40 a share. We do not even project the margin compression that would be inflicted on TransDigm if and when it experiences this type of pricing pressure. That would tank the share price to even lower levels.
Note: In the past 18 months, nothing has fundamentally changed for Valeant as a company, beyond a torrent of negative news coverage. Its pharmaceuticals are still sold worldwide. Bausch & Lomb is still the premier e name in eye care. What has really changed is the stock price. Wall Street is now forced to deal with the company's inability to raise prices while being burdened with extreme debt levels.
We add that our commentary of "firing employees and raising prices" is not just Citron's narrative, but is also the subject of lawsuits of companies TransDigm has acquired. Organic growth goes down, profits go up. TransDigm was sued in 2011 by the seller of Dukes Aerospace for raising prices, cutting headcount aggressively, and causing Dukes to get pushed out of programs that required future R&D.
How the Government Can Easily Crack Down on TransDigm
The obvious response to this Citron criticism would be that the government can't do anything about TransDigm's pricing policies. If that were the case, then why would Boeing and Lockheed both agree to lower pricing in the context of just a single presidential meeting?
The truth is that the government has already been down this road, scrutinizing the price gouging perpetrated by TransDigm. It now simply has to enforce what it already knows is wrong. Just to show that the mechanism for a government crackdown is already in place. Here are excerpts from a Department of Defense Office of Inspector General audit in 2006: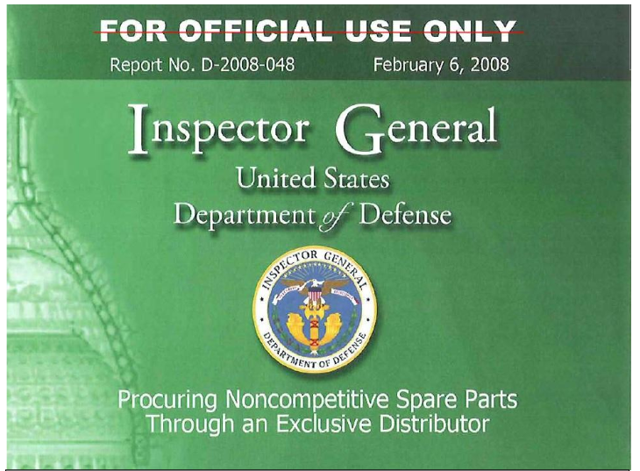 For example, on contract SPO740-04-C-4647, the DSCC contracting officer purchased 578 oil pump assembly housings (NSN 2990-01-259-0589) used on the F-15 fighter aircraft at a unit price of $3,663.36 in December 2003. The unit price for the item, in March 2002, was $2,132.82; thus, the unit price increased 71.8 percent in 21 months.

The Director also commented that supply chains have been asked to report on the suitability of reverse engineering TransDigm items.
TransDigm's Audit-Defeat Department at Work
Here are some of the ways TransDigm thwarted this excessive cost audit.
You have to ask yourself if these kinds of stonewalling tactics would work in the Twitter era against the force of a fierce cost-cutter and BS-cutter-through-er.
From the same audit report, we read:
TransDigm does not provide informal cost breakdowns or cost data for small purchases (two instances).
TransDigm is unable to provide a cost breakdown for orders under $100,000 (two instances).
TransDigm no longer offers cost breakdowns.
TransDigm does not provide cost data for purchases under $550,000.
TransDigm considers this item proprietary and commercial and will not provide any cost breakdown.
TransDigm accepts the government counteroffer instead of providing a cost breakdown.
Due to the total dollar value of the request for quote, an informal cost breakdown cannot be prepared at this time. The prices quoted are based 16 on TransDigm's current material costs, labor, overhead, and general and administrative rates, which have been audited by the U.S. government.
TransDigm is unable to provide informal cost breakdowns due to limited accounting resources.
TransDigm's quote is based on increases in material and labor costs. Material has escalated 12 percent while labor and overhead have increased close to 12 percent.
TransDigm did not respond to the request (six instances).
TransDigm stated it is not the company's policy to give cost data (two instances).
TransDigm offered a lower unit price only if that price is found fair and reason able by the contracting officer.
- Source
We ask if TransDigm investors riding the gravy train of highly leveraged profits based on a "price jacking" strategy even know the U.S. Office of Inspector General runs a "Department of Defense Hotline" for pricing complaints? We think this entire report plus the spreadsheet attachments should make a good submission... we did it with Valeant.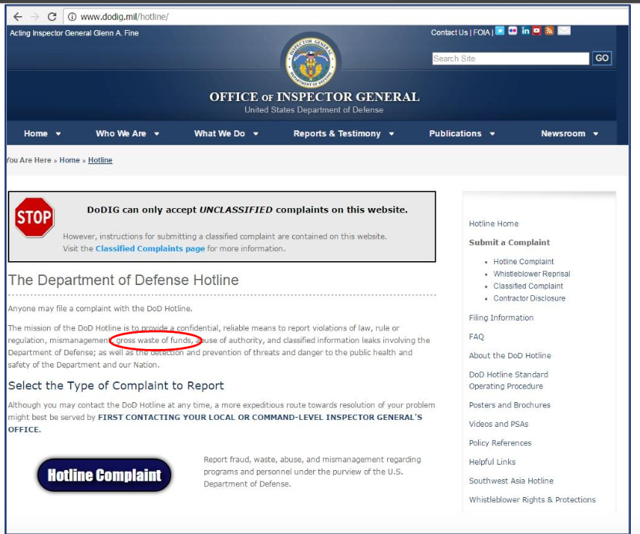 - Source
The TransDigm/Philidor Moment
The easiest way for the government to encourage competitive bidding would be to audit the bidding process. It will find how TDG has been able to use the guise of multiple shell distributors, who have no pricing power, to make a bid seem competitive when in reality they are all shills for TransDigm - this will be addressed in future reports. TransDigm has perfected the sole source model that understands government thresholds that avoid scrutiny - for now.
Every TransDigm investor should read the company's own disclosures from its 10-K. They are a chilling forecast of their inherent business vulnerability under an administration seeking to save money by creating better deals for the U.S. government. Note from these disclosures that the U.S. government already has enormous power and leverage in its relationship with TransDigm: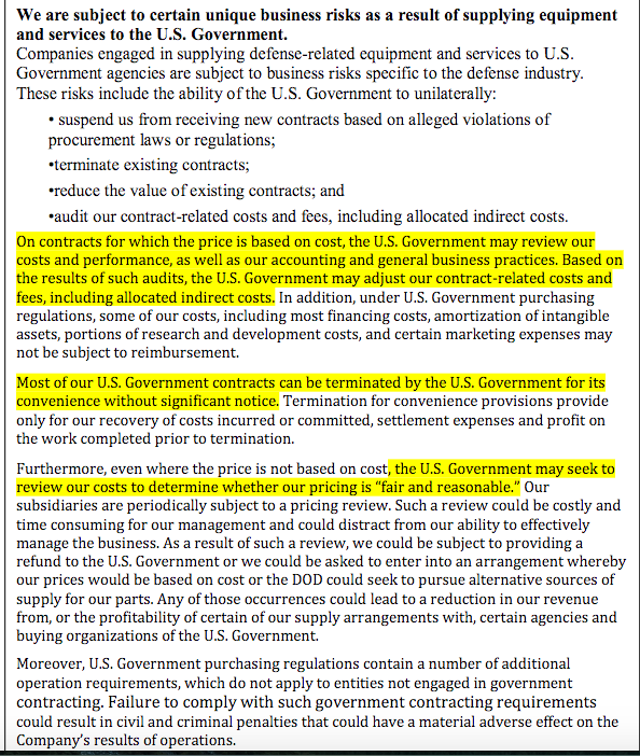 - Source
There are other important macro headwinds facing TransDigm that are evident today. These are some but not all of the issues:
TransDigm's profitability will be severely impacted by high-profile supply initiatives by Boeing (Partnering for Success) and Airbus (SCOPe+).
The emergence of PMA (Parts Manufacturing Authorization) allows for the approval and manufacturing of "generic" parts, which can be 40-80% cheaper than the OEM after-market parts.
TransDigm will have difficulty finding larger acquisitions that it needs to materially impact revenue growth (a key Valeant dilemma).
Its product mix is overly dependent of older airplane platforms that are at risk of being retired.
Conclusion
President Trump: Do you know when your 757 plane "Air Trump" is down for a day and you wondered why a replacement air filter, valve, pump or coffee maker cost $20,000? The reason was TransDigm.
While you are looking to Boeing and Lockheed, the easiest way to drain the swamp in the aerospace industry can be relegated to shine some sunlight on: TransDigm.
Cautious investing to all.
Editor's Note: This article discusses one or more securities that do not trade on a major U.S. exchange. Please be aware of the risks associated with these stocks.