Zumiez (NASDAQ:ZUMZ) is in the business of apparel retail through a combination of brick-and-mortar and online stores. The company has over 100 stores in the U.S. and has TTM revenue of $815.07m.
Stock Is Trading At The Lowest Point In Five Years

The company's market prices have gone down significantly in the past five years, and are continuing to lose investor sentiment, resulting in further decline in the stock price.
Why The Drop?
The drop in the share price is the direct result of ZUMZ's inability to increase footfall and consequential drop in same-store sales.
Declining consumer sentiment has hurt the industry bad and perhaps explains the reason for the quarterly decline in volumes and profits. Richard Brooks, CEO of ZUMZ, has shown confidence in the company's ability to reverse this trend and get back to profitability. However, the macro sentiment isn't in his control as Pacific Sunwear and Quiksilver, two of the company's closest competitors, filed for bankruptcy last year.
Teen focused apparel chains "American Apparel" and "Aeropostale" too have experienced a similar fate as consumers continue to evade them and move towards cheaper and convenient budget alternatives on the back of the "new economic reality" of the country.
While the company can deliver short-term profitability, the possibility of a turnaround is driven by macro-factors, and I don't see any strategic initiatives that can fend off the challenge posed by shrinking sales and drop in customers.
Challenges Hampering Industry Growth
Suppressed consumer spending on clothing.
Shopper preferences moving toward on-demand customized solutions.
Pressure on pricing and inability of manufacturers to adjust inflationary impact of production costs to consumers.
Continued strengthening of the U.S. dollar and volatile commodity markets will have uncertain impacts on the industry.
Greater consumer access has led to price transparency, which leads to changing value equations. The idea of the initial mark-up has become such that the word "initial" means nothing. Consumers routinely expect 50% discounts, and now the industry needs to figure out how to survive and generate growth with this type of markdown.
The biggest challenge for the industry emanates from the rapid shift in consumer habits as a result of the e-commerce boom. Now, environmental concerns, social compliance, material & labour cost management and working out an omni-channel sales strategy are the biggest challenges facing the industry.
Analysts believe the apparel industry is slowly transforming to become a design and technology based knowledge business. Companies that do not pay sufficient attention to these evolving dynamics will find themselves in doldrums and potential bankruptcy if changes are not dealt with an open mind.
A Closer Look At The Numbers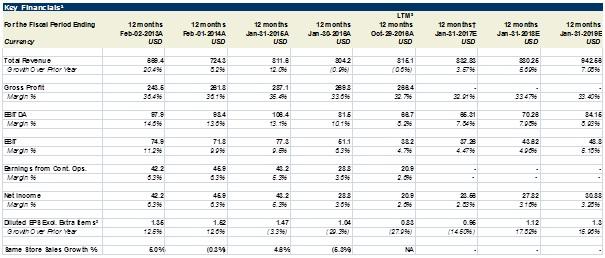 Source: Capital IQ
The above table highlights the plight of the company in a gist. In 2016, we saw the company suffer as revenue and margins dropped year over year. The company's operating margin too has declined from 14.6% in FY13 to 8.2% for LTM ended October 2016. Moreover, forecasted EBITDA margins are slated to decline from the historical highs of 14% to a dismal 5% by FY19.
Rising cost of sales, as evidenced by a gross margin in steady decline, shows the company's inability to reign in on rising input costs as a result of inflation and dollar appreciation.
A drop in margins and business activity has led to a steady year-over-year decline in same-store sales growth from 5% in FY13 to -5% FY16.
All these factors coupled with the inability of the company to find meaningful strategic alternatives amidst challenging macro scenarios make the company fundamentally weak.
The Flipside
It is possible that the company can still find a winning combination of product and marketing strategy to turn around the business.
I believe the industry is going through a downward thrust and will only recover once global uncertainties settle, and inflation and exchange rate movements stabilize.
Conclusion
I think the industry is going through a major churn. Presence of a large number of sellers and the opening of omni-channel modes to sell have made traditional players pull up their socks and gear themselves for a new business reality.
I think ZUMZ has so far fared dismally on all counts. Its same-store sales are trending down, margins are tumbling, and the company looks fairly blank on its strategies to manage this downward spiral.
I rate the company a sell and plan to review the sector if new policies are put through that define the paradigm for the industry.
Disclosure: I/we have no positions in any stocks mentioned, and no plans to initiate any positions within the next 72 hours.
I wrote this article myself, and it expresses my own opinions. I am not receiving compensation for it (other than from Seeking Alpha). I have no business relationship with any company whose stock is mentioned in this article.
Editor's Note: This article covers one or more stocks trading at less than $1 per share and/or with less than a $100 million market cap. Please be aware of the risks associated with these stocks.