Note: This article was originally published as a guest article January 17th on Value Investor's Edge, a Seeking Alpha subscription service.
LPG stands for Liquefied Petroleum Gas, often referred to as Propane or Butane. The global production, demand and seaborn transportation of LPG is growing at a very healthy clip. This is mostly because there is growing export from the USA as the Shale oil boom produces lots of NGL's. With the added supply of LPG, demand from Asia (notably India and China) has grown as well.
At first glance, this looks like a very bullish business environment for LPG shipping companies. However, as is unfortunately often the case in this sector, the shippers themselves over ordered new ships and actually created an oversupply of ships. This resulted in a period of declining quarterly earnings. I believe we are right at the turning point as the current order book for small LPG vessels is almost non-existent and the demand for LPG shipping is still growing.
The company
StealthGas (NASDAQ: GASS) is the market leader in the small LPG vessels. These vessels often operate on shorter distances and on coastal routes. StealthGas has a fleet of 56 vessels, 4 of them new buildings with deliveries in 2017 or 2018. 52 out of those vessels are LPG vessels, and the other four are tankers (1 Aframax crude tanker, 3 MR product tankers). The company owns ships with a wide variety of ages, ranging from hyper modern to a 1992 build ship. The company itself has its office in Greece, like many other shippers, but it has been listed on the Nasdaq from 2005 onwards. The company is domiciled in Bermuda, but is a regular C-Corp and issues a standard 1099 tax form.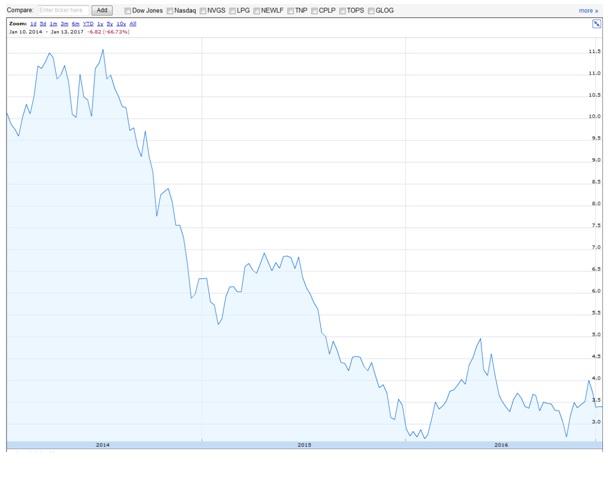 Source; Google Finance
StealthGas currently trades at 3.4, but was trading well above 10 for most of 2014. After a long slide in share price, the equity seems to have found a bit of a bottom. Reasons for the declining share price included decreasing earnings, correlation with the oil price and decreases of the value of LPG ships on the second hand market. The market cap of GASS is currently $137.8M.
StealthGas employs a chartering strategy, in effort to guarantee fixed rates. At their Q3 presentation, 87% of Q4 2016 had been fixed on time charters and 58% of the 2017 days. According to the company, close to USD 175 mm revenue is secured on these charters, with an average charter duration of about 1 year.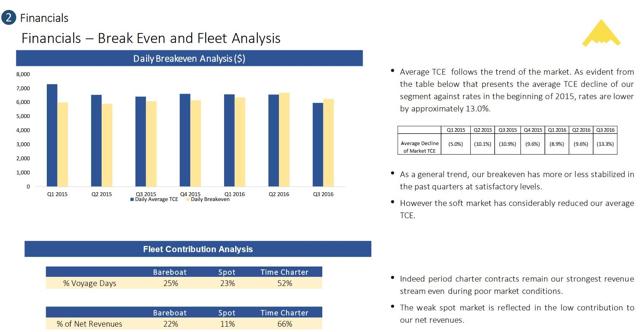 Source: Company Q3 presentation
The companies Q3 presentation clearly shows a tough LPG shipping market, with ever declining average TCE day rates (blue bars). In Q3 2016 the average TCE even went below the Daily Breakeven rate and the company reported a small loss of -0.06$ per share. It is important to note that even with this earnings loss, the cash flows have still been positive and significant. The company reported an EBITDA of $11.2M. This contrast between a negative earnings and positive cash flow is explained by the fact that shipping companies show heavy depreciation charges as they write down their fleet value. Depreciation is a non-cash expense. For Q4 I expect similar numbers as LPG shipping rates are still weak.
LPG a quickly growing global market
A major factor for global LPG trade has been the rising of the USA Shale oil industry. Many of the oil basins are producing a lot of NGL's and exporting these heavy gas varieties, often require pressurised or semi-refrigerated LPG ships. The USA has become a major exporter of LPG. It is my impression that the USA Shale industry is currently bottoming out and might restart a period of increasing production soon. This will be very bullish developments for the LPG shipping industry.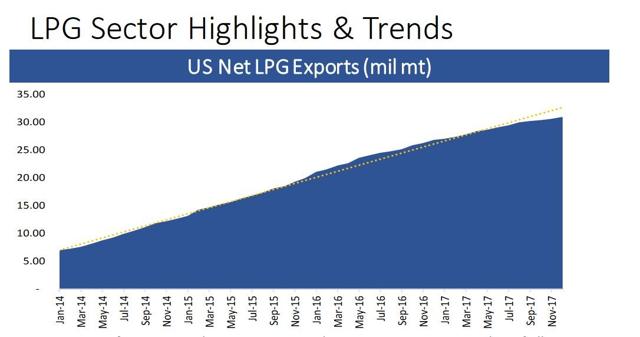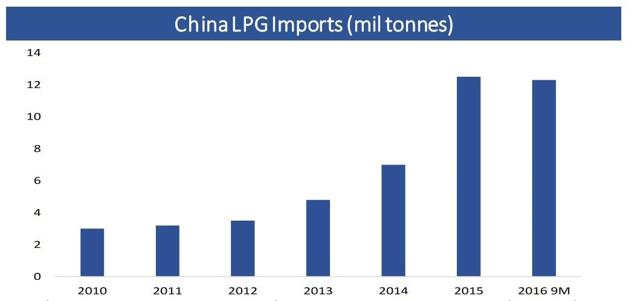 Source: company Q3 presentation
As the supply of LPG followed a steep growth rate, demand followed the lead. Asia is the most notable growth area for this LPG. The bars in the picture above show that China will import a record of LPG in 2016 (the bar is just for the first 9 months of the year). India is also rapidly increasing its LGP imports.
The outlook
The graph of the share price and the resent earnings loss, show the recent past have not been exiting for StealthGas shareholders. That is about to change as I think it is very likely that we are very close to rock bottom for small LPG vessel day rates. This is a very important quote from the latest earnings call.
"The strong point in our segment is the limited order book for the years to come. As per published orders we have two vessels to be delivered until the end of '16 and 2.5% of the total fleet on delivery in the period '17 to 2018."
Therefore, after a long period of oversupply of LPG vessels, the order book is finally clearing. Very little new build deliveries are left in the category below 10k cbm. As a sidenote, the large VLGC LPG ships still have a sizable order book for 2017, but these ships are trading different market segments. For the larger ship operators the recovery will likely take a longer time.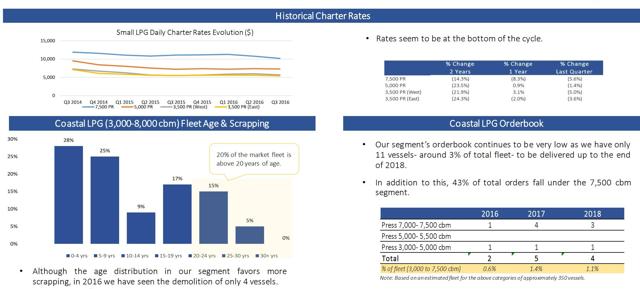 Source; Company Q3 presentation
This sheet from the company's presentation is particularly interesting. The top left graph shows the declining charter rates for various small LPG vessel types. The bottom right shows how incredibly tiny the order book is now for these vessels. The bottom left is the final piece of the puzzle why I am very bullish on the future development of day rates in this niche.
The sheet clearly shows that 20% of the small LPG shipping fleet is over 20 years old and 5% is even older than 25 years. While LPG ships are known to continue trading over 30 years old, this clearly is a fleet profile with a lot of near time scrapping potential. Factors that currently favour a scrap decision are;
- Spot day rates for LPG ships are currently very low, so cash flows do not justify expensive dry-docking costs for old ships
- Scrap steel prices have moved up strongly the last year
- New ballast water treatment rules impose owners to make additional investments in the ships to comply.
These factors make it very likely that scrapping will pick up, and might very well make the net fleet growth for 2017-2018 negative.
In my opinion, the stars are aligning in this industry. The general LPG shipping market has shown great growth rates in recent years and is projected to keep this rate up in the near future. The order book for the small LPG vessels is tiny. I expect a healthy scrap rate of older LPG ships in the fleet the next years. These factors combined make me think the outlook for StealthGas looks very good in the near term.
StealthGas also has 4 oil tankers. Many investors are predicting a harsh business environment in this part of the shipping industry for the next years. The one Aframax crude tanker is on a long term bareboat charter with an expiration date in August 2018. One of the MR product tankers is also on a fixed contract until February 2019, and the other two on short charters. So StealthGas only exposure to tanker spot market in the near term, are the two product tankers with expiring contracts.
The balance sheet
StealthGas has a current market cap of $137M with a good liquidity position of $61M unrestricted cash. The company is in the final stages of a major fleet renewal process and has four new builds left. These four new builds have delivery dates in 2017 and 2018 and will then be StealthGas largest LPG vessels. After advances paid in the past, there is $156.2M left of new building obligations. The company intends to finance this with $140M of debt and only $15.2M of cash. So even after the total new build program is concluded, the company should retain a sizable cash buffer.
The current net debt level of the company is $326M, but like explained above, that number is set to increase by $140M to $466M. During 2017, they have $17.5M of debt due by December, but the company expect to refinance that (but might use cash if they have to). The rest of the debt matures in spread out bullets from 2018 to well into 2020's. The fleet of the company serves as collateral for the debt.
The latest annual filing showed that, per 1 April 2016, fourteen of the vessels has been unencumbered. This means they were not used as collateral for a loan at that time. These fourteen vessel mainly consist of the oldest LPG vessels and one MR tanker (2009 build). This MR tanker is worth roughly $16M on the second hand market currently and is on a bareboat charter until July 2017. I recommend the company to sell this non-core vessel once the charter expires. This will improve the balance sheet by adding cash and part of this cash can be allocated to the company's active share repurchase program.
The company's latest annual report showed the following main financial covenants.
- Net debt / Market adjusted value of assed may not exceed 80%.
- Loan to value restrictions on the various loan arrangements, ranging from 125% to 130%
- EBITDA to Interest ratio over a rolling 12 month period should be more than 2,5x.
- Maintain a minimum cash balance of at least $10M
According to the company it is in compliance with all the financial covenants.
Cheap valuation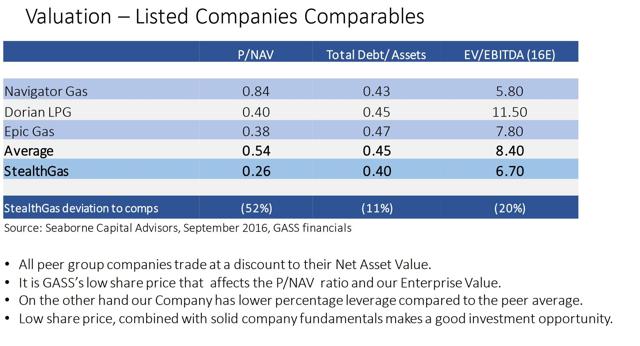 Source; Company Q3 presentation
The company itself has a valuation analysis in its presentation. Peers Navigator Gas (NYSE:NVGS) and Dorian LPG (NYSE:LPG) are most well known; however, these companies specialize in larger ships. This valuation table clearly presents StealthGas very favourable as it has the lowest gearing and the largest discount to NAV. As is often the case in company presentations, I do think they present the case with a positive bias. One note is that since StealthGas published this presentation, NVGS and LPG has seen some major outperformance over StealthGas, making the valuation deviation even larger. The resent share price developments are discussed later in the report.
VesselsValue.com is the industry-leading source for live valuations and fleet analytics. I think the companies up-to-date fleet valuations are a must have for an shipping investor with serious money at stake.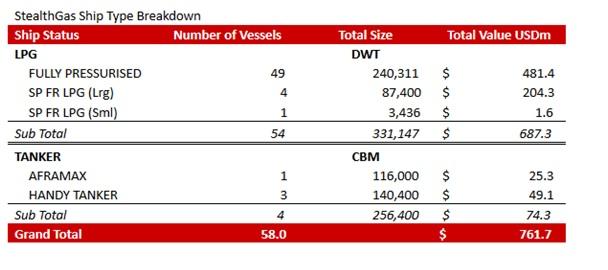 Source: VesselsValue StealthGas company report
VesselsValue indicates a total current value of the LPG section of the fleet of $687.4M. The four vessels in the SP FR LPG (Lrg) line are the final four new builds and these are currently valued at $204.3M. The company also has a couple of tankers, one Aframax crude tanker and three Handymax product tankers. The total value of these tankers on the second hand market is currently $74.3M, giving StealthGas's total fleet a $761.7M price tag.
According to StealthGas Q3-2016 results, they have a net debt of $326M and $156M remaining payments for the new builds. With 39.7M shares outstanding, the NAV is $279.7M or $7.05 per share. With StealthGas current share price at 3.4, that represents a shocking discount to NAV of 52%. Discounts to NAV like this can usually be found in companies with a very troublesome outlook or very debt laden balance sheets. My thesis in the article have been the opposite, the outlooks looks very favourable. I think this is a remarkable opportunity.
With a fleet value of $761.7M and a net debt of $326M plus $156M remaining payments for the new builds, the leverage is considerable with a D/A ratio of 63.3%. I think the gearing is a tad risky, but as I expect improving future earnings, I think the situation is manageable.
Stress testing a 20% reduction in fleet valuation
Day rates have been weak in LPG shipping the last months. I argue that the outlook is bright, but maybe the weakness persists for another couple of quarters. If it does, the second hand valuation of the fleet might very well drop. Under the assumption that VesselsValue's current assessment of value drops by 20%, the numbers will show as follow.
The fleet value will be only $609.4M in that case. This would result in a NAV of $127.4M or 3.21 per share. The coincidence is that this 3.21 is actually pretty close to where GASS is currently trading. The gearing would increase to 79.1% though, so that might very well become problematic.
One of the financial covenants discussed above requires the company to have a Net debt / Market adjusted value of assets ratio of at least 80%. The stress testing above shows that the resulting 79.1% would be on the edge of a breach of this covenant.
It is clear from this stress test that the risk profile of an investment in StealthGas is relatively high.
Management concerns
The company has been criticised in the past about their related party transactions. This article of almost 2 years old does a great job in discussing the critics the company was getting by some investors.
I am no fan of these kinds of insider transactions and shipping unfortunately is a sector with very weak corporate governance. Other companies which faced similar critic about related party deals are for example Tsakos Energy Navigation (NYSE: TNP), Navios Maritime Holdings (NYSE: NM) and Scorpio Bulkers (NYSE: SALT). Unfortunately, the list of examples can be made much longer. Sometimes the CEO/large shareholder owns companies that do the management of the ships or facilitates services. As an outside investor, it is hard to check if the payments conform to a fair market rate.
In StealthGas defence, I do note that the management fees plus G&A costs where $7.55M in the first 3 quarters of 2015 and $7.79M in 2016. So that is only a 3.2% rise in these overhead costs, while the number of fleet calendar days went up by 12.4% due to a number of new build deliveries. The company appears to be on top of cost management.
Another defence of the company is that the weighted number of shares for Q3 2016 went down to 39.7M from 41.2M in Q3 2015, mainly due to a share repurchase program. In shipping, we often see the number of shares go the other way. While the management clearly was too early in hindsight (average repurchase price of $5.24 versus current price of 3.4), it does show competent financial management if a shipping company is buying back shares when they trade well below NAV (these shares had previously been issued at much higher levels).
Recent underperformance
LPG stocks have joined the "Trump" rally with some serious spice lately. Somehow, StealthGas has been left behind. I find that particularly interesting, because I believe the near term outlook for small LPG ships is much better compared to the large ones, as the order book is still heavy in 2017 there. Another interesting factor is that these small LPG ships are often employed on more local shorter distance trips, so there is much less dependence on US-Asia trade and risks of a potential trade war. I believe that the following graph clearly shows there is considerable upside in StealthGas if it would catch up.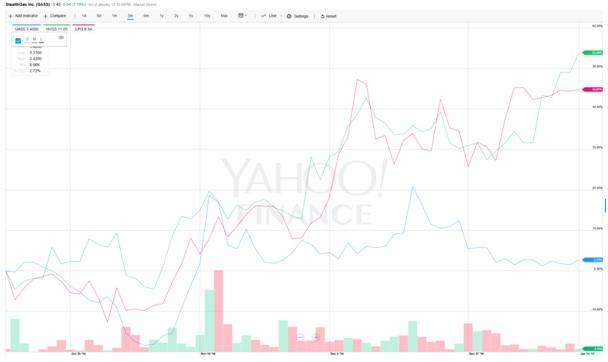 Source; Yahoo.finance
The graph shows that StealthGas (blue line) is up only 2.7% over the last 3 months, while peers LPG (red) and NVGS (green) rallied 44.8% and 53.9%.
Risks
As always, there are risk factors. The clearest risk is the balance sheet. With VesselsValue's real time fleet valuation, the leverage turned out to be 63.3%, which I consider high. This high leverage exposes the company to bigger risks if the value of the fleet on the second hand market will go down. A stress test of a 20% reduction in fleet value leads to a 79.1% D/A, a level which would severely limit the companies access to the debt markets and might even introduce debt covenant violations.
The company's debt is mostly financed with floating rates, tied with LIBOR. Only a part of this exposure has been hedged with interest rate swaps, approximately 22% per the latest annual report. Recently LIBOR rates have been very low, but the company is exposed to increasing LIBOR rates.
Other risks would be ongoing bad spot and charter rates for these small LPG vessels. The average charter employment of the fleet is only 1 year, so if markets remain depressed, so will the company's results. In this article, I outlined that my expectation for the market outlook is very bullish though.
On a related note is that the recent spot rates have been similar to Q3, so the upcoming Q4 earnings report will also be weak compared to Year on Year comparisons. A long position in GASS now might therefore turn out to be too early.
Another major factor worth emphasizing is that the company has a track record of weak corporate governance and has been accused of misdealing in the past. Investors should keep a close eye out on unfair related party deals.
The final risk factor that should be discussed is the shares very limited liquidity. The average daily volume is 39k shares for a daily turnover of about $150k a day. I would advice to keep exposure to illiquid stocks like this small and always use limit orders.
Summary
While a few other shipping stocks also trade at discounts to NAV, the discount is not often this large and usually not the case for companies with a quickly improving outlook. A couple of weeks ago some bulk shippers might have fit that description, but they all rallied lately. LPG shipping peers LPG and NVGS also have been in recovery mode for the last month. StealthGas is seemingly forgotten and just floated along. I believe buying StealthGas for a holding period of at least the next 2 years offers a great risk-reward profile, but is only suitable for investors with an above average risk appetite.
I have recently built a long position in GASS shares with an average basis of 3.41.
I would like to conclude this report by thanking fellow SA author J Mintzmyer for all his help and feedback on this report. Without his critical view and feedback, the quality of this report would have been much lower. J's premium service "Value Investor's Edge" (VIE) here on Seeking Alpha equipped me with much knowledge and insights into global shipping and I would not have been able to write this report without that background. Off course, all opinions expressed in this article are solely mine and not necessarily shared by J.
Disclosure: I am/we are long GASS.
I wrote this article myself, and it expresses my own opinions. I am not receiving compensation for it (other than from Seeking Alpha). I have no business relationship with any company whose stock is mentioned in this article.