Quick Take
Telecommunications provider Cable ONE (NYSE:CABO) announced an agreement to acquire NewWave Communications for $735 million in an all-cash transaction.
NewWave will add a complementary cable network to Cable ONE's geographic footprint in non-urban areas of the Midwest.
It appears the deal was struck at a reasonable price for Cable ONE, and assuming good integration and execution in the marketplace to reap the benefits of business services growth, the deal should be a net strong positive for Cable ONE.
Target Company
Missouri-based NewWave Communications was founded in 1999 to provide television, cable, internet and digital telephone services to residential and business customers.
The company is focused on non-urban areas of Arkansas, Illinois, Indiana, Louisiana, Mississippi, Missouri and Texas.
According to a company statement, NewWave's network:
... passes nearly 428,000 homes and has more than 214,000 residential primary service units ("PSUs") and 31,000 business PSUs.
A primary service unit refers to discrete business lines; so video, Internet and voice would count as three PSUs.
Below is a brief explainer video:
(Source: Andrew Chronister YouTube)
NewWave is owned by Chicago-based private equity firm GTCR and in 2011, sold its Tennessee and Kentucky cable systems to Time Warner Cable (NYSE:TWX) for $260 million in cash.
Acquisition Terms
Cable ONE is paying a net of 8.4x EBITDA after accounting for an expected $24 million in cost 'synergies.'
The company is also expecting a tax benefit of $152 million on a present value basis, which, if included in the multiple, would lower it to approximately 6.6x.
Notably, NewWave has been operating at a net loss, with 4Q 2016 expected to reach $3 million. (Unaudited)
Cable ONE will finance the deal with $650 million in senior secured loans plus cash on hand.
As of September 30, 2016, CABO had $123.7 million cash on hand and is positive CFFO (Cash Flow From Operations) of $194 million through the first nine months of 2016.
While the acquisition will require CABO to use cash of $105 million, it has the requisite leeway to replenish its cash through ongoing operations and perhaps reducing its common stock repurchase plan.
The deal is expected to close in 2Q 2017.
Rationale and Commentary
Cable ONE has indicated six rationales for the deal:
Adds scale in similar markets - Combined company with 1.2 million PSUs and $1 billion revenue

Significant market growth opportunity - Low existing business service penetration ripe for growth

Recently upgraded plant - NewWave has invested more than $60 million in last three years

Differentiated service provider - Only residential triple-play provider with high-speed data to 90% of footprint

Meaningful synergies - Annual cost savings of $24 million and one-time tax benefit of $152 million

Shareholder value - Cable ONE is using its available balance sheet capacity to arrange the deal

[Italicized text mine]
Below is the system map showing the addition of NewWave's coverage (in green) to that of Cable ONE (in blue):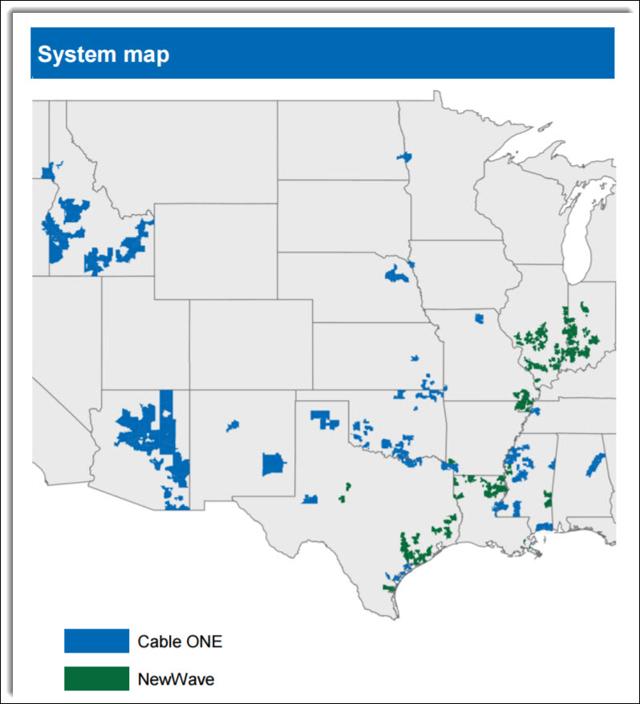 (Source: Cable ONE)
Cable ONE is leveraging its balance sheet to expand its footprint in non-urban areas in the Midwest, which it thinks has more room to grow when combined with its expertise in selling business services. Notably, the stock seems to agree with this assertion, as the stock has risen from around $580 to $612 on the announcement, a 5.5% increase in two days.
The potential for the combined entity is indeed worth considering, and the price for the deal appears reasonable.
Based on a current Price/Sales multiple of 2.63x for cable TV business, NewWave's estimated 2016 revenue rate of $240 million would have indicated a value of $631 million.
Net of the expected one-time tax benefit of $152 million, ongoing cost savings of $24 million and NewWave's $60 million in plant investment, the deal price is effectively $500 million. So, I think this is a good deal on the numbers for Cable ONE. The proof, of course, will be in the execution of growing NewWave's business revenues to fully realize the value of the combination.
Investors should look for hard evidence of initial results of the combined entity in 4Q 2017's financial report.
I write about IPOs, follow-ons, secondaries, and M&A. If you want to receive future articles automatically, click the +Follow link next to my name at the top of this article.
Disclosure: I/we have no positions in any stocks mentioned, and no plans to initiate any positions within the next 72 hours.
I wrote this article myself, and it expresses my own opinions. I am not receiving compensation for it (other than from Seeking Alpha). I have no business relationship with any company whose stock is mentioned in this article.