The share price of VanEck Vectors Vietnam ETF (NYSEARCA:VNM) has been falling for what seems like an eternity. The price is half it was in 2011, and has been stuck in a descending channel since mid-2014.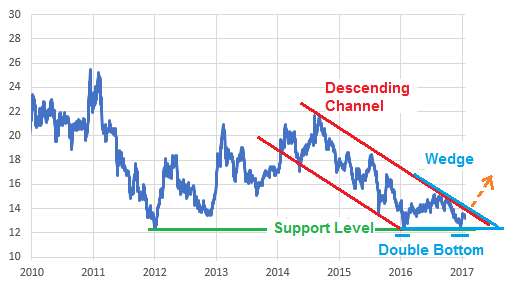 But the thing about descending channels is that there will ultimately be a breakout, and I believe the time is near. The share price has just bounced off a long-term support level of $12, and a wedge has formed, meaning that either a breakout or breakdown will occur. I believe that VNM will breakout. The Vietnamese economy has too much going for it, albeit with a fair amount of risk.
One of fastest-growing economies in Southeast Asia
Vietnam grew at an estimated rate of 6.4% in 2016, not far off China's 6.7%, making it one of Asia's fastest-growing economies.

Vietnam GDP per capita (Source: asia.nikkei.com)
As a result of the American War, Vietnam enjoys a far younger population than most other Asian countries with a median age of 30 years, well below China's 37+ years. And with labor costs 20% less in Vietnam than in China, the nation is positioned well for future economic growth.
Vietnam is open for investment
In response to declining tax revenues from the petroleum industry, the Vietnamese government is attempting to raise money for infrastructure spending, and has announced plans to divest its entire interest in 10 state-backed companies.
In addition to selling off state-owned companies, Vietnam is planning to increase the limits of foreign ownership in banks to spur economic growth and overhaul the nation's banking system. Vietnam restricts foreign ownership in banks at 30% and is seeking more investment to help strengthen the financial system.
Foreign investment is already transforming the economy into a manufacturing hub in Southeast Asia, led by companies such as Intel, Samsung, and Shenzhou. New factories are bringing people into cities and causing a demand for urban housing. As a result, real estate in Vietnam saw a 12% increase in investment in 2016. Ho Chi Minh City (formerly Saigon) is the second-most popular market in Asia for real estate development with institutional investors, behind only Bangalore.
The northeastern coastal area of Vietnam is home to numerous factories and facilities backed by Japanese and international investors. Japan is providing Vietnam with substantial loans for infrastructure development of a deep-sea port at Lach Huyen to the east of Haiphong, the country's third-largest city, and for supporting road and bridge links. The port is scheduled to be operational by May 2018.
Services, including tourism, have seen the biggest boom and now account for 44% of the economy, per a 2015 estimate from the CIA Factbook.
VNM: Checking under the hood
VNM is the only US-listed ETF that focuses exclusively on Vietnam. The fund invests in companies that are incorporated in Vietnam or that generate at least 50% of their revenues (or, in certain circumstances, have at least 50% of their assets) in Vietnam. As a result, the country weighting (shown below), is 75% Vietnam, 25% foreign.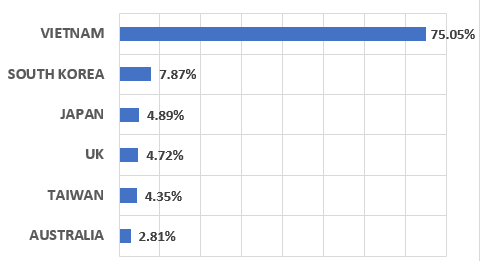 VNM country weighting
VNM has a sector allocation that is overweight in Financials and Staples.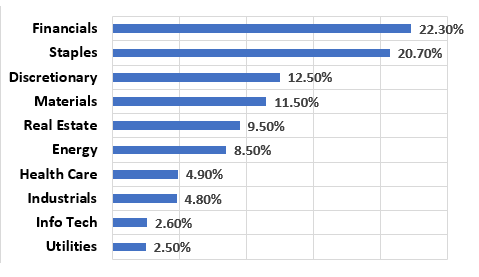 VNM sector allocation
Financial Sector Outlook
The Vietnamese government has done a great deal to clean up the banking sector, with non-performing loans reduced to 2.5%, down from 17% five years previous. Publicly traded banks' assets are now 25 percent higher than they were, due to acceleration in loan-book growth. The main issue that banks have to deal with now is insufficient capitalization, loan-loss reserves won't cover all nonperforming debt. Eventually, lenders will be required to beef up capital in line with international standards. With the expected growth in the economy of 6 - 7% per year, rapid diversification of the country's trade basket, and global interest rates rising slowly, the future of Vietnamese major banks is solid.
The insurance industry is flourishing. It grew nearly 26% in the first six months of 2016, the highest growth rate since 2011.
Consumer Staples Sector Outlook
Even though the TPP has been cancelled, Vietnam still has strong trade ties with foreign countries. It has trade agreements with more than 10 countries, including Australia, Chile and the ASEAN Economic Community, which links the country to fellow members of the Association of Southeast Asian Nations. Unlike the TPP, these deals do not include rules of origin for products and materials, so exporters can compete on quality alone.
One of VNM's holdings in the Consumer Staples sector is Vietnam Dairy Products (Vinamilk). Vinamilk reaches 43 countries with $250-$270 million in total export revenue per year, and is among the 50 best listed firms in the Asia-Pacific region, according to Forbes Magazine.
Investment Risks
State-controlled companies are plagued by corruption. The government is attempting to crack down on executives at state-run companies. More than 100 current and former businesspeople have been targeted and dozens of suspects appear to have fled the country.
Most state enterprises use internal auditors. When state enterprises are privatized, they will be audited by external accounting firms, potentially exposing fraudulent activity.
Vietnam is at a disadvantage in the garment sector compared with Bangladesh and Myanmar due to rising wages. It is estimated that 86% of the 2 million jobs in the clothing and footwear industries are at risk over the next decade due to automation and disruptive technologies.
China and Vietnam are at odds over the South China Sea, Chinese goods make up a leading 30% of all imports to Vietnam. Power plants, roads, urban rail lines and other infrastructure projects, meanwhile, rely on investment and engineering from Chinese companies.
U.S.-Vietnamese relations may be strained under Trump, whose policies are still anyone's guess.
Wrap-up
While this trade (long VNM) has some risks as identified above, an investment in Vietnam is an investment in the future. In the long term the investor will be well rewarded. Given that the stock price has reached a significant support level, I believe that now is the time to go long.
Disclosure: I/we have no positions in any stocks mentioned, and no plans to initiate any positions within the next 72 hours.
I wrote this article myself, and it expresses my own opinions. I am not receiving compensation for it (other than from Seeking Alpha). I have no business relationship with any company whose stock is mentioned in this article.