A day after writing about the lack of value in CSX Corp. (NYSE:CSX) in comparison to another transport stock that reported earnings on the same day, the railroad shot up 23%. The issue highlights the complexity of valuing what other investors or activists might do. In reality, investors only get to react to those moves.
The railroad stock closed Thursday at $45.50 and is now down 5% at around $43.15. One has to question whether this activist decision will generate value beyond this extended move.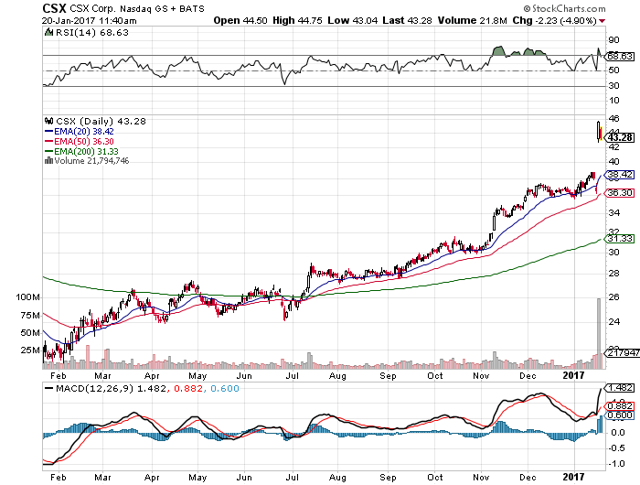 After the close on Wednesday, the news broke that Canadian Pacific Railway (NYSE:CP) CEO was stepping down early. The CEO even gave up a sizable fortune to make the move with the ability to work with a competing Class 1 railroad.
Considering the CEO was instrumental in a failed bid to buy Norfolk Southern (NYSE:NSC), some of the big railroads including CSX soared on the news. As the day went along, the news shifted towards Hunter Harrison targeting CSX leaving the former up 23%, and Norfolk Southern only up 4% on Thursday.
The move is peculiar because it involves an expert in the industry apparently having the goal of being inserted into upper management at CSX, with the help of Paul Hilal of Mantle Ridge LP. Mr. Harrison is 72 years old so one has to wonder how effective a long-term plan would be involving somebody approaching or surpassing 75 by the end of a multi-year run.
The reason for the push is that CSX and Norfolk Southern exhibit some of the lowest margins in the railroad sector. While Canadian Pacific has a Q4 operating ratio at 56.2% (a record low), CSX is up at 67.0%.
I think one has to question whether new executive leadership is needed at CSX. CEO Ward was well respected in the markets and the East Coast railroads were hard hit over the last few years by the domestic shift away from coal.
The clear difference in the margins is that CSX spent 28.1% of Q4 revenues on labor. Canadian Pacific spent only 17.2% of revenues on labor. The 11 percentage point difference in these costs account for the whole difference in margins of the two Class 1 rails.
CSX would need to eliminate $304 million from labor costs to match Canadian Pacific or the equivalent of 36% of the $852 million in costs in Q4. Naturally, rising revenues such as a rebound in coal demand would help offset a need to cut labor costs.
Count me skeptical, but it seems far-fetched that a guy headed towards retirement at CP has all the solutions that the experts at CSX can't resolve. After all, the second in charge at CSX recently left and has completely turned around the previously struggling United Airlines (NYSE:UAL).
With all things being equal, assuming new blood (remember actually very old blood) could achieve such an improvement in the OR, earnings power at CSX would improve from around $1.81 per share last year to only $2.35 due to the 30% improvement in operating income. Analyst estimates for 2018 are already up at $2.26 in part due to a lower OR already built into numbers.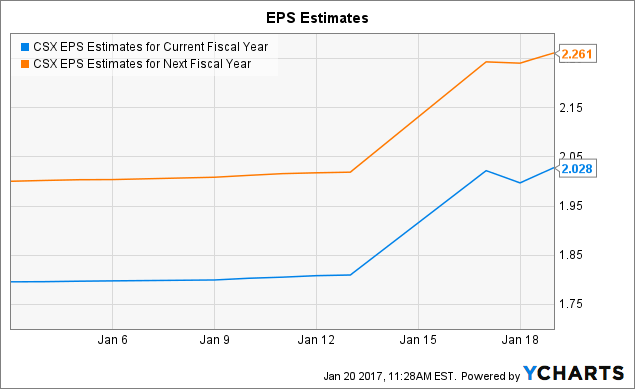 CSX EPS Estimates for Current Fiscal Year data by YCharts
Some of the forecasted EPS gains over the next couple of years are due to growth, but a good part is from already forecasted OR improvements. Though one needs to keep in mind that top domestic railroad operator Union Pacific (NYSE:UNP) only achieved a 62.0% OR for Q4.
Regardless, CSX soared to $45.50 placing the stock at 19x earnings assuming CP type margins. One would need to discount the fact those numbers are far from guaranteed and years into the future.
The key investor takeaway is that even if Hunter Harrison could work magic with CSX to improve margins, the stock price already factors in these improvements. The bigger risk is to the downside if a deal fails to materialize and investors end up with a stock now trading over $43 with forecasted earnings power of only $2 this year.
Avoid CSX since expectations are too high.
Disclosure: I am/we are long UAL.
I wrote this article myself, and it expresses my own opinions. I am not receiving compensation for it (other than from Seeking Alpha). I have no business relationship with any company whose stock is mentioned in this article.
Additional disclosure: The information contained herein is for informational purposes only. Nothing in this article should be taken as a solicitation to purchase or sell securities. Before buying or selling any stock you should do your own research and reach your own conclusion or consult a financial advisor. Investing includes risks, including loss of principal.