Chipotle Mexican Grill (NYSE:CMG) has been plagued by the E.coli food scare for the past 14 months. However, I believe that management has positioned the company to rebound and the current valuation presents a compelling buying opportunity.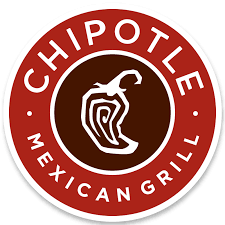 Source: Chipotle.com
Recap of My Coverage
In my previous article, "Chipotle Mexican Grill: Blurred Quarterly Results and Risks On The Horizon Suggest Overvaluation," I outlined my bearish thesis on CMG. Right before my article, CMG reported a stellar quarter and the stock jumped to around $670 per share. At the time I wrote:
Yesterday, Chipotle Mexican Grill [NYSE:CMG] reported unbelievable earnings and has been the star performer, during this earnings season. However, the market has stretched this positive release a bit too far, and the stock has traded ahead of its business fundamentals. Stocks with patently optimistic outlooks priced into the share price invariably must continue to outperform or will face a harsh pullback. Avoiding situations where quixotic scenarios must materialize, to justify its trading level, is an investing precept that should be followed.
Why I Was Bearish
The main reason that I was bearish had to deal with the valuation that CMG was trading at during the time. CMG was trading at a price-to-earnings ratio and price-to-sales ratio that were significantly above its peers. Although that may be justified if a company is outpacing industry growth, I believed that there were too many optimistic scenarios priced into the growth, and ultimately the stock price.
For one, during that quarterly report, management gave strong guidance for the rest of that year, expecting comparable store sales to increase in the mid-teen percentages. However, in making that guidance, management merely assumed that "price increases of approximately 6.25% to 6.5% [would] not effect sales at all." To me, taking that assumption as a given was a risky proposition. The restaurant industry is categorized by intense competition and it was overly optimistic to assume consumer indifference to price hikes.
Furthermore, the prodigious comparable sales growth during the quarter was partially a function of those price increases. The company said the reason for the price hike was to offset rising food prices. In my article, I noted this and said "true comparable store sales figure[s] [are] blurred and [it] is not entirely reflective of organic sales growth."
Despite the revenue improvement, margins actually declined 30 basis points y/y due to higher food costs and expanded marketing costs more than offsetting favorable sales growth.
Additionally, one of the most salient risks that I outlined had to do with Chiptole's marketing efforts. Chipotle was spending a significant amount on marketing expenditures and its advertising campaign was centered around its "better ingredients" initiatives. However, I noted that CMG was faced with rising food prices and that resulted in it "filling the gap" with conventionally raised meats. In discussing this risk, I evidenced the earnings conference call where it discussed this practice and noted:
With the dichotomy of their marketing campaign and actions apparent, customer backlash is a serious threat on the horizon. This risk is certainly not priced into the stock.
When I was imagining consumer backlash, I did not imagine a scenario as drastic as the E.coli outbreak, which first began in July of 2015. I was merely concerned with consumers being upset with CMG for marketing its product as "all-natural" and having "better ingredients" than competitors, when in fact it was using conventionally raised beef.
However, there is a logical parallel to this concern and the E.coli outbreak. It appeared that management was cutting corners in order to keep margins from deteriorating due to rising food costs. Although I could not have pictured such a negative scenario, with CMG having to close down many of its stores for weeks at a time, management's indifference to quality with its emphasis on that during its marketing campaign was a harbinger of negative future developments.
What Has Changed?
The primary impetus for my changed stance on CMG is the valuation. After the scandal, CMG's brand value has clearly taken a hit, but it does not warrant the precipitous decline in CMG's stock price that has resulted. This enormous sell-off has led to an asymmetric risk/reward opportunity.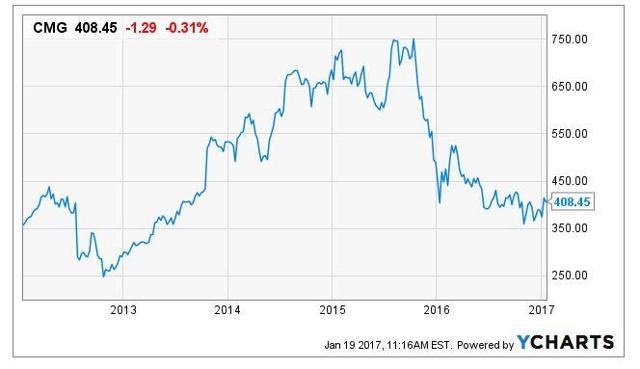 Turnaround Efforts
Chipotle's marketing plan to regain customer loyalty after the E.coli epidemic was multi-faceted. The plan called for direct mail pieces, newspaper ads, and television commercials intended to reassure the public the brand is safe again. Additionally, the plan called for doubling the amount of food that stores can give away. Although this plan was costly and temporarily hurt margins, I believe it was a prudent move to win back customer loyalty.
More recently, it was reported here on Seeking Alpha that CMG hired new ad agencies and is expected to ramp up its marketing spending this year. CMG also may try to win brand loyalty from kids by launching a TV show in 2017. Chipotle is expected to spend up to 3% of sales on marketing and its new campaign is due to start in April.
Chipotle is also prudently positioning itself to take advantage of the recent trend toward healthy eating. On January 4, 2017, CMG announced an online tool to help customers count calories and find meals to coincide with their dietary preferences. From Chipotle's press release: "Whether eating vegan, avoiding gluten or looking to pump up the protein, Chipotle's menu has the right combination for everyone."
History of Turnarounds Following A Food Scare
There is evidence of two other companies overcoming a food contamination scare of a similar scale. Taco Bell (NYSE:YUM) was implicated in hundreds of E.coli and salmonella scares in the past decade, but was able to overcome them. Taco Bell's scares had even more serious consequences, with some victims having kidney failure.
Moreover, Jack In The Box (NASDAQ:JACK) was able to overcome a food scare with much graver consequences than Chiptole's or even Taco Bell's. In 1993, four children died from E.coli poisoning stemming from undercooked Jack In The Box beef patties. Moreover, a total of 623 people were sickened during the epidemic.
Recent Operating History
In the most recent quarter, comparable sales declined 4.8% in Q4. However, there has been improvement each month. Comparable sales declined 20.2% in October 2016, decreased 1.4% in November 2016, but actually increased 14.7% in December 2016. Sales comparisons are lapping now and are easier to compare due to lower sales levels in November and December 2015. So the reversal in sales is not as bright as the numbers indicate. However, it's a positive indication that CMG was able to reverse the comparable sales decline in December and was able to post prodigious growth of 14.7%.
Management guided that the operating margin for Q4 of 2016 will be in the 13% to 14% range. This operating margin represents a significant decrease from before the E.coli scare. The decline in margin was primarily driven by sales deleveraging and an increase in marketing and promotional spend, which totaled 4.7% of revenue. With marketing and promotional spending expected to decline to 3% of revenue, margins should improve in future quarters.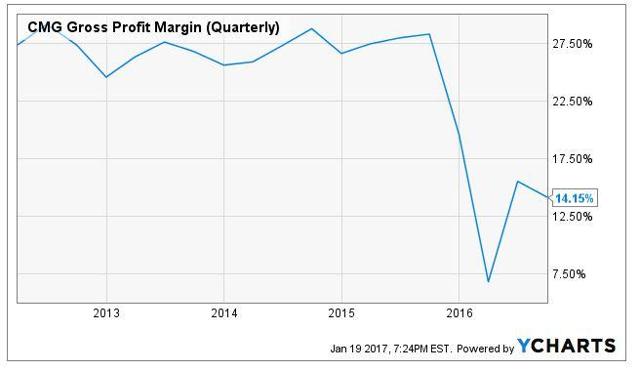 Management also gave some color on their targets for 2017. They expect between 195-210 new restaurant openings; comparable restaurant sales increases in the high single digits; and operating margins of 20%.
Other Positives
Operational Efficiencies
Chipotle's management has recently focused on driving digital orders, which could lead to a number of benefits to not only the top-line, but the bottom-line as well.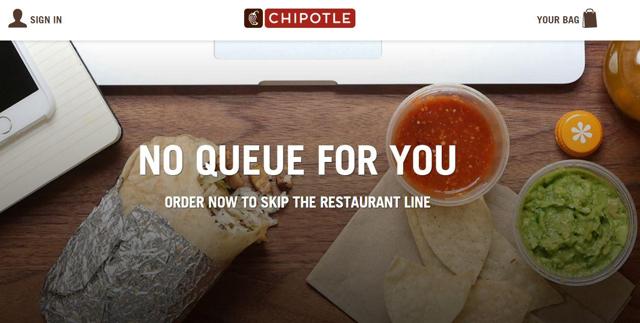 Source: Chipotle.com
CMG has been tweaking its online ordering tools and discussed the introduction of "smarter pick-up times" during the IRC conference. This technology is used to predict and shorten soonest available pickup times for customer orders. It was launched in 1,100 stores in early December and management discussed two benefits in these stores.
First, by narrowing the pickup window and trimming the amount of time it takes to put together online orders, these stores have seen a lift in visits to its website. Secondly, a larger portion of these digital visitors turned into buyers.
In addition to driving revenue growth through growing sales, this program will also lead to operational efficiencies. For example, management discussed that remote orders account for roughly 7% of CMG's sales and could lead to an additional 130 orders being made in an hour without any extra labor. With average hourly rates rising steadily (as shown by the chart below), this added efficiency can have a meaningful impact on the bottom-line.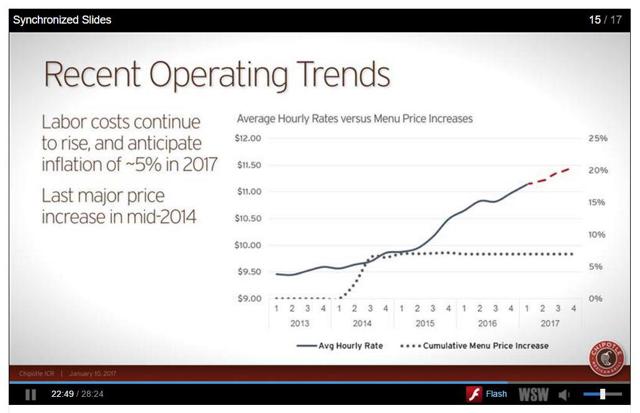 Source: ICR Webcast Presentation
Furthermore, this program will improve the customer experience by reducing wait times, which could lead to customers being more apt to become repeat and more regular customers. With the remaining CMG locations to get this capability in Q1 of 2017, CMG will see meaningful benefits moving forward.
Online Catering
Another avenue to drive revenue growth is through an emphasis on growing its catering business. In November, CMG introduced an online catering order portal to simplify this process and reduce the labor expense involved in setting up catering orders. Management said they were pleased with holiday catering ordering and have a slate for the spring catering marketing campaign.
Anecdotally, as someone who has had to set up catering for club events while in law school, this online portal is compelling. I've used this portal and it is intuitive and easy to use. As compared to calling up a local restaurant, it also saves a significant portion of time, which can be very valuable to certain customers, such as time-constrained law students.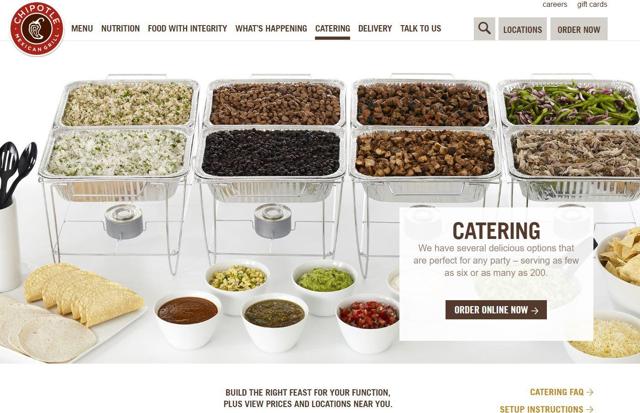 Source: Chipotle.com
Adding Menu Items
CMG does not have plans to add many new options to its menu, as the added complexity can slow down its line and reduce margins by increasing logistical costs. However, CMG may introduce small changes such as by introducing a dessert item to its menu. During the ICR presentation last Tuesday, CMO Mark Crumpacker discussed the possibility of adding a dessert item.
Mr. Crumpacker discussed that the dessert item they are testing is easy to implement and adds only one ingredient not already found in their restaurants. He noted that this introduction would have a minimal impact on operations and said that if the testing continues to go well, it will add the item to restaurants this spring.
This introduction could have a significant benefit towards CMG's bottom line. It could drive revenue growth through increasing the average amount that a customer spends at Chipotle. Additionally, it may broaden the base of potential customers since those with a sweet tooth may be more likely to visit a CMG store.
Share Repurchase Program
In the latest press release, management announced that the Board of Directors approved of an additional $100 million to repurchase shares. As of January 10, 2017, there is $200 million remaining on the share repurchase authorization. Purchasing up shares at this undervalued level is a smart move by management and provides another avenue to improve EPS growth.
Tax Loss Harvesting
I believe that one of the main drivers for CMG's drastic drop in the latter half of 2016 was from tax loss harvesting. Basically, tax loss harvesting is the practice of selling a security that has experienced a loss in order for an investor to minimize their tax liability. To read a more thorough analysis of this practice, please refer to my article on Glu Mobile (NASDAQ:GLUU), where I discussed tax loss harvesting at a much greater depth.
With CMG trading down about 45% since the end of 2015, there are numerous investors with losses that they can harvest to reduce their taxable income. The incentive to lock in losses in 2016 was much greater than in any normal year due to the likely reduction in tax rates for both ordinary income and capital gains under a Trump administration. There is a 30-day window, called a wash sale, in the tax code in which you cannot repurchase the shares. This provision limits the practice of tax loss harvesting within this period. Therefore, I believe that later this month, or in early February, there will be a number of investors who wisely took advantage of the tax code and will buy back shares at this depressed level.
Valuation
After the sell-off, following the E.coli scare, CMG is trading at a significant discount to its historical price-to-earnings and price-to-sales ratios.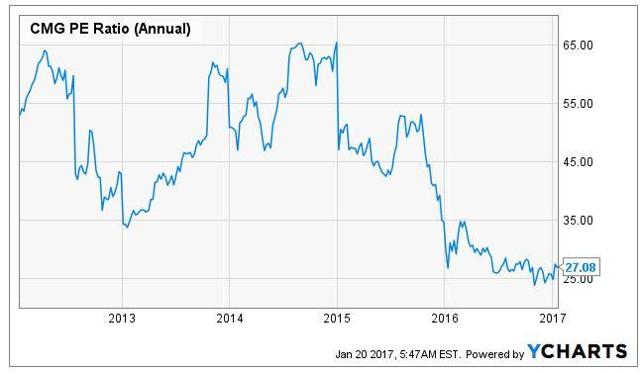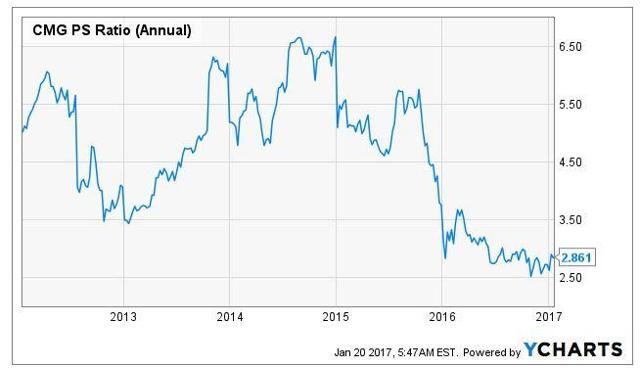 Additionally, CMG is trading at a much lower price-to-sales multiple of its competitors, McDonald's (NYSE:MCD) and Starbucks (NASDAQ:SBUX). However, this discount is unwarranted, as CMG's growth opportunities significantly outpace MCD's and SBUX's.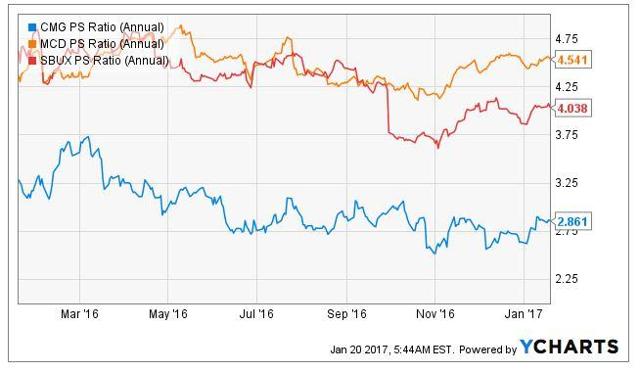 Before the E.coli scare, CMG was generating about 25% y/y revenue growth, which was significantly above MCD's and SBUX's. With comparable store sales already beginning to grow, around 200 new stores being planned to launch in 2017, and a number of new initiatives being deployed to regain customer loyalty and improve operational efficiencies, I believe that CMG is positioned to return to its prior level of revenue growth and improve margins.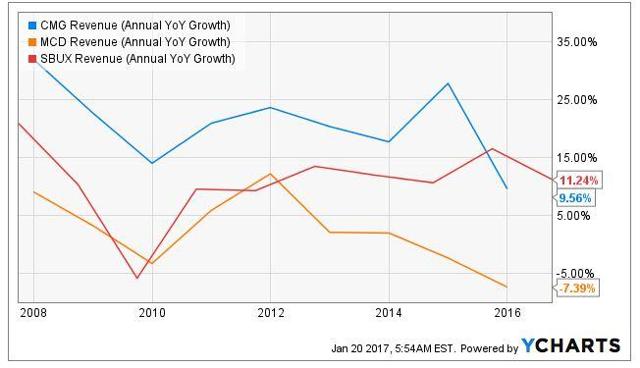 Final Remarks
I was a long-time bear on CMG, but with the current valuation and number of positive catalysts on the horizon, I've changed my stance. Management is prudently pursuing initiatives to regain customer loyalty, drive revenue growth, and improve operational efficiencies. At this level, I'm switching my order and buying CMG.
Disclosure: I/we have no positions in any stocks mentioned, but may initiate a long position in CMG over the next 72 hours.
I wrote this article myself, and it expresses my own opinions. I am not receiving compensation for it (other than from Seeking Alpha). I have no business relationship with any company whose stock is mentioned in this article.