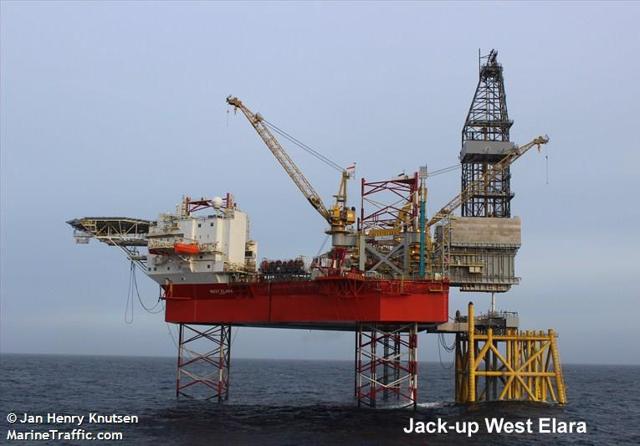 This is an update of my preceding article on North Atlantic Drilling (NYSE:NADL), published on January 17, 2017.
NADL is a subsidiary of Seadrill (NYSE:SDRL) - which owns 16.966 million shares or 70.36% (majority holder) - and the company operates exclusively in the North Sea.
Today, January 20, 2017, the company announced the following:
North Atlantic Drilling Ltd ("the Company") has been awarded a firm one well extension plus one optional well from Statoil Petroleum AS ("Statoil") for the jack-up West Elara. The work will commence in direct continuation of West Elara's existing contract with Statoil and the backlog for the firm portion of the extension is estimated to be US$10 million. The West Elara has worked for Statoil since 2011 and the Company is pleased to continue this long-term relationship.
A little bit of the West Elara actual location: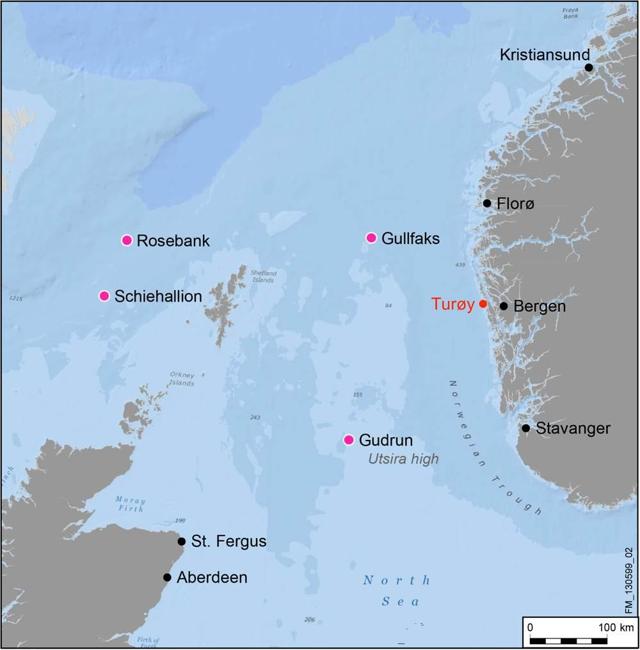 On March 26, 2012, the harsh environment jack-up rig West Elara commenced its 5-year contract for Statoil on the Gullfaks field northwest of Bergen offshore Norway (see map above - Gullfaks field is located NW of Bergen).
Assuming the new contract extension is at the same day rate, the one-well extension represents 30 days, which seems too little to be possible.
It is more likely that the extension is for 60 days and day rate went from $318k/d to probably $160k/d. We will have to confirm this element with the company. However, the total additional backlog is $10 million.
Complete Fleet Analysis as of January 20, 2017 (non official)
Here's an overview of the last official September [fleet status]:
#
Name

Type

Year

Built

Contract

End

Current

Day Rate

K$

Information

Location

1 - Drillships
1
West Navigator

UDW-HE

2000

Cold stacked

Norway (Skipavik)
2 - Semi-Submersibles
1
West Alpha

4th-HE

1986

Available

Norway (Skipavik)

2
West Phoenix

6th-HE

2008

Mid 4/17~

188.9

[Total]

UK Shetland

3
West Venture

5th-HE

2000

stacked($10k/d)
Norway
4
West Rigel

6th-HE

Under-construction - See 1/9/2017 deal with Jurong shipyard click here.

3 - Jack-ups
1
West Elara

Heavy-duty-HE

2011

mid 4/17~

318

[Statoil]

Norway

2
West Epsilon

Heavy-duty-HE

1992

Available

Norway

3

Owned by SFL

Heavy-duty-HE

2014

5/19

5/21 Option

326(+12.43/d)

326

[ConocoPhillips]

Norway
This new contract extension is adding $10 million to the actual backlog estimated at ~$327 million as of January 20, 2017.
Conclusion:
It is another positive for the struggling company and its parent Seadrill. As I explained before, the recent oil price recovery to about $55 per barrel now is only an appetizer for the offshore drillers and it will take many months to produce some meaningful effects (increase in tendering in shallow and deepwater).
What we are experiencing now is an increase in exploration capex by major oils such as Exxon Mobil (NYSE:XOM), BP Plc (NYSE:BP) or Hess Petroleum (NYSE:HES) that I covered recently.
If you want more details about the recent E&P capex 2017 for Hess please read my article.
These E&P companies are still committed to offshore drilling to a certain extent (oil price must be above $60 a barrel). Unfortunately, Brent crude oil momentum has stalled and the price is hovering between $57 and $54 a barrel, just enough to be optimistic but not enough to be effective yet.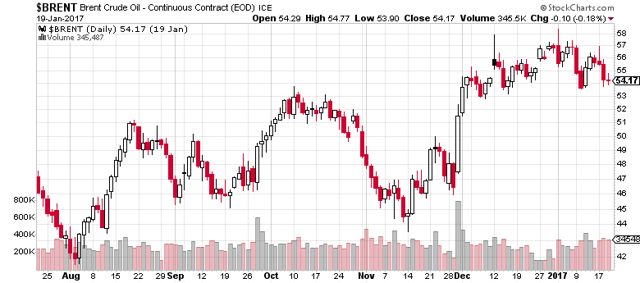 Recently, Wood MacKenzie released a positive study showing some signs of growth for the deepwater upstream segment. Please read my article here.
However, Wood Mackenzie added a cautious note for the pre-FID Deepwater projects, that need a solid $65 per barrel instead: "Deepwater projects remain more challenged. Many of the projects slated for FID in 2017 are competitive with tight oil, but many longer-term deepwater pre-FID developments are still out of the money. Of the 40 larger pre-FID deepwater projects, around half fail to hit a 15% IRR at US$60/bbl."
EIA forecasts $53 per barrel in 2017 on average and $58 per barrel in 2018 (WTI).
On January 12, 2017, EIA wrote that crude oil prices are expected to increase slightly through 2017 and 2018.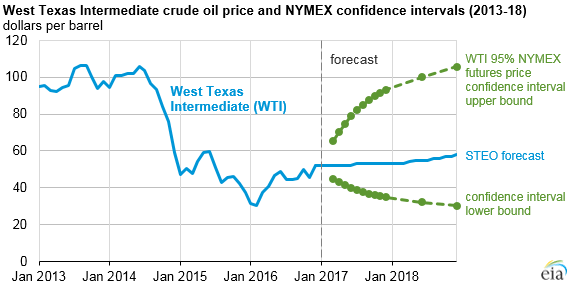 Source: U.S. Energy Information Administration, Short-Term Energy Outlook, January 2017

Note: Confidence interval derived from options market information for the five trading days ending Jan. 5, 2017. Intervals not calculated for months with sparse trading in near-the-money options contracts
The problem is always the same. On the one hand, OPEC and NOPEC pledged to cut production by ~1.8 MBOPD, and on the other hand, countries such as Libya will fill the gap created. Furthermore, the US shale is expected to increase production in a few months by 500K BOPD. This status quo is expected to stretch without a real breakthrough unless OPEC and NOPEC stick to a 100% effective cut, which is not what the analyst community is forecasting (more or less 65%).
Technically, NADL is in a "wait and see" situation due to the announced restructuring of Seadrill around April. Thus, it is very important to trade NADL with extreme caution and avoid any large bet until SDRL and NADL unveil what has been agreed with the 42 banks.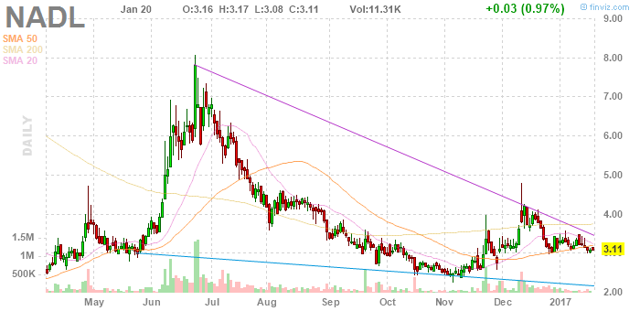 Still, it doesn't stop us to trade the stock, and I see some opportunities until April 2017. The NADL graph above shows a falling wedge which is potentially a bullish pattern. The stock is now at almost breakout level at $3.70, at which point it would be logical to take some profit off the table.
However, we can also interpret the graph as a descending triangle, which is bearish, with a support around $2.25 and a breakout to the $1 area.
The question of paramount importance is the future oil prices the next few months, and I believe they will fluctuate at around $55+ a barrel, but will not show a strong momentum to go higher or above $60 per barrel, as I explained above.
Important note: Do not forget to follow me on NADL/SDRL. Thank you for your support.
Disclosure: I/we have no positions in any stocks mentioned, and no plans to initiate any positions within the next 72 hours.
I wrote this article myself, and it expresses my own opinions. I am not receiving compensation for it (other than from Seeking Alpha). I have no business relationship with any company whose stock is mentioned in this article.
Additional disclosure: I trade NADL
Editor's Note: This article covers one or more stocks trading at less than $1 per share and/or with less than a $100 million market cap. Please be aware of the risks associated with these stocks.