It's fair to say that Imperial Brands' (OTCQX:IMBBY) (OTCQX:IMBBF) shareholders suffered a pretty poor second half in 2016. When I first wrote about the stock in August of last year, it was trading at over 16x earnings with an annual dividend yield of under 4%. Lo and behold, between then and now the stock price has dropped over 10%, having been as much as 16% down in December, as various events have conspired to knock the shares.
First off came group results in November, in which headline figures showed that earnings had dropped some 60% to £670 million from £1.723 billion a year earlier. The second factor to hit the share price was a more indiscriminate market response to the prospect of higher inflation and interest rates. Not only would this make Imperial's dividend look potentially less attractive, but would also lead to legitimate concerns of higher interest payments given current net debt of around £12.7 billion. In the long run, both of these factors will prove a blip on the road, and now still represents a rather attractive entry point for income seekers and value investors alike.
Imperial Brands: Value In An Expensive Sector
Income seekers and blue chip aficionados will be fully aware that demand for high quality income investments has sent valuation multiples on tobacco stocks soaring in the years following the financial crisis. During 2010, for example, an equal weighted basket of Philip Morris International (NYSE:PM), Altria (NYSE:MO), Reynolds American (NYSE:RAI) and British American Tobacco (NYSEMKT:BTI) had an annual average price-to-earnings ratio of 12.2. By 2016, that ratio had mushroomed to over 20x earnings.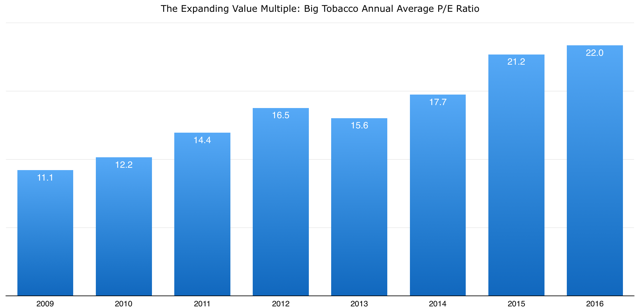 Whilst this has meant that shareholders have enjoyed some outstanding returns over the past seven years, it is always valuable to remember that a big chunk of that performance was disconnected from business fundamentals. This is where the current valuation of Imperial Brands looks to be quite attractive.
As I referenced in the introduction, Imperial's 2016 headline results suggested a steep drop in net profits from £1.723 billion to £670 million between 2015 and 2016 (£1.769 and £0.66 on a per share basis, respectively). However, the reason for such a massive divergence was down to realized losses on derivative instruments (caused by foreign exchange movements), one-off amortization costs on the acquisition of assets following the Reynolds/Lorillard tie-up and restructuring charges.
In total, that took about £2.15 billion off underlying earnings; equivalent to a £1.78 hit in per-share terms. All-in-all, adjusted earnings per share came to £2.496 - 12% higher than the comparable 2015 figure in constant currency terms - and was driven primarily by constant currency net revenue growth of 9.7%.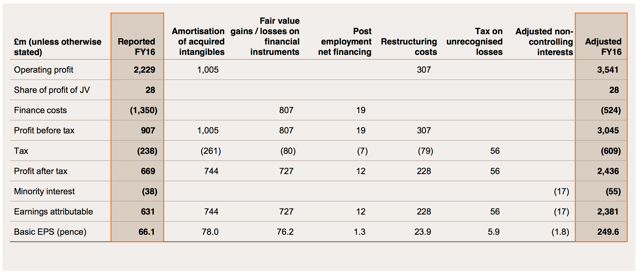 (Source: Imperial Brands 2016 Results Presentation)
For fiscal year 2017, consensus estimates are pointing to earnings per share of £2.70, helped to a large extent by the performance of Sterling following last June's Brexit vote. At the current share price of £35.70, that would put Imperial at 13x annual earnings, which looks attractive relative to both the wider sector and the stock's own historical average valuation.
If we deal with the latter first, then over the past fifteen years, Imperial's stock has traded at an average valuation of around 12x annual earnings. With that in mind, it's reasonable to say the current valuation is enough to ensure that a contracting earnings multiple doesn't become too much of a "threat" to future returns. Add in a 2017 dividend yield of 4.8% and it only takes mid-digit, or even low-digit, earnings per share growth to generate solid shareholder returns. With high quality equities trading at historically rich valuations, and the FTSE 100 smashing new record highs, that seems to be an attractive prospect for a stodgy British blue chip.
In a similar fashion, let's turn to the big tobacco peer group. The $49.4 billion that U.K. listed tobacco peer British American will spend to acquire the 58% of Reynolds American it doesn't already own values Reynolds shares at 25x annual earnings. British American itself is currently valued at around 16.5x forward earnings. Among the remaining big tobacco companies, Altria is currently trading at 20.5x forward earnings, Philip Morris International is at 19.5x earnings and Japan Tobacco (OTCPK:JAPAF) is currently at around 16x estimated 2017 earnings.
That leaves the current 13x earnings on offer with Imperial's stock at a huge discount to its peer group average of 19x, as well as sporting a forward dividend yield of 4.8% versus 3.9% for the peer group average. That seems like an unwarranted discount.
The Dividend: 4.8% Yield This Year, Well Covered
As recently as November, management is (still) on record as being committed to increasing the per-share dividend by around 10% per annum over the medium term; a target which they've now hit eight years in a row. If we assume that continues, then investors will be looking at a 2017 hike from £1.552 per share (currently equal to a 4.35% yield) to just over £1.70. That represents a prospective yield of 4.8%.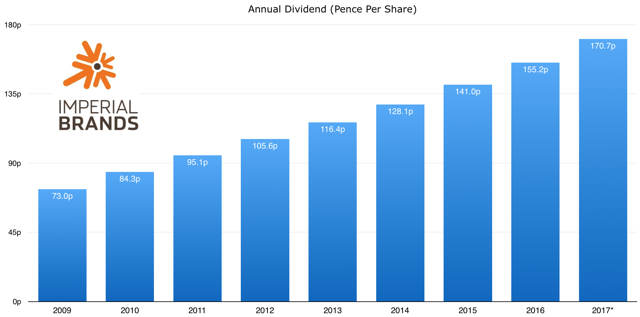 Considering the strength of Imperial's cash flow, this looks more than justifiable. Over the course of FY 2016, the company generated approximately £3.16 billion in operating cash flow with around £0.2 billion of that allocated to capital expenditures. Of the remaining £2.95 billion in free cash flow, the dividends to stockholders took up less than 50% (£1.39 billion). That relatively low payout ratio (the ex-Imperial peer group average is over 75%) should be taken in context with one of the commonly referenced sticking points that some investors have with Imperial: the debt load.
At the end of FY 2016, the company had around £12.39 billion of long-term debt plus a further £1.54 billion in debt due over the next twelve months. Factor in a total of around £1.24 billion in cash and equivalents and that leaves net debt standing at somewhere around £12.7 billion. With post-dividend free cash flow currently running at over £1.5 billion annually, and with the majority of debt due after 2020, the progressive dividend strategy looks safe. Also, Imperial's interest cover came in at over 7x, with fears surrounding interest rate hikes seemingly overblown given that over half of the current stock of outstanding debt is Euro denominated. In any case, this is more than offset by the fact that Imperial's current free cash flow payout ratio compares so favorably to the peer group.
Conclusion
The attraction to owning an asset like Imperial has historically boiled down to earnings quality, earnings growth and, especially relevant in the context big tobacco stocks, attractive (i.e. suppressed) valuation multiples.
With respect to earnings quality, Imperial has always proven an attractive proposition. It enjoys huge levels of cash generation due to numerous factors such as its brands, the regulatory advantages that now make it impossible for a new tobacco company to establish itself and, finally, a consistent ability to grow earnings per share despite obvious sector headwinds.
The only really major downside in recent years has been the expanding valuation multiple which has worked to make the stock less attractive on a longer-term horizon. At 13x earnings along with a 4.8% dividend that now looks to be less of an issue, Imperial Brands looks like good value relative to its big tobacco peers and other high quality blue chips.
Disclosure: I am/we are long IMBBF.
I wrote this article myself, and it expresses my own opinions. I am not receiving compensation for it (other than from Seeking Alpha). I have no business relationship with any company whose stock is mentioned in this article.
Editor's Note: This article discusses one or more securities that do not trade on a major U.S. exchange. Please be aware of the risks associated with these stocks.